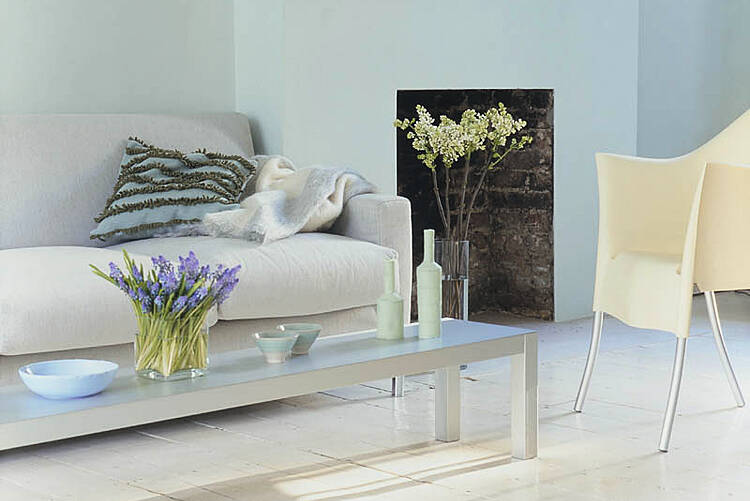 Photo: Narratives/Polly Wreford
Although a white winter is not (that) common an occurrence in this country, it still evokes thoughts of a fresh, crisp look in living spaces, says Alyson O'Brien, an interior designer originally from Boston, now based in Cork who specialises in home 'staging' and interior redesign. "This minimal style always looks contemporary with its simple and classic lines. Include lots of texture to soften the edges with cushions, textiles and accessories to avoid a chilly interior," Alyson suggests.
To achieve a similar look Alyson suggests:
Coffee Table: Get the look of this white lacquered coffee table on a shoestring: The 'Lack' coffee table from IKEA, Dublin and Belfast, is a steal at €30.
Leather sofa: Studio Sofa three-seater is available through Inreda, 71 Lower Camden St., Dublin 2, €5475. For a cheaper option, try 'Karlstad' three-seat sofa from IKEA, for €375 for the white fabric version.
Wall and floor paint: Airy, light blue walls are fashion forward, according to Colour Futures International Colour Trends 2010, and teaming them with white floors makes for a cool contemporary effect. To achieve a similar colour combination, try colour code R0.05.85 from Crown Paints Colourmix, Crown Trade Clean Extreme Emulsion. For the floor, opt for G0.03.86 from Crown Paints Colourmix, Crown Trade Satin Finish.
Blue cushion: Cosy up with a 'Chloe' cushion from Laura Ashley, £16.50 (approximately €18.30.)
Vases: Mix and match different white dinnerware pieces to add interest and texture to the overall result. Cream Scratch vases from John Rocha at Debenhams, £12-16, (around €13.30-€17.74) will add height to your scheme.
Alyson O'Brien, One Day Design, www.onedaydesign.ie Tel. 087 741 8726