2020 is the year of the renovator and you've told us your plans in our Irish Home Renovators Survey
Whether you're one of many first-time renovators, a serial fixer-upper, or are on more of a slow reno buzz, there is a lot of it about.
371,285 homes nationwide have made improvements under SEAI's schemes, and under the Home Renovation Incentive (HRI) scheme, 94,179 properties have undertaken works to a total value of €2,470,799,346. Yes, we're spending billions.
We've been busy – but we wanted to know what you've got planned for 2020, so during October and November 2019, we ran our Irish Home Renovators Survey to take the temperature of the home improving-nation. Here are the results...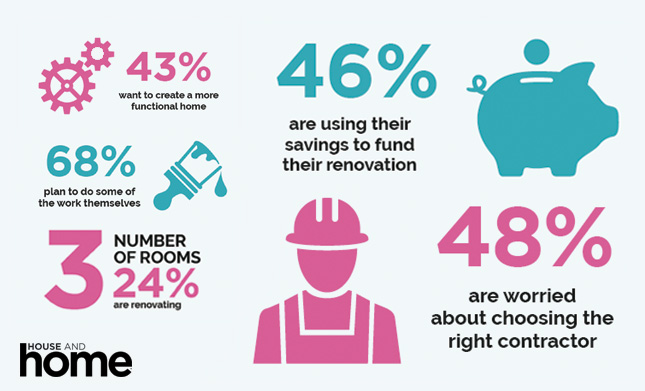 WHAT WE'RE SPENDING ON HOME RENOVATIONS
How much cash is in the pot?
Under €5,000: 19%
From €5,000 to €10,000: 14%
From €50,000 to €75,000: 11%
€100,000: 4%
More than €150,000: 13%
WHAT WE'RE RENOVATING
The projects you're planning...
A home renovation including extension: 33%
A new bathroom: 44%
New windows: 30%
A new kitchen: 40%
Heating system overhaul:  33%
An attic or garage conversion: 10%
Re-painting: 52%
Improving BER rating: 31%
HOW WE'RE FUNDING OUR RENOVATIONS
The nitty-gritty bit...
Savings: 46%
A bank or Credit Union loan: 9.52%
Savings and a loan: 24%
Releasing equity: 6%   6
Gift or inheritance: 3%
WHY WE'RE RENOVATING
Everyone's reasoning differs...
We don't want to move: 34%
To repair existing structural issues: 9%
To upgrade our energy efficiency: 29%
To add more usable space: 32%
To create a more functional home: 43%
To fix previous mistakes: 19%
HOW MANY ROOMS WE'RE RENOVATING
The number of spaces we're renovating...
1: 9%
2: 20%
3: 24%
4: 13%
5: 6%
More than 5:29%
THE STUMBLING BLOCKS WHEN RENOVATING
The things we're worried about...
Budgeting: 46%
Understanding hidden costs: 36%
Choosing the right contractor professionals: 48%
Lack of knowledge: 17%
Project going over-budget: 32%
Fear of mistakes: 36%
THE POSITIVES OF RENOVATING
What we're excited about...
The finished product: 71%
Shopping for fixtures and finishes: 23%
The interior design process: 41%
Creating a home with new functionality: 49%
WHAT WE'RE RENOVATING OURSELVES, DIY STYLE
68% plan to do some of the work themselves. Here's what they're tackling...
Tiling: 32%
Painting and decorating: 83%
Carpentry: 17%
Plastering: 5%
WHAT WE'RE ADDING WHILE RENOVATING
A renovation offers a chance for upgrades...
Eco-friendly materials: 37%
Adding smart features: 44%
Increasing energy efficiency: 72%
*Survey of 105 House and Home and houseandhome.ie readers, during October and November 2019