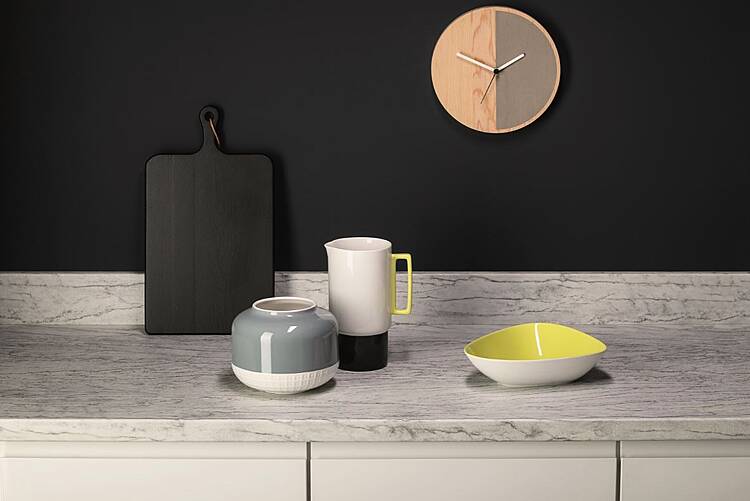 A House and Home promotion
Are you undertaking a renovation in your home? Whether it's a new kitchen design, bathroom or wet room project, or even a new office, it's likely that worktops will play a key part. But there are so many types of worktop out there, it can be difficult to know which is right for you. With everything from laminates to quartz, solid wood to solid surfaces – and all with different price points and properties – deciding which worktop meets your lifestyle and budget can be tricky.
Fortunately, the experts from Noyeks Newmans are here to help. Established since 1893, the company is a trusted supplier in Ireland, offering affordable and premium solutions for retail, trade, interior designers, architects, public areas and commercial spaces. As such, the team are highly knowledgeable when it comes to worktop materials, and are on hand to offer plenty of good advice before you buy. Here, they're answering some of your most-asked questions about laminate, quartz, solid wood, and solid surface worktops, plus splashbacks.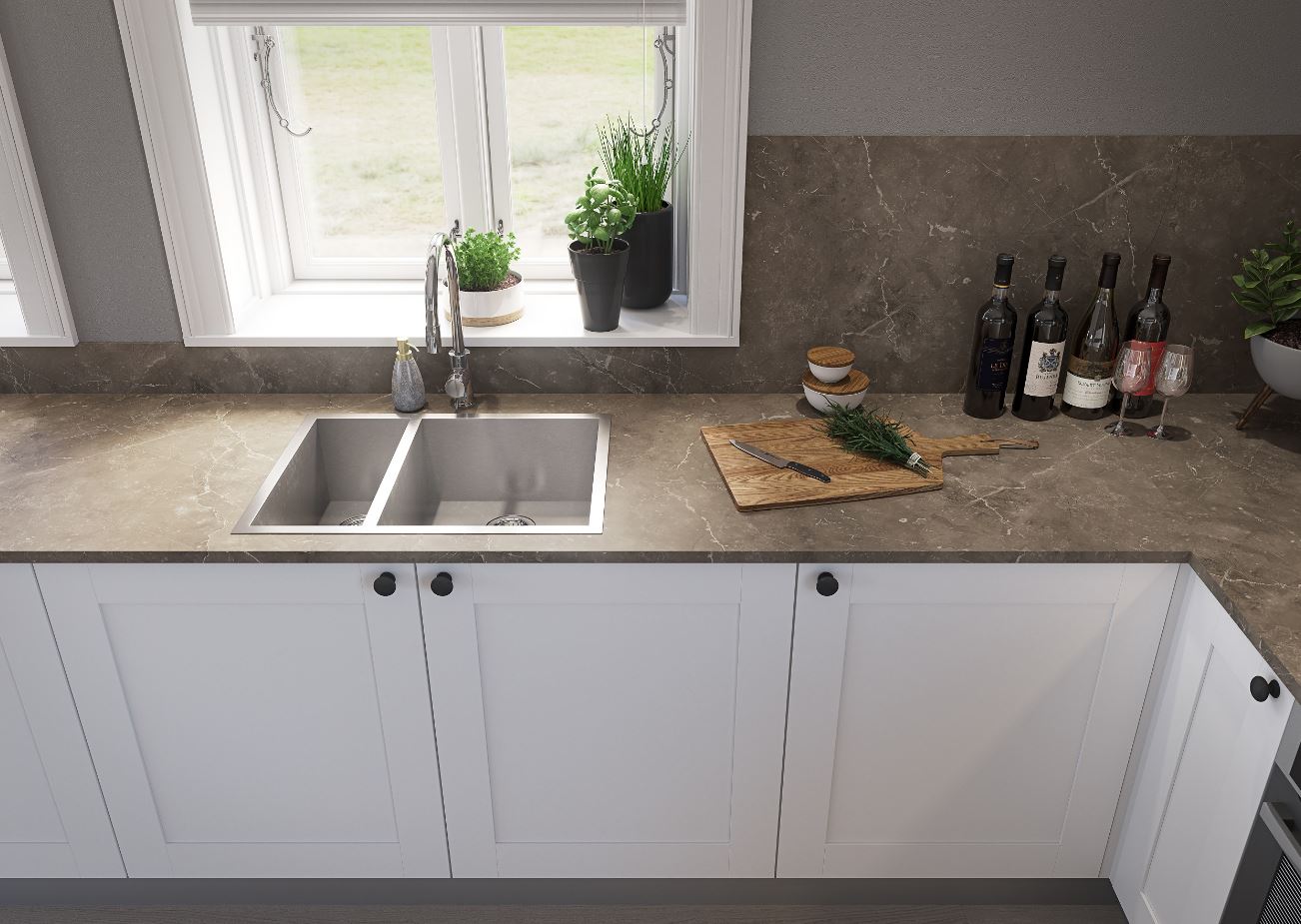 Will a laminate worktop look good?
If the last time you experienced laminate it was cheap and shiny, it's time to look again. Laminate worktops have come a long way in recent years and now offer a huge selection of decors, textures, colours and designs. You can buy designs that successfully mimic natural marble and granite, timber, and ceramic. However, they're still an affordable option, so are great if you're kitting out your kitchen, pantry or workspace on a budget. These worktops are durable too, with surfaces that are laminated on both sides and all edges, and drip resistant seals ensuring they're 100 per cent waterproof. Laminate worktops are easy to keep clean with just a wipe, and able to withstand most household cleaners. In addition, many have antibacterial properties for complete peace of mind. Noyeks Newmans recommends looking out for: Duropal, Omega (shown above), TopForm and SmartArt.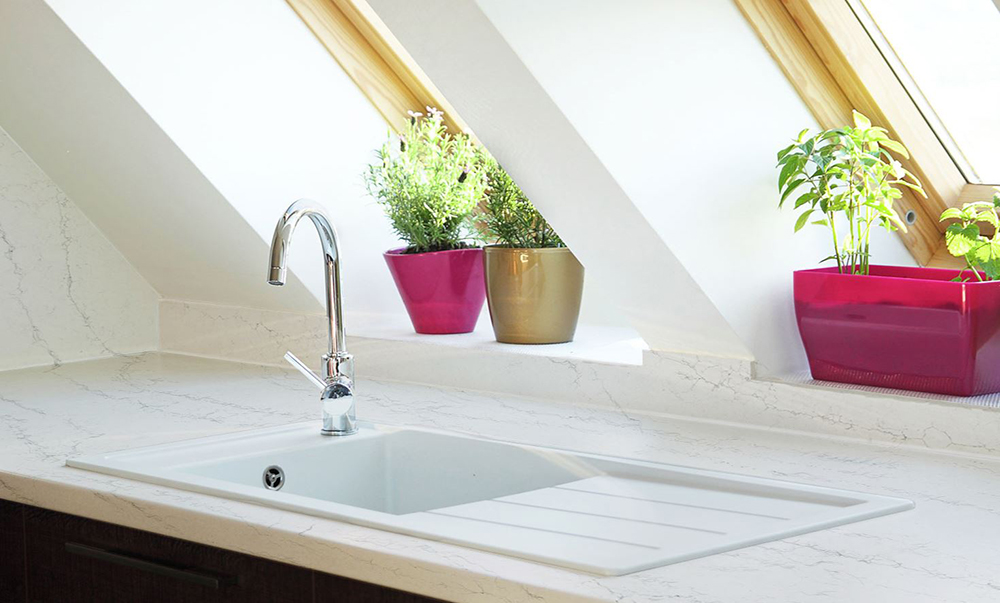 What are the advantages of a quartz worktop?
Quartz is made from high-purity natural minerals that are mixed with resin to make an extremely durable and low-maintenance surface. As such, you have the advantage of naturally occurring patterns in the worktop and a beautiful design, without the associated upkeep of a solid piece of stone. This makes these functional and elegant surfaces a popular choice for kitchens and bathrooms, particularly as they're completely water resistant. Quartz can also be cut to a custom template, which is perfect for awkwardly shaped spaces. It's a good idea to see samples of any worktop before you buy so you can view it in your home – and quartz samples are available from Noyeks Newmans. The company also has special offers for supplying and fitting within the Leinster region, and all quartzes come with a 25-year warranty. Shown (above) is a Mason Quartz worktop.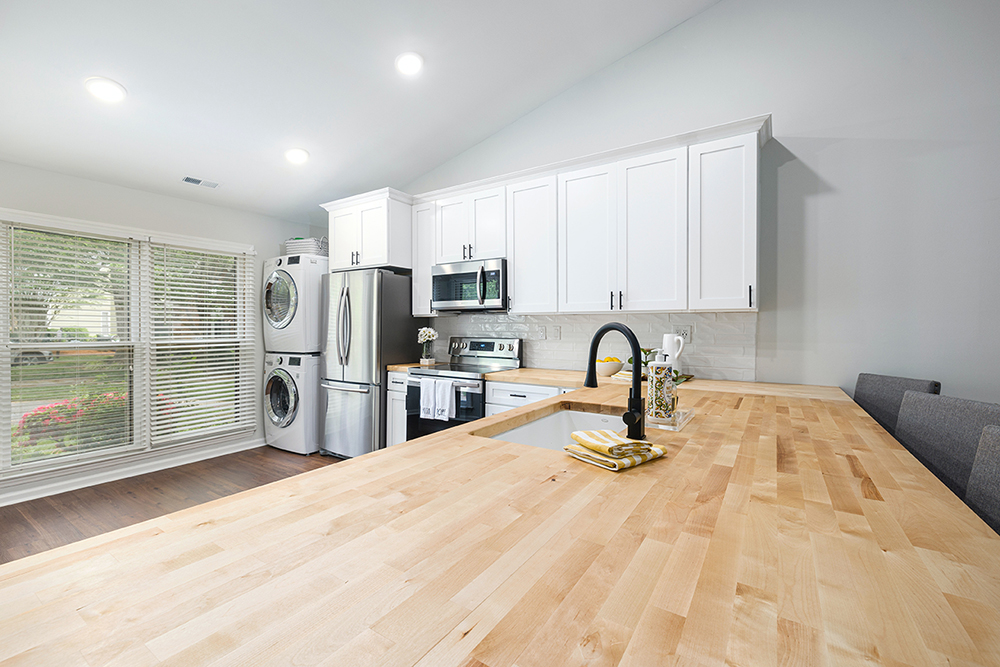 I'd love a solid wood worktop, how do you care for it?
Nothing beats the warmth of solid wood worktops, and it brings a completely natural look to the room, as no two pieces of timber are the same. Wood is a particularly good surface for a breakfast bar or kitchen island, as it's a tactile choice. A wood worktop does require more maintenance than other surfaces, and should be regularly oiled with specialist products to keep it waterproof and beautiful. Also, avoid placing hot pans on the worktop – invest in plenty of trivets. However, a well-oiled worktop is easy to keep clean, needing only warm water and a mild detergent, just be sure to mop up any spillages straightaway. The Noyeks Newmans team can offer plenty of maintenance advice, and specialist products are available – the team recommends Rubio's range of protective oils.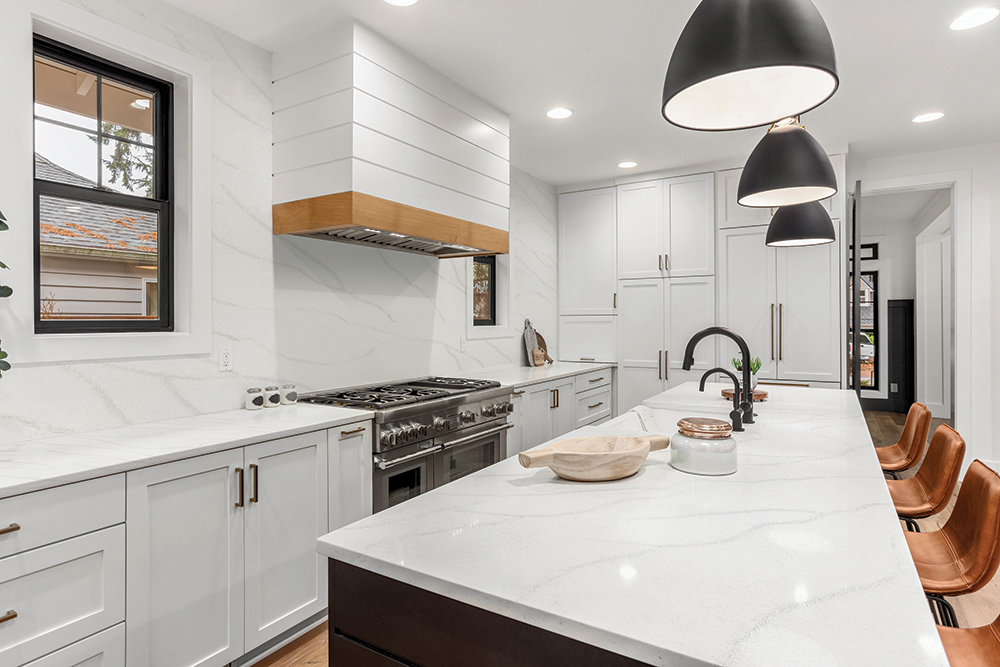 What do I need to know about solid surface worktops?
Solid surface materials are made from a blend of acrylic resins and natural minerals, to create a product that is both highly practical and available in a wide range of luxurious looks. The higher proportion of resin (as opposed to quartz) also means the material can be shaped and seamlessly joined. As such, you can use this versatile surface for wall panelling, to create an integrated desk and shelving, or as a bathroom countertop. Solid surfaces are resistant to heat, mould, pollutants and bacteria, so are a safe and hygienic choice for residential, public and commercial settings. Minerva solid worktops (available from Noyeks Newmans and shown above) have a 10-year warranty.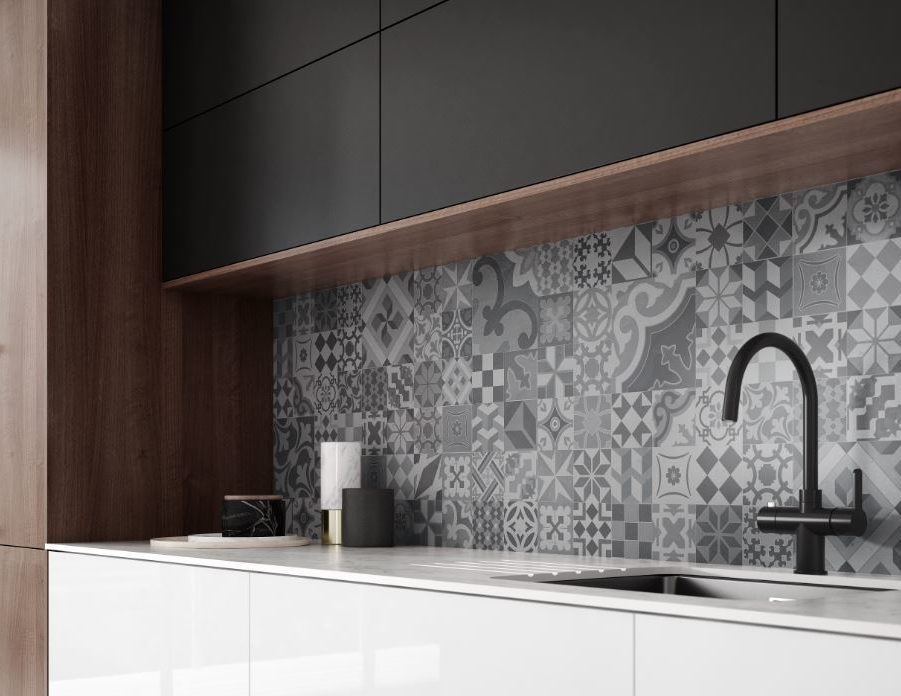 What splashback options would you recommend?
Splashbacks are a sensible choice around hob and sink areas, as they protect your walls from splatters and stains, and are much easier to keep clean than paintwork. Traditionally, splashbacks are tiled, but Noyeks Newmans recommends a new generation of acrylic splashbacks, such as those from SmartArt, Omega and Minerva. Offering design flexibility, acrylic splashbacks are much easier to install and maintain than ceramic tiles – a wipe with a cloth and mild detergent is all that's needed. Best of all, there are no grout lines where dirt and mould can gather.
Noyeks Newmans operates from three locations, with showrooms in Finglas and Ballymount in Dublin, and Tralee, Co Kerry. Each branch stocks a full range of worktops, plus products for installation and maintenance. Noyeks Newmans offers delivery to Leinster region and surrounding towns. If you have any further questions, get in touch with the team – full contact details can be found here.