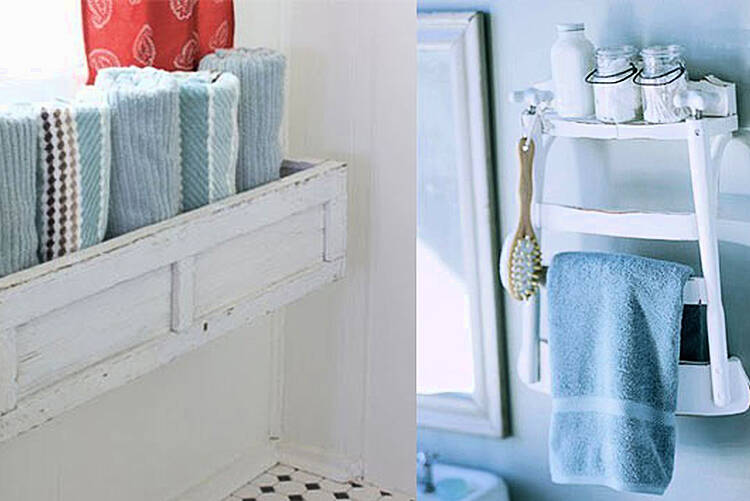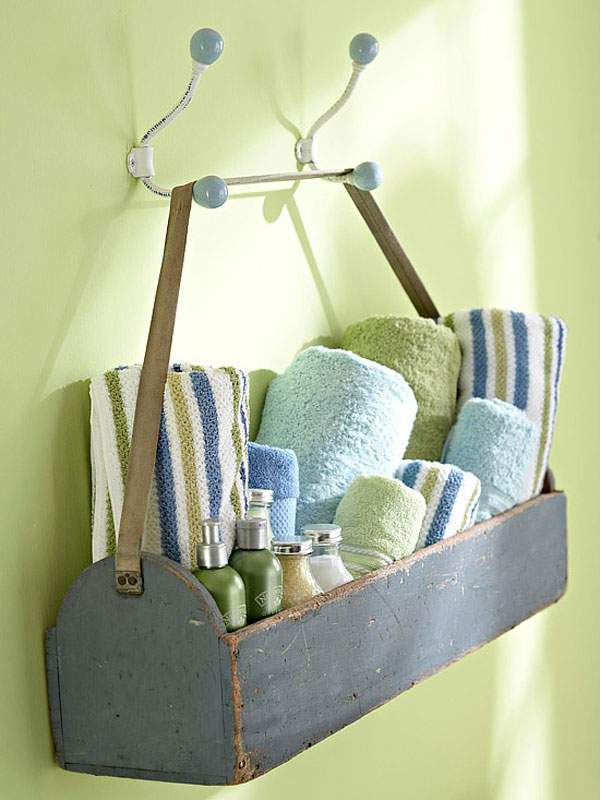 image via www.pinterest.com
I don't know what it is about bathrooms but there never seems to be enough storage space does there? And unless you're lucky enough to be able to fit a free-standing pretty cabinet into your bathroom housing all your towels and toiletries, it requires some creative thinking! Generally the rule of thumb is.. if you're short on floor space, use your wall space.. here are a few quirky bathroom storage ideas for some inspiration..
The one above is basically a vintage wooden trug with a strap attached which is simply hung over a couple of pretty hooks. This would be ideal in a guest bathroom or where there wouldn't be too much traffic but you still want it to look pretty. If it's a busy bathroom I could see this trug and everything in it all over the floor!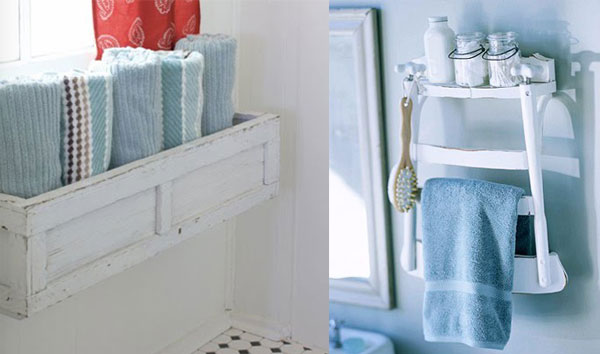 images via www.theletteredcottage.net and www.pinterest.com
This old flower box has been given a coat of white paint and has been lightly distressed for a shabby chic look. It now serves as storage for towels in this pretty cottage bathroom.
This children's chair has had its seat removed and has been turned upside down and mounted on the wall to serve as a quirky little towel rack and shelf for a small bathroom. These are fantastic examples of repurposing and re-inventing old pieces.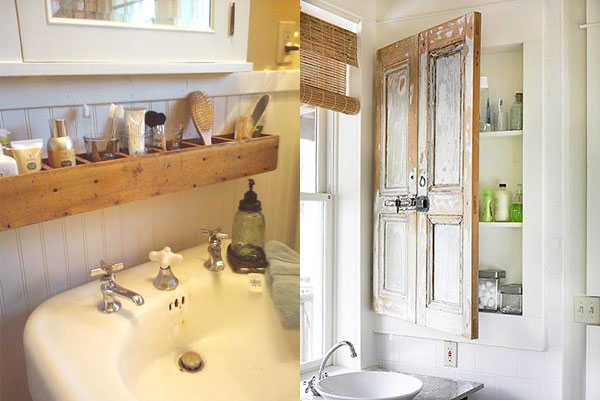 images via www.pinterest.com and www.decorology.com
I absolutely love these two ideas. The sink area is pretty chaotic at the best of times so this would be a great way of keeping that area clear but still having your toothbrush etc. close to hand. A left over length of rustic, salvaged wood has been fashioned into a very handy shelf with little compartments for all your bits and bobs. It adds such lovely vintage charm to this quaint little bathroom.
This salvaged shutter has been repurposed as a medicine cabinet door in this bathroom. It adds so much character and warmth to the all-white scheme.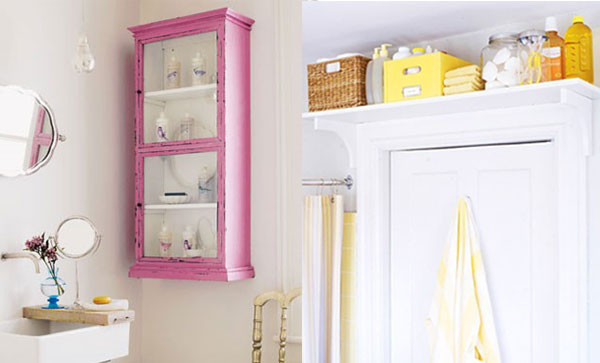 images via www.pinterest.com
Add a splash of colour to your storage solutions like these charming bathrooms. A beautiful glass fronted cabinet has been painted a bubblegum pink and distressed along the edges for a vintage look creating a fabulous and practical storage unit in this bathroom. This space is a lovely mixture of vintage, rustic and modern. Adding a bright colour to an old or unwanted piece of furniture can really breathe new life into any interior space. For more inspiration you can check out my post on brightly painted furniture.
A shelf above the door with pretty containers and accessories in shades of yellow add a fresh zingy look to the bathroom above.
images via www.pinterest.com
Pretty baskets hanging from a rail mounted on the wall provides a pretty and functional display in this room.
These crates have been mounted on the wall for holding bottles and smaller toiletries. They add a lovely vintage touch to the room. There are many other ways vintage crates can be used for storage in bathrooms and throughout the home which I recently did a post about..
What do you think? Have you created your own DIY storage pieces for your bathroom or anywhere around the home? Do tell! Get in touch below :)