Lynn bought her house in March 2018, and while she and her husband loved the space, they knew they had a lot of work to do to bring it up to scratch. A kitchen renovation was first on their hitlist.
BEFORE KITCHEN RENOVATION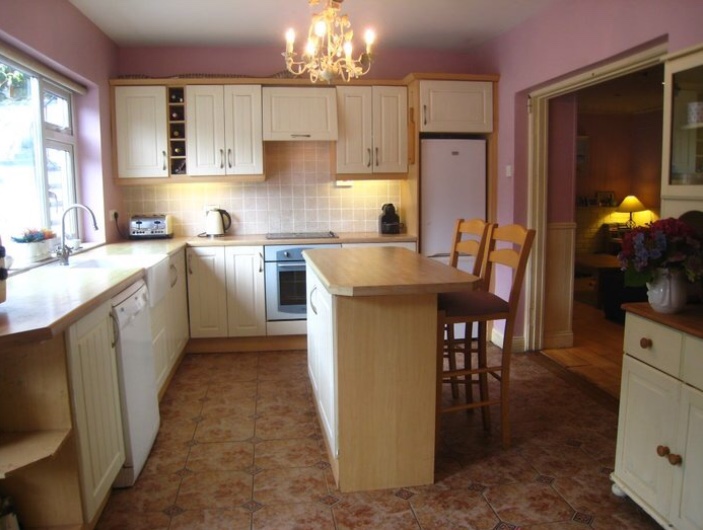 AFTER KITCHEN RENOVATION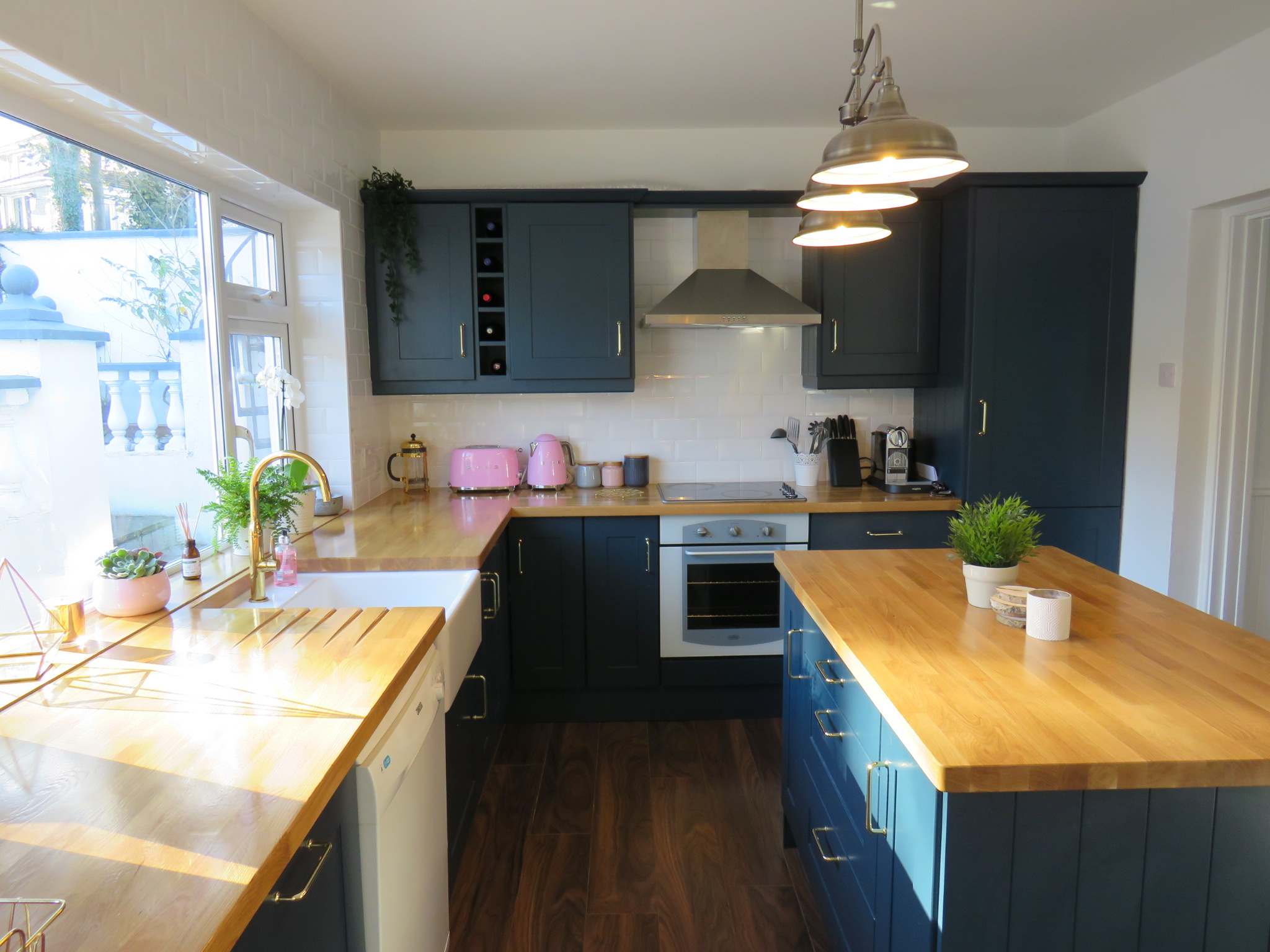 What made you decide to start your kitchen renovation? 
My husband loves cooking and we used to talk about having an island in the new house where I'd sit up at it, have a glass of wine, get served my dinner and listen to music. So we were determined that we would get that space right. The kitchen is south-east facing and so the laminate countertops had turned green and we needed to change them to a durable solid wood. Also, the kitchen countertops were below average height, which would create some issues when we tried to replace the dishwasher. So there was a practical side to it too, and this made our minds up about getting a new kitchen as we needed to raise the height of our countertops.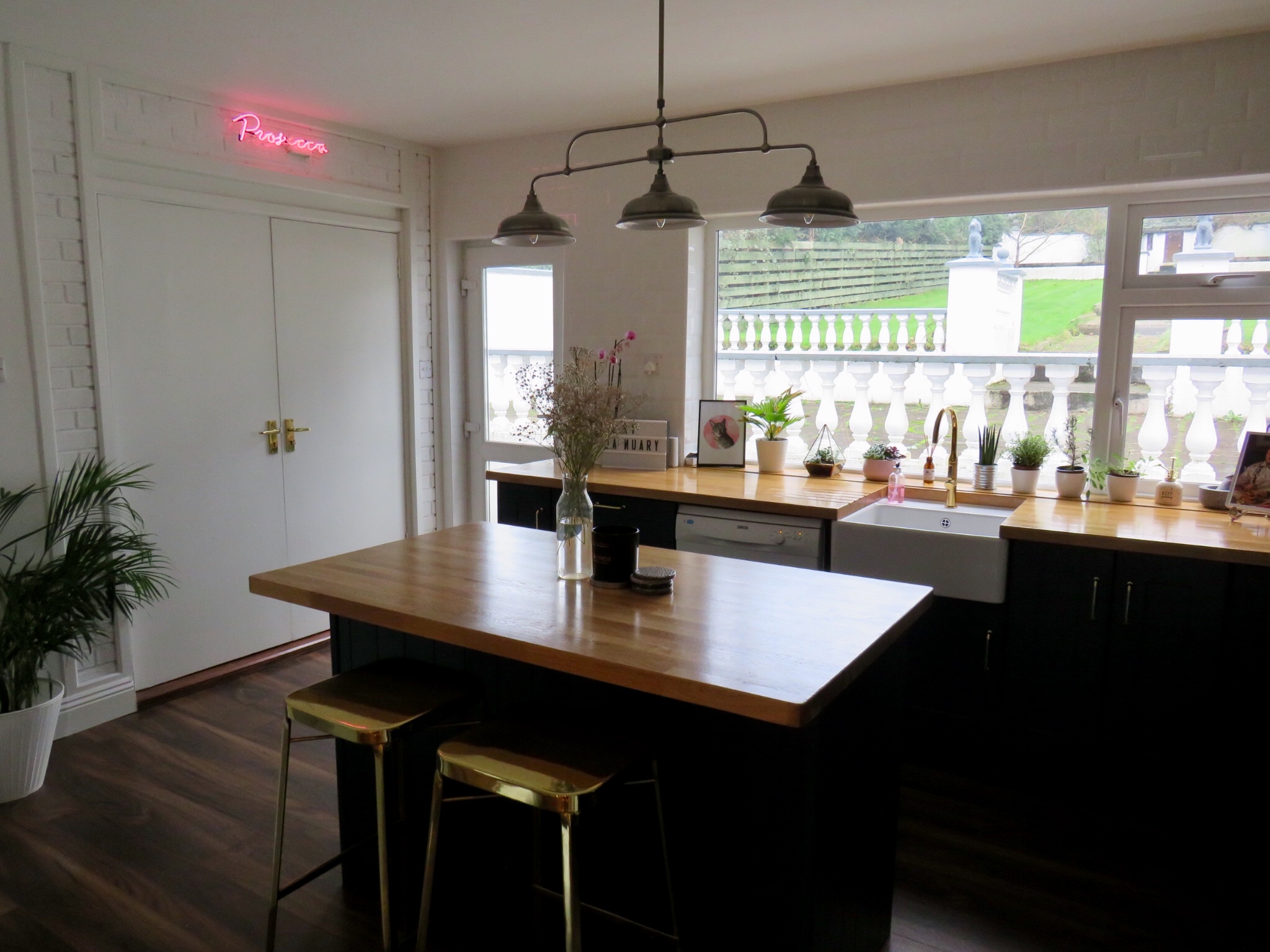 What was involved in the kitchen renovation?
As this is our first house, we had no idea where to start. Initially, we had planned to get new countertops, and a new island, re-tile and just paint the cabinets. But we found a great carpenter, Jimmy O'Donoghue, who was able to guide us to the process. We decided it was pointless to just paint the cabinets if we were going to go to the effort of doing everthing else.
We stripped everything back to the bare walls so we could re-do the wiring and tiling, which seems like a normal step but we uncovered an issue. There was evidence of fire damage and some of the wires were live and possibly dangerous. We had to get additional electrical work done, which we hadn't planned on, but in reality we were lucky to have found out when we did.
When everything was stripped back, we also exposed one of the original exterior brick walls, before the extension was put on some time in the 80s. We decided we wanted to keep this wall as a feature and so we got a frame built around it. A happy discovery.
After the electrics were fixed we went on to picking the wood for the countertops, the type of doors, handles, taps, tiles and all the fun stuff really. As I said we knew want we wanted the kitchen to look like, thanks to the many Pinterest boards, so the design process was relatively easy and fun.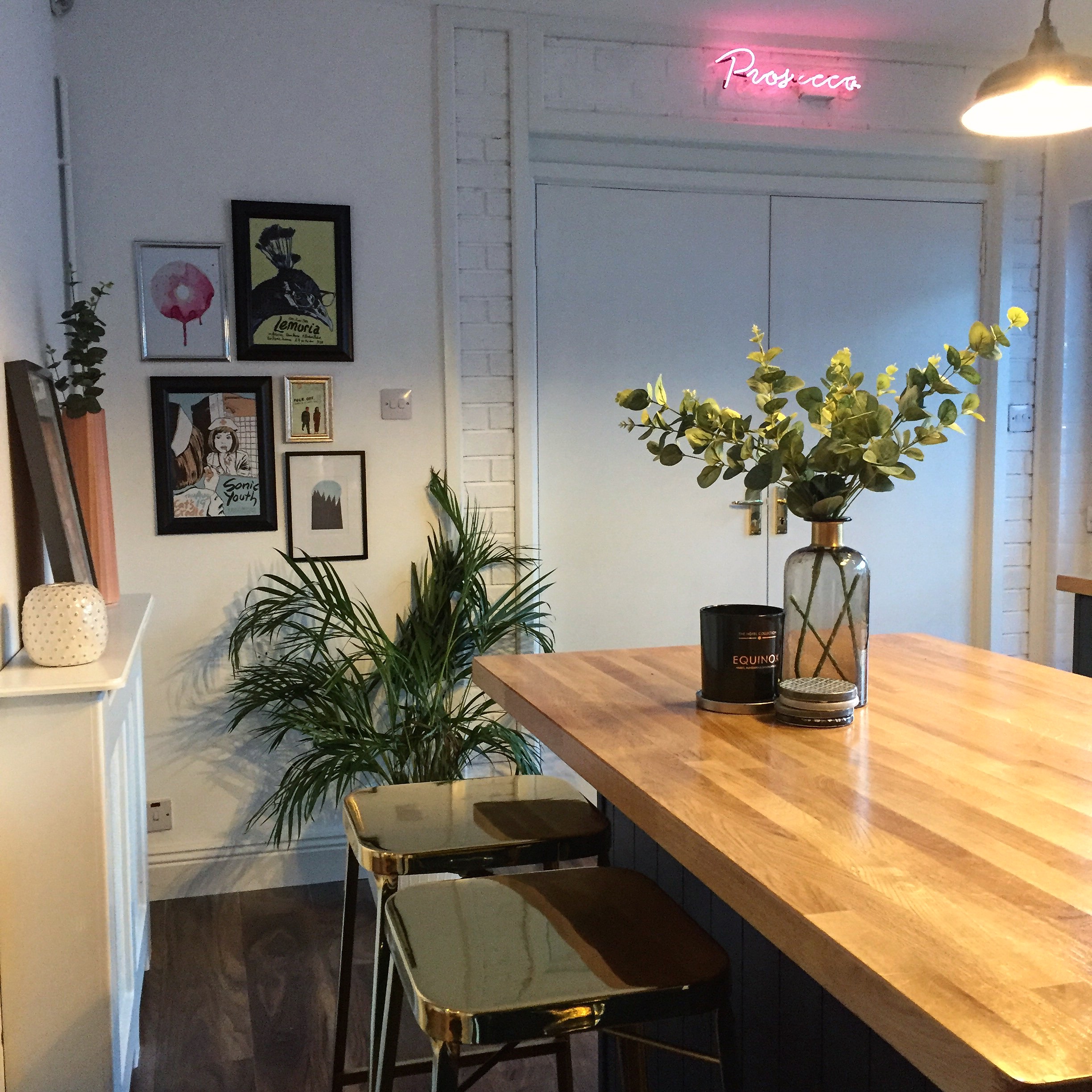 What was your budget? 
We didn't really have a budget. We thought we could do most of it ourselves and just get new countertops and tiles, so we had imagined spending around €3,000.
When we got into it, and realised everything we actually needed to do, along with the electric fix, that figure went up. We just took it job by job though. In total we spent a lot more than we had planned when we bought the house but since we kept the originally carcasses we were able to keep costs down. In total, not including stools, appliances or accessories, the work cost about €8,000.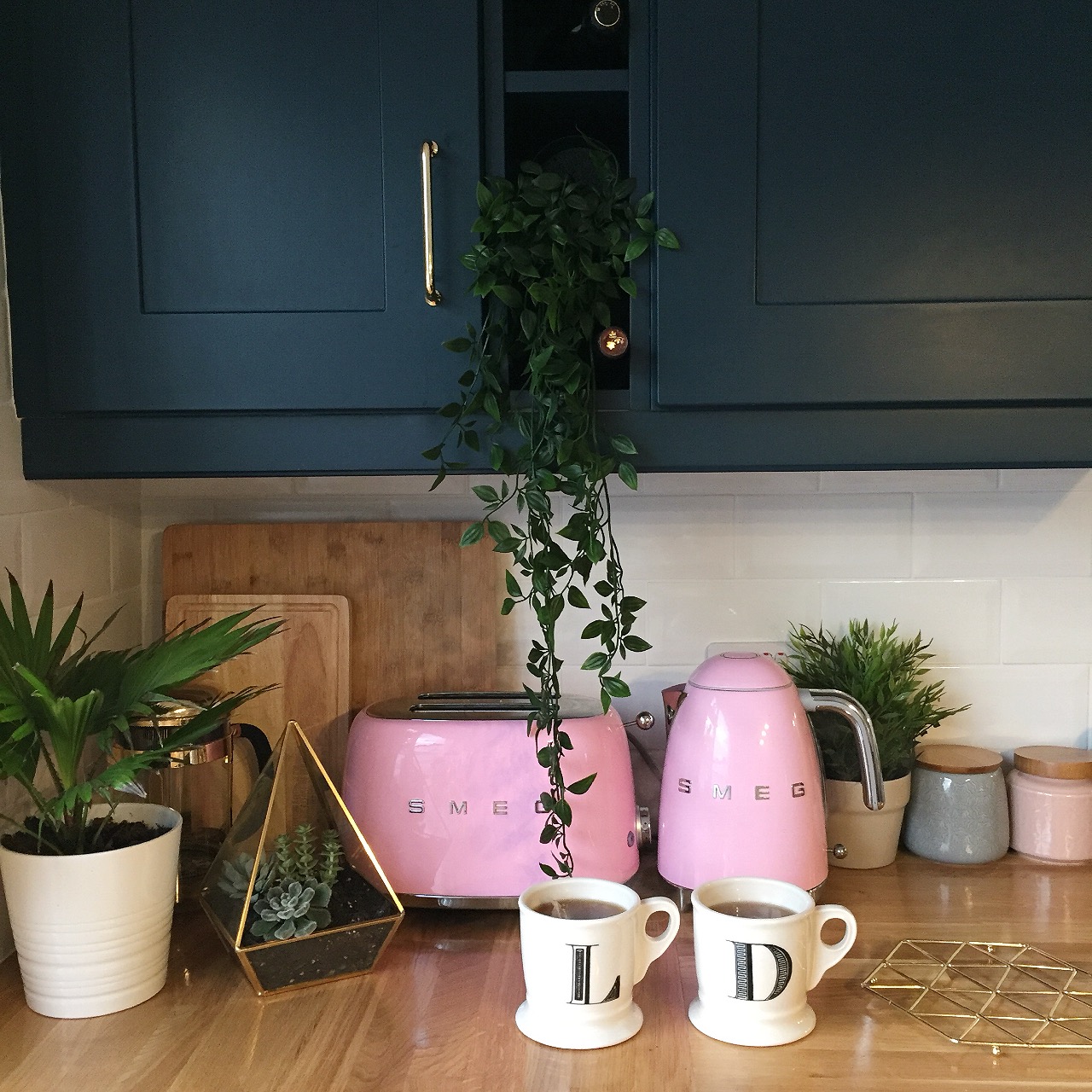 What did you spend the most on? 
 Most of our budget went on the worktops, and I totally think they were worth it. We went with a solid oak countertop. I wanted a matte finish but we had to get a bar lacquer on top of it to protect it from heat etc.
Was there anywhere you saved, or scrimped on? 
We saved on the actual layout of the kitchen and the frame-work. We actually liked the originally layout and the carcasses were in good condition. It would have been crazy to get a whole new frame work designed and made when what was there did the job. I'd rather spend the budget on gold stools and gold cutlery!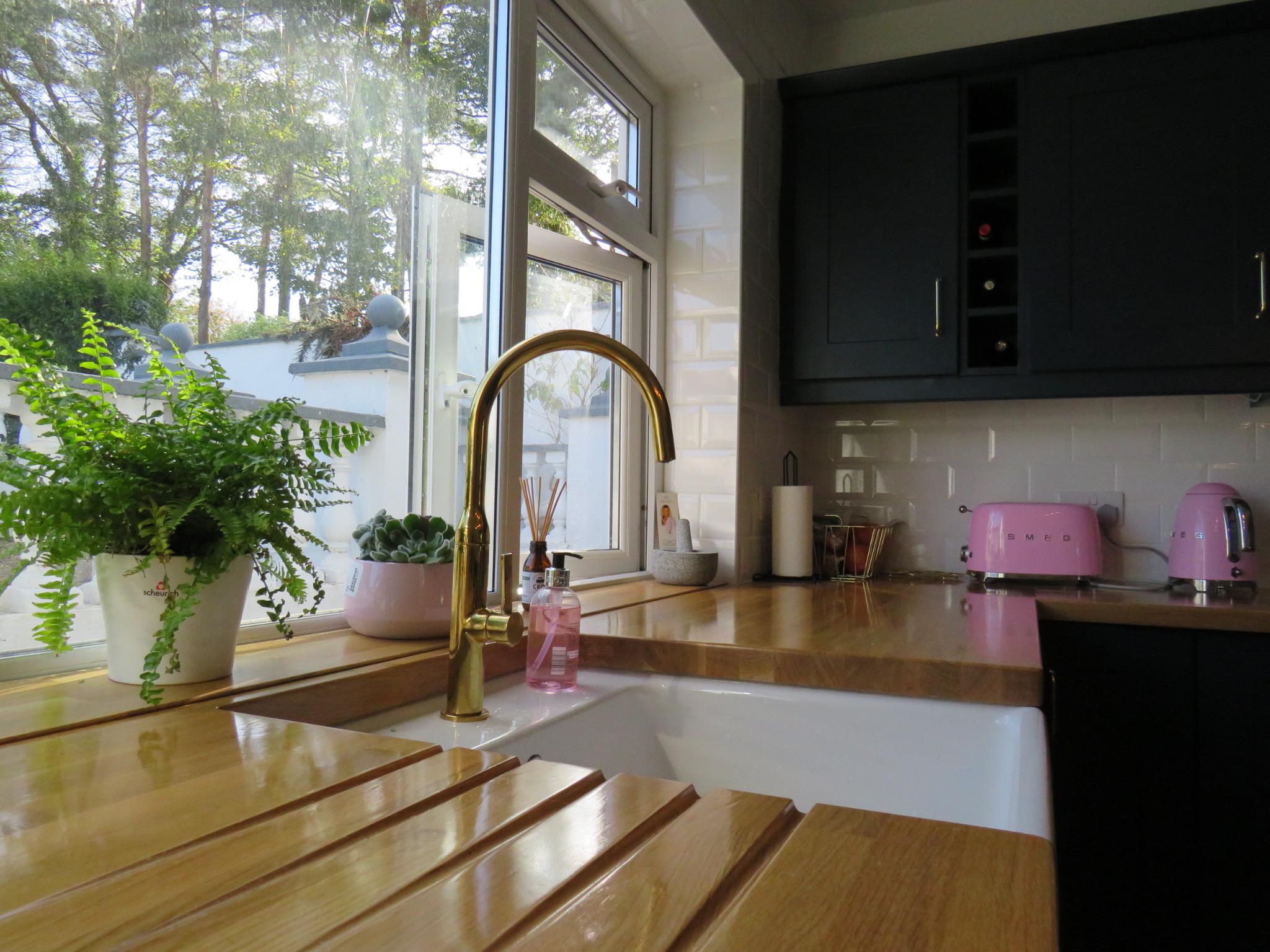 What was the cost-related thing that surprised you most? 
I guess the tiles were something I was surprised at how inexpensive they were. I'm not sure why I thought they'd be more expensive because we were just going with plain white subway tile. We got ours in Homebase and they were super affordable, and exactly what we were looking for. I think tiles really finish off a look, so they're a small investment for the impact they have.
Is there anything you would change if you had a limitless budget? 
 A brand new Smeg oven would have been lovely. And now that we look back, we're raging we didn't cover in our dishwasher. Total newbie mistake. But we'll live and learn.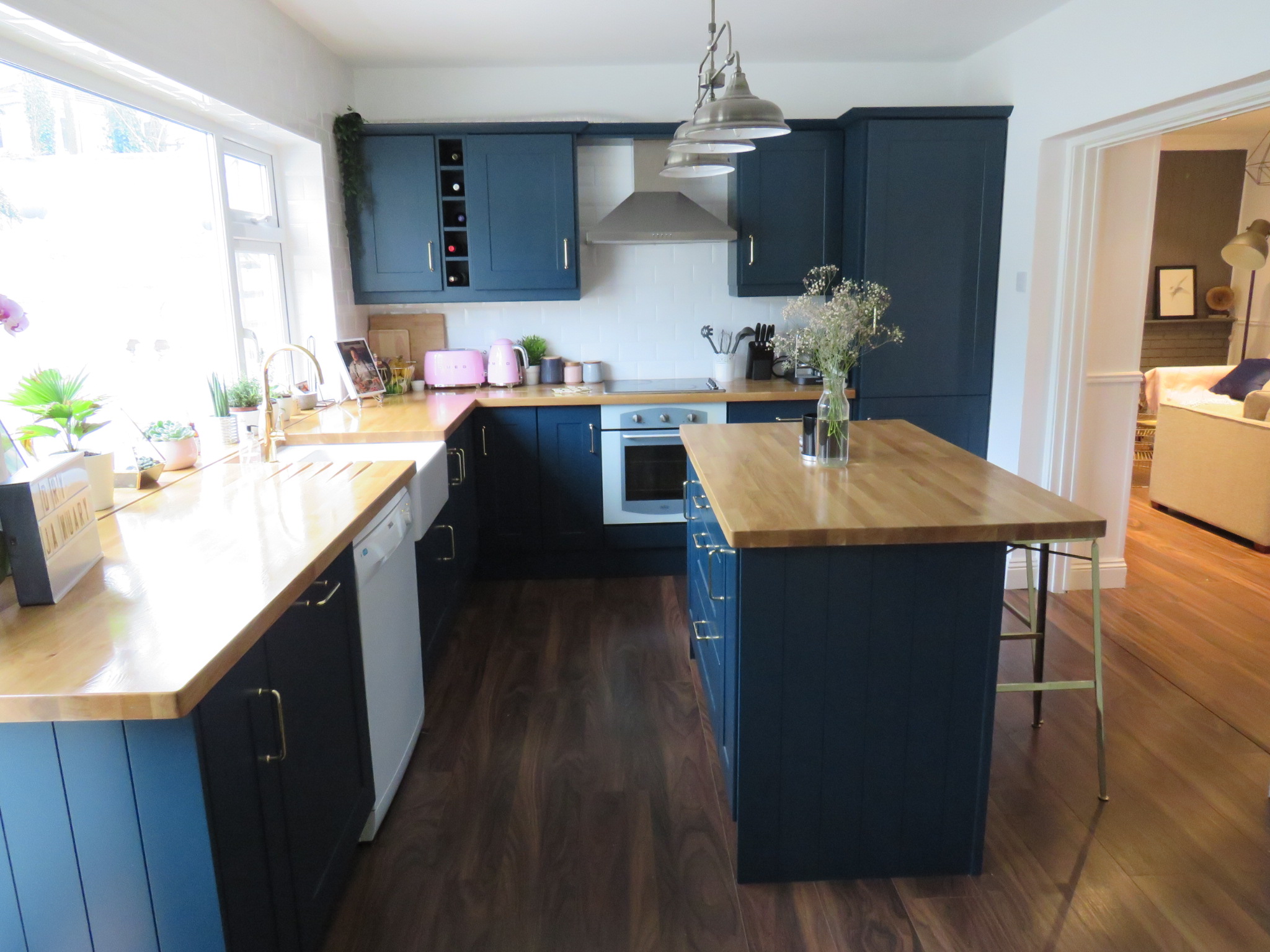 Sourcebook
Kitchen: Jimmy O'Donoghue Crafted Fitted Furniture
Flooring: The Floor Gallery
Appliances: Smeg
Taps: Ikea
Island lighting: Next
High stools: Made.com
Tiles: Homebase
Neon sign: Finders Keepers
See more from Lynn's home on Instagram - she's @myoldbrandnewhome!