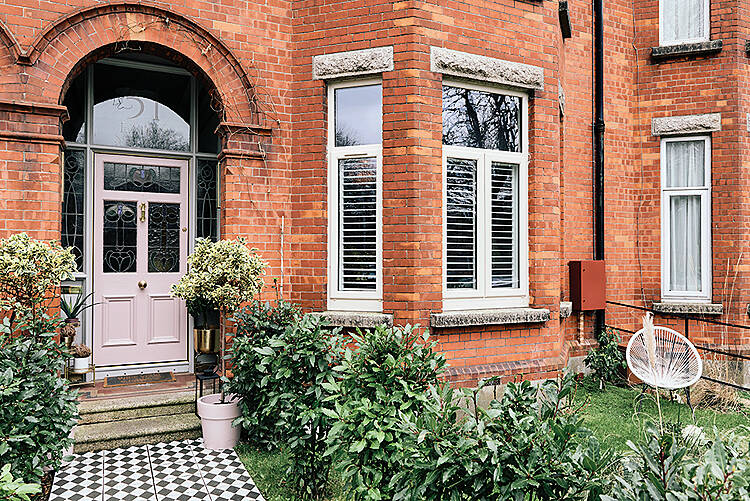 A house full of bedsits on a pretty square in Dublin 6 has been restored into a beautiful family home by DIY husband and wife team Michelle and Gabriel Ramsey
Words: Ciara Elliott | Photography: Philip Lauterbach
Turning an Edwardian period house from small self-contained rental units back into a family home might seem daunting to some but for hands-on renovators Michelle and Gabriel Ramsey, it was exactly the project that they had been looking for.
"I had spent months searching for the perfect property, scouring online listings and attending countless open houses," says Michelle, who works as an interior stylist and designer at nearby independent homeware store, April and the Bear in Dublin. At the time of their search, the couple was living in a three-bedroom new-build house close by, which they had already substantially refurbished. They felt ready to take on the challenge of a period property.
"We were drawn to this particular house because of its location on a lovely, leafy square, and in striking distance of amenities," says Michelle. "We loved its classical architectural features, and potential to be transformed into a beautiful family home, for us, our 10-year-old daughter, Isla and our family pup, Pippa."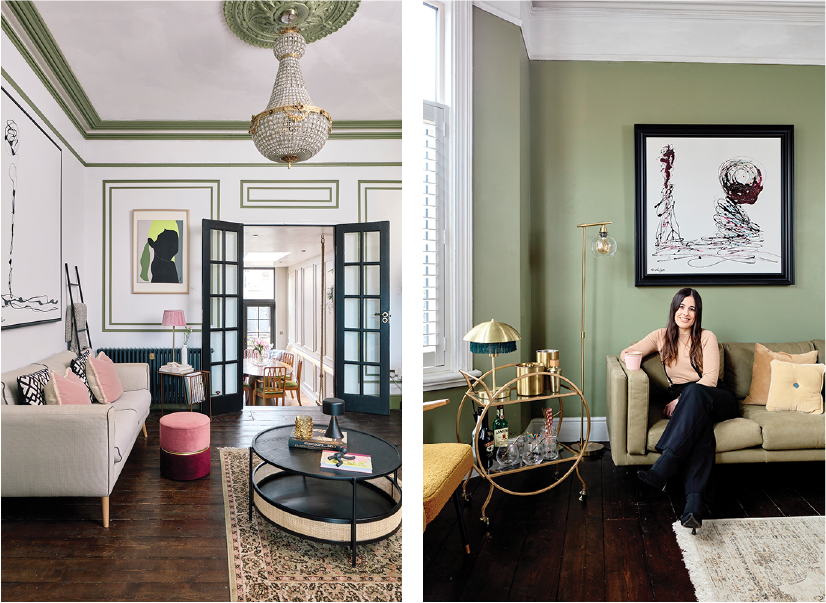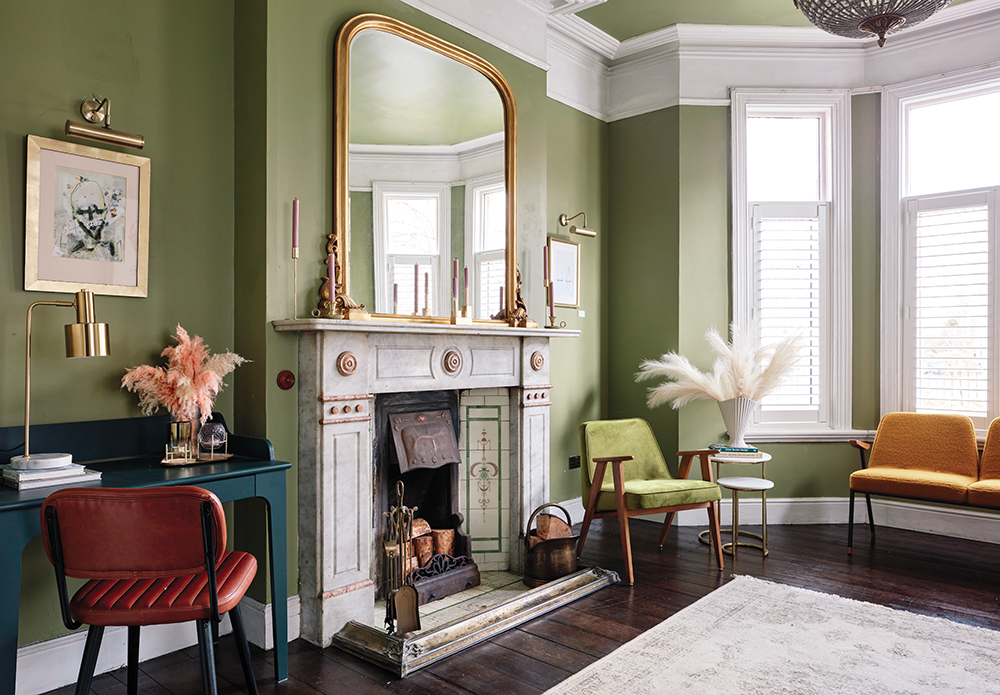 The renovation
The house had been uninhabited for over a decade and at the time of sale was divided into small, cramped units with multiple kitchens and bathrooms. The renovation process started by taking the site back to its bare bones and stripping away years of neglect and decay. This involved removing all the fixtures and fittings, including the old wiring and plumbing and laying bare the wallpaper and flooring – jobs that Michelle and Gabriel, who is an investment manager, largely took on themselves. The family decided to sacrifice a bedroom in order to maintain the size and scale of the master bedroom and also to add a walk-in wardrobe and en-suite. So while the property originally had five bedrooms, this has been reduced to three to suit their needs. The house size is now just over 2,000 sq feet with the addition of the extension.
"As you can imagine the renovation was a very messy and time-consuming process," says Michelle. "We needed to start with a clean slate. We had to find contractors to rewire and re-plumb, install new heating, and insulate all the walls and ceilings."
Next, they called in their trusted builders and had the extension to the rear done, which allowed for the large open-plan kitchen, dining and living area – "as well as the all-important spot for their indoor swing," laughs Michelle.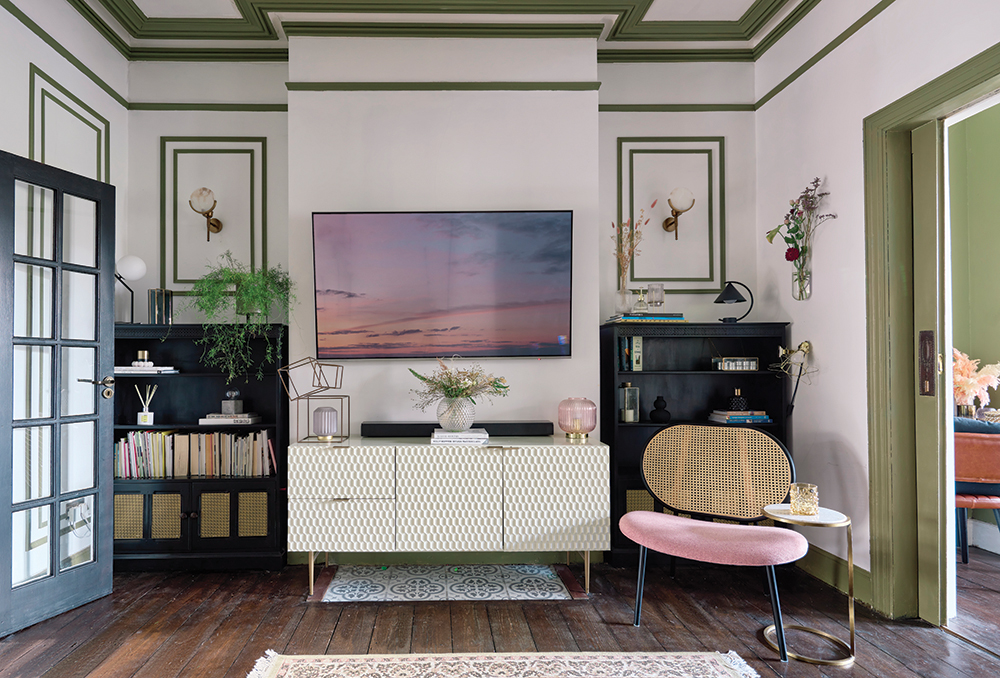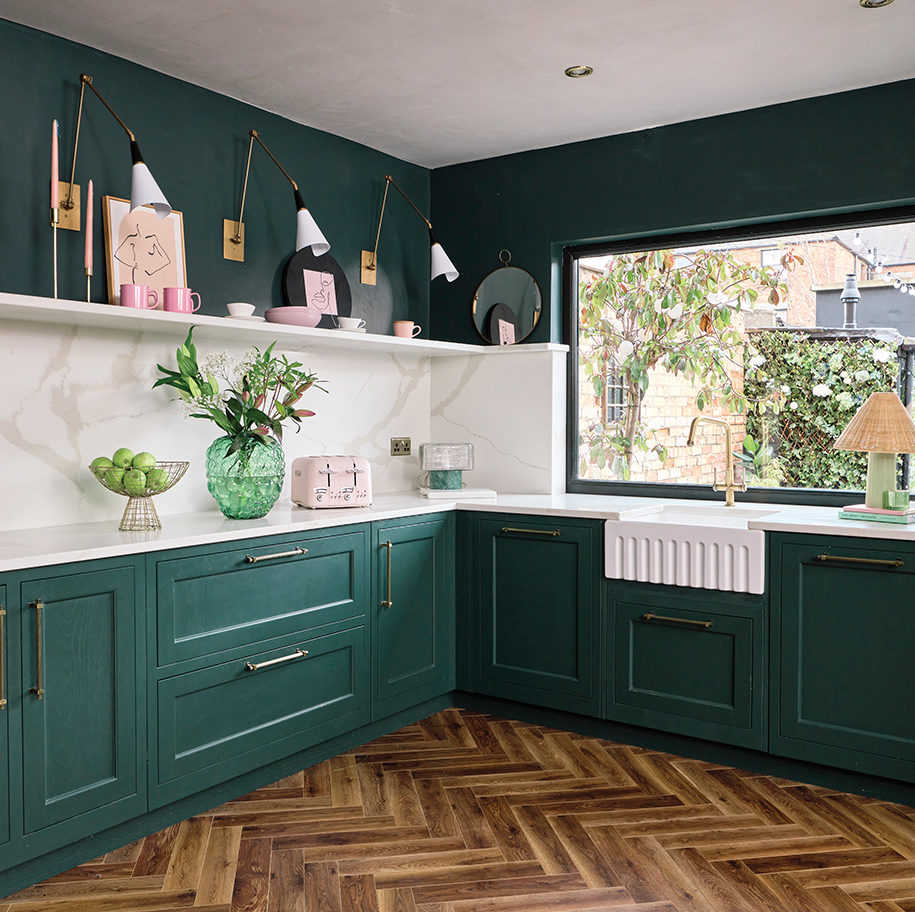 Designing the interiors
The couple chose a mostly neutral colour scheme throughout the property, which allowed them to bring in effective splashes of colour in subtle paint finishes, soft furnishings and art.
"In the kitchen, we spent a lot of time considering the best storage solutions so as to minimise the clutter on the worktops," says Michelle. "For this reason, the design is in-frame, with stone shelving instead of high wall units. Most of the cupboards are hidden. We had a range cooker fitted and incorporated a new window to the garden which has a dramatic impact on the light."
According to Michelle, their biggest challenge was designing the bathrooms. "We have four bathrooms and they all have very different styles and sizes," she says. "I wanted to bring individuality to them all and spent a long time making these decisions. I think we got them right in the end!"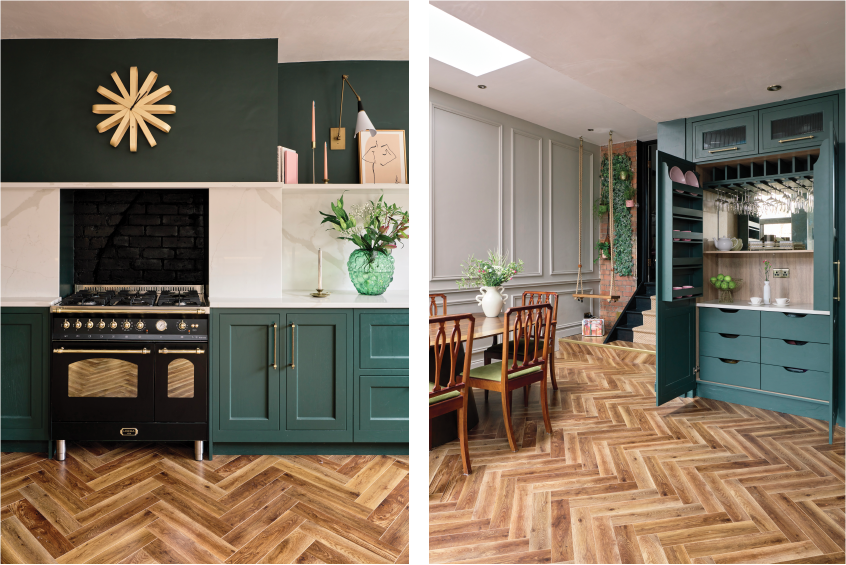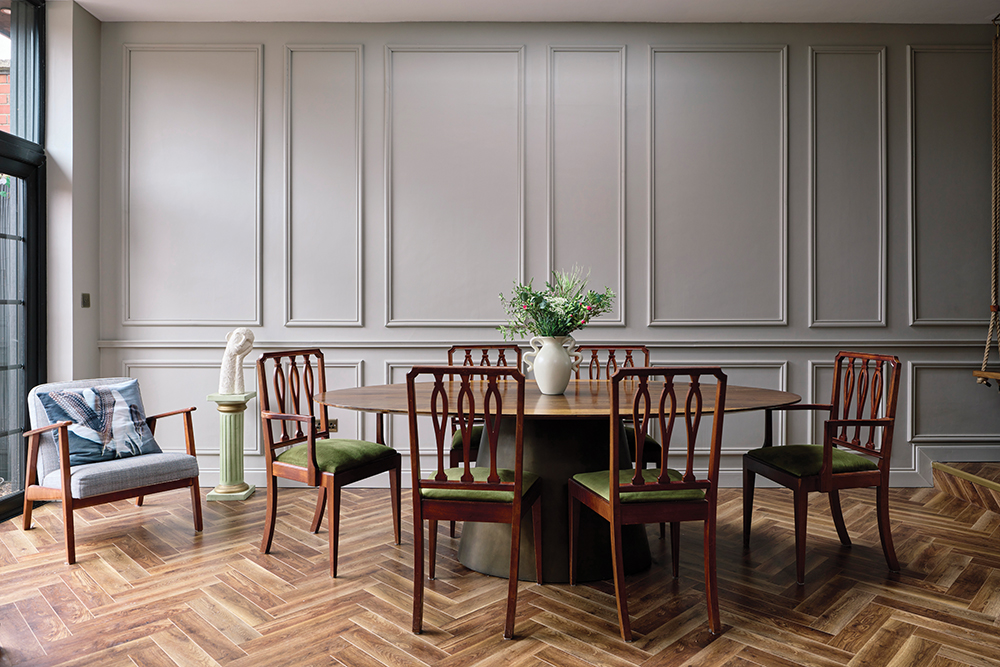 Preserving original features
Throughout the renovation process, which took place during the 'lockdown years', beginning in January 2021, Michelle says she was endlessly inspired by the character and charm of the original features of the house. "From the intricate cornices and mouldings to the stunning stained-glass windows, there were so many elements that added to the beauty of the home, and I wanted to preserve everything that I could. It has been hard work, but the satisfaction of seeing it come to life is worth it."
"In terms of a unified scheme, it helped us to stick to a muted colour palette for the walls and floors," says Michelle. "The exception for us to this rule is the green (Olive Green No 13 from the Farrow & Ball Archive Collection) which we have used in the main reception room. With its high ceilings and bay windows overlooking the park, that room embraces these soft, warm tones."

Some of their favourite things...
Their favourite room in the house is the open-plan kitchen, dining, and living area which Michelle says is perfect for entertaining and spending time with family and friends. "I love the large glass doors that open up onto the garden, bringing the outside in," she says. "There is nothing better than a sunny day with friends and family and the kids running around."
The family also love their Italian range cooker, which has made cooking and entertaining a joy. "I feel like if you invest in high-quality, timeless pieces they will last for years to come. I also love how the cooker looks - with its brass detailing. Our favourite item in the home is probably our large dining table, which is the perfect centrepiece for family meals and celebrations."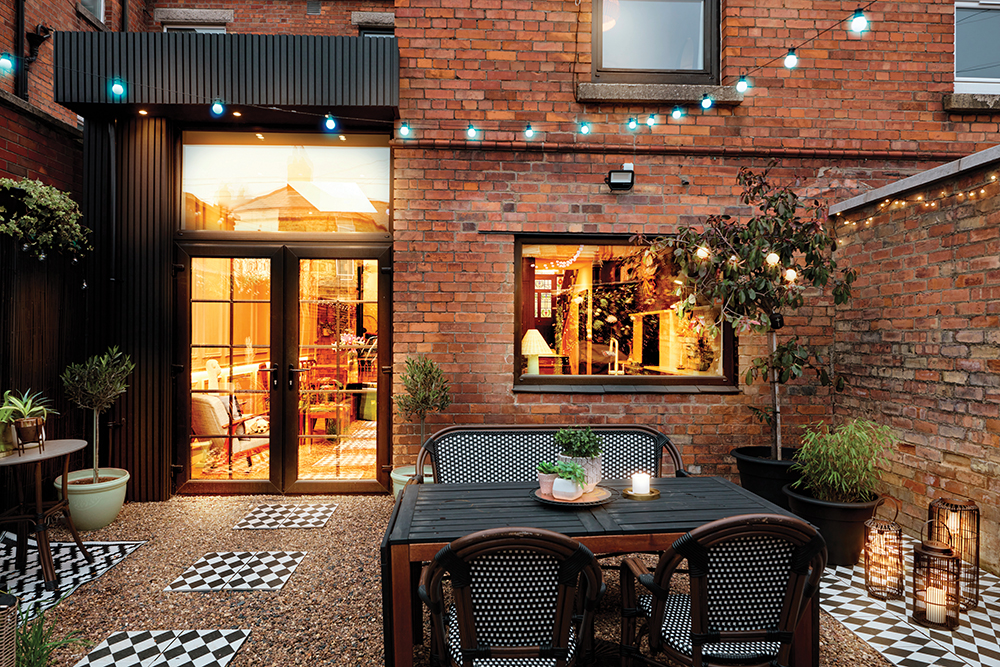 Lessons learned
When combining old with new in a renovation of a period house, it is important to be sympathetic to the original décor and features and Michelle has expertly sprinkled the house with some antique furniture which works well alongside the modern pieces.
"It was important to me to create a space that was functional, stylish, and comfortable, but if I could change one thing I would have included a slightly larger utility room," says Michelle. "I'm a neat-freak and love having extra space for laundry and to store utilities."
Older properties always have quirks and for those doing a similar renovation, Michelle's best advice is: "Expect the unexpected and be prepared for setbacks. Do your research, have a realistic budget, and be prepared to put in the hard work."
For more, follow the family's ongoing renovation on Instagram @ramseyresidence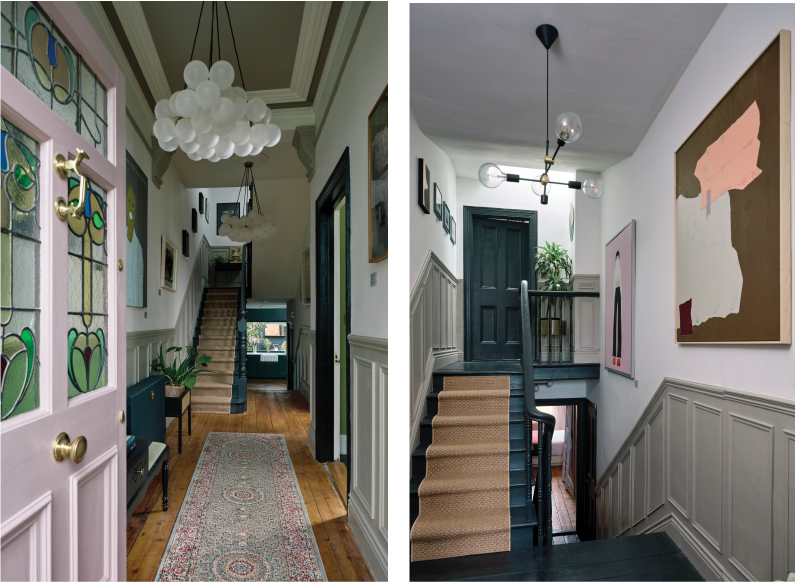 Sourcebook
Building Contractor: John Somers, Carbury Construction. Email: [email protected]
Designer: Michelle Ramsey, Email: [email protected]
Plumber: J & D O'Brien
Electrics: John Woods Electrical, Email: [email protected]
Kitchen units: Tierney Kitchens
Worktops: Egan Stone
Fluted Belfast sink: Shaws
Range cooker: Lofra
Flooring: Doors & Floors
Living room furniture: (chairs, sofa, pouffe, coffee table) April and the Bear; (sideboard) West Elm at Arnotts
Dining table: Diamond Furniture, with vintage chairs sourced at auction
Bed: Noo.ma
Bedroom shutters: Shutterplus
Bathroom basins and WCs: Lusso
Bath: Bathshack
Taps & shower heads: Victorian Plumbing
Lighting: Doozie Light Studio, Ligne Roset Dublin, Dowsing & Reynolds and Terence Clifford Antiques (living room chandelier)
Tiles: Delforno
Cast iron radiators: Best Heating
Garden furniture: Dunnes Stores
Garden lighting: Home Store & More
Garden tiles: Ikea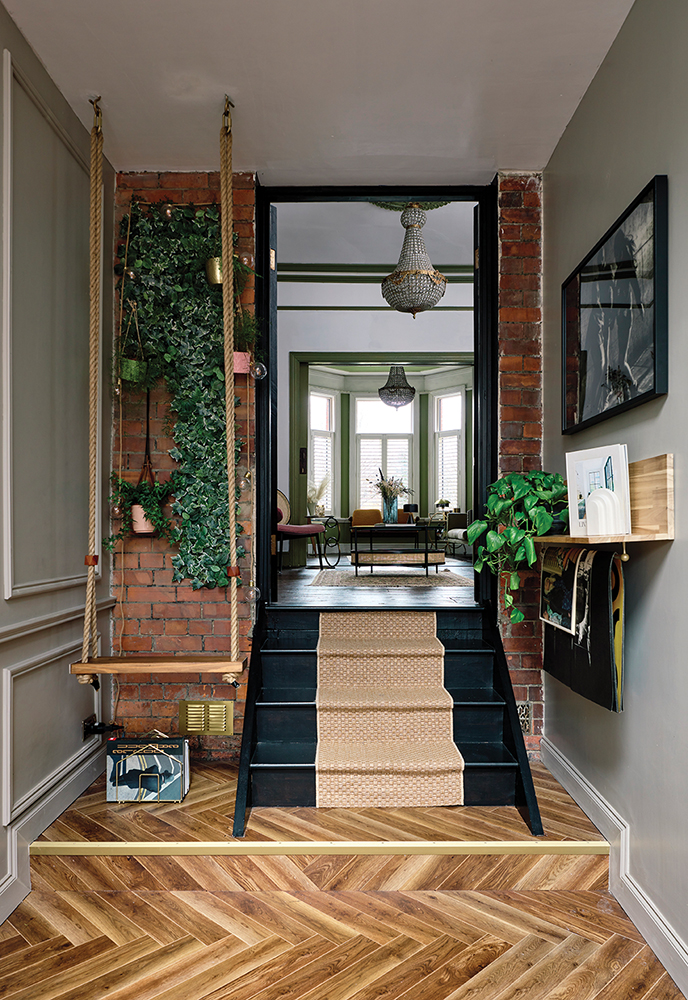 Fancy a look round some more beautiful homes and gardens? Be inspired by our selection of real homes and renovations here.
Share This Article