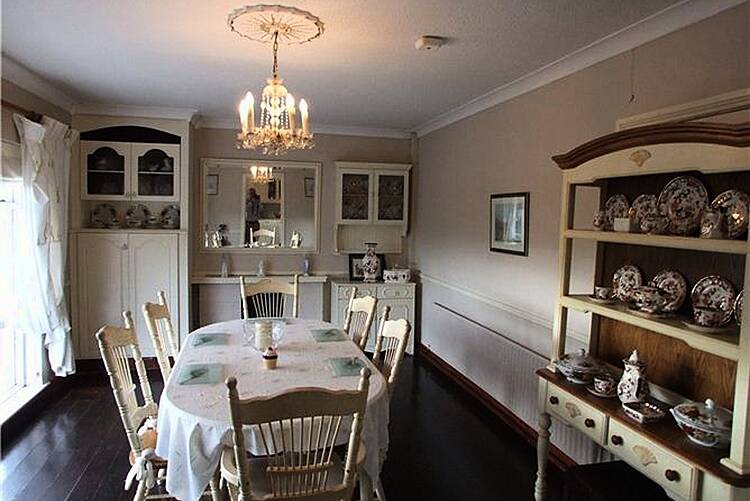 What is it?
Green Hill is a detached bungalow located in Cratloe, Co. Clare
The Spec
Set on a 3.5 acre site in the hills of Co. Clare, this bright family home boasts magnificent views from every window. The layout of the interior makes best of the available space and vast natural light, which stops this feeling like a stuffy, small scale bungalow. The property features a large double aspect living room complete with a feature marble fireplace, family room, seven bedrooms and a good size kitchen that has access to a well lit dining room. The entrance area is a feature in itself with an attractive floor tile design that carries through to the hallways. This house would suit a family looking for a tranquil setting, but without the feeling of being too rural as Limerick City is only a short drive away.
Why we love it?
Inside this spacious property is quite eclectic, which gives this house a lived in feel. It has been well decorated with the layout and quality of furniture along with the simple colour palette of subtle blue accents seen in the feature walls. We just love the pretty, café style of the dining room and how it complements the cream country style kitchen perfectly. This room manages to pull off the dark wood floorboards thanks to the neutral colour scheme, well placed light bouncing mirror and pale wood furniture. The garden is another fave of ours, the mature trees and shrubs make for a beautiful lined patio.
The details
Green Hill, Cratloe Moyle, Cratloe in County Clare is on the market for €320,000 and more information can be seen at http://www.myhome.ie/residential/brochure/green-hill-cratloe-moyle-cratloe-co-clare/1615401
Steal the style…
Abbey 5 arm chandelier, €69.99, Argos www.argos.ie
Watercolour petals salad plate, €14, Anthropologie www.anthropologie.eu
Enamel flower jug, €15.87, Home-barn www.homebarn.ie
Colonial 3 shelf dresser/ bookcase, €682.86, Sweetpea and Willow www.sweetpeaandwillow.com
Scattering petals curtain, €208- €258, Anthropologie www.anthropologie.eu
Floral teapot, €33.75, Debenhams www.debenhams.ie
Floral grey vase, €80, E-boutique www.eboutique.ie
By Colette Doyle