We take a tour of interior designer Deborah Gordon's monochrome, family-friendly home
Words: Gap Interiors/Beverley Brown | Photography: Gap Interiors/Douglas Gibb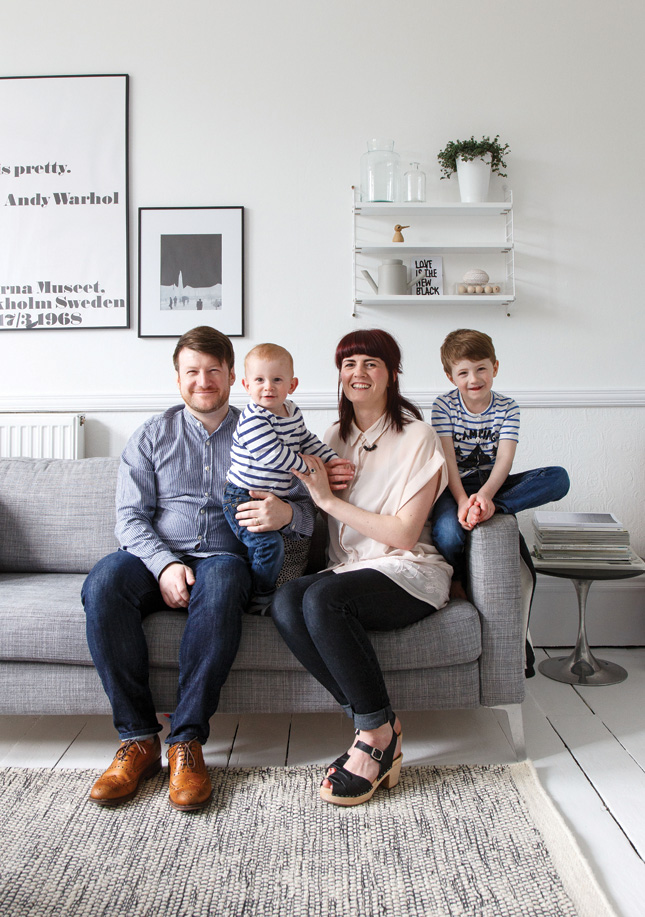 Living in a rented property and not having a lot of money to spend means you have to be more creative," says Deborah Gordon, a qualified interior designer and mother-of-two, whose inspirational monochromatic black and white apartment is testament to her artistic skills and eye for a bargain.
Deborah and Richard, an accountant, are both from Glasgow and met five years ago just as Richard was about to move to Barcelona to teach English. "I decided to go with him," she says, "but, when I later discovered I was expecting Oliver we came back home and rented the first thing we could find, which was a very cluttered, chintzy cottage-style flat – not a pleasant experience. So when a friend offered to rent us this flat, and was happy for us to do our own thing with it, we jumped at the chance."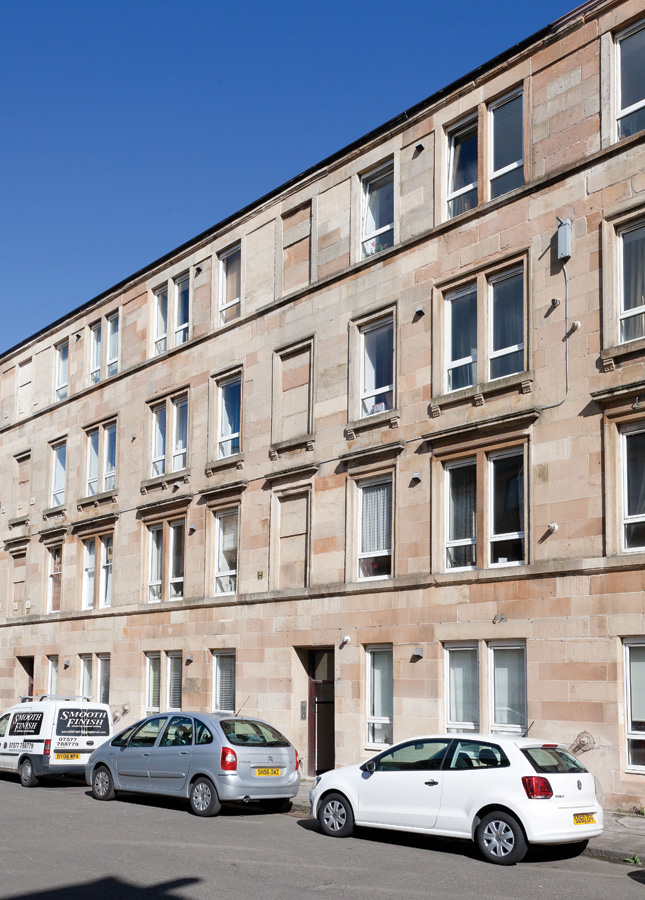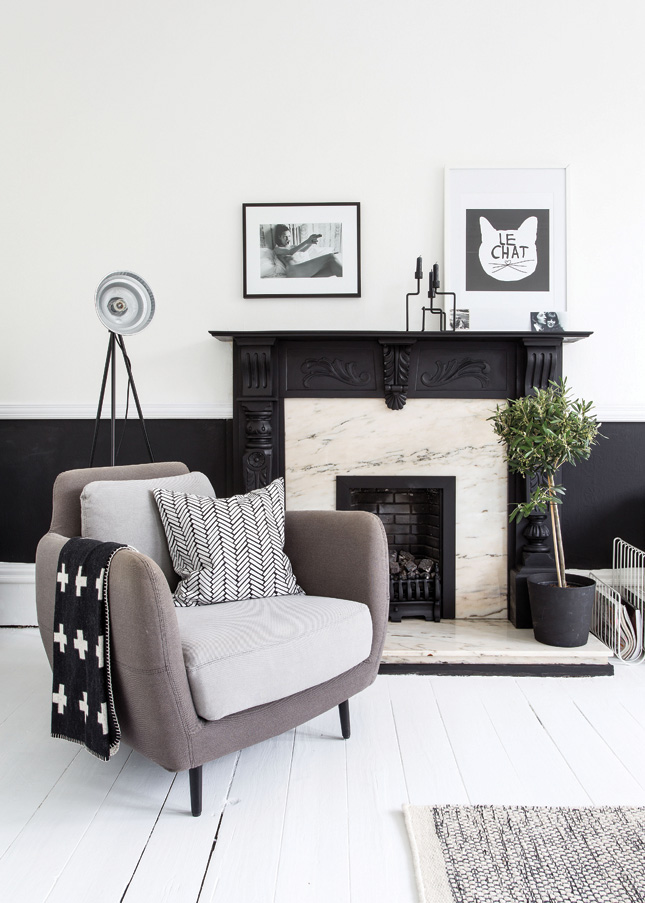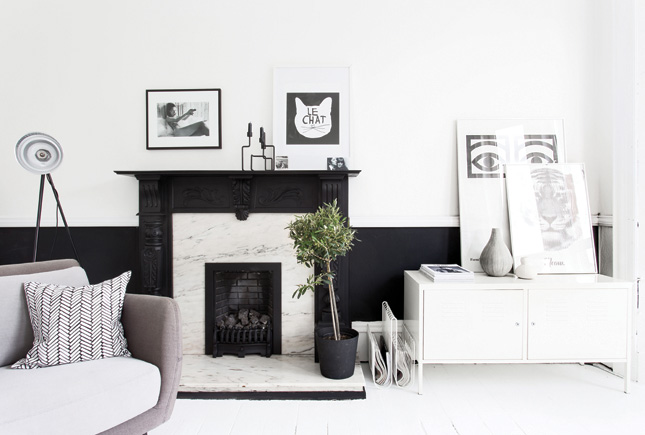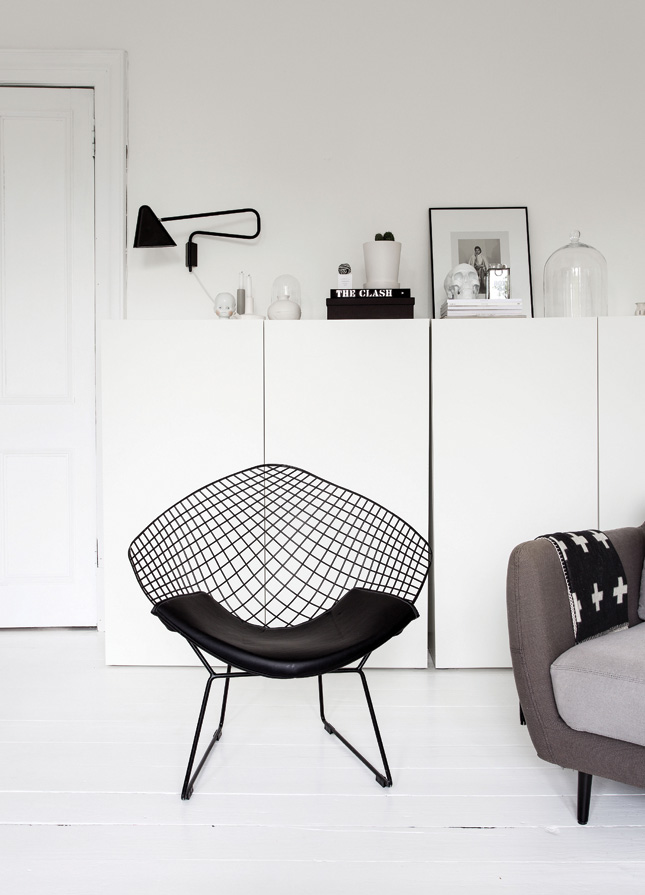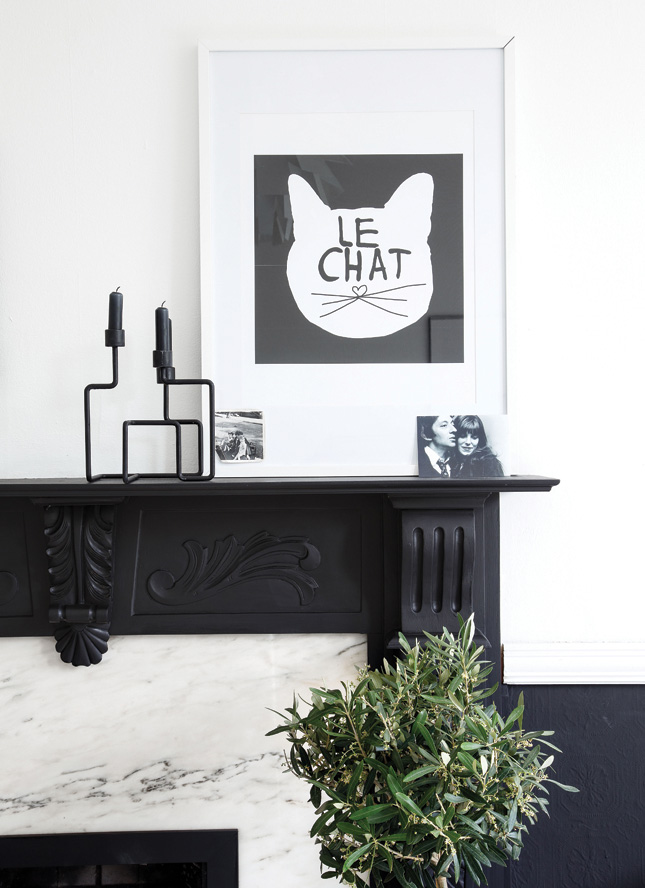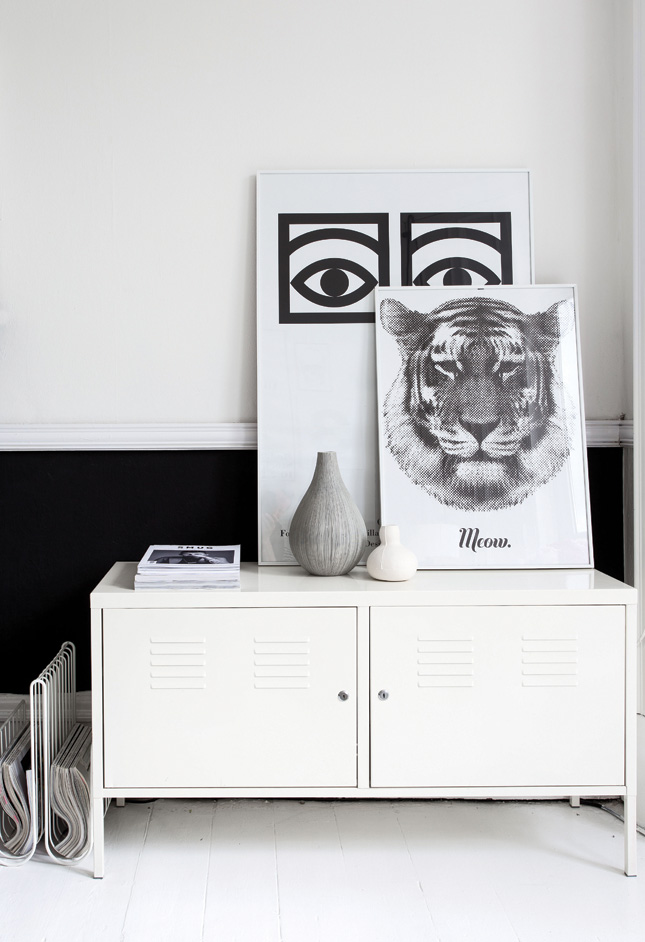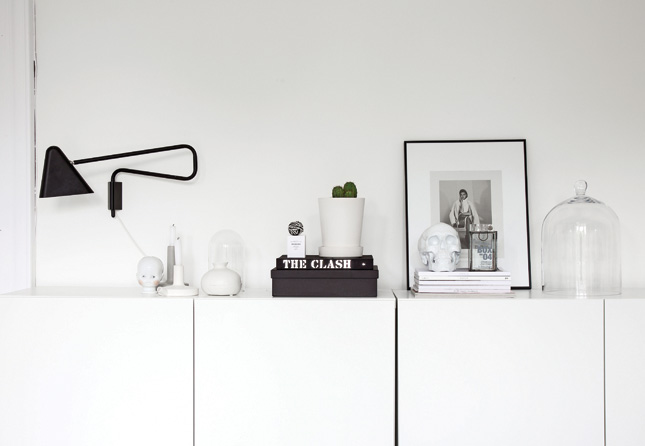 The third floor apartment had a traditional-style interior, with dark varnished floorboards and neutral cream decoration. But what Deborah was hankering after was a Scandinavian aesthetic: light, white, and instantly recognisable for its simple clean lines and efficient use of space.
"Possibly as a result of the part of the world we'd just moved from, suddenly all I could see were Scandinavian influences and uncluttered spaces," she says. "This look is very much my style but fortunately Richard, who's not really into interiors, also likes it. I also follow a lot of Scandinavian blogs, and given their emphasis on minimalism and functionality, I parted with a lot of things we didn't need. Even now, if I don't absolutely love something I get rid of it."
A graduate of Dundee Art College, Deborah made up mood boards for all the rooms and started painting the walls using standard off-the-shelf white matt emulsion. "Luckily Richard's mum has tall ladders, as the rooms all have such high ceilings," she says.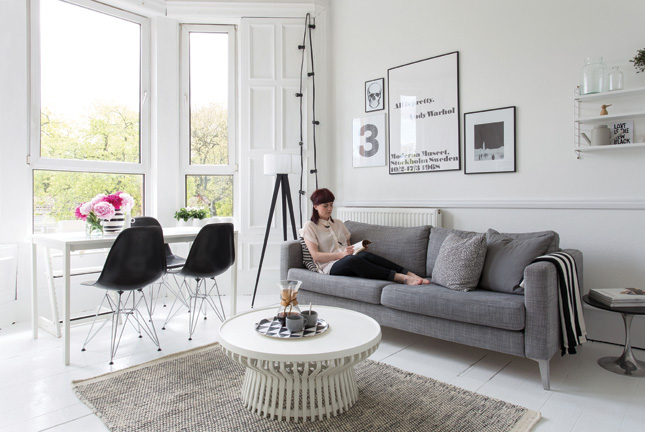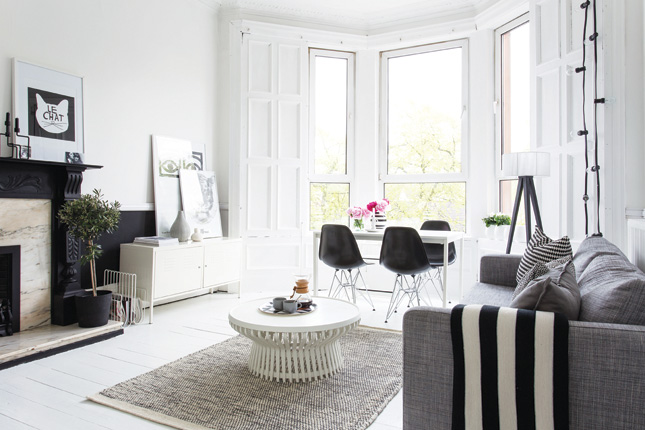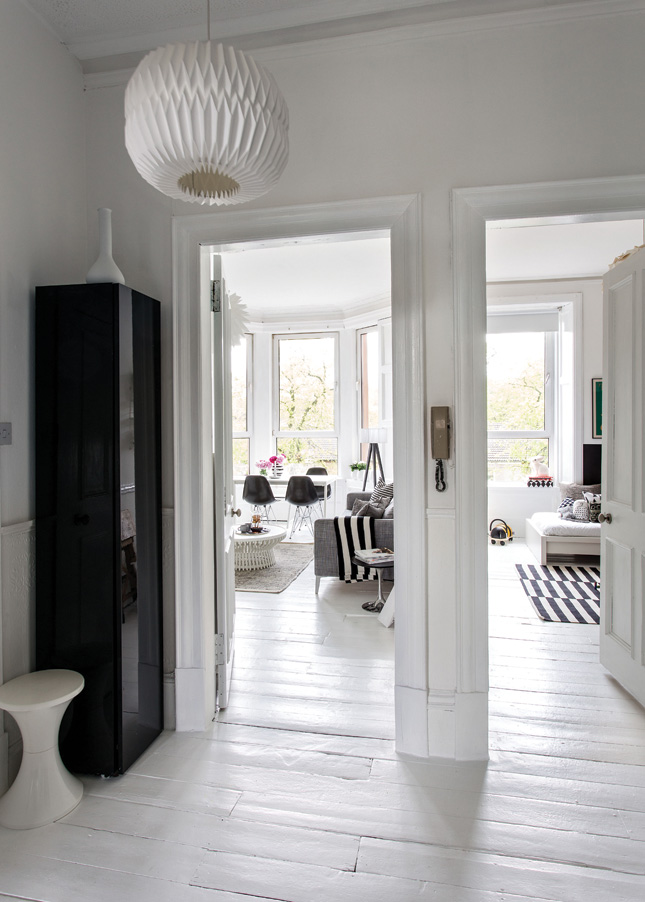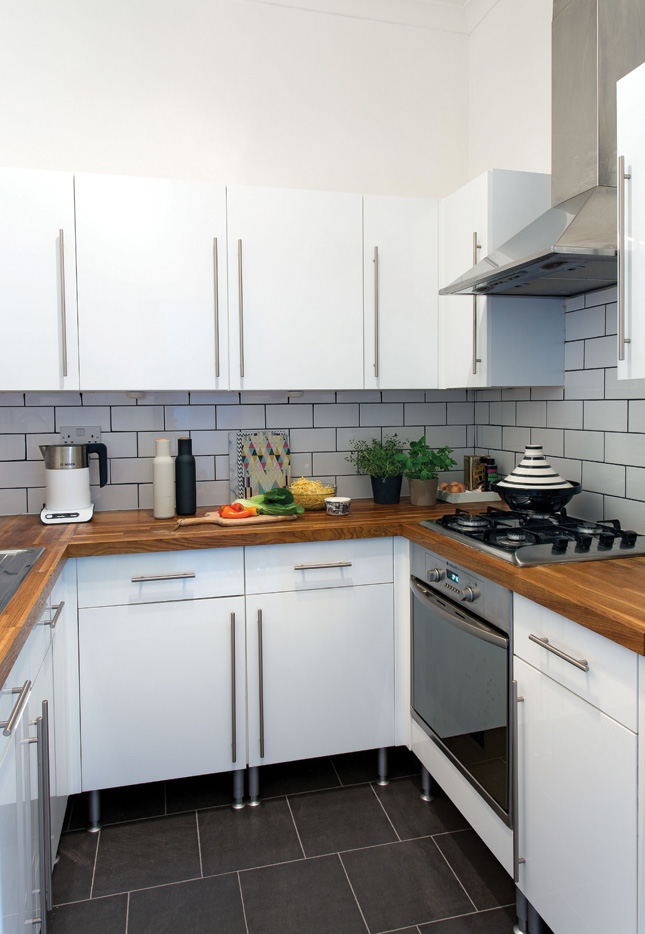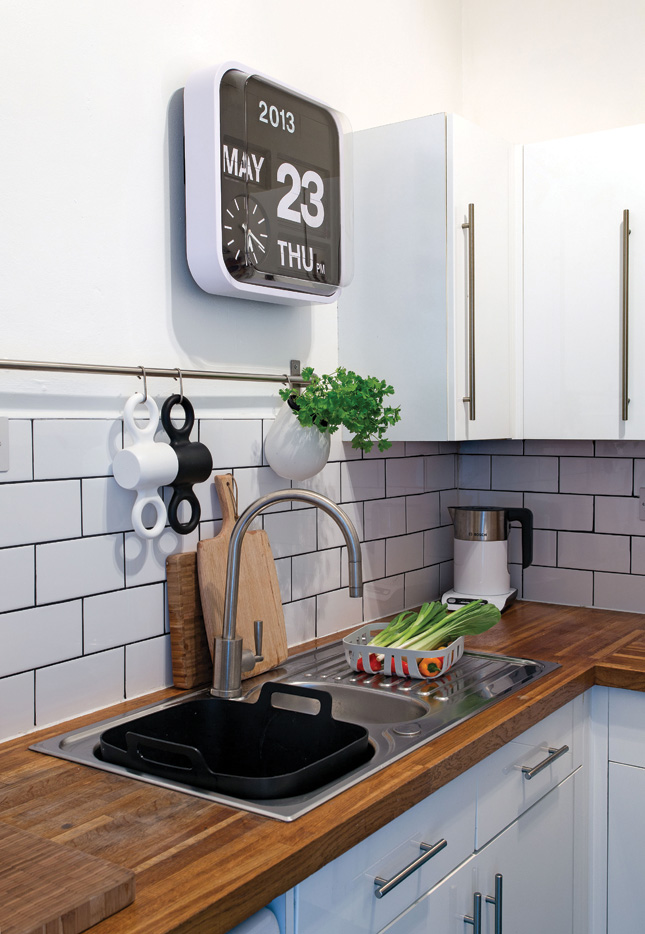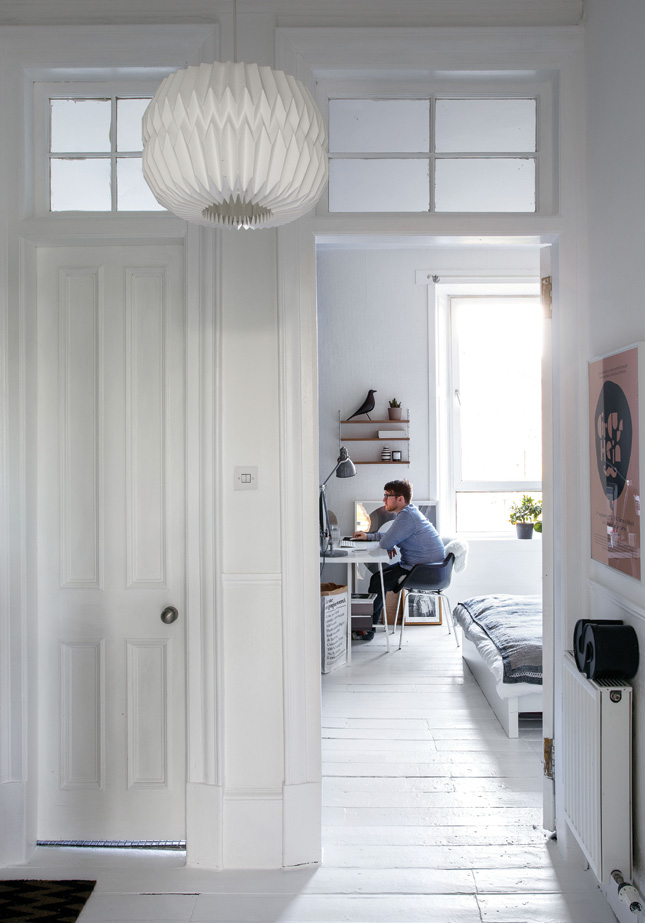 Far more arduous, the floors proved a real labour of love, first sanding and then priming, followed by three topcoats of white Ronseal floor paint. "I'm a perfectionist," Deborah says, "so the living room floor has since had another two coats and I'm always on guard when the boys are having juice or tomato-based pasta dishes at the table."
Deborah loves to cook and is a huge fan of Jamie Oliver, so she was delighted that both the kitchen and bathroom had recently been upgraded with white fittings, which made their transformation effortless. But the change in the spacious living/dining room was dramatic, with all white walls and floor contrasted with a black fire surround with white marble inlay and hearth. "The fireplace was already here so I merely went over the wooden surround with blackboard paint to give it a dense matt finish," Deborah says.
Ikea and Habitat provided most of the basics – the Ikea sofa with grey linen loose covers being a good alternative to the €4,000 Hay sofa Deborah would have chosen, had money been no object. The white Ikea dining table is teamed with Eames' iconic Eiffel chairs and an original Robin Day chair, one of two that Deborah salvaged from a skip. "I gave the other one to my sister," she says.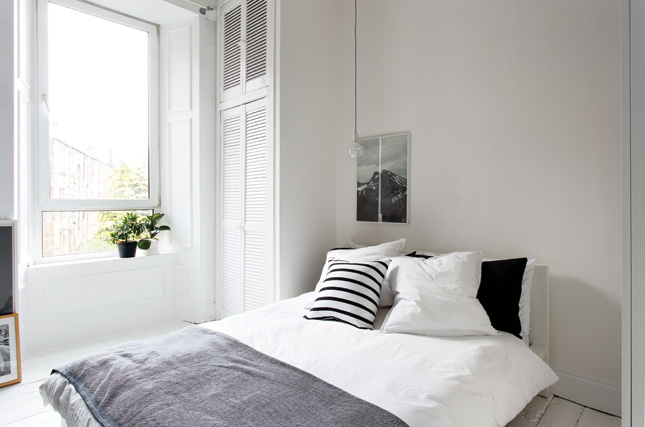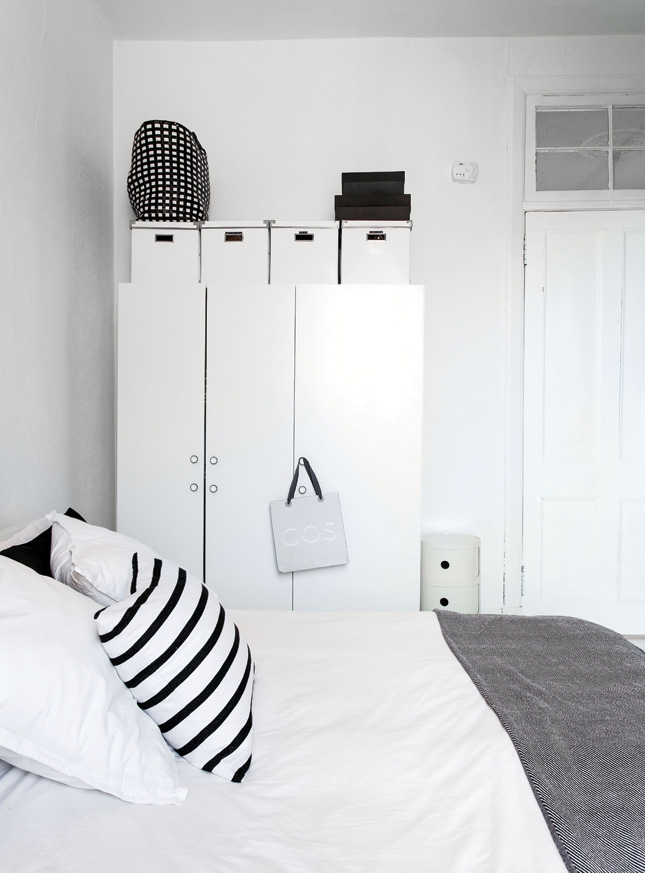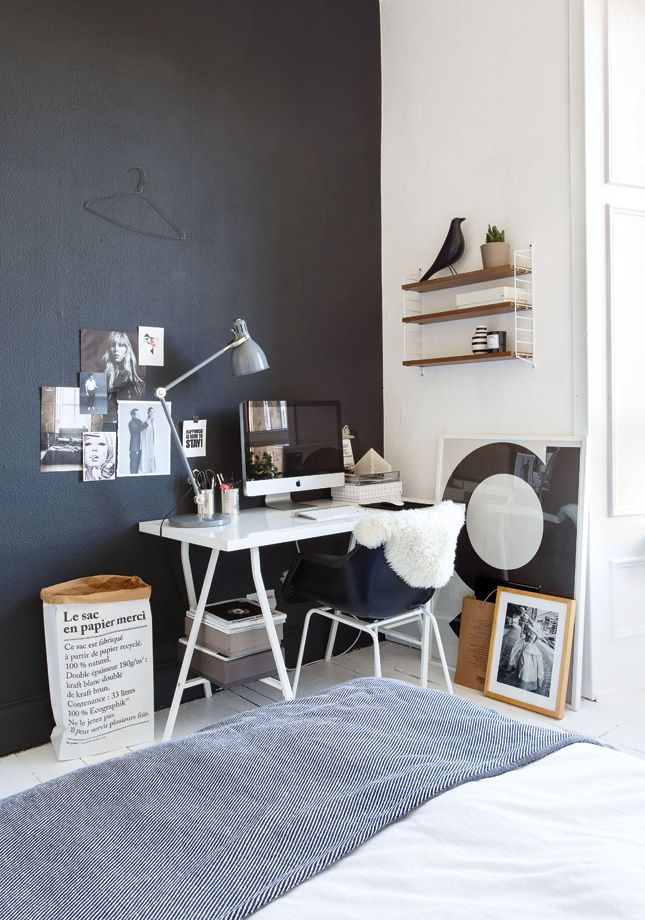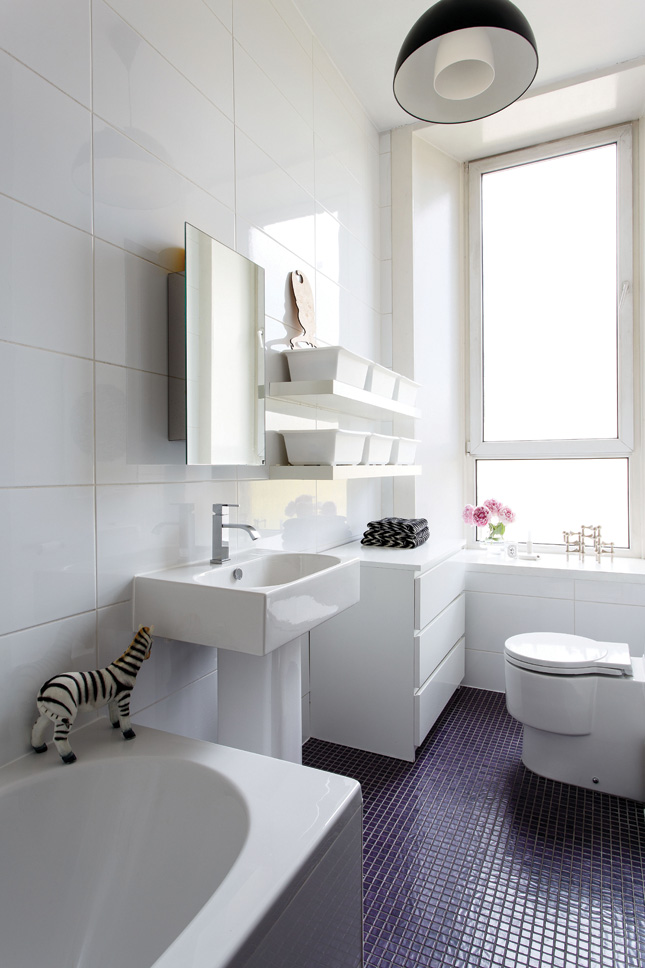 The three-section bay window is undressed, its white painted wood-panelled surrounds providing sufficient interest and detail without detracting from the pared-down look or inhibiting light.
A full-time mum who hopes to return to work when Oliver starts school, either as a retail visual merchandiser, or ideally, a magazine stylist, Deborah shops mainly online, and often directly from Scandinavia. "I research and source the best prices and like sites such as Nest, Made in Design, Artic Design and Zoma," she says.
The boys' bedroom next door is another monochromatic marvel where basic items from Ikea assume designer status paired with Scandinavian bedlinen, cushions, an Eames rocker (bought on eBay) and a two-tier Kartell unit. In an idea worth copying, Deborah resurrected shabby white storage cupboards from Ikea by painting them with blackboard paint, enabling the boys to chalk on them.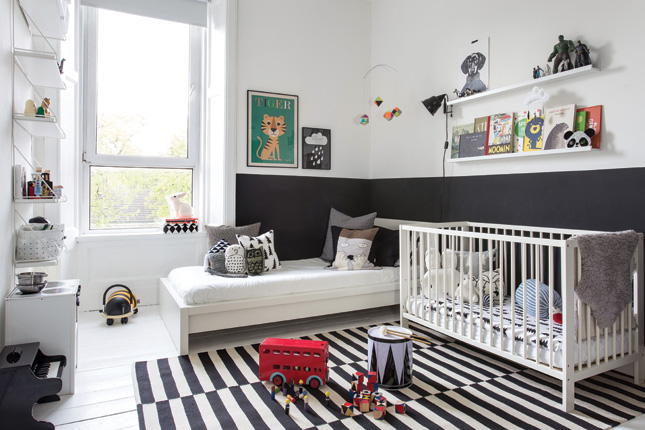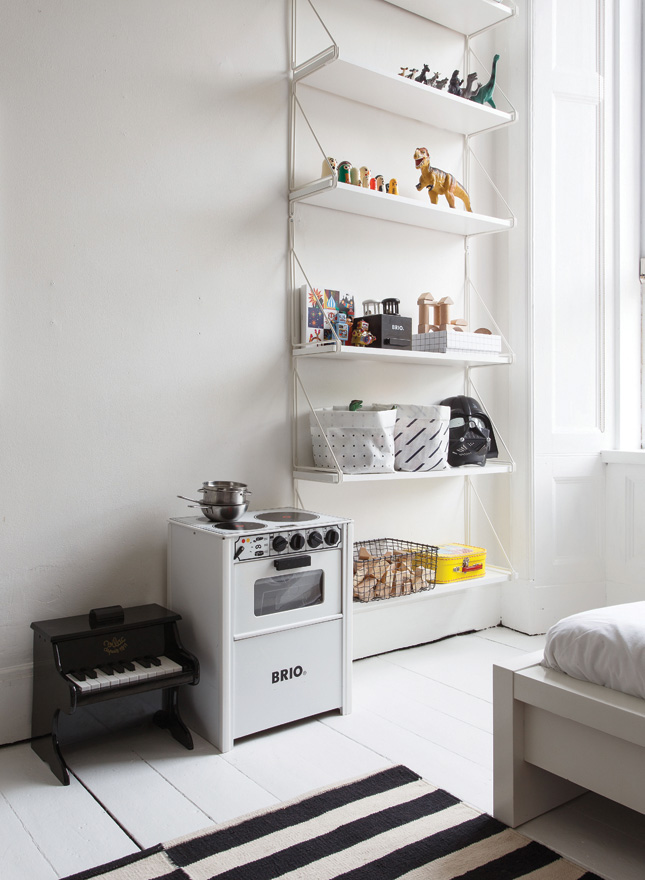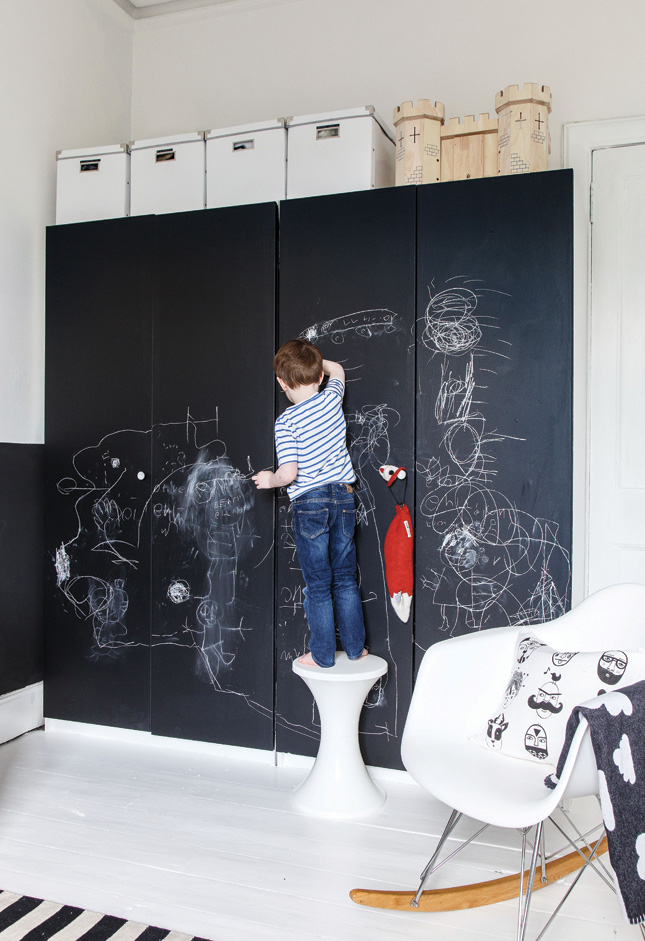 In the main bedroom, an Ikea desk and black Robin Day chair provide a practical computer work corner, while here, as elsewhere, every bit of space is put to good use, including the walls, which house shelves, and an eclectic selection of framed black and white prints. "I love really strong, graphic prints," says Deborah, who is also skilled in the art of placement to maximise their effect. The results appear effortless.
It's this enviable knack of knowing where and how to place things – and mixing budget-conscious Ikea furniture and accessories with designer pieces – that gives Deborah's home a look that says 'expensive' even though it isn't.
While they are happy here for now the couple hope to buy their own home within the next few years. "While we have a park nearby we'd really like a garden for the boys," says Deborah. "Richard doesn't have a preference as to what we buy, but I'm not keen on new houses. To get the features I like it will have to be an older property, either in the town or country, but I think Richard would like to move out of Glasgow. Who knows, maybe we could even move to Sweden, where I could really live the dream!"