Trained joiner Alex married radiographer Lauren last year, and the pair have since set about building a home for themselves and their two springer spaniels.
"Alex always had a dream of building his own home from as long as he can remember. He grew up on a farm and always knew the field he wanted to build in, the basic design and most importantly where he would keep all his animals!," says Lauren.
Finding a site wasn't an issue for the couple. "Alex always knew exactly where he wanted to build on family ground and we were very fortunate to be able to get planning permission to build here," she says.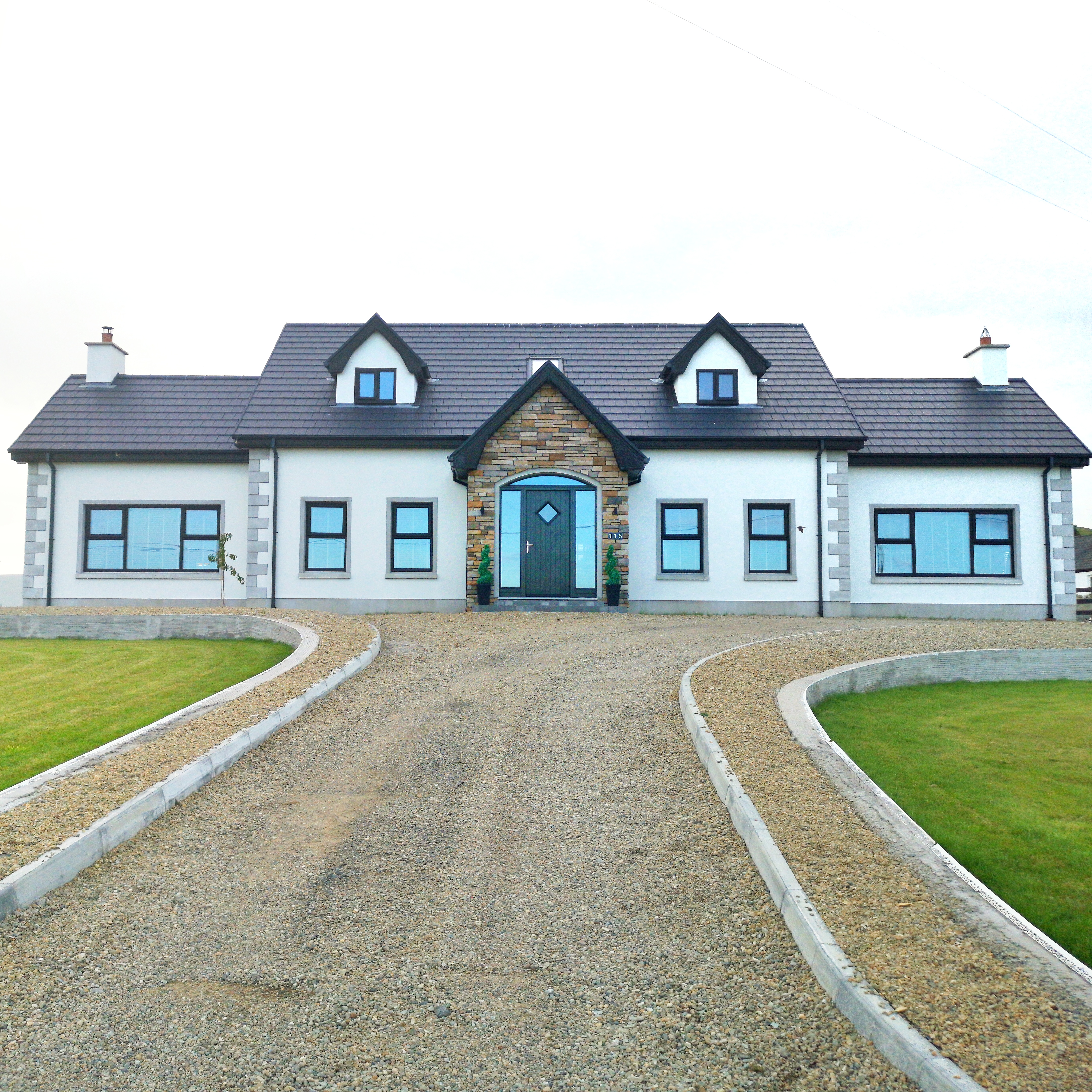 A one acre (43,560 sq ft) site allowed plenty of space for their 2,500 sq ft dream home, though they did their due diligence before drawing up the plans. "The house sits roughly in the middle of this with plenty of equal room right round the house," says Lauren.
"We first submitted outline planning permission to see if we could be passed for a home in this field before paying for plans to be drawn up. This took a year to come through which gave us plenty of time for Alex to draw up the house and for us to decide exactly what we wanted while we were waiting.
"When this came through there were some restrictions that we had to meet, for example the ridge height, which meant we couldn't have a two-storey house. On the day the outline planning was approved, we took Alexs' drawings to the architect to fully draw up the plans and submit them. We waited another year for the full planning permission to be granted but we were lucky to have the plans passed first time," she says.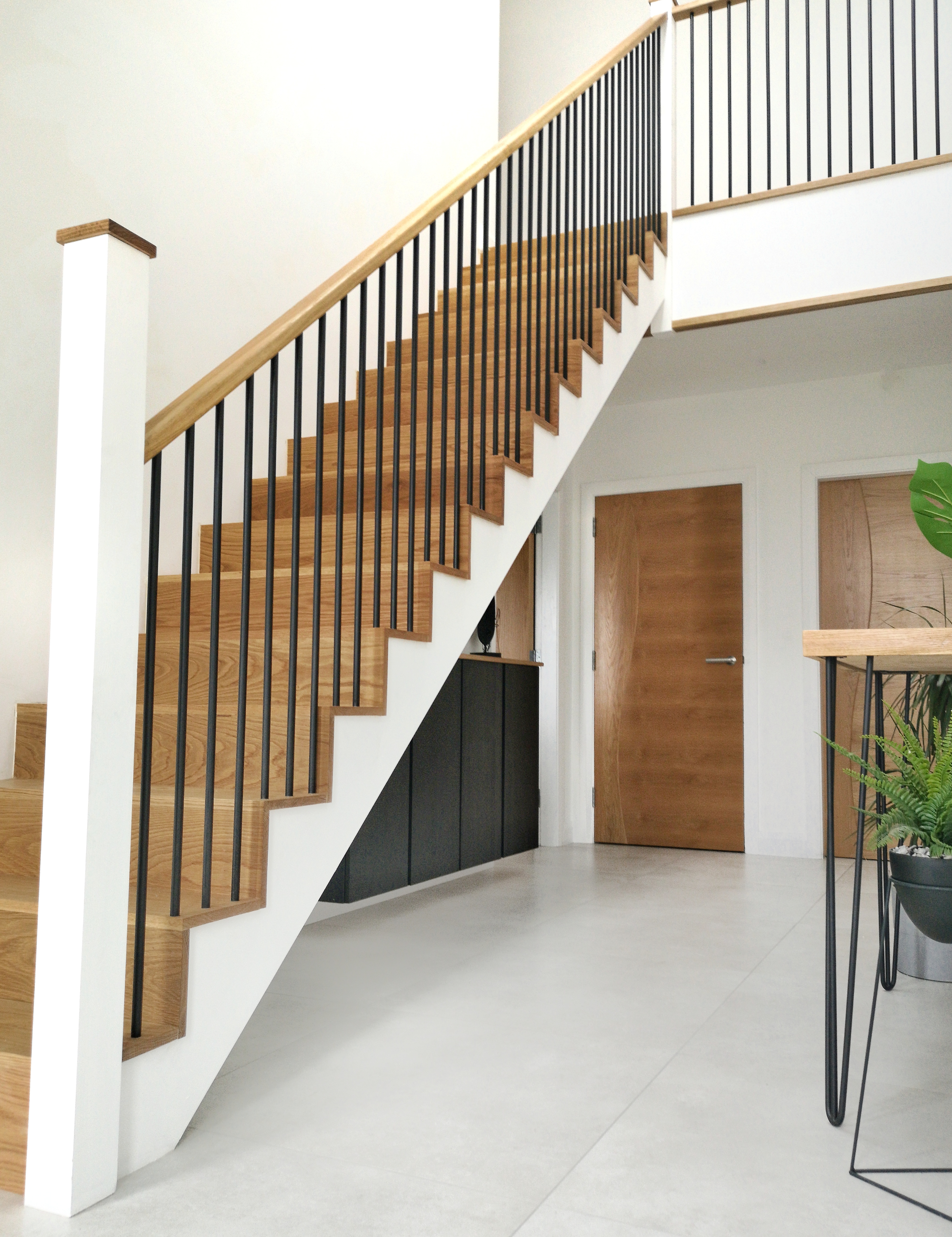 Once the architect drew up the self build plans, Alex took on a lot of the project himself. "Unfortunately in 2013, he was involved in a car accident and broke his back. He still remains in a lot of pain and is now unable to work as a joiner full time. Prior to the accident, he would have worked regularly on building sites and had a good bit of knowledge on the process of building a house.
"With his current job as a technician in a school, the amount of holidays gave Alex a lot of spare time to work on our self build. Alex is a very quick learner and is able to turn his hand to anything even if he has never done it before which has saved us a lot of money!"
They opted for quite a traditional, symmetrical shape for the house. "We wanted our home to blend in with those around us. The black windows and stone porch give it a modern edge without looking out of place in the surroundings.
"We had two homes that we had seen previously in the countryside that we loved, and we took inspiration from both of these to decide on the perfect home for us," says Lauren.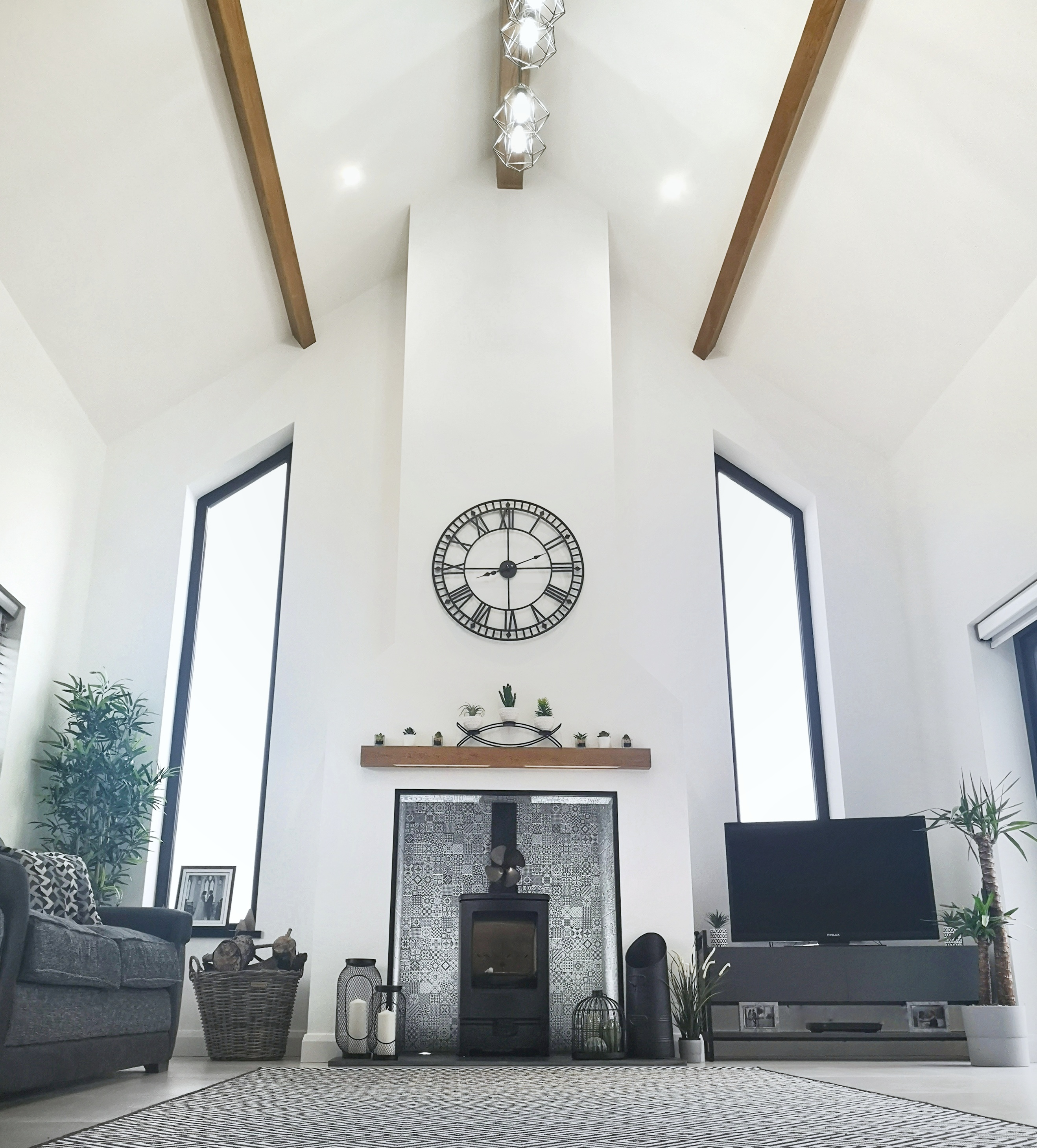 It was a family affair for this Northern Ireland self build. "Luckily Alex was able to carry out the majority of our build himself. From start to finish there were only a handful of tradesmen involved in our self build.
"For those who we did use, we went with mainly local people, although looking back we wish we would have gone more by word of mouth and asked around a bit more. With Alex being a joiner he knew quite a few tradesmen already and Alex's dad is a plasterer which helped too."
They first submitted planning permission in early 2014, and had full permission granted in April 2016, so in May 2016, the couple finally broke ground on their Northern Ireland self build. They moved in two years later, in July 2018.
"Our build process took quite a while as Alex carried out all the work himself on the evenings and weekends. We got married in July 2018 and moved in the very next day. At this stage we had only finished the bare minimum, so we have spent the past year working our way through each room and completing them one by one."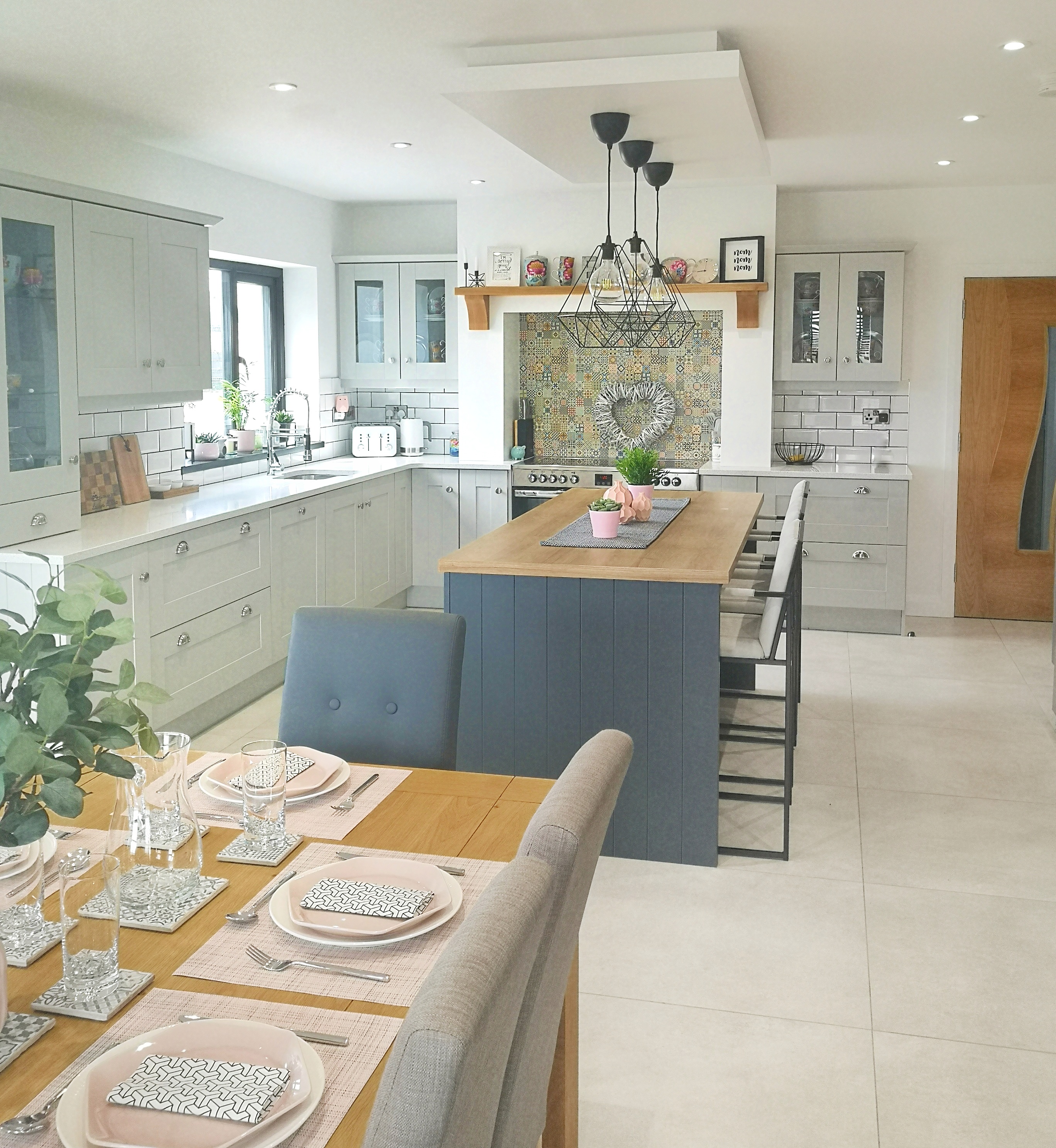 "We have really enjoyed the self build process so far. As we had no contractor and were carrying out the build totally by ourselves, we weren't pressured into making decisions and were able to take our time through the whole process.
"It is definitely something that we don't intend to ever do again though!" she laughs. "With no contractor taking charge of the build, everything fell to us, and although it saved us a lot of money, it was quite a stressful situation to be in. Our lives were totally taken over by the build."
Despite their cost-cutting on labour, the most surprising and most stressful thing about their self build project has been the financials.
"Until you begin, as much as people prepare you for how much it will cost, you really have no idea what is going to be involved! We quickly learnt that things tended to cost double what we had originally thought. We were very surprised by how much money it cost to put in the foundations to even bring our home to ground level... So many things crop up during the build that you haven't budgeted for and so much seems to cost a lot more than you ever imagined," says Lauren.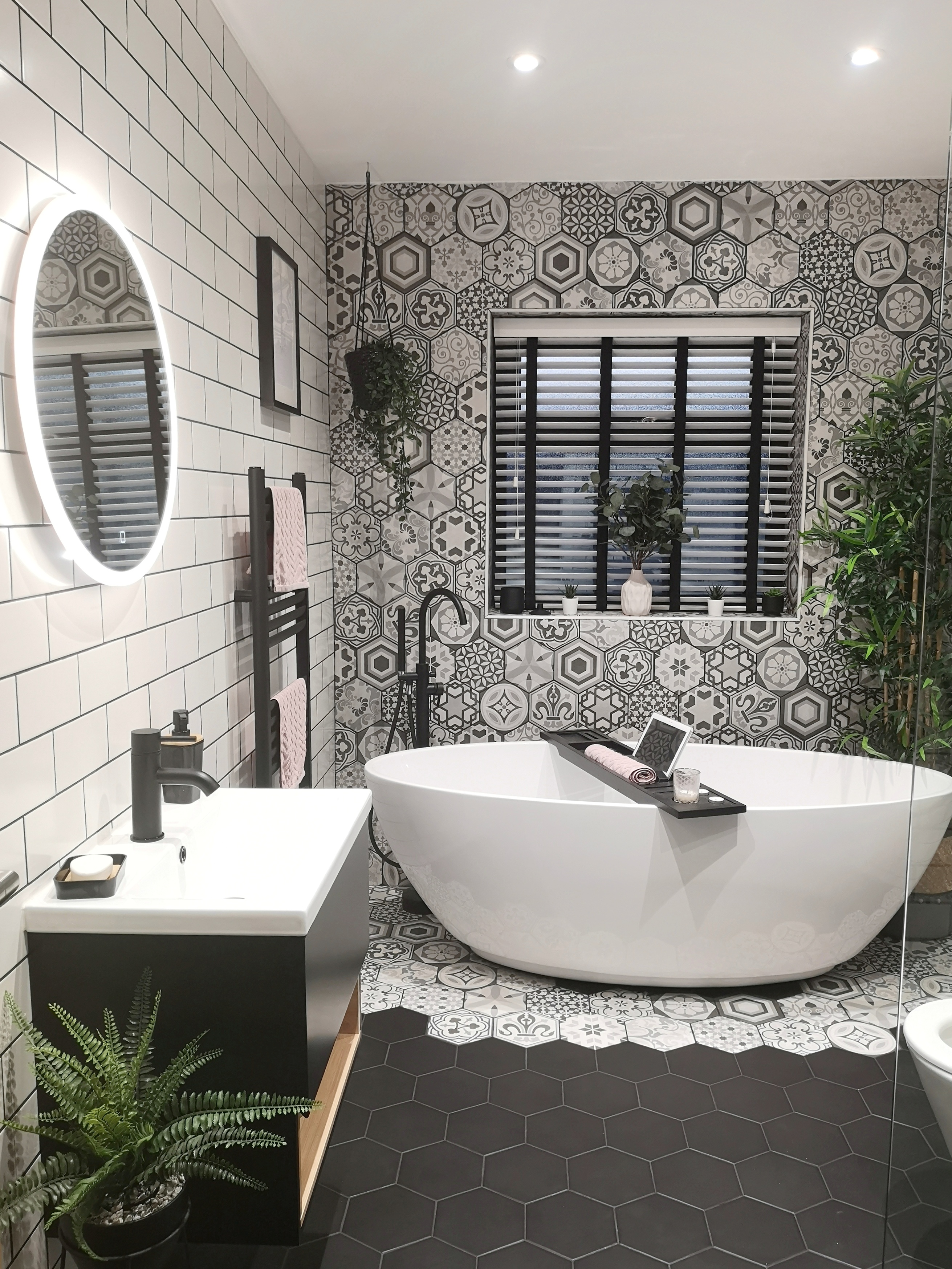 The couple decided of everything, the thing they would splurge on would be a very practical choice.
"I would say out of everything, we spent the most money on insulation. We felt that the insulation is the one thing that we want to get right now and never have to think about again in the future. We wanted our home to be as airtight as possible and then we installed a mechanical heat recovery ventilation system for air circulation.
Their new self build home features an open-plan kitchen-diner, which leads into a sunroom with bifold doors onto the patio. Attached, they also have a pantry, utility room, wet room, and boot room at the back of the house.
The hall leads to a separate living room, family bathroom and two downstairs bedrooms, with a further two ensuite bedrooms upstairs, and a walk in wardrobe off the master bedroom. Of all of these spaces, their favourite features include the patio and stone porch, and their sunroom.
"We absolutely adore our vaulted ceiling in the sunroom. It really is a gorgeous feature and makes such an impact as soon as you walk in," she says.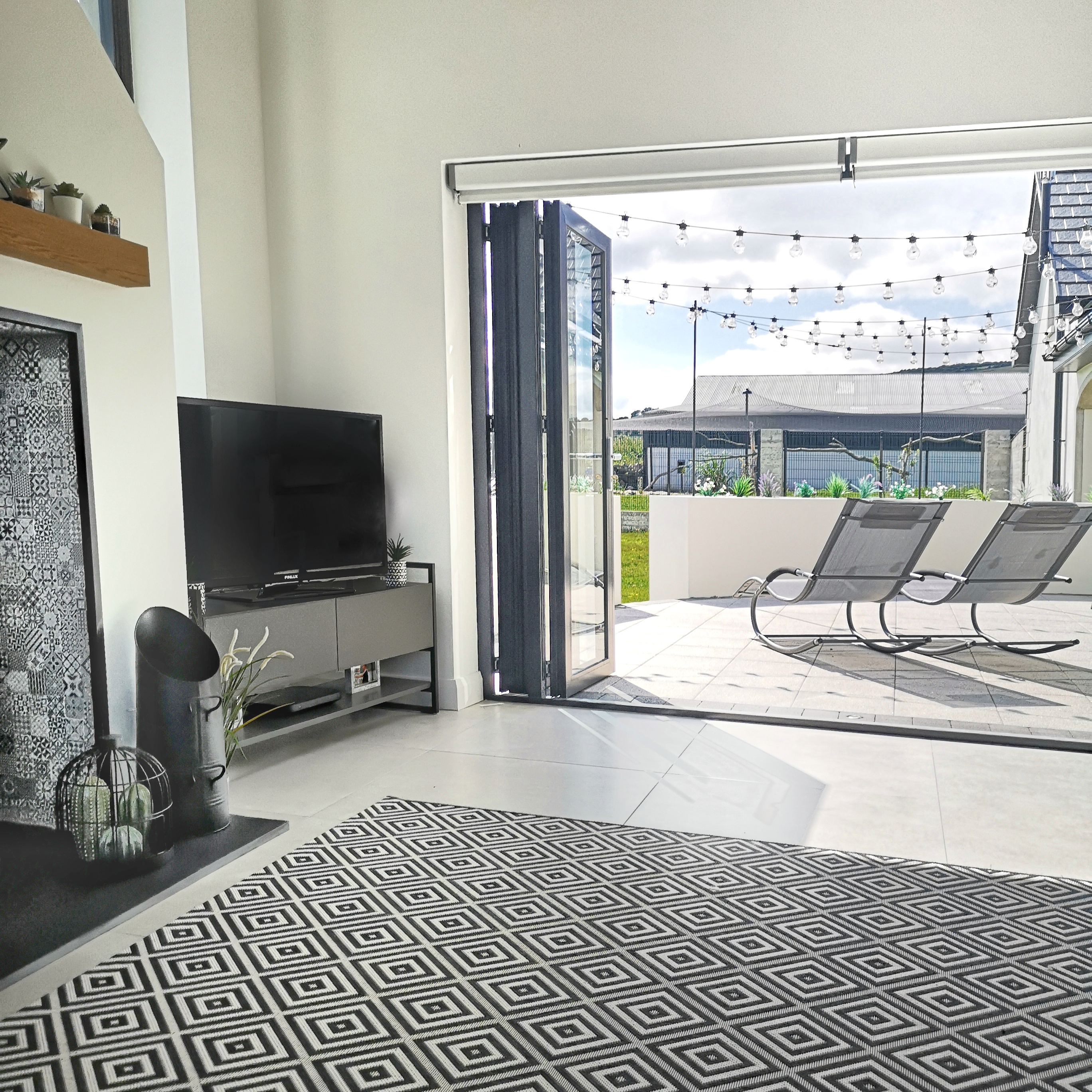 Through building his own home, Alex learned so much about the process, and they would do some things differently if there was a next time. "He has a lot more faith now in his abilities than he did prior to starting.
"If we were to do it again, Alex would probably carry out even more himself than he did with this build and I think we would probably make some braver decisions on features and colours, as we have definitely learned to have faith in our design and not to play it safe as much," she says. "We can safely say though that we won't be doing this ever again!"
The pair are still working on the interiors of this Northern Ireland self build, and have recently just gotten access to the upstairs as Alex finished building and fitting the staircase.
"It's very exciting to be starting on this whole new floor. We are going to be finishing the master bedroom first so that we can finally move up there as we are currently sleeping downstairs. Then we will want to complete the ensuite and walk in wardrobe next.
"The to-do list is a mile long for our home still but a year on from moving in we are so happy with what we have achieved so far!" says Lauren.
Follow along with Lauren and Alex's home journey on their Instagram, Our_Self_Build_NI!