Lynn Ferrari from @myoldbrandnewhome moved into her Waterford home with husband and cat Matilda last year. She's gradually finishing doing it up. Recently, she tackled a wardrobe makeover in her bedroom. Here's how she did it!
"When we bought our house, we converted a spare room into a walk-in wardrobe so the wardrobes in our bedroom weren't on our priority list. They started to annoy me and every time we updated something else in the room, the light brown laminate doors stood out even more. New wardrobes would have been a waste of money, so I decided to revamp them and do a wardrobe makeover.
"I planned to wash, lightly sand, prime and paint them, but I was told not to sand, as it'd only damage them. Music to my ears!
"I wanted a very deep forest green to work with our velvet curtains and moody wallpaper. They didn't have my choice of Farrow & Ball Studio Green, so Morris's in Waterford closely matched the colour. It was water-based to work with the water-based primer.
BEFORE:

AFTER: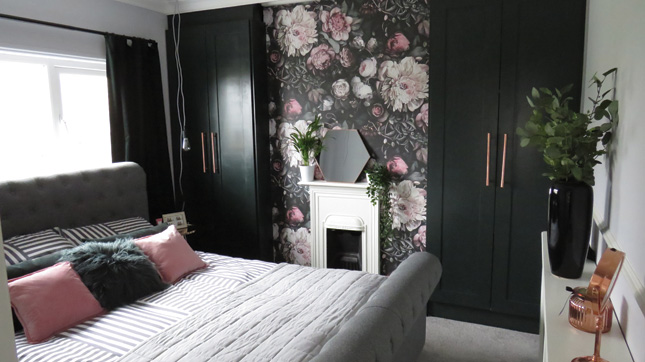 "We only got new carpet a few months ago, so masking tape was crucial. I only needed one coat of primer, which gave the laminate an almost rough, chalky feel, so it was easy for the paint to stick to. I left this dry overnight.
"Since the green paint was so dark it needed two coats for complete coverage. I left about three hours of drying time between coats.
"When I finished painting, I was delighted with myself and then realised I hadn't bought new handles. There was no way the old ones were going back on there. I found gorgeous copper pipe style handles on Notonthehighstreet.com. It's made a huge difference to the room and really pulls the whole look together."
How I painted my wardrobes: the cost
€60 on paint and supplies
€144 on handles
Total: €204