Patricia O'Shea and her husband Tom Rixton left Ireland for Argentina in search of light and they created plenty of it in their dramatically revamped bijou house.

Living room:
The spacious ground floor is divided by a concrete fireplace; on one side lies the living-room, and on the other is the dining-room and kitchen, which has been lowered a few centimetres to accentuate the different spaces. All the furniture has been designed by architects Cabanillas and Grichener, tailor made to make the most of the space available. Next to the staircase, a small study has been neatly incorporated into the room, with a table and a chair bought at an antiques shop in Palermo.
In the mezzanine there is a TV room, and the original heavy staircase has been substituted by a lighter model similar to that used in ships.  The architects designed a unique piece of storage which has been made-to-measure to hold the sound system and the 4,000 records in Tom's collection.
Kitchen & dining room: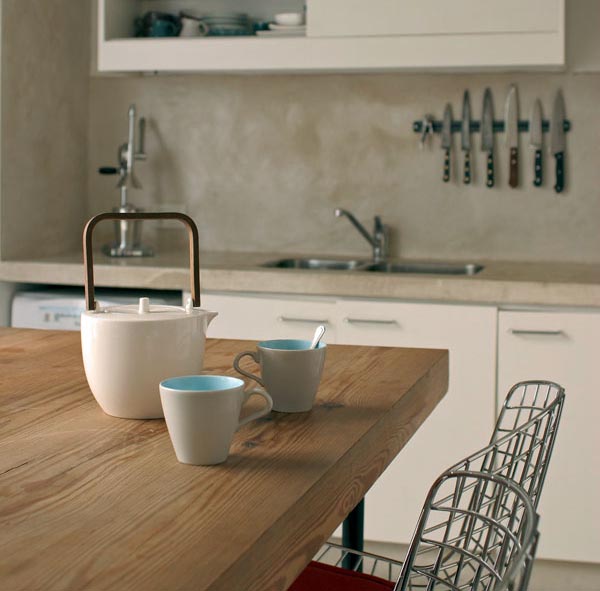 In the dining-room, Tom created a unique table from a centennial pine wooden plank they found in the house, to which he added iron legs. It is surrounded by Bertoia chairs and the space is lit by a '70s style lamp bought at Gropius. Patricia and Tom chose to integrate the kitchen into the living space because they both love to cook so much.
Bathroom:
The bathroom had to be made from scratch of smoothed concrete – something of a trial run for the material before it was to be used in the hotel. An abundance of glass allows light to stream in, with a huge window beside the hydromassage bathtub leading to a deck with plants. It all adds to the idea of a smooth flow between the indoors and outdoors of the house, as well as bring in as much light as possible.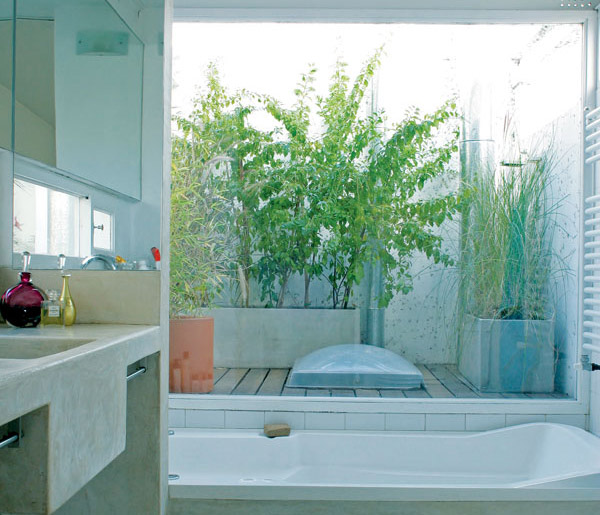 Courtyard:
The small courtyard is populated by lusciously leafy plants, with a grill for Tom to prepare his delicious barbecues. A wooden table inherited from Patricia's Irish grandmother functions as a second dining-room, optimum for the Porteño warm nights when Patricia and Tom welcome their friends.