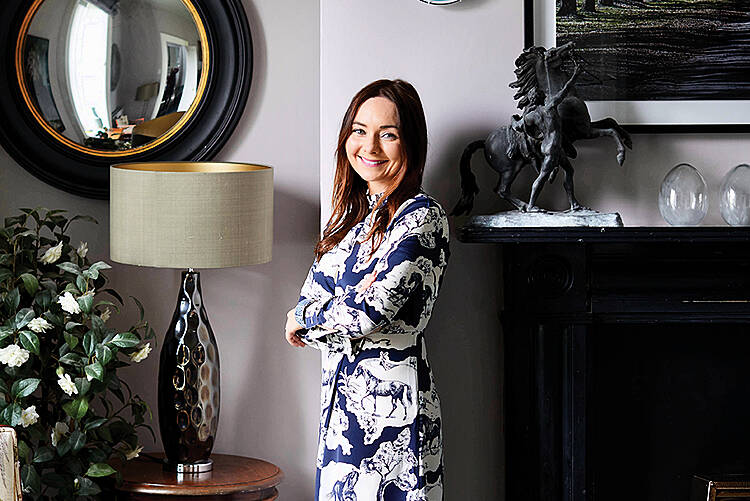 An unloved and dated Dublin terraced house is now a super-stylish family home. Sara has created a sanctuary that embraces her home's rich history
Words: Laura Ewart | Photography: Helen Cathcart
There's two kinds of people – those who are always looking at houses online and those who aren't. I fall into the category of those always looking!" says Sara Cosgrove, who lives with her husband, two children, and their Cocker Spaniel, Buckley. "In fact when we found this house, I was living in London and my husband was in Dublin, so we were desperate for our own base together," Sara explains. Their five-bedroom, end of terrace Georgian house, built in 1830 had great potential and was in an up-and-coming area close to the sea in South Dublin. The couple had been searching for 13 months and were lucky enough to snap the house up within their budget – and just in time too, as Sara gave birth to her son two days after they got the keys.
"It was winter and I was heavily pregnant, stripping wallpaper and ripping up old carpets from every single room," Sara recalls. "I wanted a clean slate with no visual noise so I could really see the rooms and understand the light in them. One of my favourite features – and probably what really sold the house to us in the first place – are the double aspect windows; no matter what time of day it is, there will be light flooding through somewhere."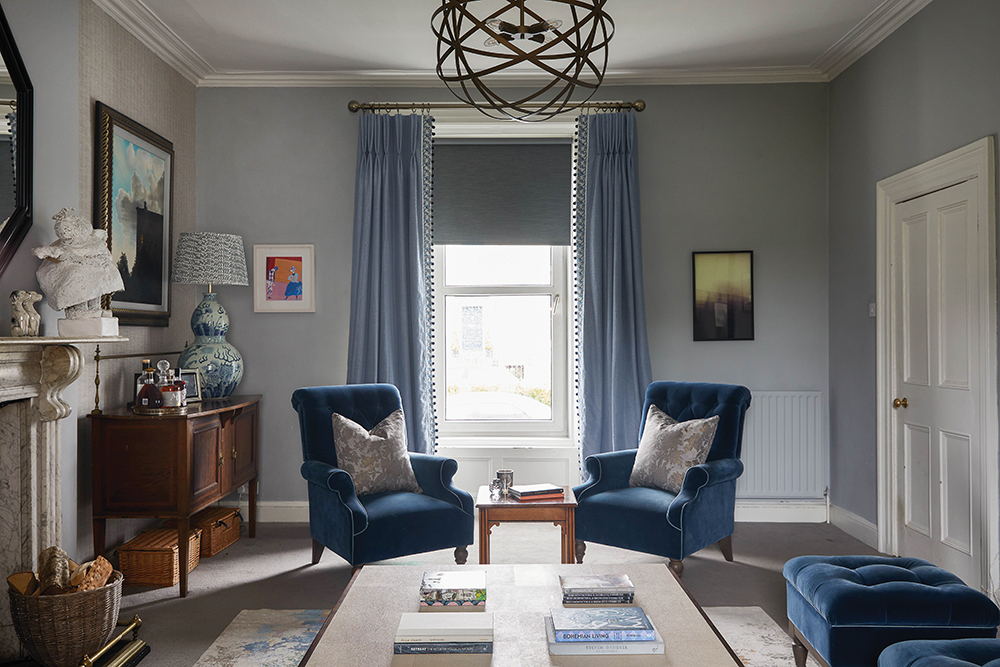 An acclaimed interior designer who works all over the world, Sara has an appreciation of history in architecture and design. "I just love to run my hand up and down the banisters thinking 'how many hands have touched these?" she says. "They just don't make buildings like this anymore. Even though this house used to be a rental and was unloved, with its harsh strip lighting and mismatched interiors, it had such a lovely energy to it, just a very special charm."
The works began in earnest, with the priority being the nursery, kitchen, living room and a bathroom for the new young family to escape from the chaos. However, it wasn't all plain sailing. "The basement floor had to come up as the pipes had eroded," Sara explains. "And we had not budgeted for it at all, so a few other things had to wait while that was fixed." Much of the renovations have gone to plan, although there are things Sara would do differently now.
"If I could redo anything again, it would be the kitchen. I had my old life in mind when I planned it – a life pre-kids!" laughs the designer. "If designing again now I would convert the dining room into the kitchen and use what was the kitchen as a snug. But life evolves and it is hard to plan for the future."
When you're an interior designer, exposed to the latest trends, products and most creative people in the industry, where do you begin? How do you decide how to dress your own home? "Every design decision is for us," says Sara. "I can get overwhelmed with ideas from work, but this is our family home and so we choose what we like and what works for us. I would say that I am mostly drawn to smoky hues and diffused colours, such as minks and taupe, but the living room is decorated in my favourite palette of blues and greys. I love them as they remind me of a rainy day. I want my own home to be a sanctuary and to feel very calming, especially after a busy day."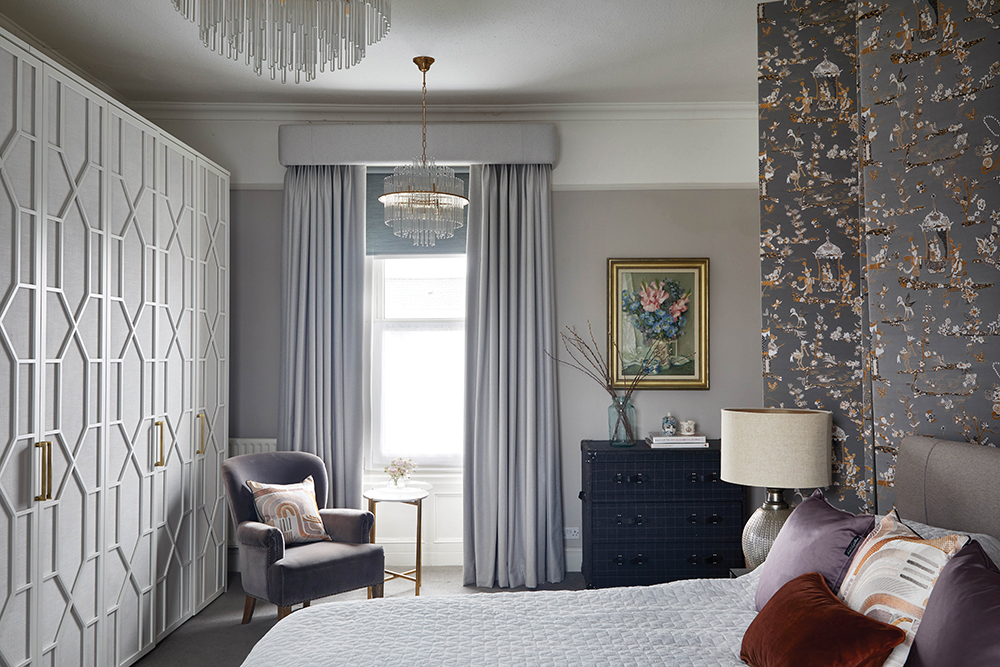 Unsurprisingly, Sara designed a lot of the pieces in her home herself. The sofas in the living room were imagined by her and made by her trusted suppliers in Portugal, whereas the mattresses were custom-made by Sara's company with Respa Beds. But not everything is brand new – "I left the blue toilet and basin in our WC," she says. "It's such a talking point. We held a dinner party recently and I heard one of the husbands say 'wait until you see the toilet' – I couldn't tell if he meant it in a good way or a bad way! I think it's fun." The Cosgrove home is, in fact, filled with antiques and reupholstered treasures. "I don't like to have everything off the shelf, especially when it comes to art," says Sara "I like to reimagine these old items and breathe new life back into them. I believe they're what makes a house feel properly homely."
Sara describes her home as "evolving, classic-contemporary, transitional, tailored and curated. I instantly feel at home when I walk through the door," she says. "There's a real sense of it being a retreat, a place to switch off from it all." And would she ever leave this newly perfected sanctuary? "Oh yes – I'm a designer, it's in my nature to always want a new project – but it would have to be another beautiful old house, this one has spoilt us."
Dining room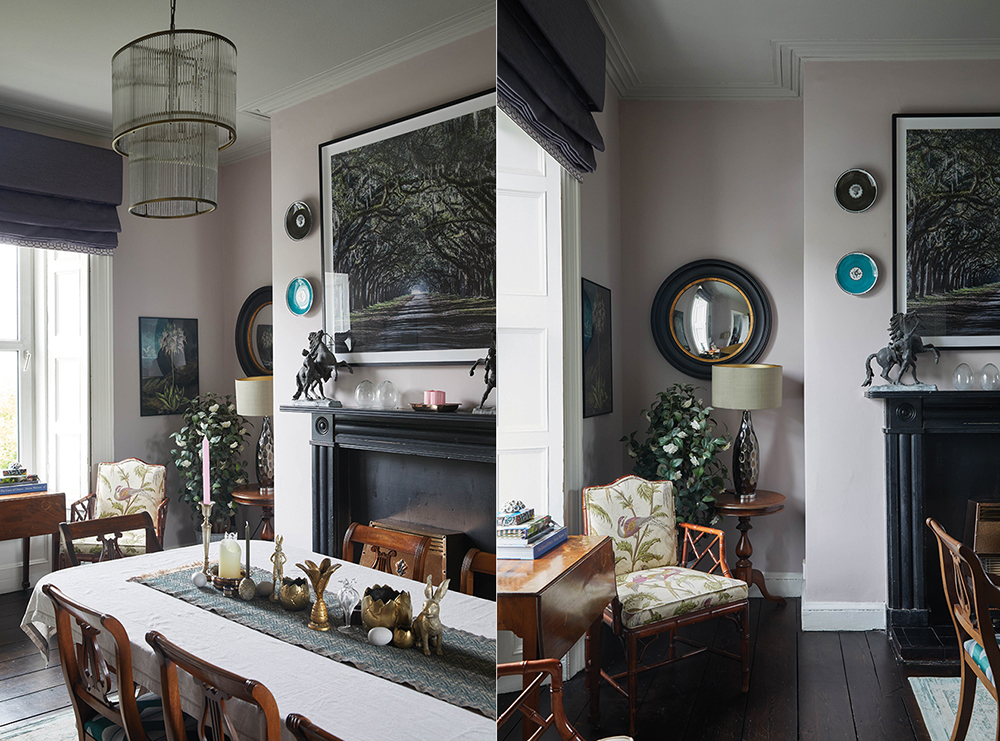 The dining room features one of Sara's most treasured possessions, a set of four upholstered chairs. "They look beautiful, but they're also so comfortable," she says. The mahogany dining table and chairs were discovered at an auction and help to create a traditional feel in the room, which is complemented by the soothing tones of Farrow & Ball's 'Peignoir' on the walls and 'Silk Seal' by Colourtrend on the ceiling. A statement chandelier (from Pooky) finishes the family space perfectly.
Living room
Decorated in a palette of soft greys and blues, the wallpaper from Phillip Jeffries adds interest and texture, as do the armchairs designed by Sara and upholstered in a Rubelli velvet. A piece by artist Fionnuala Ní Chiosáin hangs to the left of the fireplace.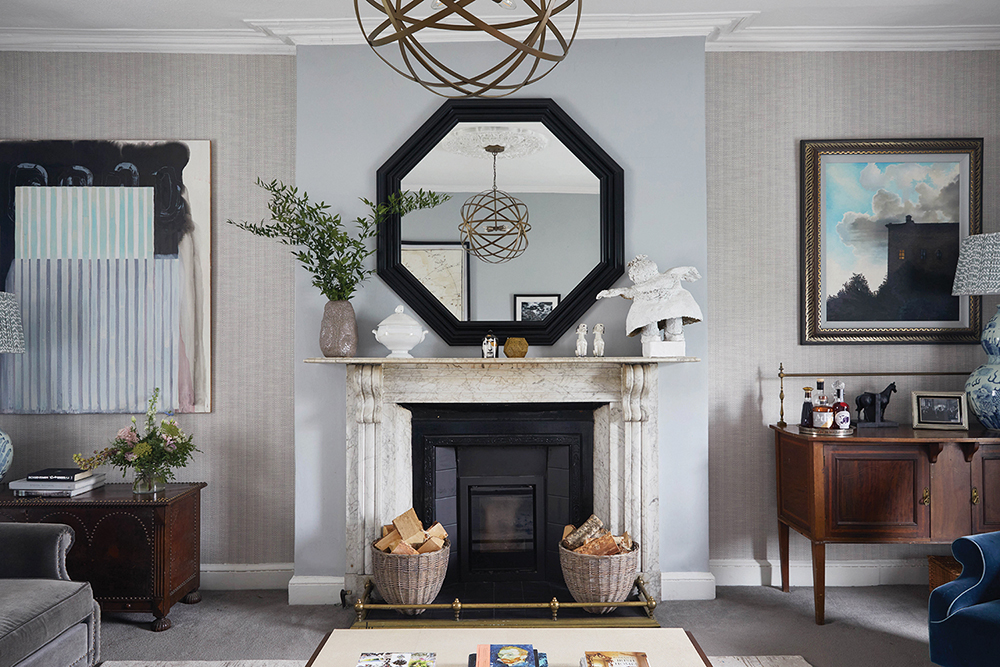 Kitchen
Sara is passionate about avoiding fleeting trends and so chose a stylish and classic Shaker-style kitchen that would stand the test of time. More tranquil hues, all from Farrow & Ball are used here, such as the walls painted in 'Parma Grey' and cabinets in 'Borrowed Light.' The mustard seen in the door frame is 'Babouche', also by Farrow & Ball – "I do love colour," confesses Sara. "Especially yellow."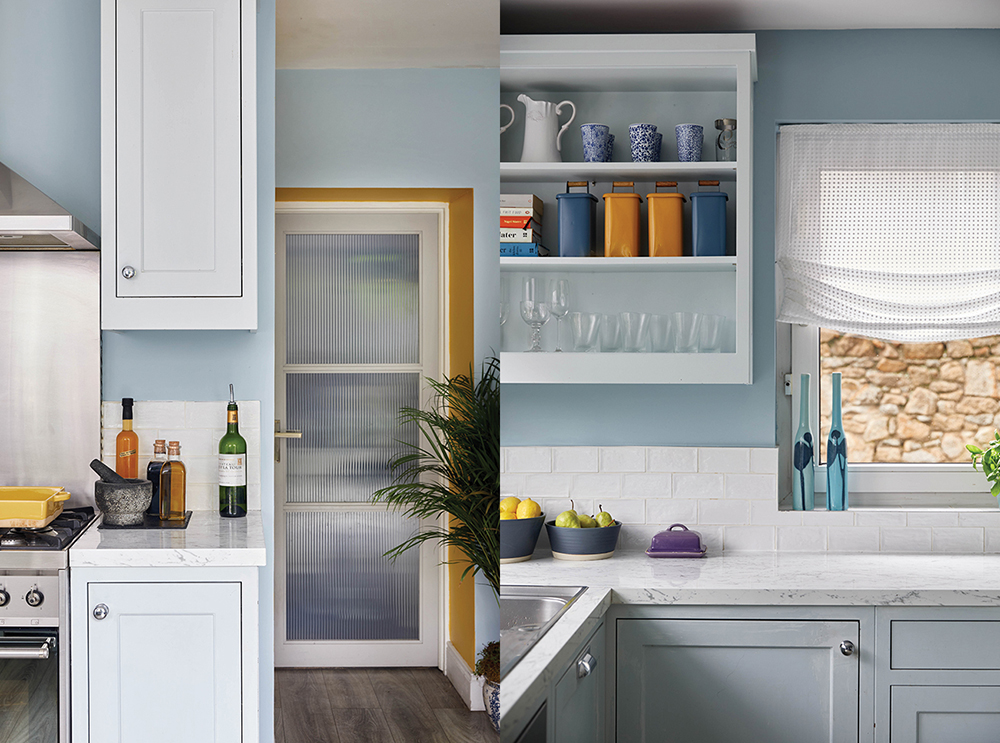 The kitchen has a Saarinen-style table surrounded by upholstered dining chairs. "It's practically unheard of to have velvet chairs in a kitchen, but these are a contract-grade wipeable velvet," says Sara.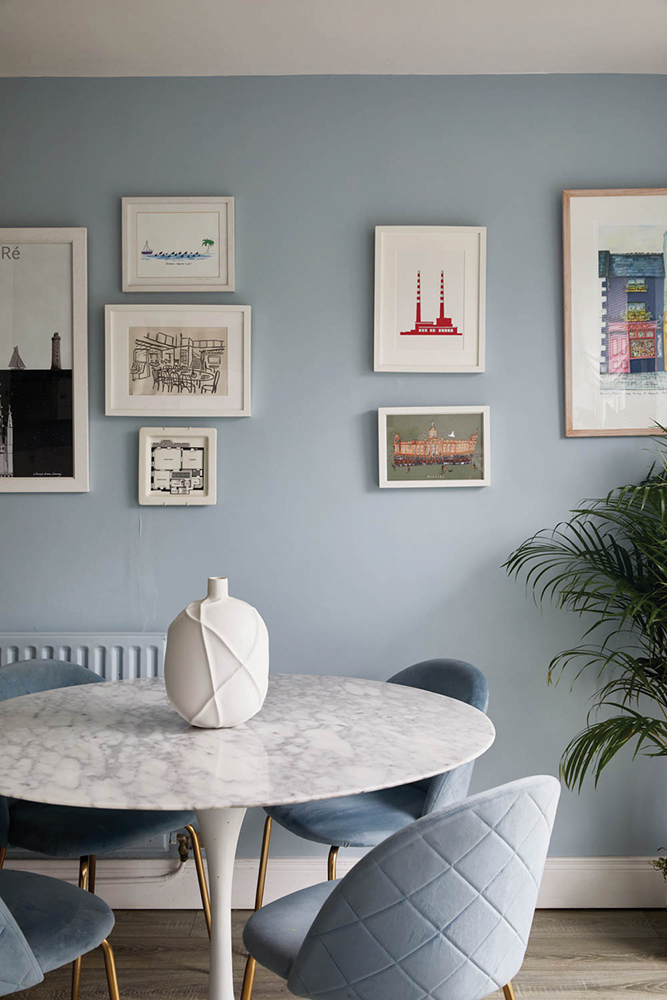 Hallway
An imposing front door welcomes visitors to the Cosgrove home, however it's been softened by personal touches such as the blue and white vases above – they've been collected over the years by Sara, her mum and granny.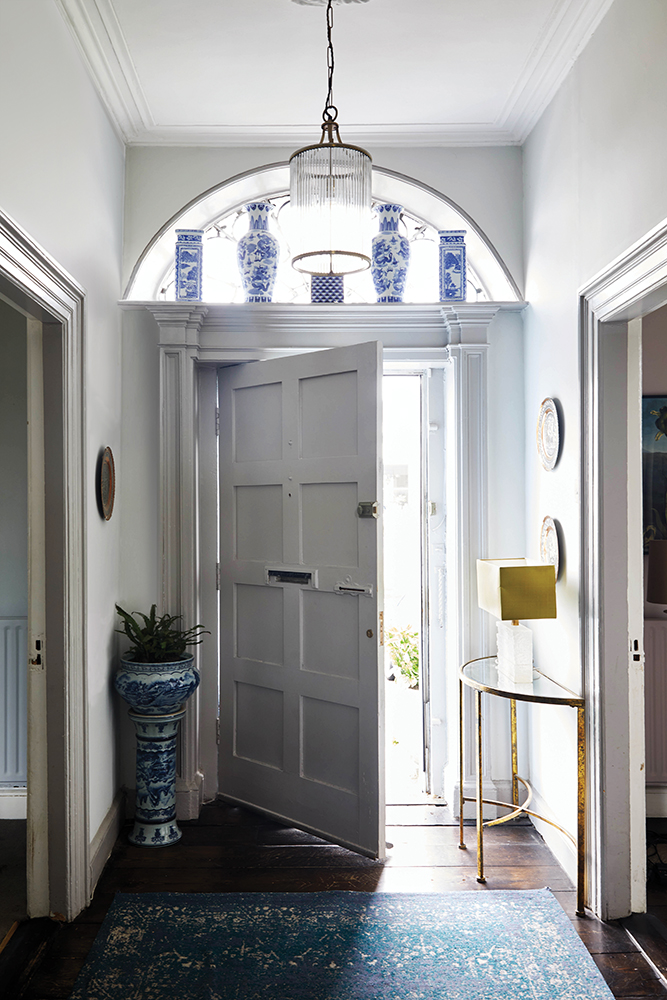 Master bedroom
Sara designed the silk screens and fretwork wardrobe for her bedroom. Inspired by an old trellis in one of her garden books, the closets are lined in soft linen. A  comfortable armchair makes this a space where Sara can relax.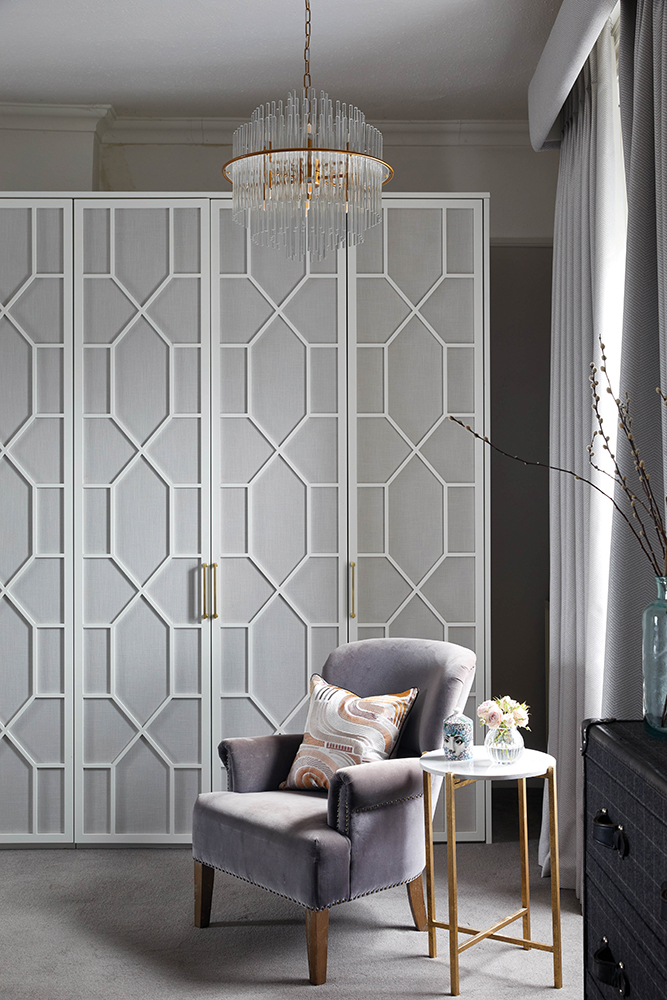 Loughlin's bedroom
The Zambezi wallpaper by Cole & Son (it can be sourced at Wallpaper Direct) is complemented by painted shelving and a lampshade in a similar hue. It brings a fun touch to Loughlin's bedroom, and isn't too babyish so will grow with him.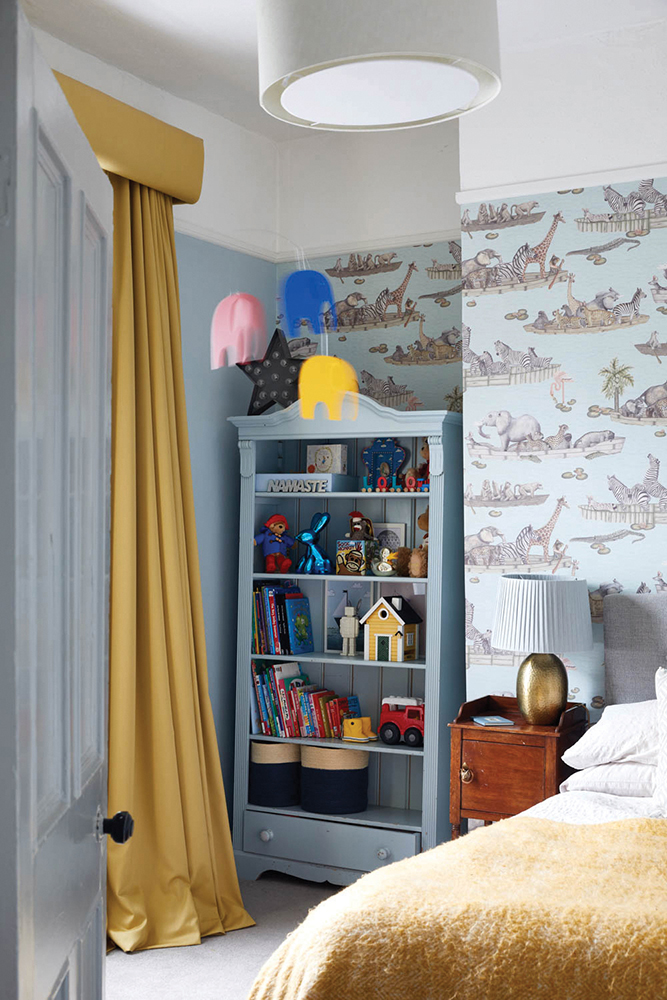 Guest bedroom
A stylish guest bedroom with a subtle safari theme – the understated animal print wallpaper contrasts against the patterned headboard before appearing again, in a different colour palette, via the cushions on the bed. Gold tones add warmth to the cool greys.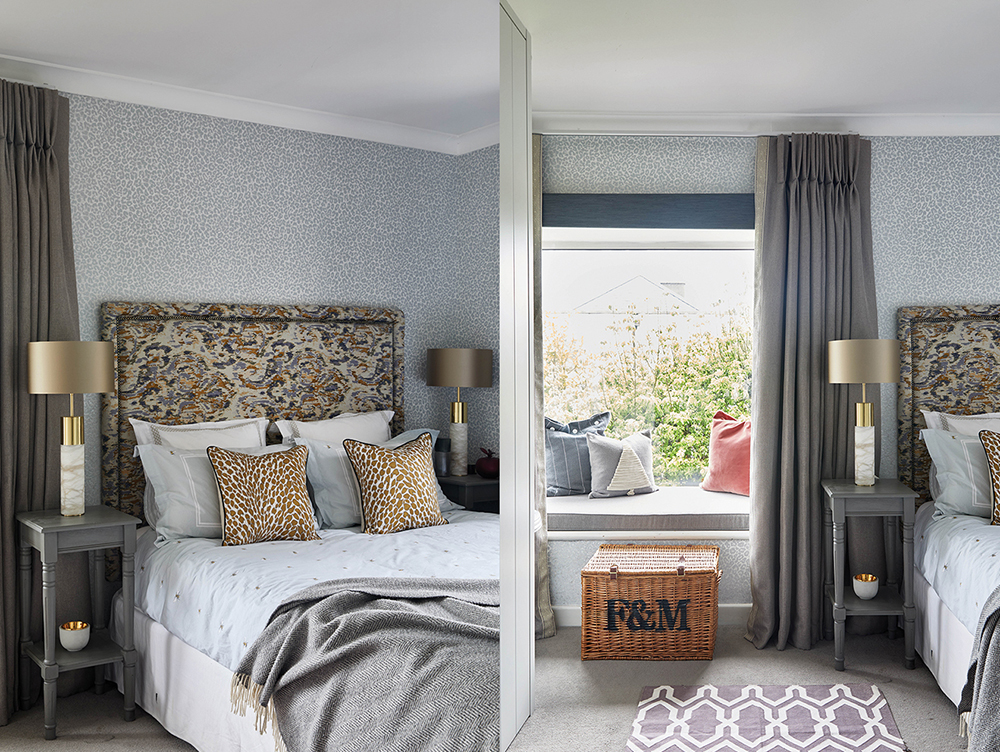 Bathroom
Simple and sophisticated, the main bathroom has a calming grey scheme. The traditional fixtures work in harmony with the more contemporary tiles.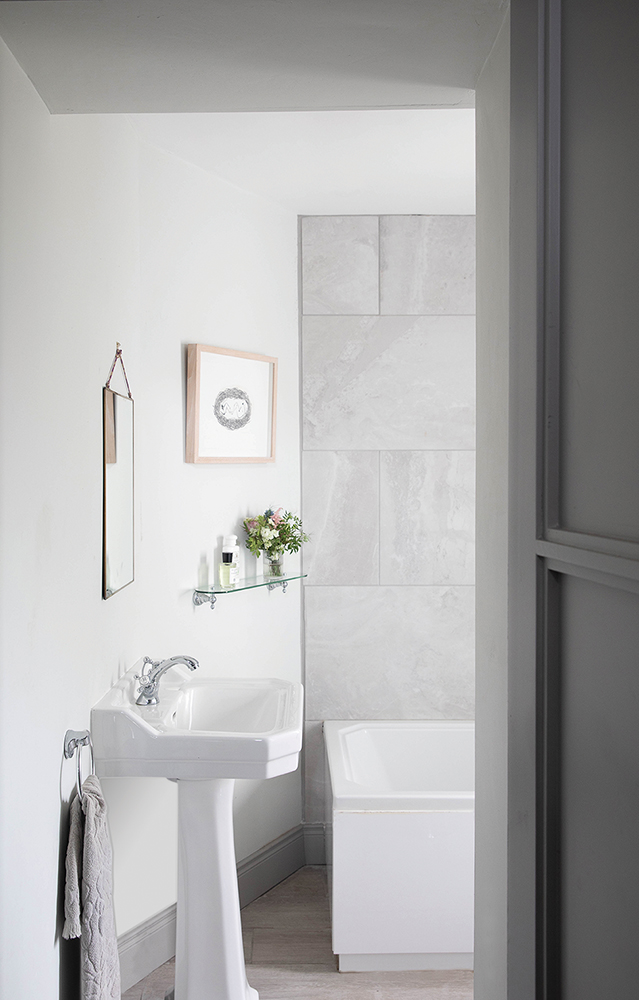 To find our more about Sara Cosgrove Studio, visit her website, and follow Sara on Instagram at @saracosgrovestudio
For a completely different approach to renovating a Georgian townhouse, take a look at the home of Tanya Ross, which is filled with French antique market finds.