"This is the original front door, from when the house was built in 1786, and it has an extra large lock. The woman who lived here as a little girl came back to visit once, and she gave me the key she took with her as a memento. I was so thrilled and felt very moved by her gesture. We still keep in touch."
Since selling their two-bed terraced house in Dublin to return to Tullamore, Co. Offally in 2016, Tanya Ross and her husband George have approached this five-bedroom Georgian townhouse with a respect for its history and architectural integrity. As you hear more and more about the devotion this couple have given the house, it is unsurprising the former resident was happy to return the original key. It, along with the house and door it fits in, are in very capable hands.
Tanya is a Creative Director and works with brands to enhance their aesthetic. George is a Chartered Surveyor. They live her with daughter Willow and cat, Daisy. Together, with the help of Architectural & Engineering firm, Frank and Imelda Murray from Murray Architectural Services (who happen to be Tanya's parents) and contractors Kieran and Eugene Mann from KE Mann Builders, they created an open-plan living space with a French bohemian style. They've allowed light to flood the period home and give it a modern feel while maintaining all original features.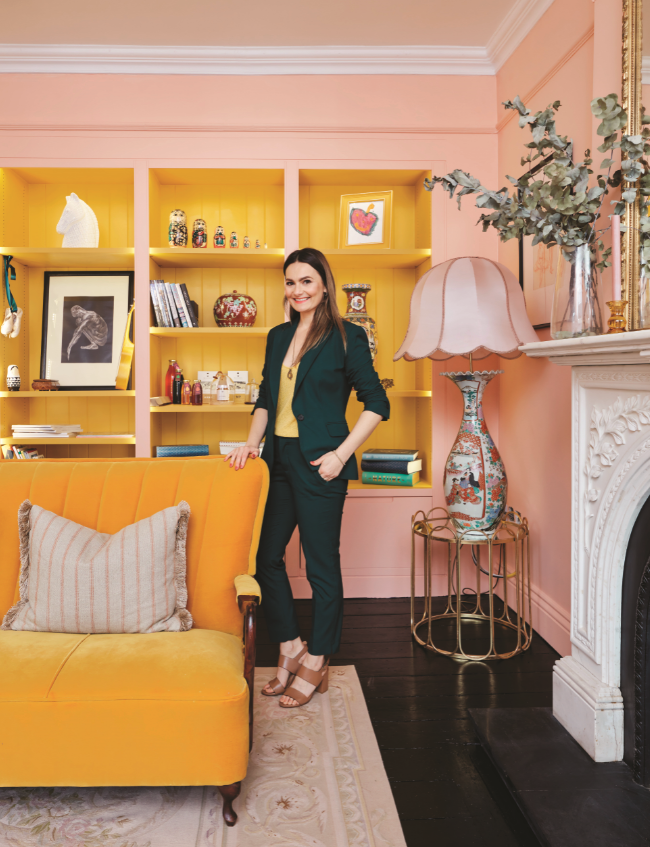 Tanya's Studio was refurbished during lockdown, using bookshelves saved from the skip. They were built into the wall, which was then finished with cornicing from Molloy Plaster Mouldings and painted by her brother-in-law, Ken Mann. The brightly coloured shelving is now used to display some of the products Tanya designed the artwork and branding for. These include Seavite skincare, ICA cookbooks, the Confetti Wedding Planner and Millbee beeswax foodwraps.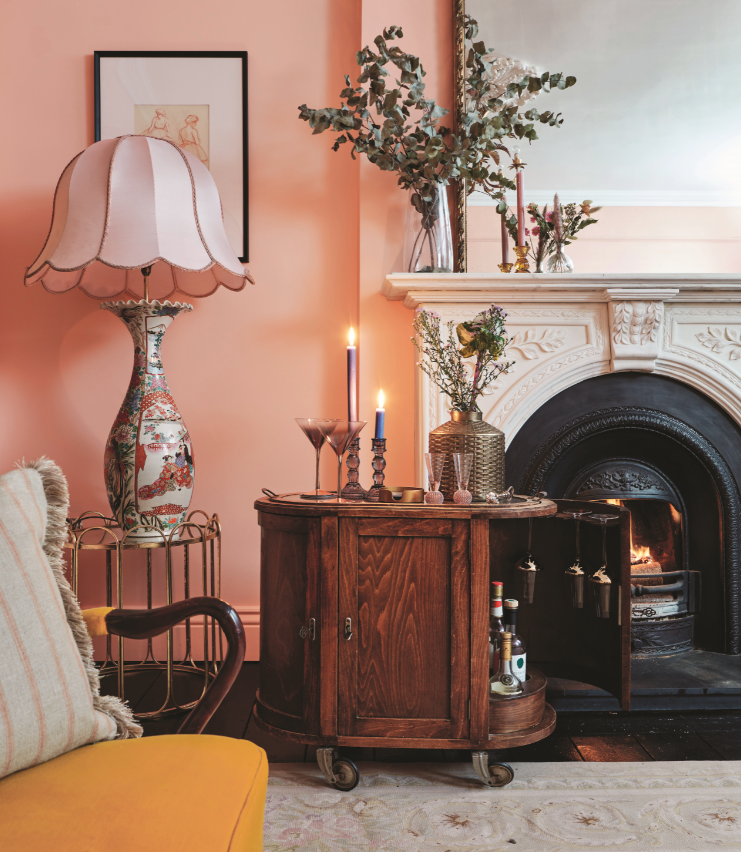 On top of the antique marble fireplace from John Walsh Fireplaces sit glass candle holders from Grove Home and dried flowers from The Flower Drop by Jette Verdi. The juxtaposition of glistening glass, and the rustic texture of dried flowers works beautifully against the soft wall colour, 'Nevada' by Acres Hall.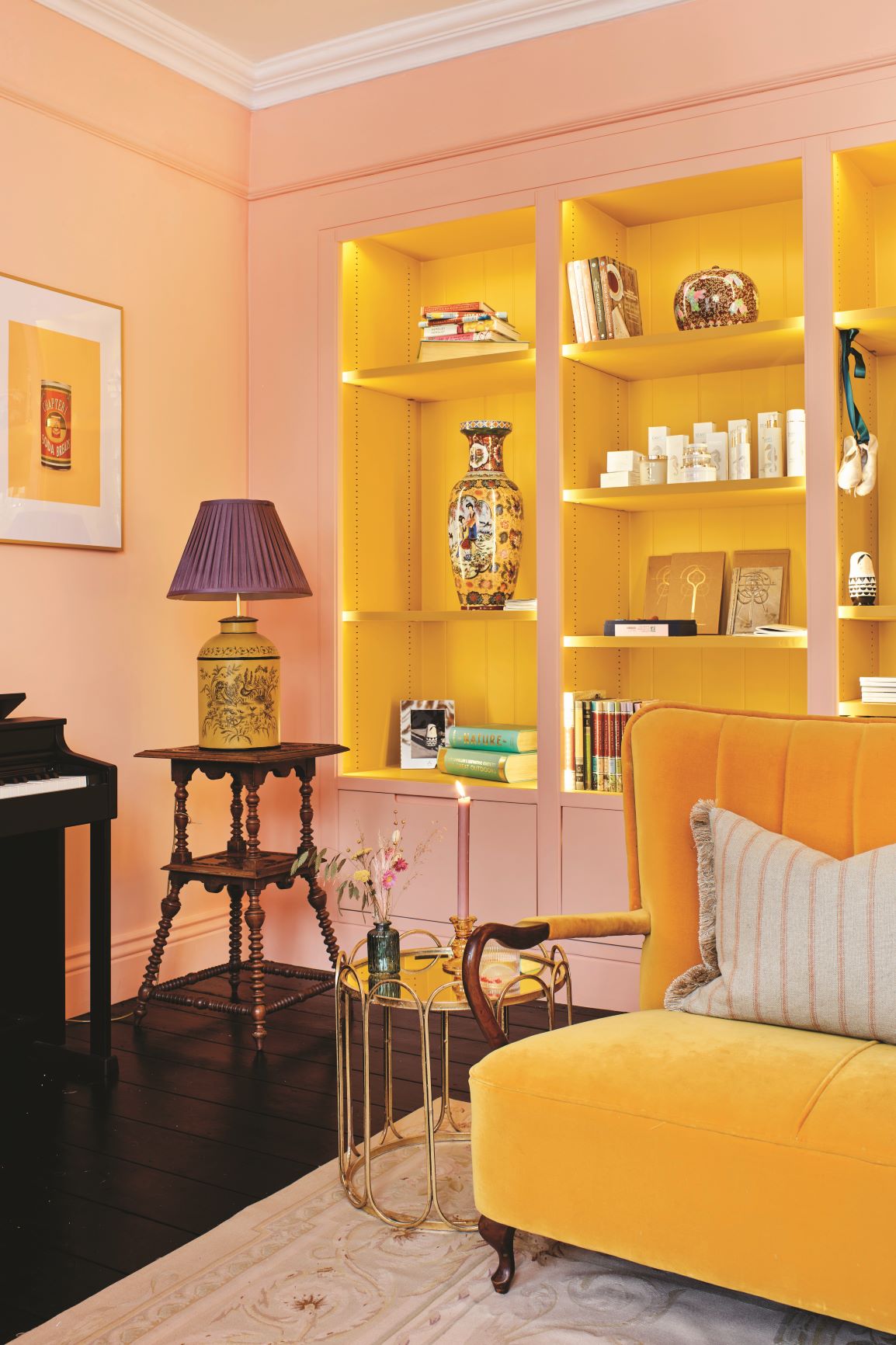 "The suite of furniture was given to me by my Granny Rose. I had it reupholstered in Neptune fabric about 3 years ago in one of my favourite colours," Tanya says. "I didn't really consider the rest of the room at that time, I just made decisions on instinct, what I loved and wasn't hung up on what matched and did not match. That's why I love this room so much. There was no mood board and very little planning. Over a few years I collected items that I loved and this is how it evolved."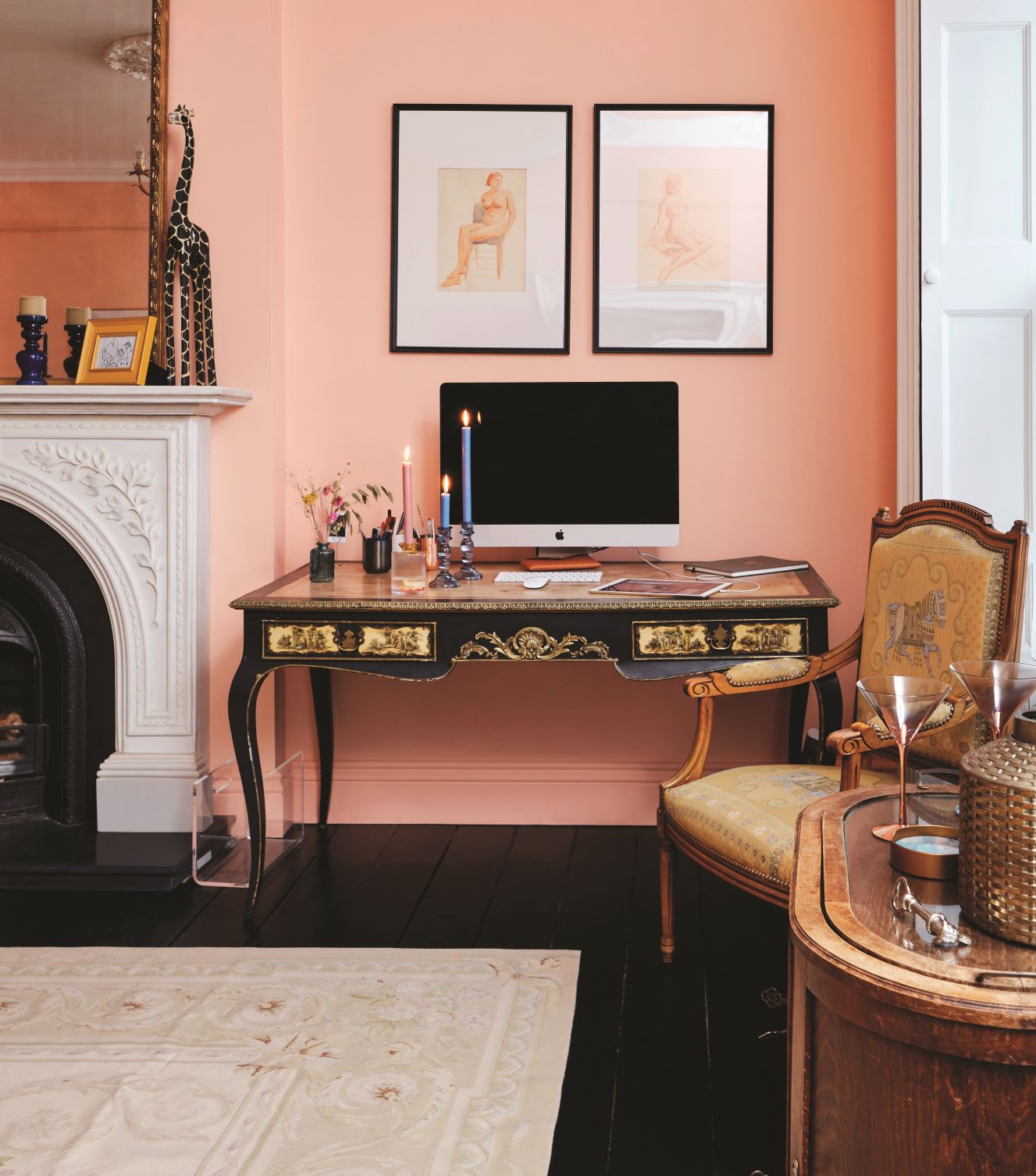 "My desk was sourced at an auction before our sale was even agreed on the house. There were a few nights I feared I had counted my chickens, but thankfully it all worked out. The desk was originally maroon but I painted it black", Tanya tells us.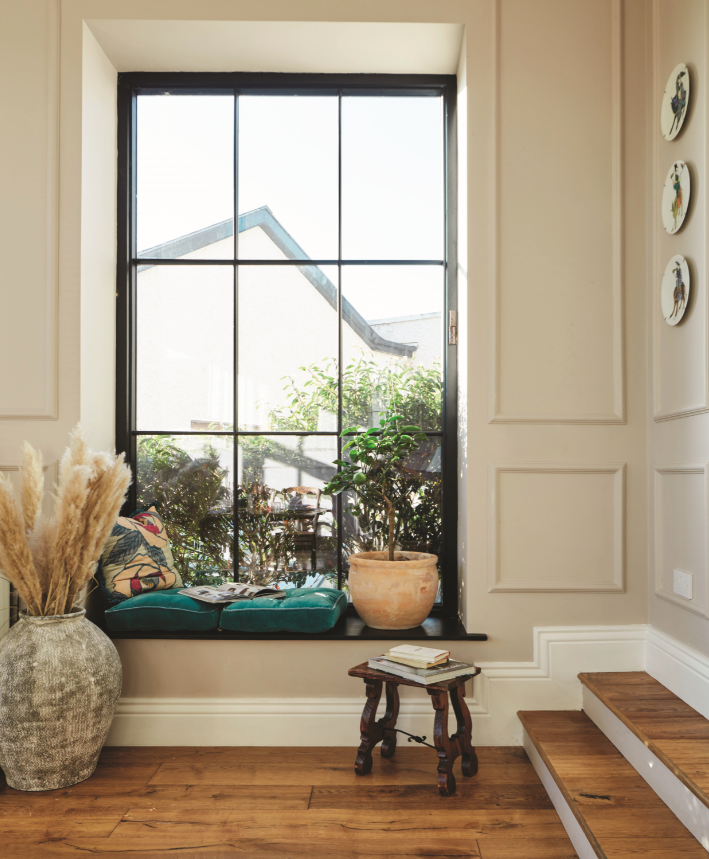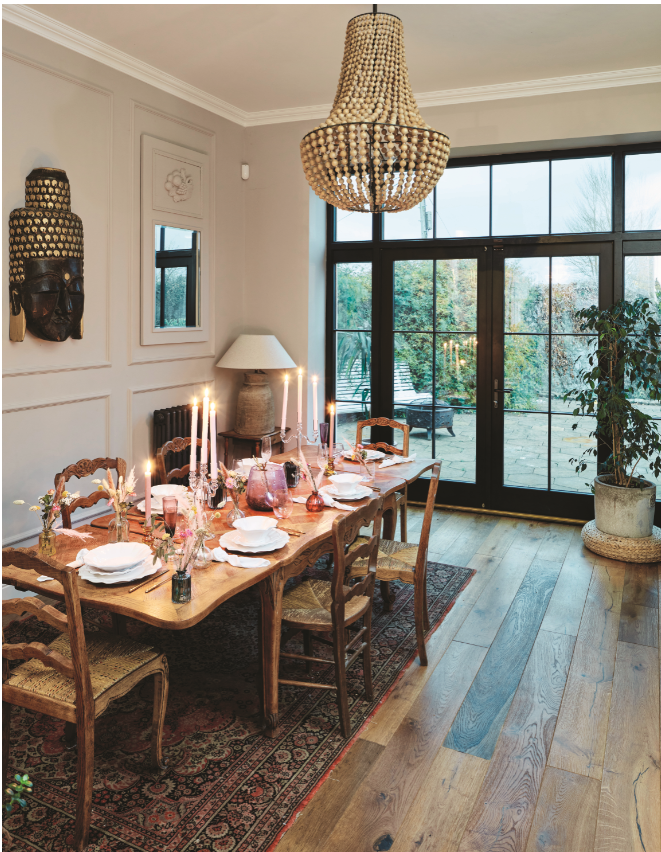 Tanya talks us though the relaxed yet classic dining space; "The dining room is set in the back of the home, with bespoke timber windows that look on to the walled garden. It was the only add-on we made to the house in order to get a direct link from the living space to the garden. The furniture is a mixture of antiques sourced from various trips to Amiens in France. The lighting in this room is from a client I worked with; antique dealer,  Minnie Peters. The mirrors facing the dining table came from Architectural Salvage in Kilkenny and I painted them to blend in with the wall colour- 'Elephant's Breath' from Farrow and Ball."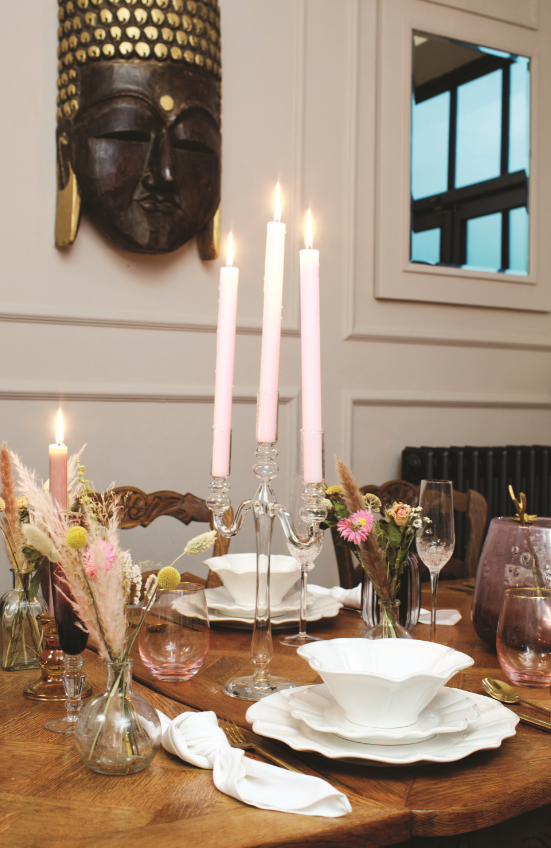 "The carved head is our latest purchase for this room and is of Indonesian origin sourced from a very special place called The Store Yard. It's only 20 minute drive from me (it's in Portlaoise, Co. Laois) but when I step into it, I feel as though I've left the country. A treasure trove full of antiques, all beautifully curated under one roof. I can't wait to get back there once lockdown ends!" Tanya confesses. "All of the dinnerware is from one of my favourite interior shops, Grove Home in Tullamore."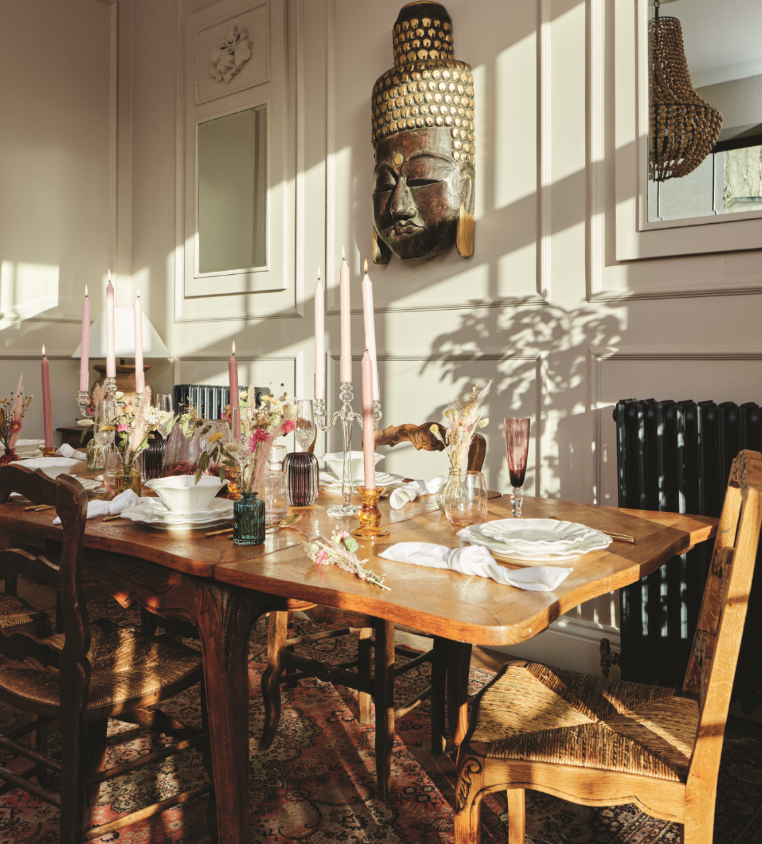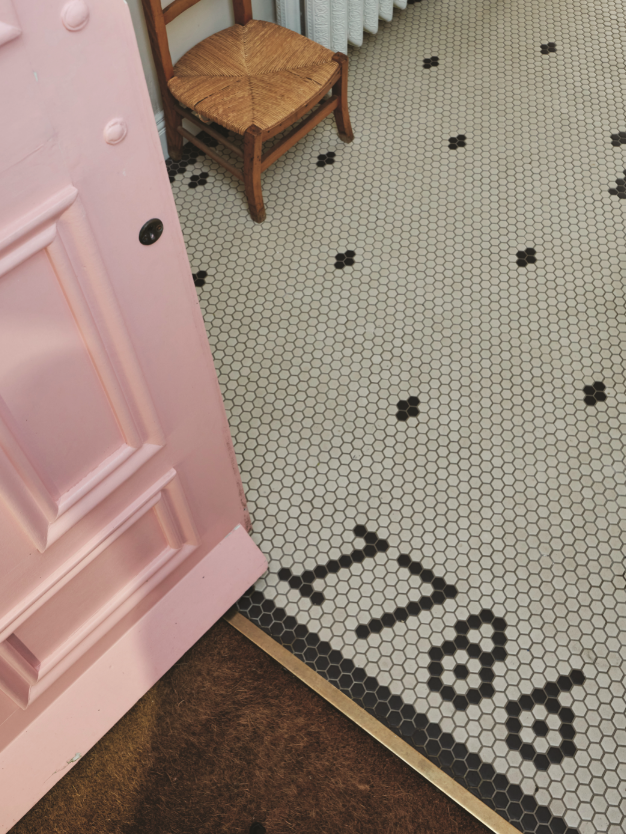 "I designed the tiling layout, and we bought them from Mosaic Assemblers. We decided that putting the year the house was built in the entrance would be a nice reminder that we are only here for a short period of time. The house has been standing long before and will remain standing long after we leave", Tanya tells us. This stunning home certainly has the custodians it deserves.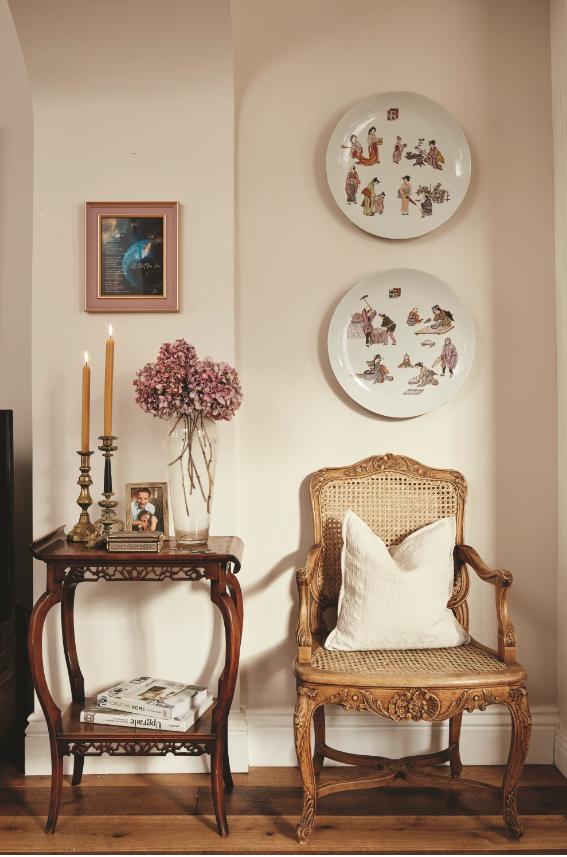 "This is my favourite spot to sit in when I'm working in the kitchen and need to sit down for a moment. All of the items here were picked up at French antique fairs," Tanya explains. "It's the space between the kitchen and living room. It's a quiet corner that I feel hidden in when there is a lot going on around. People often get a fright when they walk by as it's around a corner and they are not expecting someone to be sitting there. I quite enjoy that!"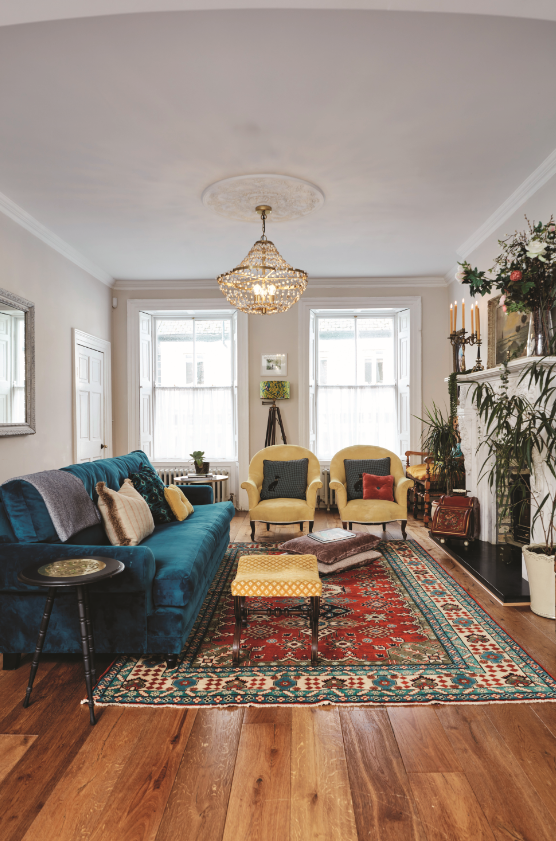 The yellow armchairs are from a fair in France and the sofa was made bespoke. The rug and ecclesiastical side table with the gold insert are from The Store Yard in Portlaoise. Extra cosiness is added to this room with cushions from Grove Home and Anthropologie. "The lamp in between the two windows is a converted antique tripod and the shade I covered with Emma Shipley fabric. I love her stuff, it's very psychedelic", Tanya adds.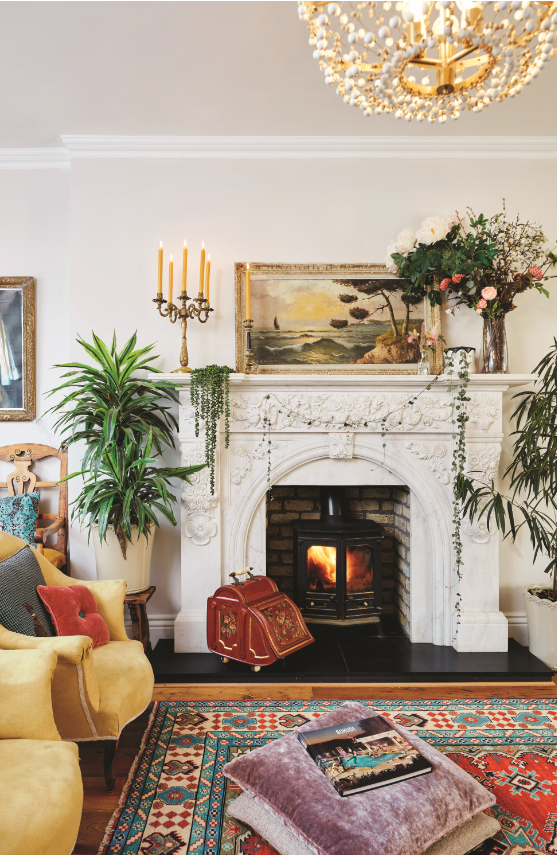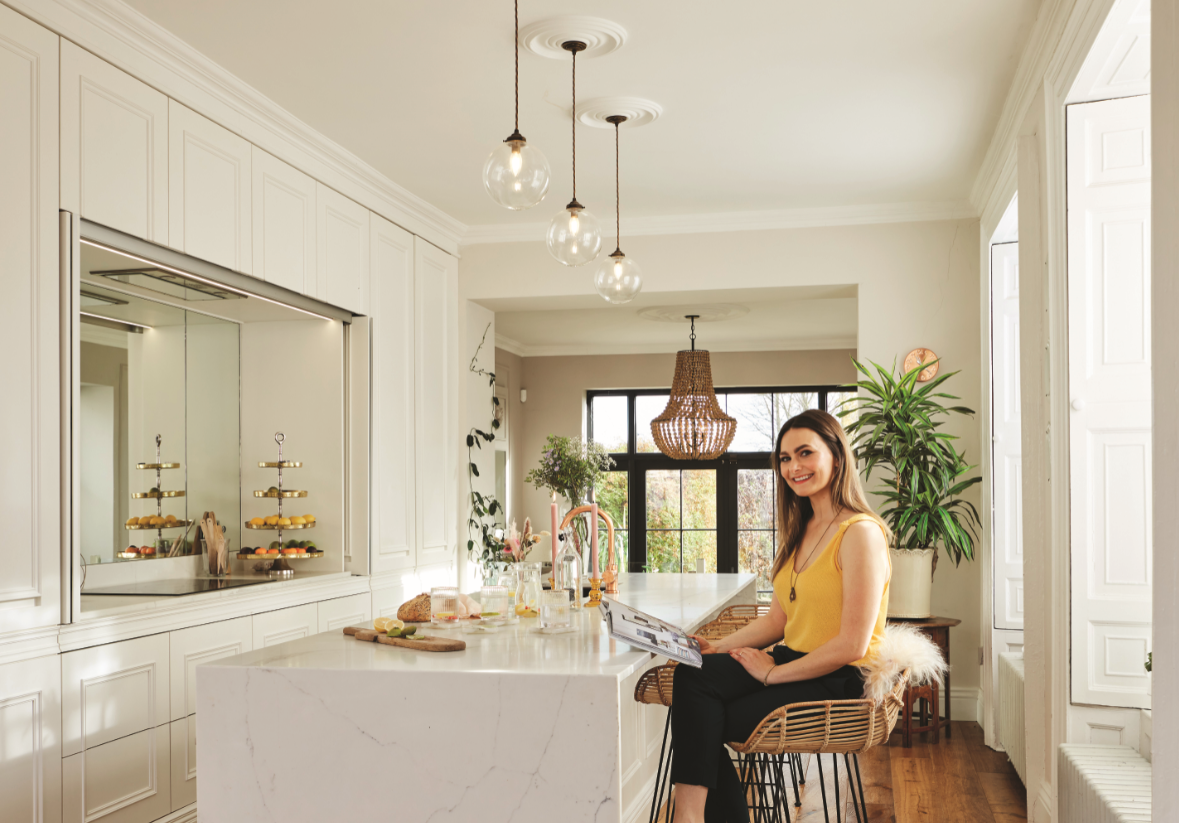 The kitchen was built by local joinery company, Dermot Bracken Kitchens and counter top was added by Egan Granite and Marble. The design of the kitchen was inspired by an Australian designer, and Tanya loved the minimalistic blend of clean lines and period-style panelling. The copper sink and tap are from Tapwell in Sweden. The pendant lighting is from Jim Lawrence and the rattan stools are from Cox and Cox. The semi-solid smoked oak Timbre was done by Aidan Browne Flooring.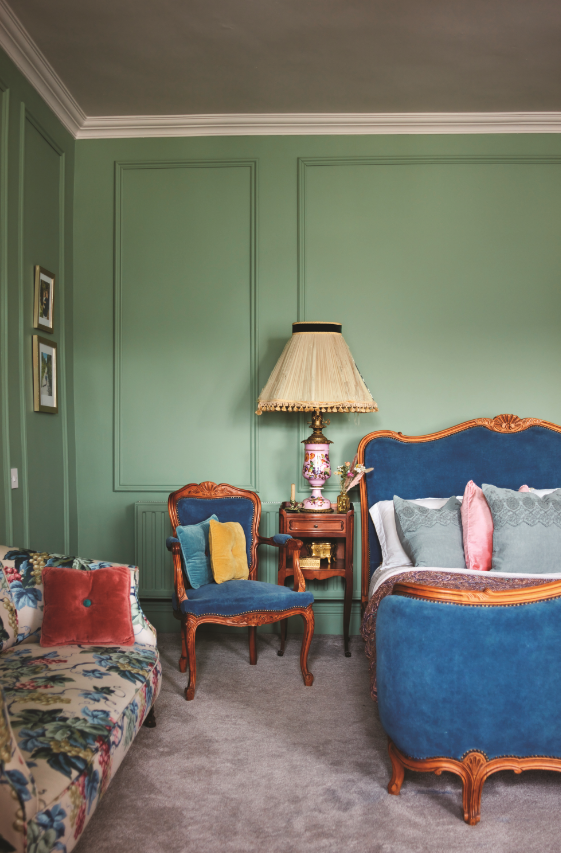 "I saw this bed at about midnight when the fair kicked off in Amiens. But the dealer had not opened his stall yet, and was sleeping in his van. I didn't want to wake him, so every half hour or so we cycled back to see if he had opened his stall yet. We did this about 9 times until he finally opened it a 5am. At this point we would have paid whatever he was asking but thankfully he only wanted €200 for it, along with two matching chairs. This is just an example of the frenzy that happens at one of these fairs," Tanya recalls.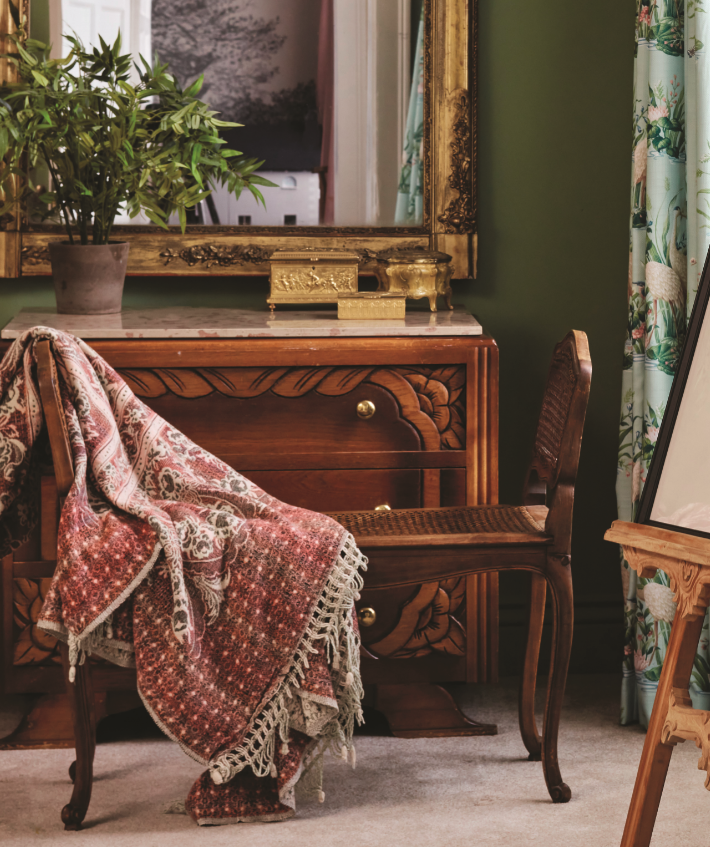 The paint colour in the guest room is 'Aharney Dew' from Acres Hall. The drapes were made bespoke by Boland's Curtains Tullamore using WaterBirds fabric. The furniture was sourced at a French antique fair.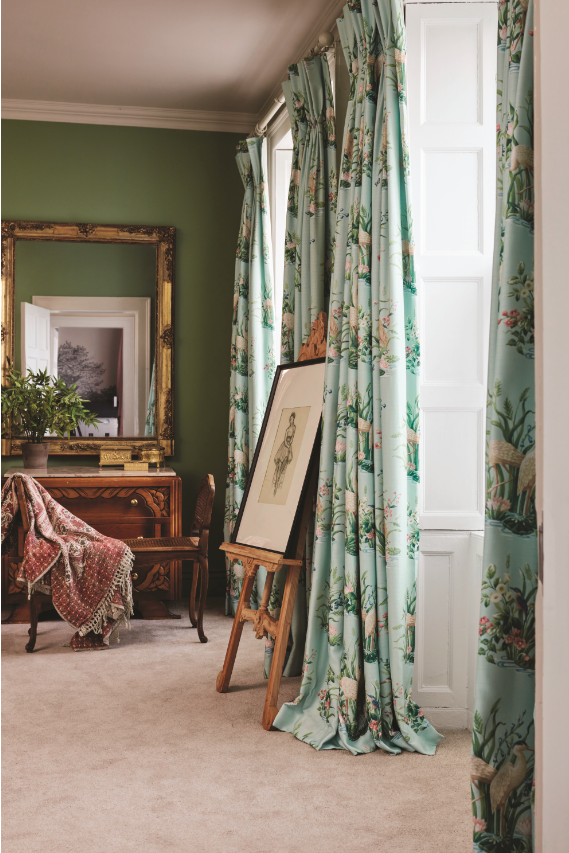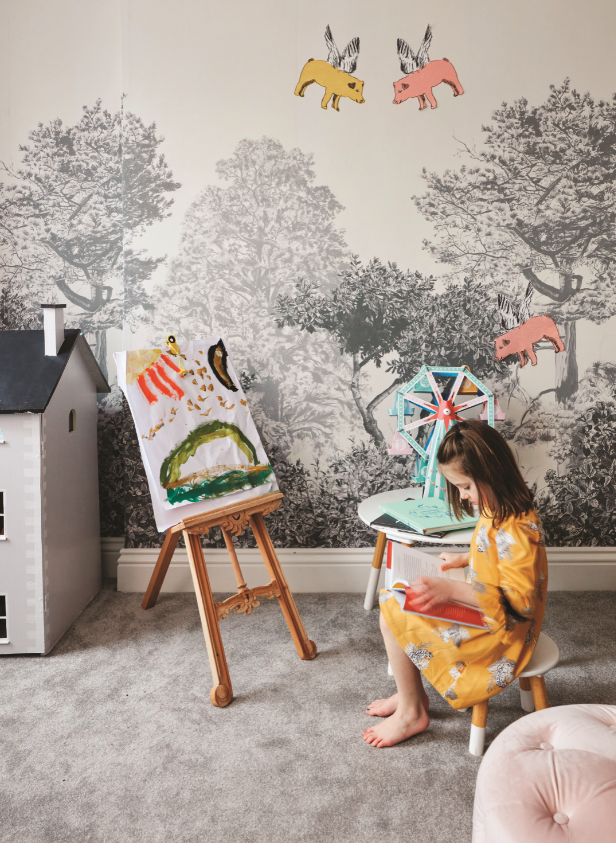 Like Mamma, like daughter! Seven year old Willow knows exactly how to dress to compliment her surroundings! Here she is wearing a dress from Tullamore-based shop, Kate & Charlie in the mustard colour that runs throughout the home.
A passion for architecture and design very clearly runs in the family. The beautiful doll's house was built by Tanya's father when she herself was six years old. The sweet family heirloom has now been passed on to Willow, but Tanya still has fun decorating it. She may be the interior designer, but unfortunately Tanya has is no longer a resident of the main house; "She allows me to live in the granny flat at the back. I wonder is it a sign of things to come?!"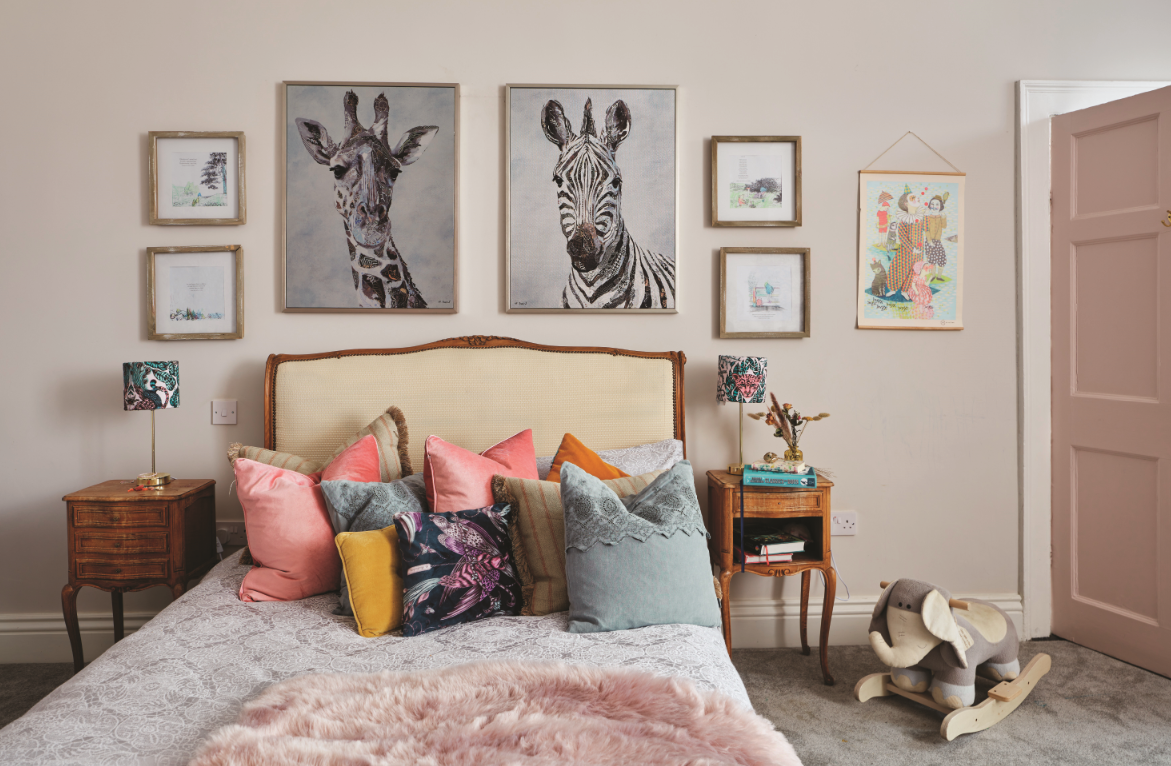 The wallpaper in Willow's room is from Sian Zeng in London, and was hung by Tanya's uncle and grandad. Her bed and side lockers are French antiques. The cushions and accessories are from Grove Home, Sostrene Grene, textile designer Emma Shipley and even Lidl. We love the high-low mix created by creative mum, Tanya.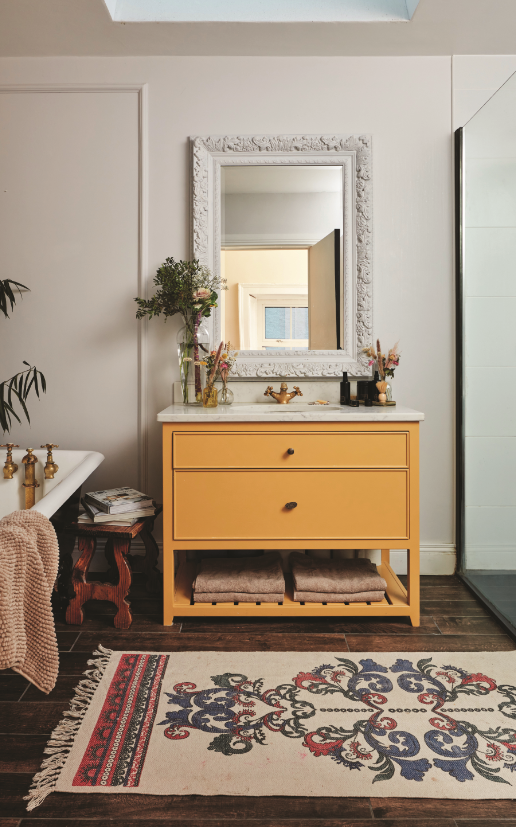 The paint colours in the main bathroom are all from Farrow and Ball. The walls are 'Blackend', and the bespoke vanity by Dermot Bracken is 'India Yellow'.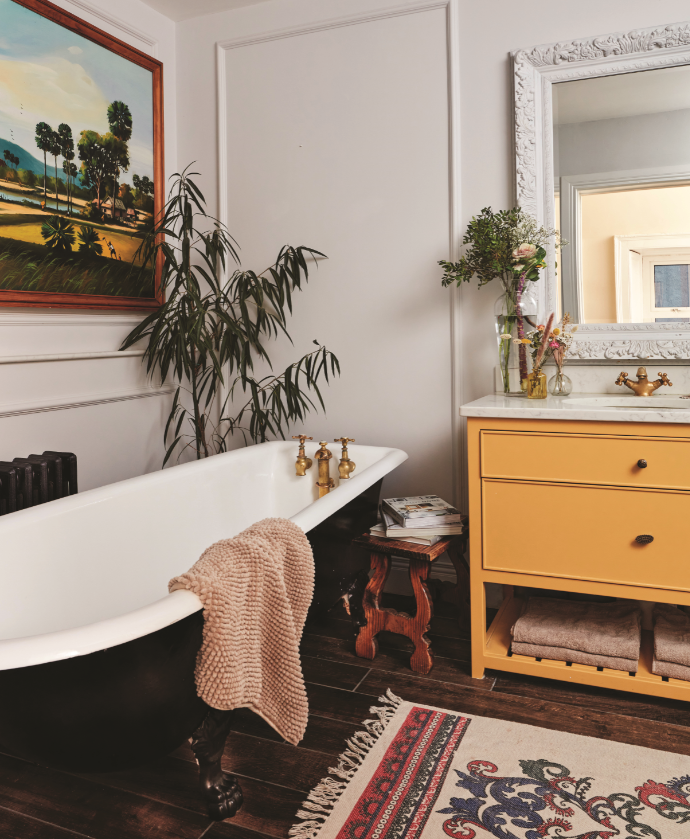 One of Tanya's favourite pieces also hold sentimental value; "This is my great-granddad's cast iron bath that I inherited from my Granny Rose and Grandad Martin. They so kindly kept for me in their shed until we found a house big enough for it. We had the original nickel stripped off the taps and stopper to reveal the beautiful brass that lay beneath."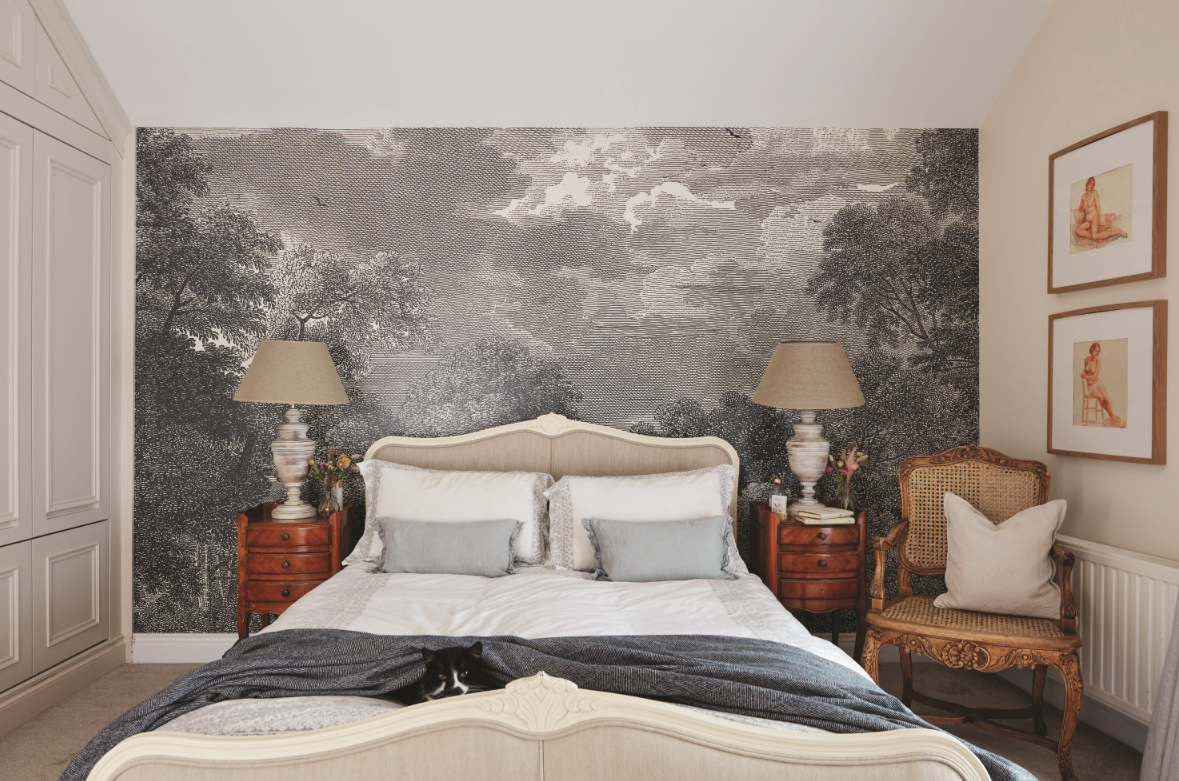 The mural in the master bedroom is from Anthropolgie, and it's offset by 'Dimity' from Farrow and Ball. The linen bed is from Laura Ashley, and is anchored by two antique  lockers from France.
"I like to keep the room free from clutter ideally, but life happens and inevitably my wardrobe ends up on the floor by the end of the week. Life's too short to spend your time tidying up. Needless to say there was a lot of work prepping for this shoot", laughs Tanya.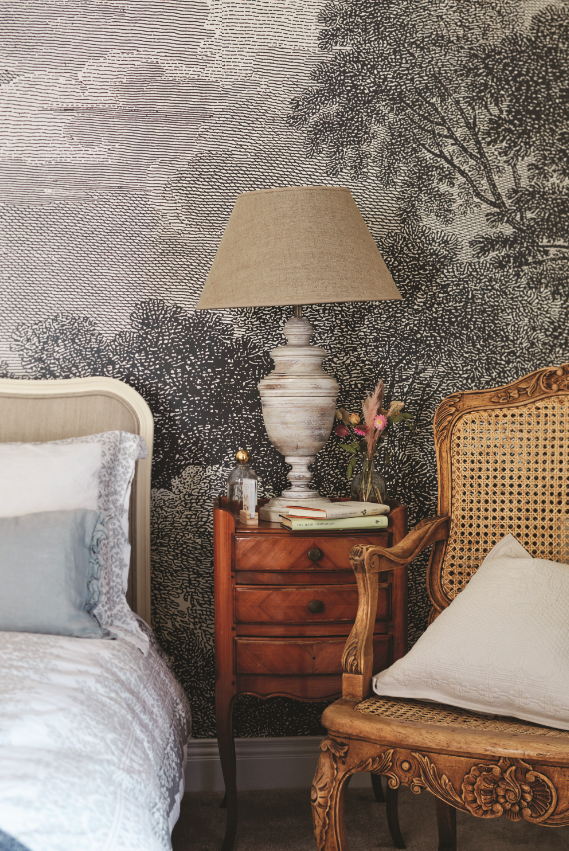 Showing her considered approach to design, Tanya thought of a space-saving solution for one of their bathrooms; "The little loo is quite a tight space but I did not want to compromise on the size of the shower. In order to allow the maximum amount of space inside the room, I had two double doors made instead of a standard single door. This reduced the swing space of the door when entering the room thus allowing more space internally." So clever!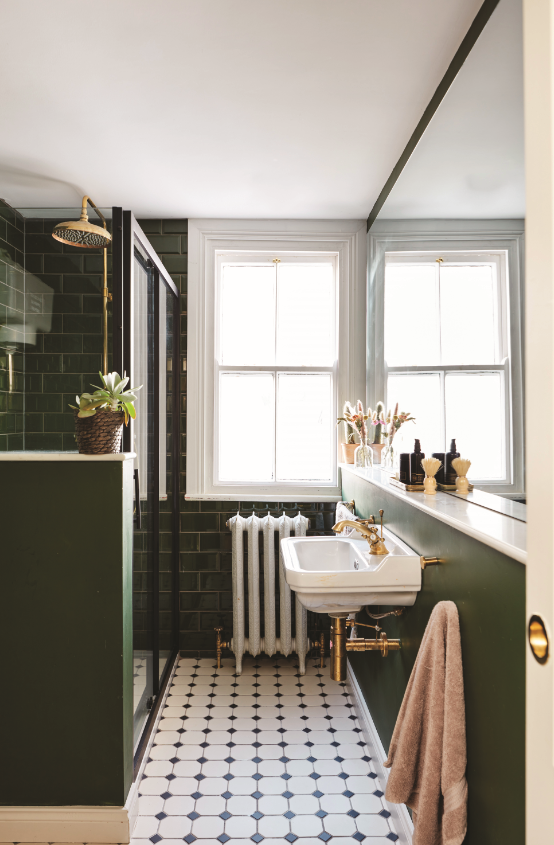 What a special home, and so many amazing suppliers to check out. Follow Tanya's creative adventures on Instagram at @6highstreet. We can't wait to see what she picks up on her next trip to France once we can travel safely again!
For more great Irish suppliers, check out House and Home's new Shopping directory here. We've listed some of the best and most reliable names in the design industry.
Share This Article