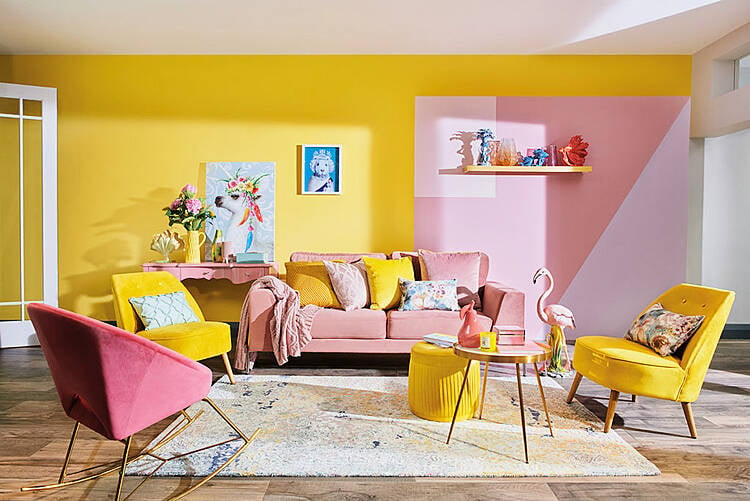 A House and Home promotion
Discover the thrill of shopping for quality homeware and unique pieces to transform your home with savings of up to 60%
We love a trip to Homesense.ie at House and Home: it's all about the fun of the find and discovering a unique selection of pieces for every room, designed to transform your pad into a cosy home packed full of your taste, style and personality. There's something for every inch of your house, and we're calling out our favourite pieces that we think are worthy of awards below, too.
WIN A €250 VOUCHER
Plus, we've got chance for one lucky House and Home reader to win a fab €250 voucher to spend at Homesense from 14th February-28th February 2020! Want to be in with a chance? Head over to our Instagram at @houseandhomemagazine for entry.
T&Cs apply. Competition open to residents of the Republic of Ireland only.
1. BEST COLOUR COMBINATION
Let us count the ways we love Battenburg cake colour combos (above) – pink and yellow just works. Brighten any room with blush and primrose tones: we love the Salmon Sofa (right), €799.99, Velvet Pleated Yellow Stool (front), €39.99, and the Pink Console Table (back left), €399.99. Bright and cheerful, adding pieces, whether accessories or furniture, in
these hues will add fun and interest to any room.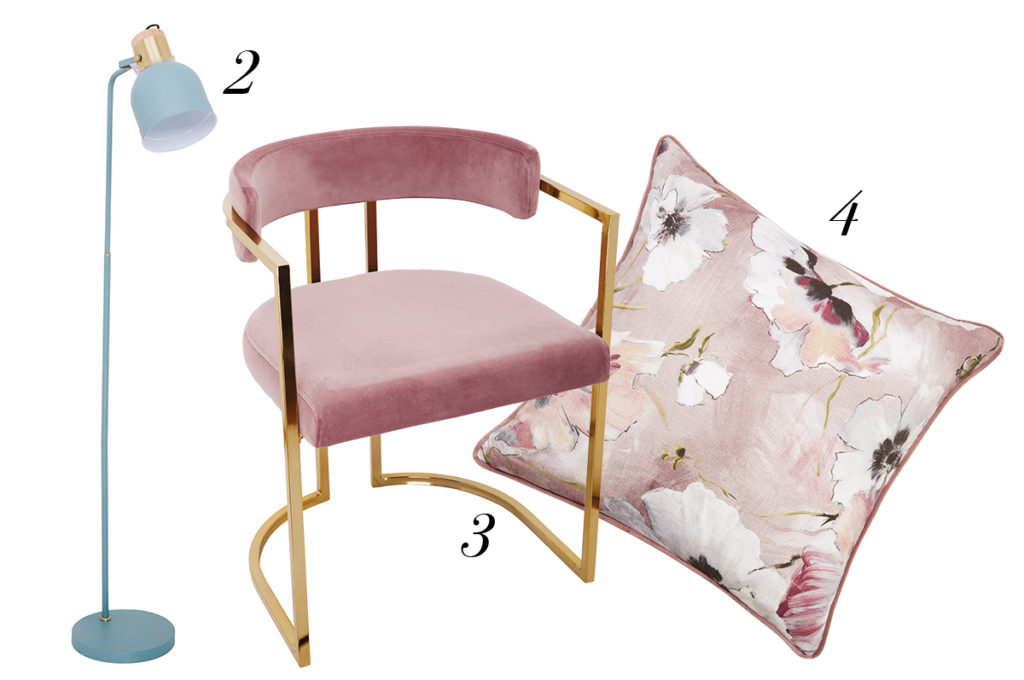 2. BEST TASK LIGHT
Begone, shadow-casting central lights: adding lamps at different heights around a room immediately makes it look more designed. This Duck Egg Floor Light, €69.99, will not only draw the eye upwards but can be used for reading or adding a soft pool of light in a corner. Lovely!
3. BEST TREND BUY
Baby pink and brass – well really, what could be cooler? This Gold and Blush Velvet Chair, €189.99, wraps up two trends in one design-led package and is a great choice for a bedroom or smaller sitting area. Plus, who doesn't want to try a trend for a lot less, eh?
4. BEST INSTANT UPDATE
Cushions are the quickest way to change the feel of a less-than-lovely space. Banish the look of your landlord's pleather couch with a strategically-placed throw and some new cushions. This Pink Cushion, €19.99, is perfect.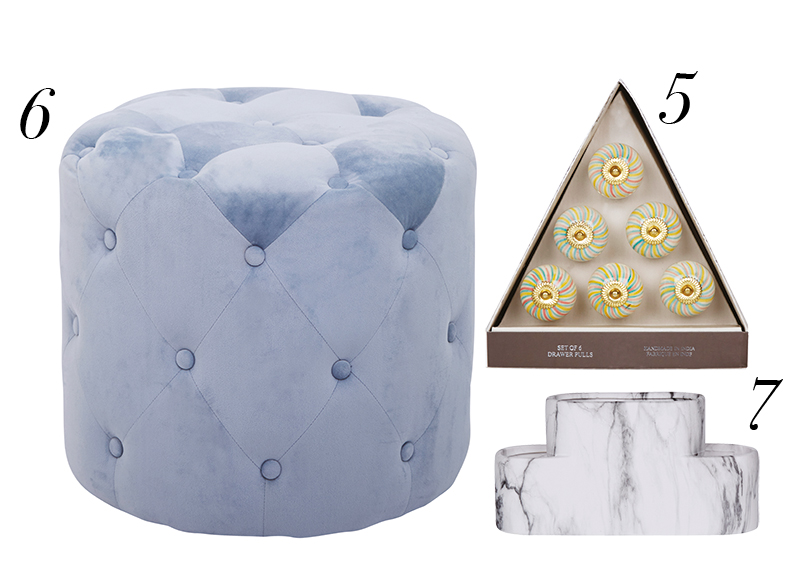 5. BEST EASY UPCYCLING IDEA
The quick way to change up furniture? Change the knobs! These fun Pastel Drawer Pulls, €9.99, are super-affordable and will give any drab wardrobe or chest of drawers an immediate makeover.
6. BEST MULTI-FUNCTIONAL PIECE
Fun and functional, a pouffe can elevate your interior instantly. Whether you use yours as an extra side table with a tray on top, as additional seating when friends call over or as a handy footrest. Lovers of Chesterfield style can opt for the Baby Blue Velvet Footstool, €54.99. With plenty more styles in Homesense stores, you can enjoy finding one to suit your décor style.
7 . BEST BATHROOM PICK
Marble is the material to know right now for bathroom accessories. Seen on all the best Instagram Stories, this piece adds up to social success and will instantly elevate any shower or sink. But it's not just about getting likes: the Marble Bath Organiser, €9.99, is seriously handy. In addition to its good looks, it will tidy up all your bits and bobs, leaving your surfaces uncluttered. Result!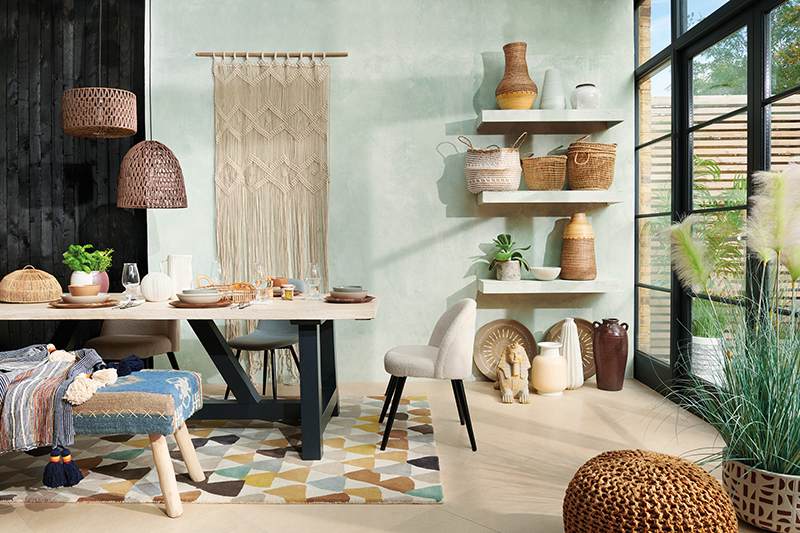 8. BEST 2020 TREND TO KNOW
Take design notes from Homesense's spring collection: it's all about natural materials like rattan, sisal, wicker and macramé this year (above). The String Woven Tulip Pendant, €39.99, looks great alongside useful woven baskets, from €8.99. Not only do these natural pieces look good, but in homes where you don't have a lot of storage, baskets can hide a multitude of bits and bobs too. So handy.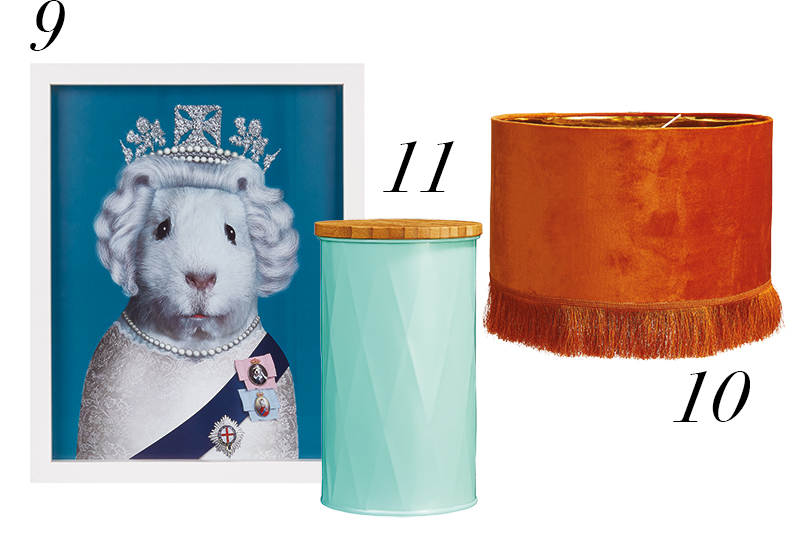 9. BEST GALLERY WALL FINAL TOUCH
An ideal solo statement or the perfect piece to finish a gallery wall above a sofa, bed or on the stairs (Command Strips are a must!), this fun Guinea Pig Queen Framed Print, €34.99, will have everyone asking you where it's from. We reckon it's up to you whether you reveal your source for unique, special finds…
10. BEST GLOW-UP
Ditch boring light shades for something with a little more sass. Like this very on-trend Orange Velvet Fringed Shade, €22.99. Easy-fit, it'll look as good on a table lamp as it will on a ceiling fitting, and the gold lining will reflect a rich, warm light back into any room. What a good buy, eh?
11. BEST KITCHEN COMPLEMENTS
Elevate dull cabinets and a less than lovely worktop with colour-pop accessories like these Medium and Large Storage Jars, from €6.99. Mint is a win for 2020 and as no one likes to look at cluttered countertops, so these sleek, geo-inspired canisters will add just the right touch.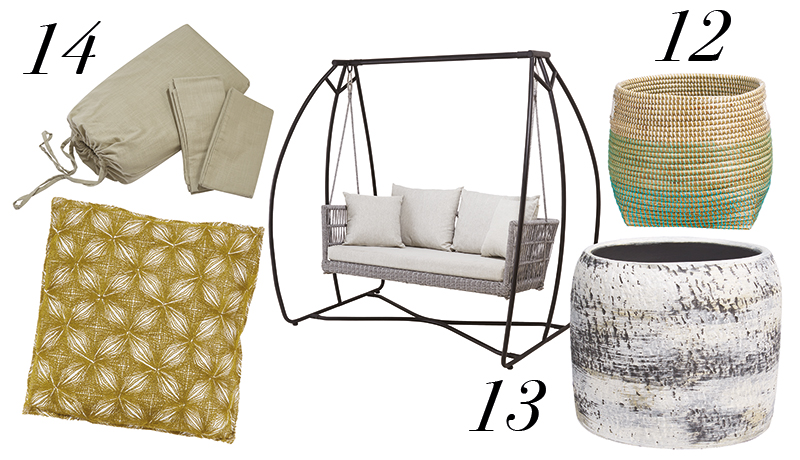 12. BEST TIDY TRICK
Get your Marie Kondo on with lots of storage ideas to discover at great prices. This cute ombré basket will tidy up both your floordrobe and your bathroom. The White Mint Basket, €16.99, is functional and pretty.
13. BEST OUTDOOR UPDATES
Homesense isn't just about interiors: pop in and discover an ever-changing array of fun and functional garden and outdoor products like this Large Garden Swing, €699.99, and Grey Wide Plant Pot, €8.99. We like!
14. BEST FOR BEDROOM BLISS
When you're renting, it makes sense to put your cash where you sleep, so making your room cute is a real hero move. There's a huge selection of bedding at Homesense to discover and the Green Geometric Cushion, €19.99, along with the Sage King Duvet Set, €46.99, is a serene choice.

You never know what you'll find in Homesense: you might pop in for bedding and leave with a baroque chair. Discover branded and unique homeware, with savings of up to 60% less than the RRP. New deliveries arrive throughout the week, so pop in often and when you see something you love, grab it – at these prices it'll be snapped up fast. Homesense has two stores in Ireland, located in Westend Shopping Park, Unit 7, Snugborough Rd, Blanchardstown, Dublin 15 and Unit 2, The Capitol, Grand Parade, Cork.
Share This Article