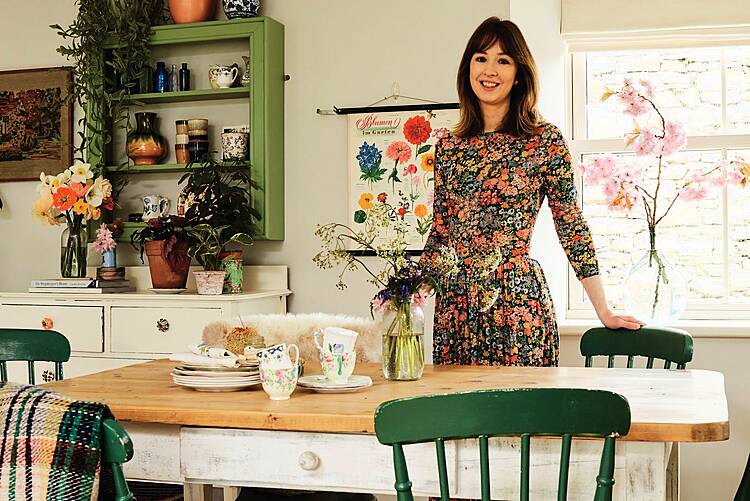 Using both their practical and creative skills, Elizabeth and Mark Dalton created a characterful idyllic country home in Tyrone 
Words and Styling: Penny Crawford-Collins 
Photography: Philip Lauterbach 
Keen to create somewhere special to bring up their children, Elizabeth and Mark embarked on the huge task of restoring their inherited farmhouse, and by utilising both their practical and creative skills they have created a characterful idyllic country home. 
Stepping into this charming stone cottage, home to Elizabeth Dalton a pharmacist, her husband Mark a farmer and college lecturer, and their three children, Charlie, Tilly and Annie, you are at once struck by the bright airy interiors with their wonderful mix of vintage pieces, colourful textiles, botanical prints, freshly cut flowers and plants galore. The vibe is extremely warm and welcoming. 
The house dates back to 1733 and is situated just outside Fintona in Co.Tyrone. The couple inherited the property ten years ago from Mark's parents, "I remember first setting eyes on it when it was surrounded  by snowdrops, it felt like a really special and magical place, and the fact that we would be the fourth generation to live in it made even more special," explains Elizabeth, 
The couple stared work on the house shortly after they were married, initially renovating a stable that was attached to the property.  "We called this the tiny house as it's only 25sq m in size.  We lived there for over a year, until we had basics done in the house," says Elizabeth.  Mark is very hands on and can turn his attention to most jobs so he tapped away at the house in his spare time.  "We had to do a full renovation, the kitchen space was originally four rooms and a hall, to make it more family friendly we opened this space up, which is now a large open plan kitchen dining living area, the heart of the house," says Elizabeth.  The house needed a new heating system, it needed to be re-wired  re-plumbed, dry lined a damp course put in, new floors fitted and a new staircase built, they even exposed the beautiful original stone on the exterior of the property. 
"As we did the house slowly, tackling each room at a time, we were able to pick up things as we went along. We also reused as much as possible the items that were left in the house and pieces from my family home," says Elizabeth.  Most of the children's rooms are furnished with inherited pieces that had been put into the sheds earmarked to be dumped.  "I bought a lot of furniture back into the house gave it a  good clean and a lick of paint, so everything has been given a new lease of life," smiles Elizabeth.  
There's no rule to Elizabeth's style, it all works, the house continually evolves as Elizabeth incorporates new finds.  "I'm definitely a magpie for vintage pieces and love to shop locally.  There's a wonderful shop called The Cowshed Vintage, the proprietor knows my style and is great at keeping an eye out for pieces for me, so a lot of our furniture has come from there.  My family are also great at spotting pieces in charity shops, so the house is full of things I love that bring me pleasure and make the house a happy place to be in," says Elizabeth. 
"My favourite thing in the summer is being able is to open the doors and the children being able to run straight out onto the garden, they love the freedom that comes with living in the countryside," says Elizabeth, who admits when they first started stripping back the house the project seemed daunting and their family and friends thought they were crazy taking it on.  "It would have definitely been easier to start from new but then it wouldn't be the same place it is today and have the same sentimental attachments, we are both so pleased we have given it a new lease of life," concludes Elizabeth. 
To view Elizabeth's flower prints visit her Instagram @blowyinthewind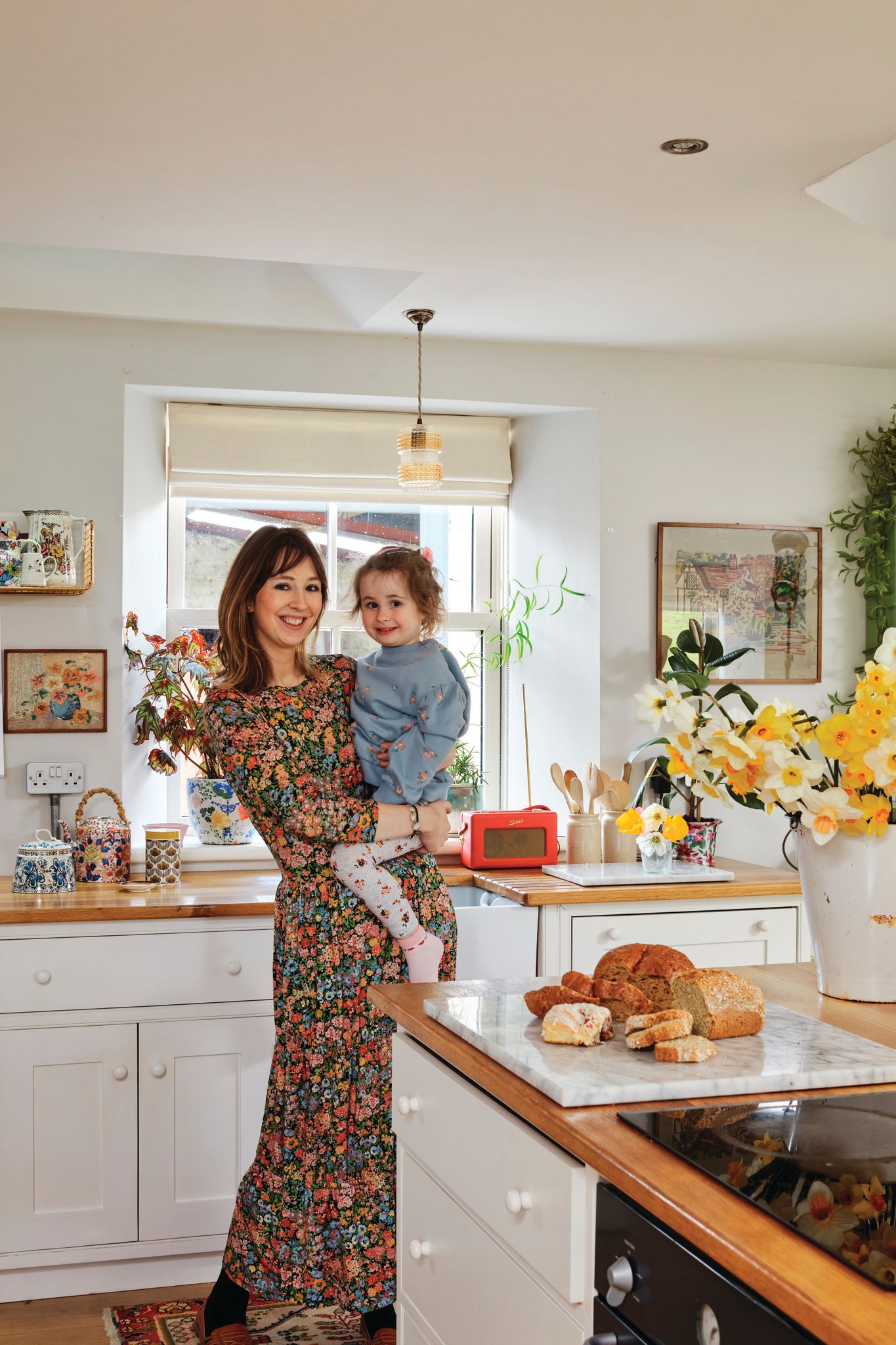 The flower and plant filled kitchen was designed by Michael Killoran Kitchens, in keeping with the style of the property, to have an traditional look, the cabinets are painted in Stock by Little Greene.  The couple wanted a large central island that would give them plenty of work space, and a cooking area. 'The open plan layout really works with the family, I can be cooking in the kitchen while keeping an eye on the children at play, watching TV or eating at the table, everyone can do their own thing but we are all still connected.'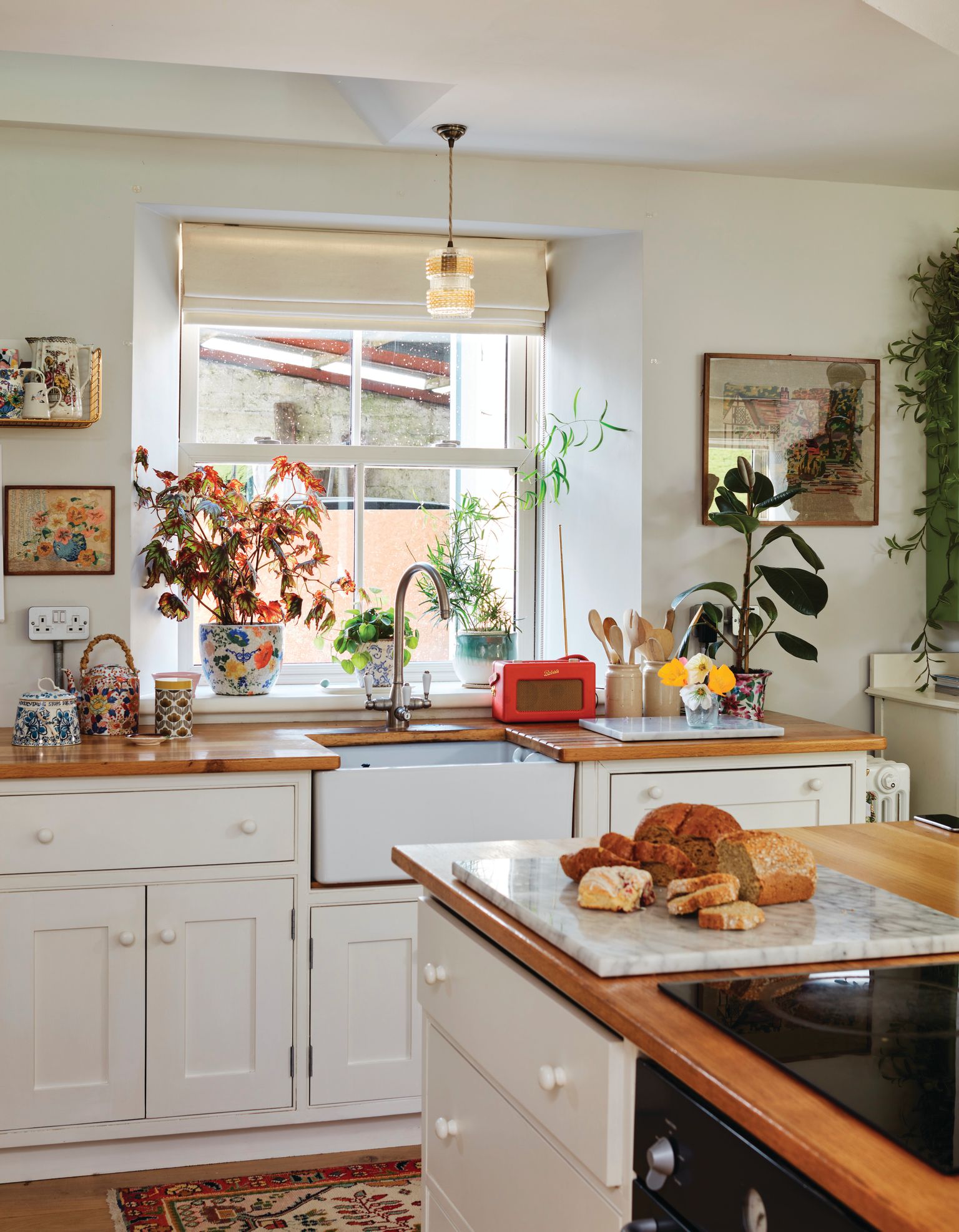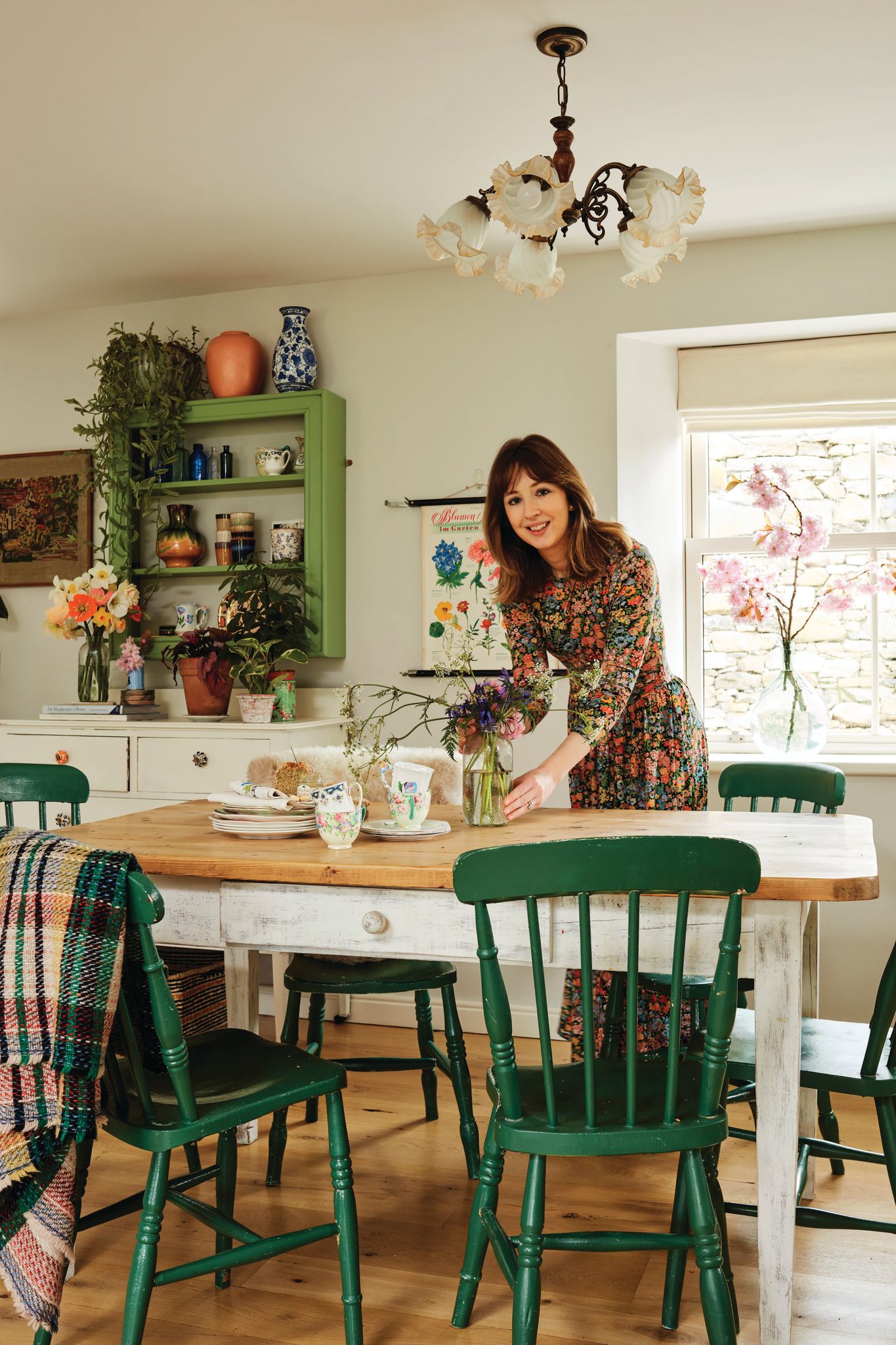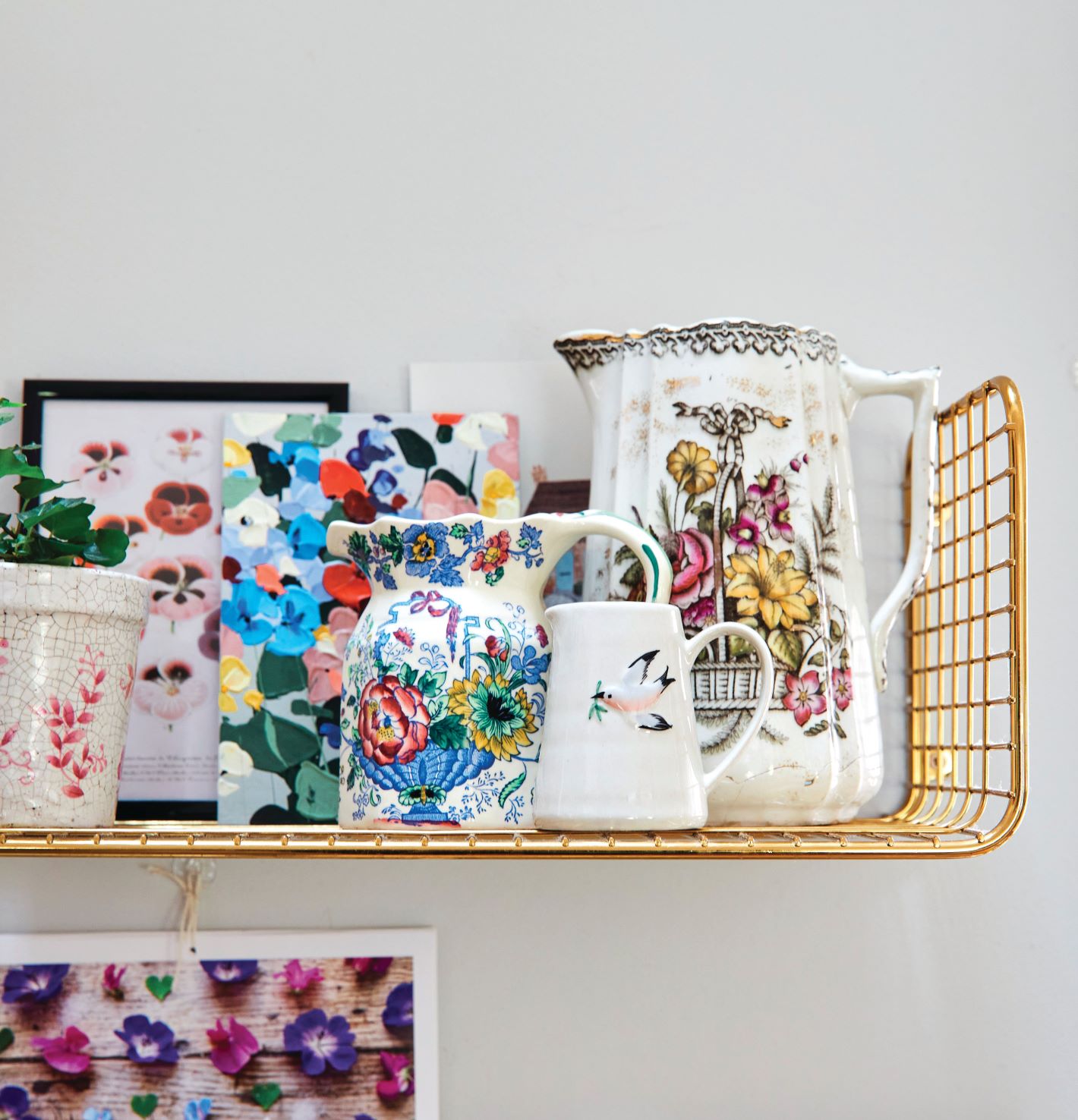 Elizabeth picked up the dining table from a local shop The Cowshed Vintage and teamed it with some old chairs that belonged to Mark's parents, Elizabeth painted them .  The Wall mounted open shelving, bespoke made by Timeless Interiors, provides a perfect spot for Elizabeth to display her collection of ceramics and pottery a lot of which came from The Vintage exchange.  The chest of drawers is from Riverview auctions Elizabeth painted it and changed the knobs, these were sourced from Anthropologie.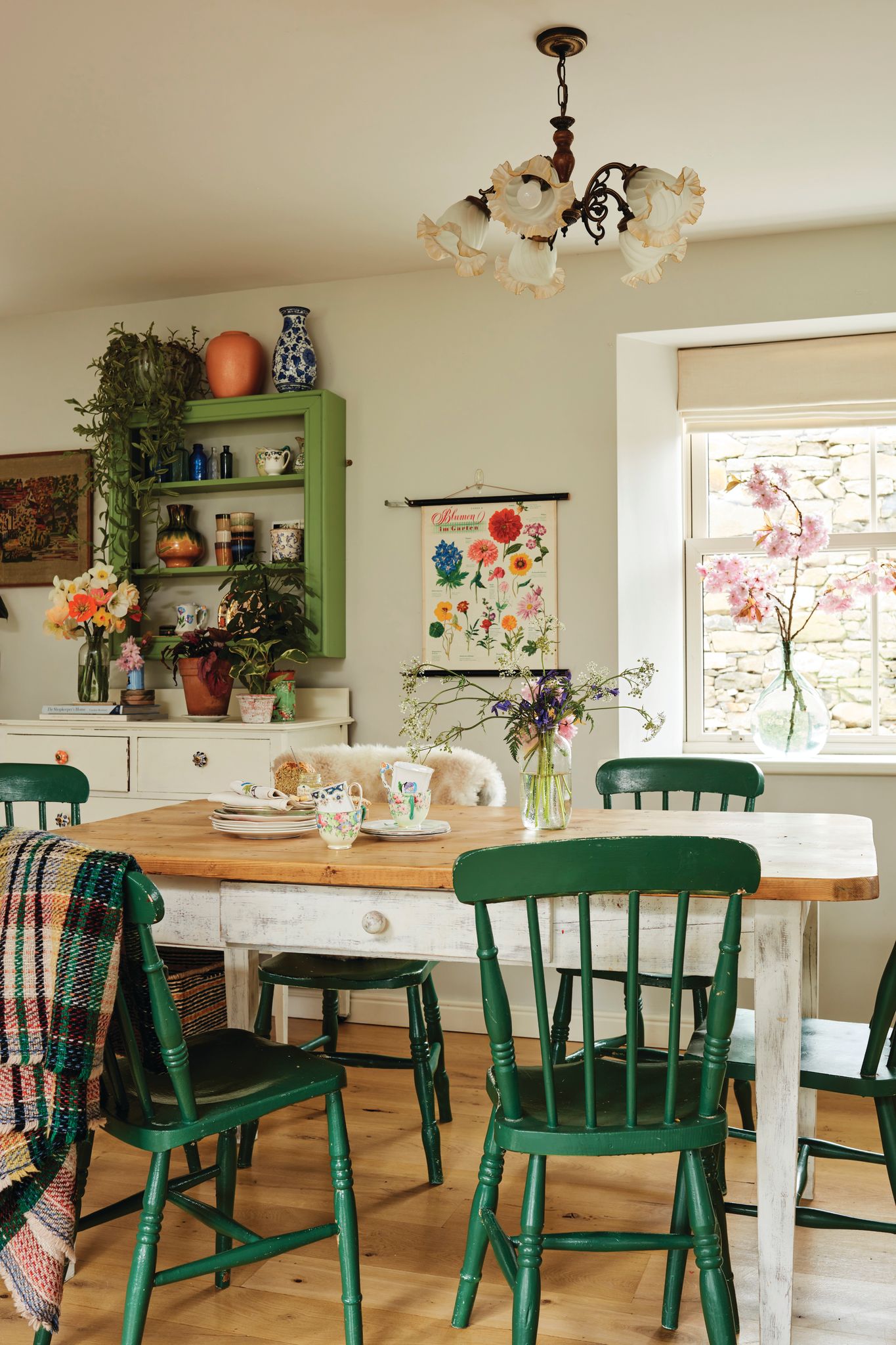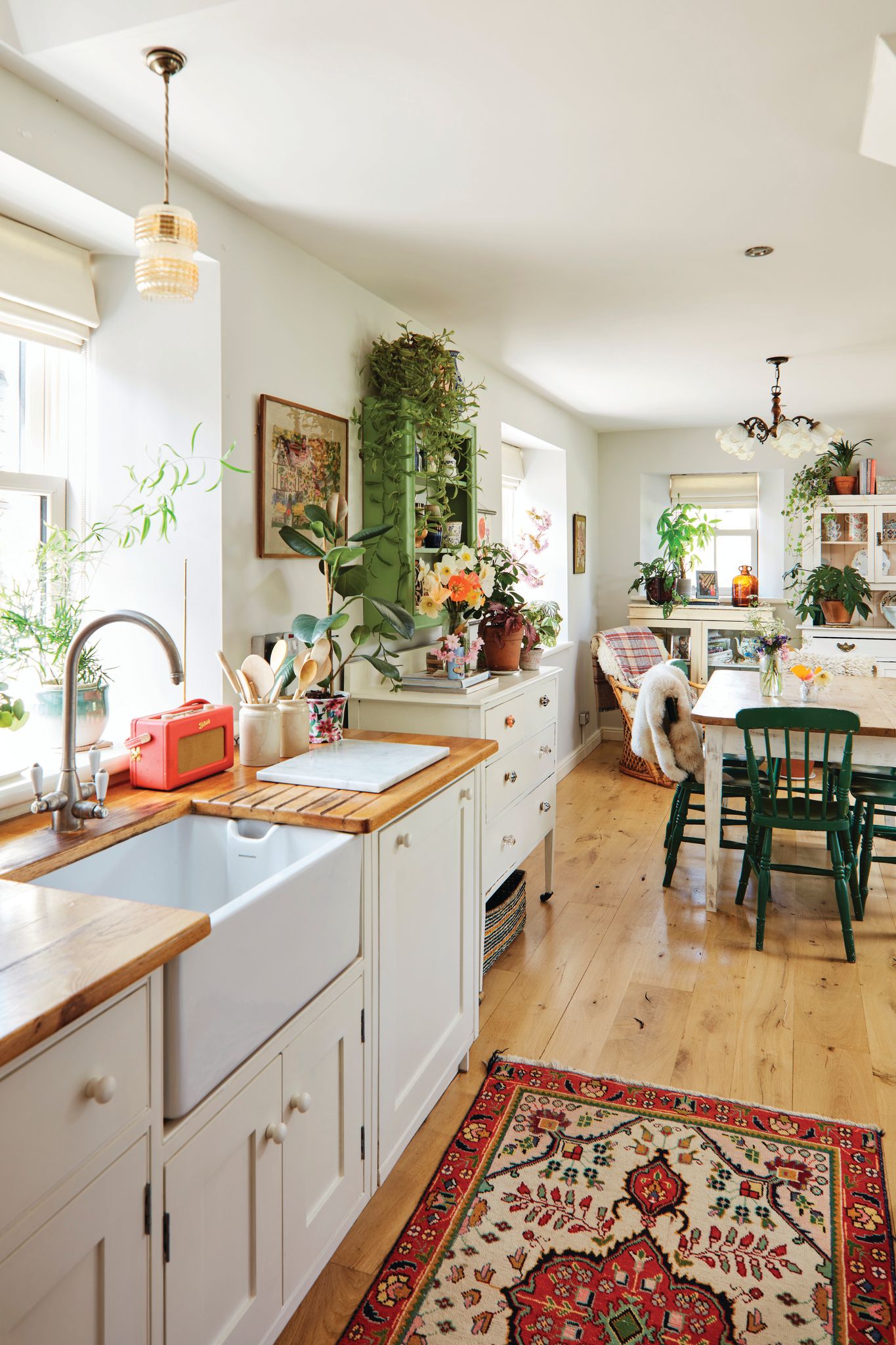 A generous size utility room with a downstairs cloakroom provides plenty of extra storage. The cabinets were made by Michael Kiloran Kitchens and are painted in Setting Plaster by Farrow and Ball.  The rug is from Edit58.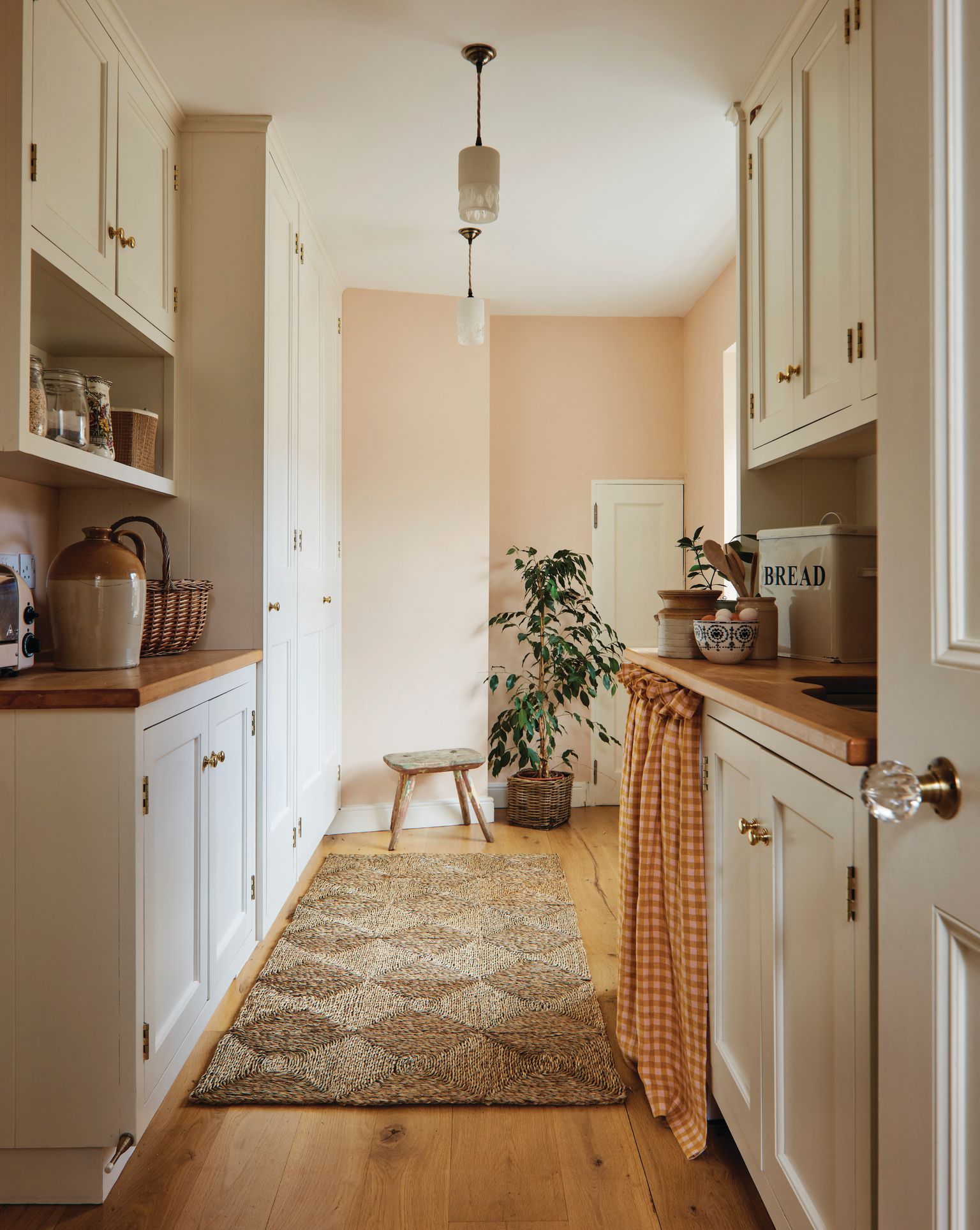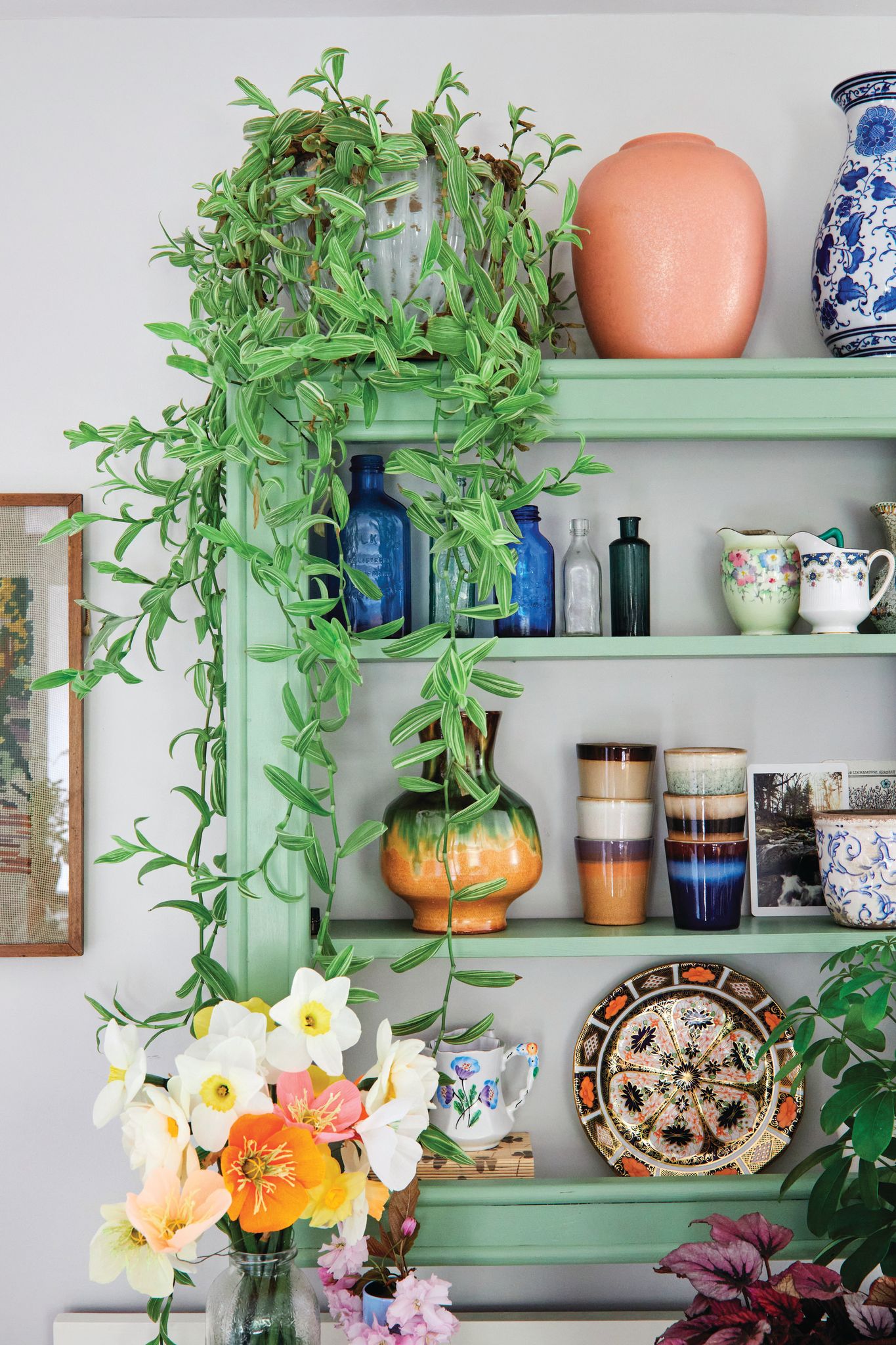 Open shelving allows Elizabeth to display her botanical prints and her pretty collections of vintage vases and jugs, most of which were picked up in charity shops or came from The Vintage exchange.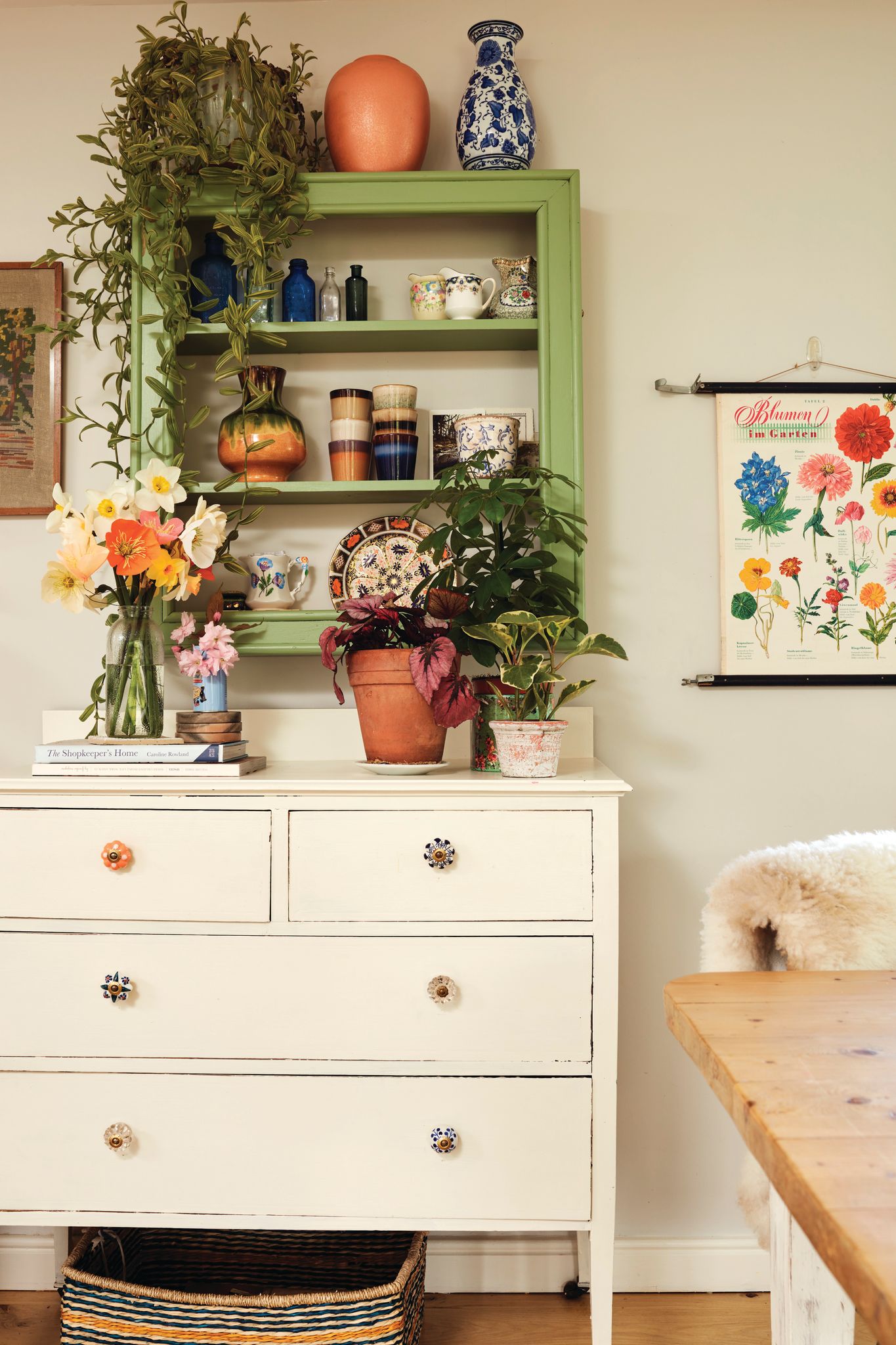 The playroom to one side of the kitchen, features an original fireplace, it provides the children with a pretty room with plenty of space for all their toys.  The cupboard and blue sofa came from Timeless Interiors.  The blue trunk is from The Vintage Exchange.  The pom poms were found on Ebay.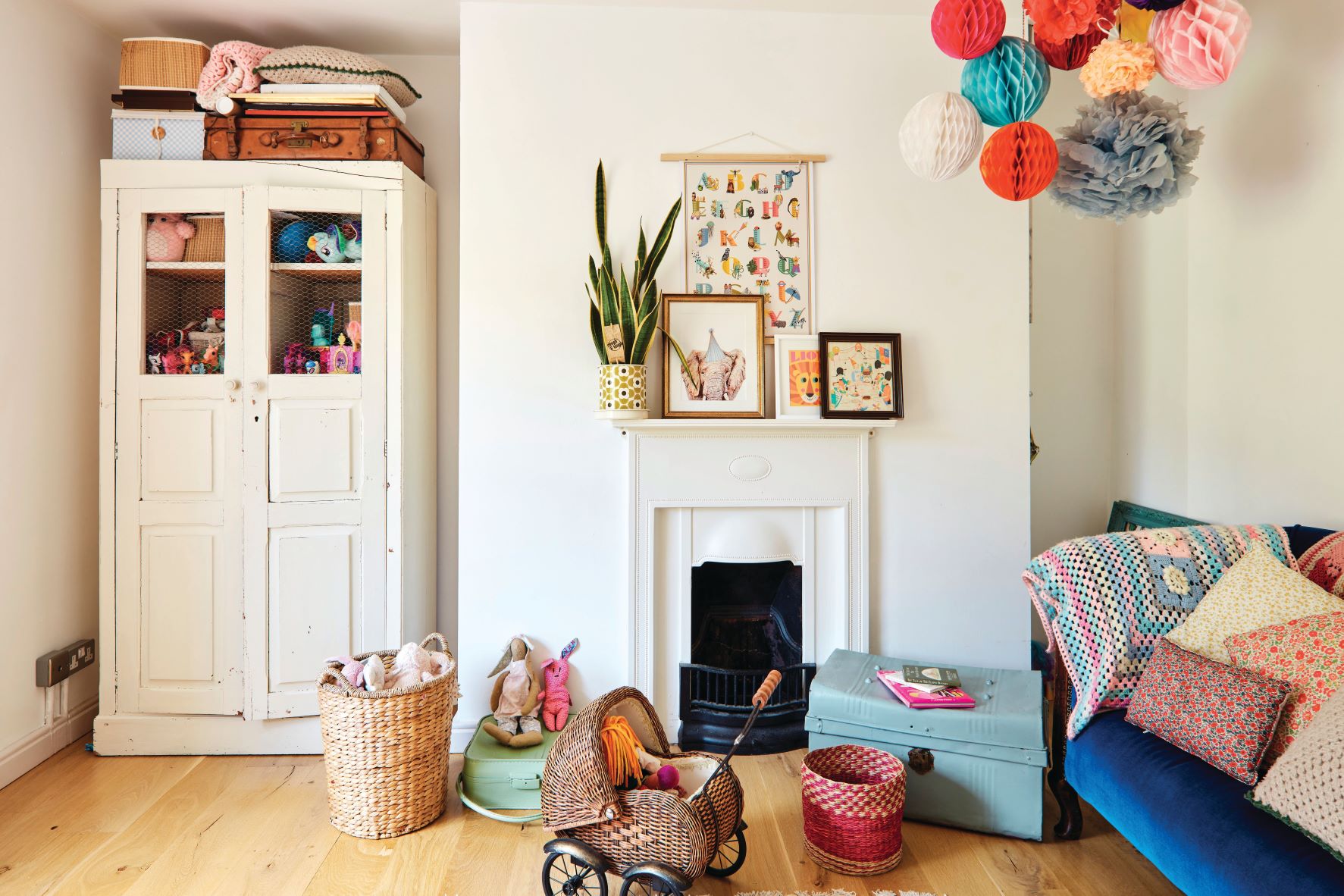 Elizabeth's mother loves to knit, dotted all around the house are cheery knitted toys.  The kitchen is from Ikea.  'This is a fun room for the children to be in, I'm not precious about it, we stick their artwork on one the walls in this space, constantly adding to it, it makes a unique gallery wall.'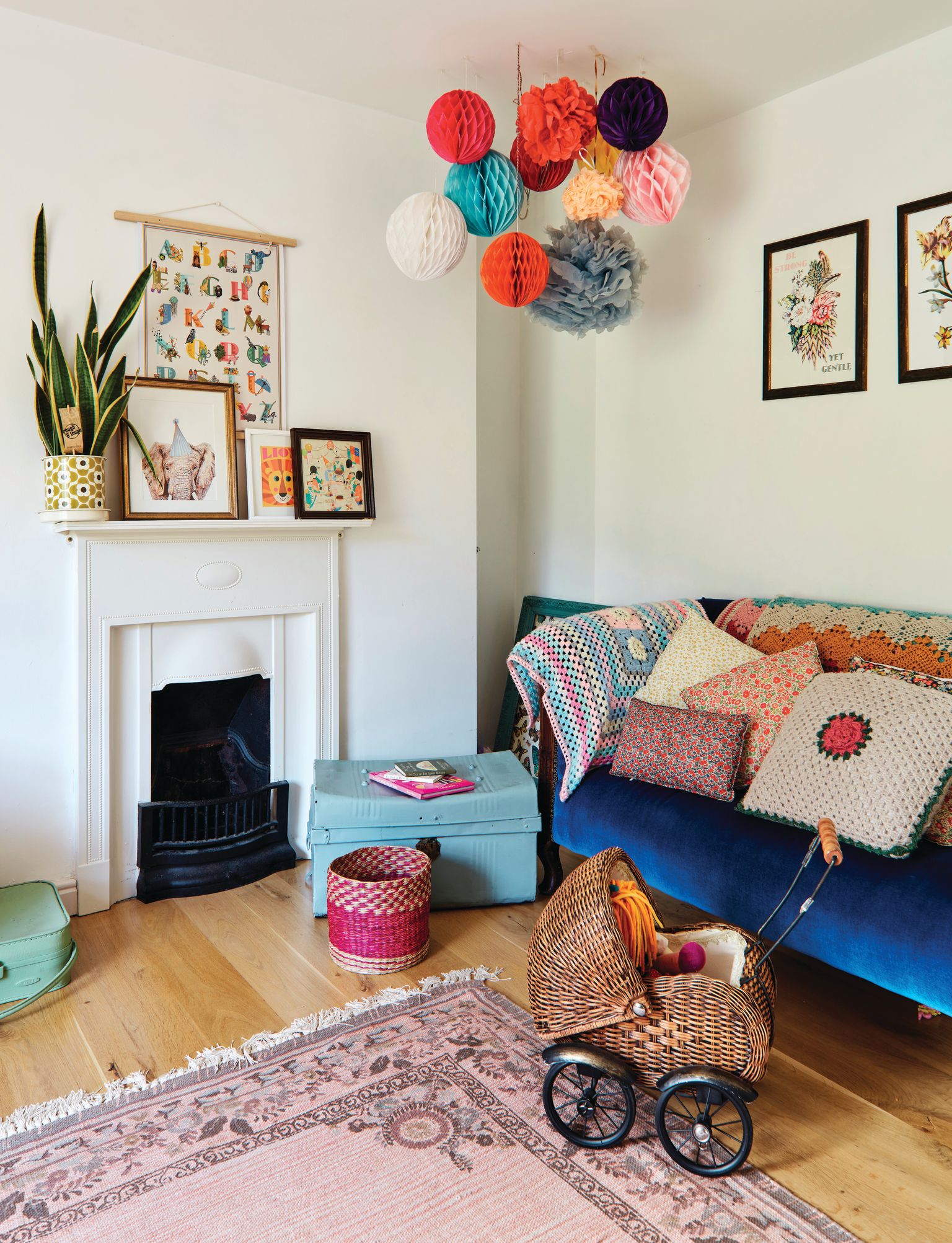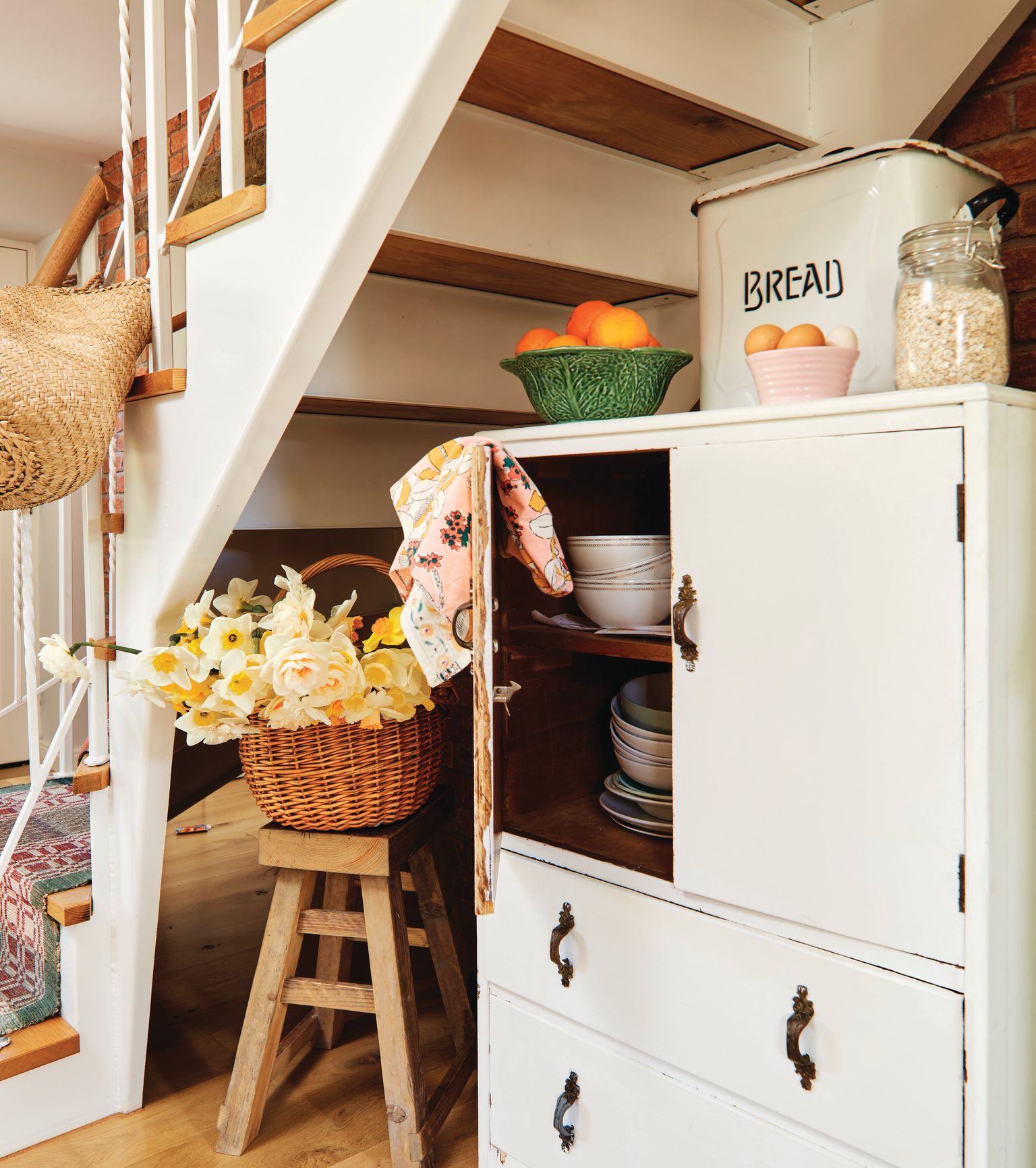 Charlie's room is furnished with inherited pieces with a desk that was given to Charlie by his uncle, a chair from his granny, and a wrought iron bed found in the shed.  The blue shelves came from The Vintage Exchange, the runner is from Ikea.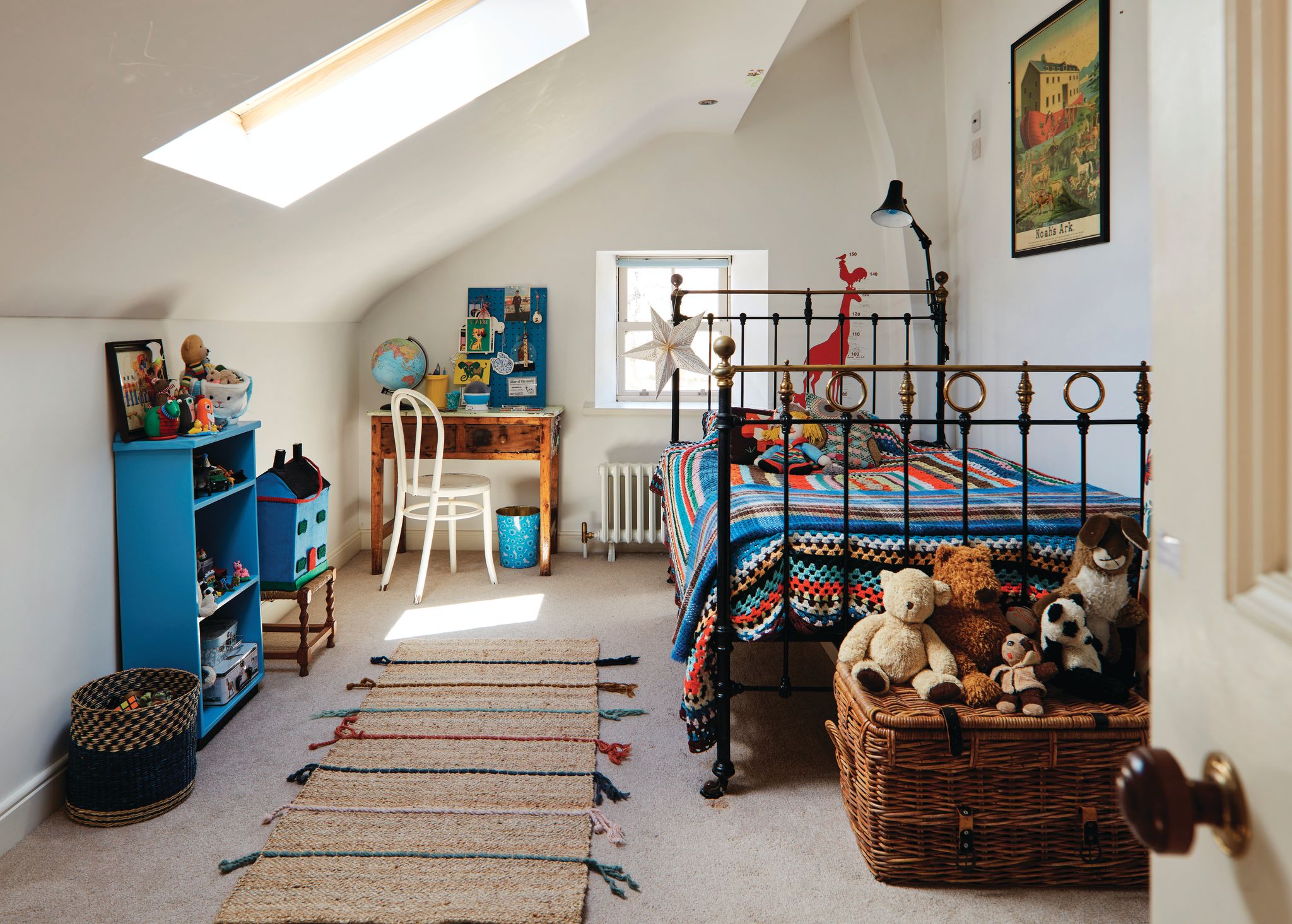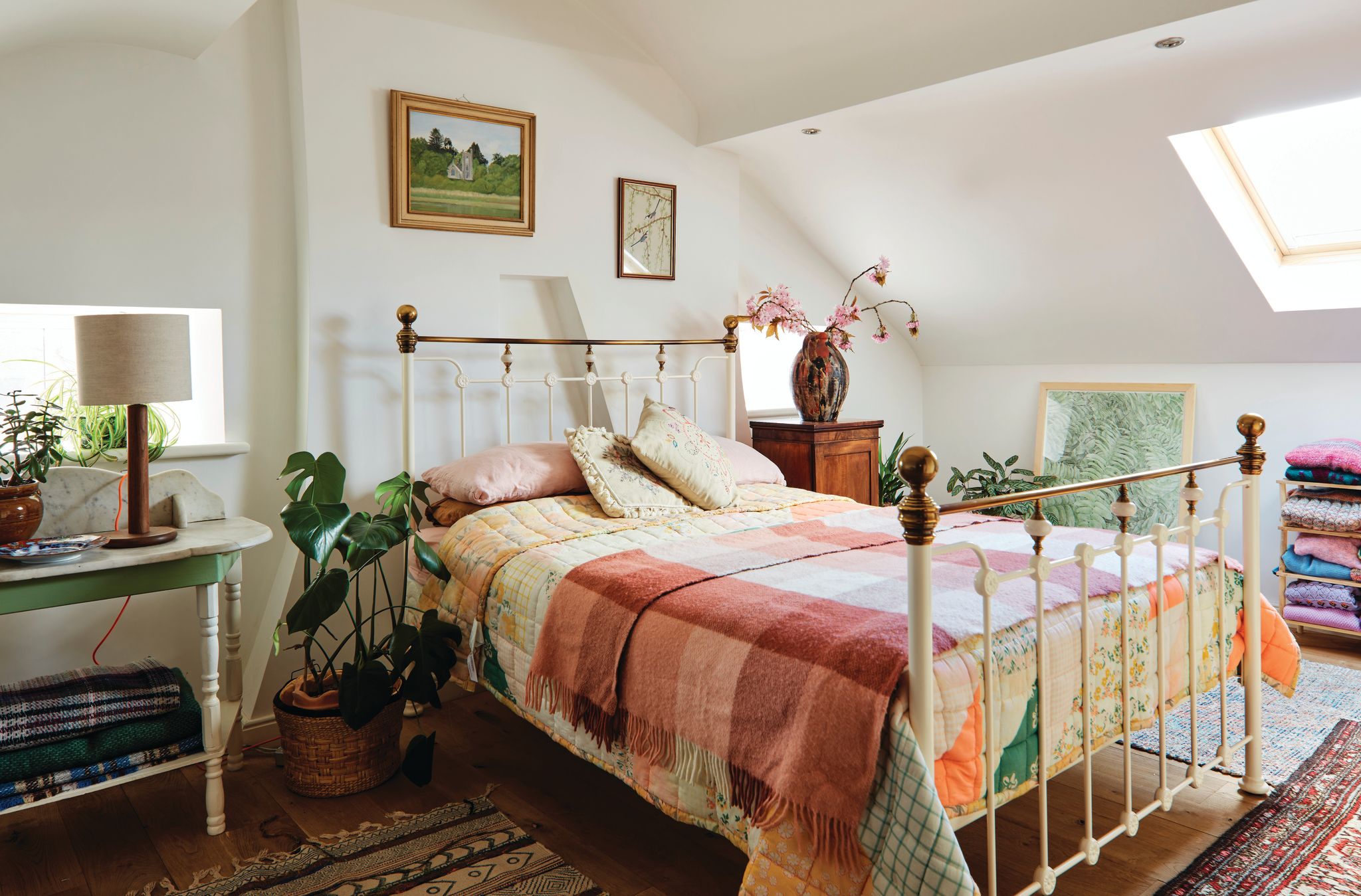 Light and spacious master bedroom is simply furnished  with an wrought iron bed from The Original Bed Company.  The side table was given to the couple by Elizabeth's mother and her father made the marble topped table.  The Lamp came from Zoe Darlington Lamps.  The pink blanket is from The Future Kept, the bedspread is from Urban Outfitters.  The rugs are from TK Maxx and Urban Outfitters.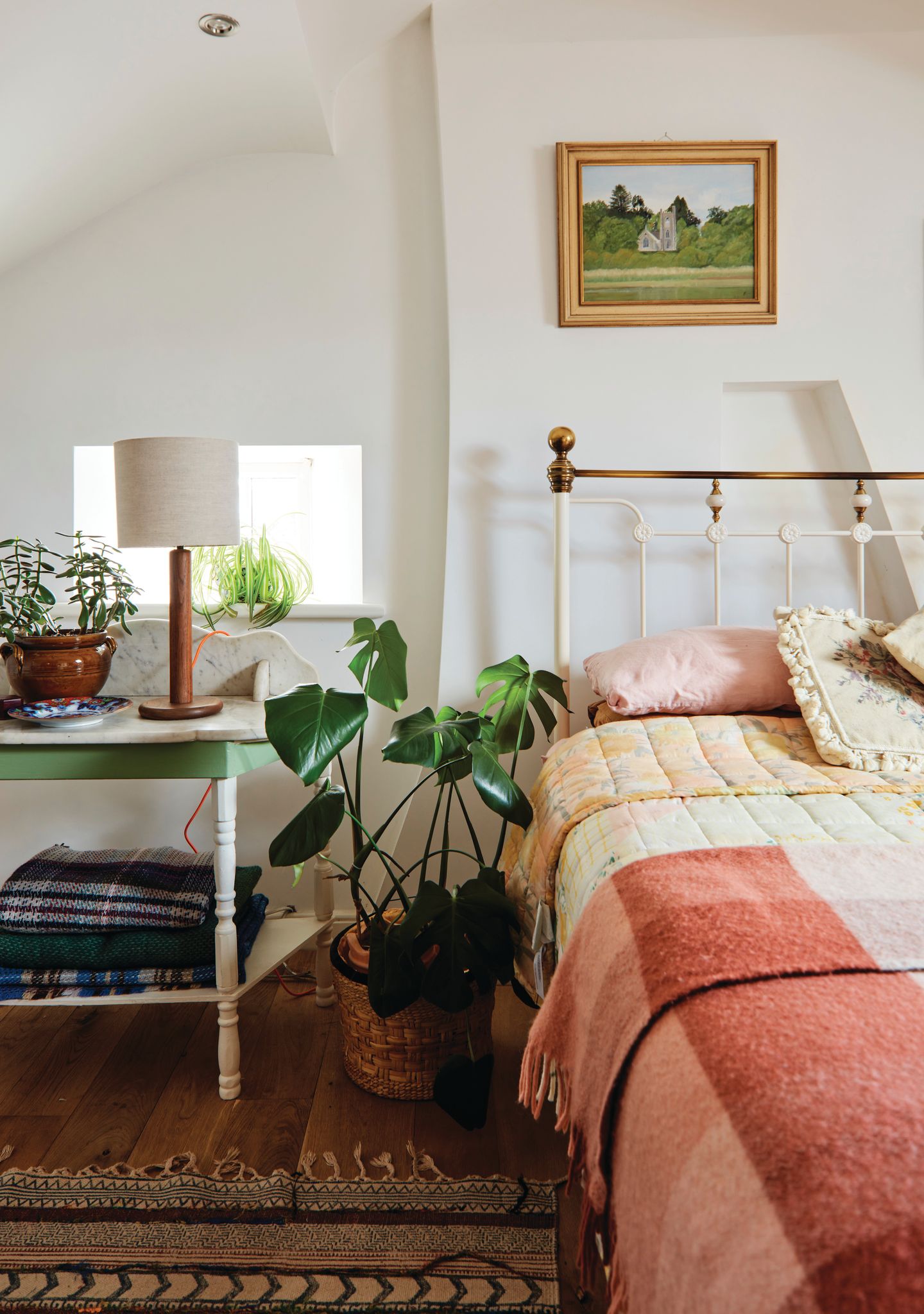 Tilly and Annie's room features vintage iron beds, found in the shed and revamped by Elizabeth. The chest of drawers is from The Cowshed Vintage and the green stool is from Vintage Curator Interiors.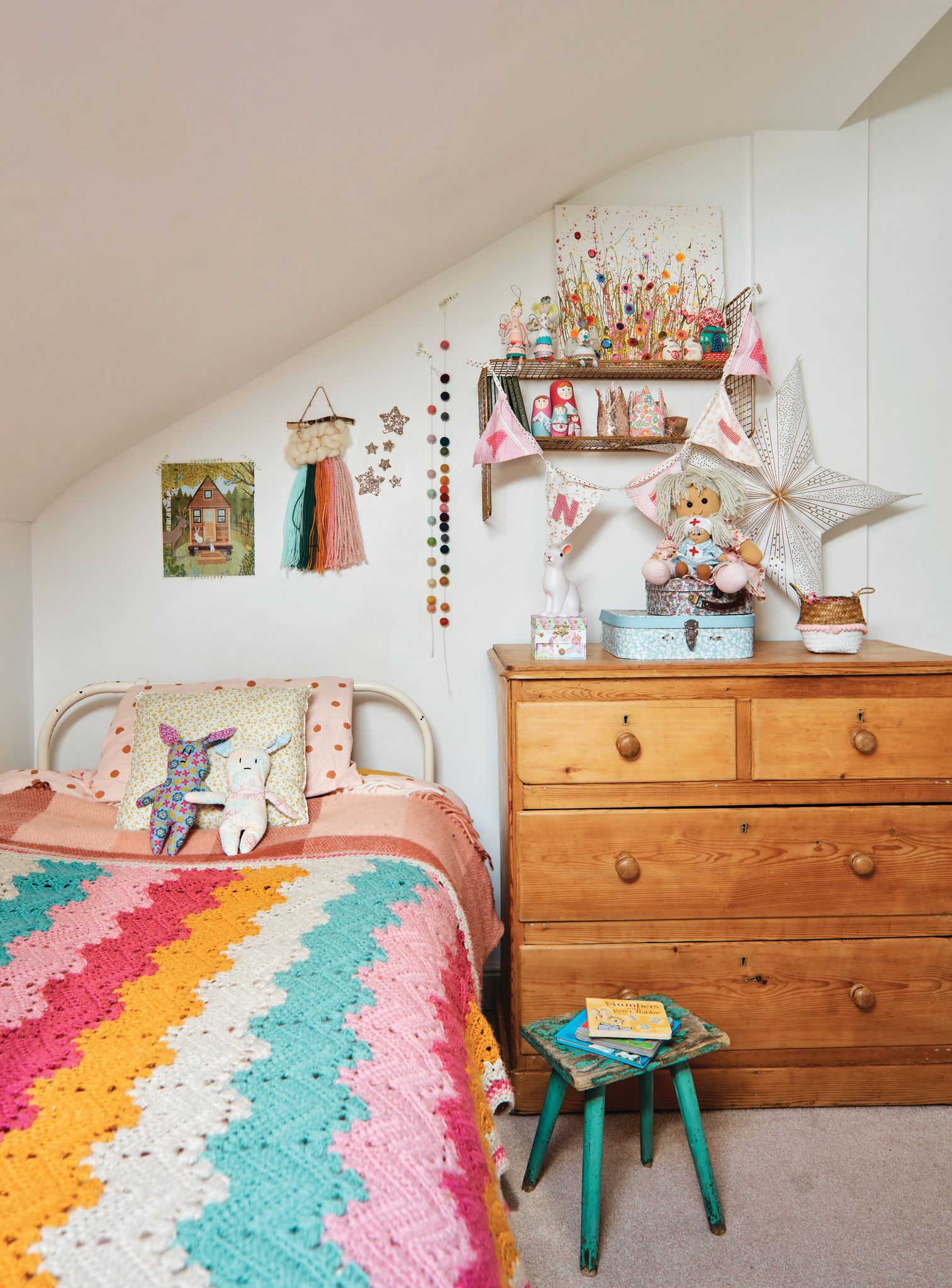 For visual interest one wall in Tilly and Annie's room is wallpapered in a woodland theme wallpaper by Jimmy Cricket.  The cabinet is from The Cow Shed Vintage.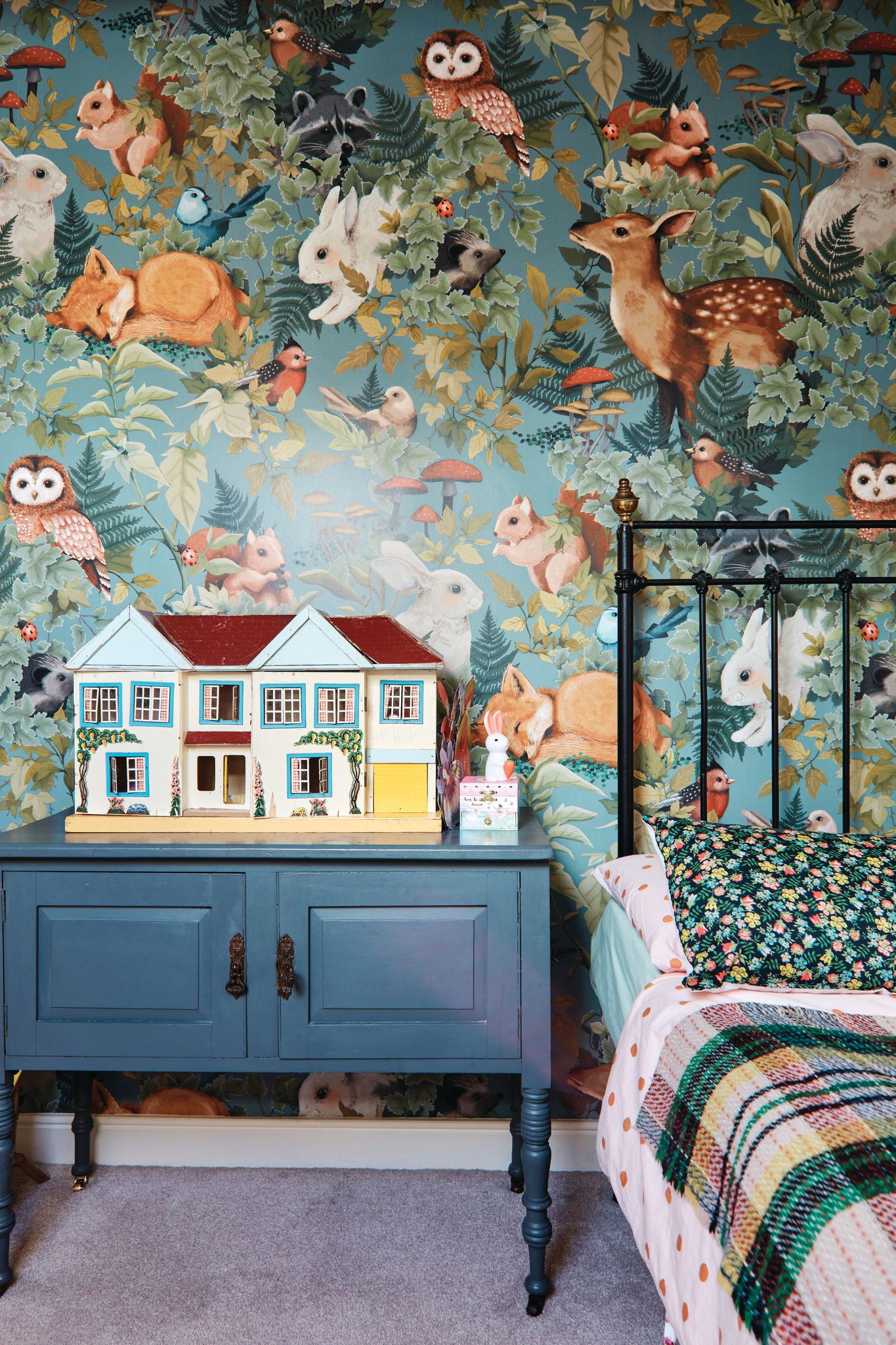 The roomy family bathroom features a freestanding roll top bath from Elkin and Bennetts.  The brick wall introduces texture and the reclaimed floorboards from Wilson's Reclamation Yard, add a rustic element into this space.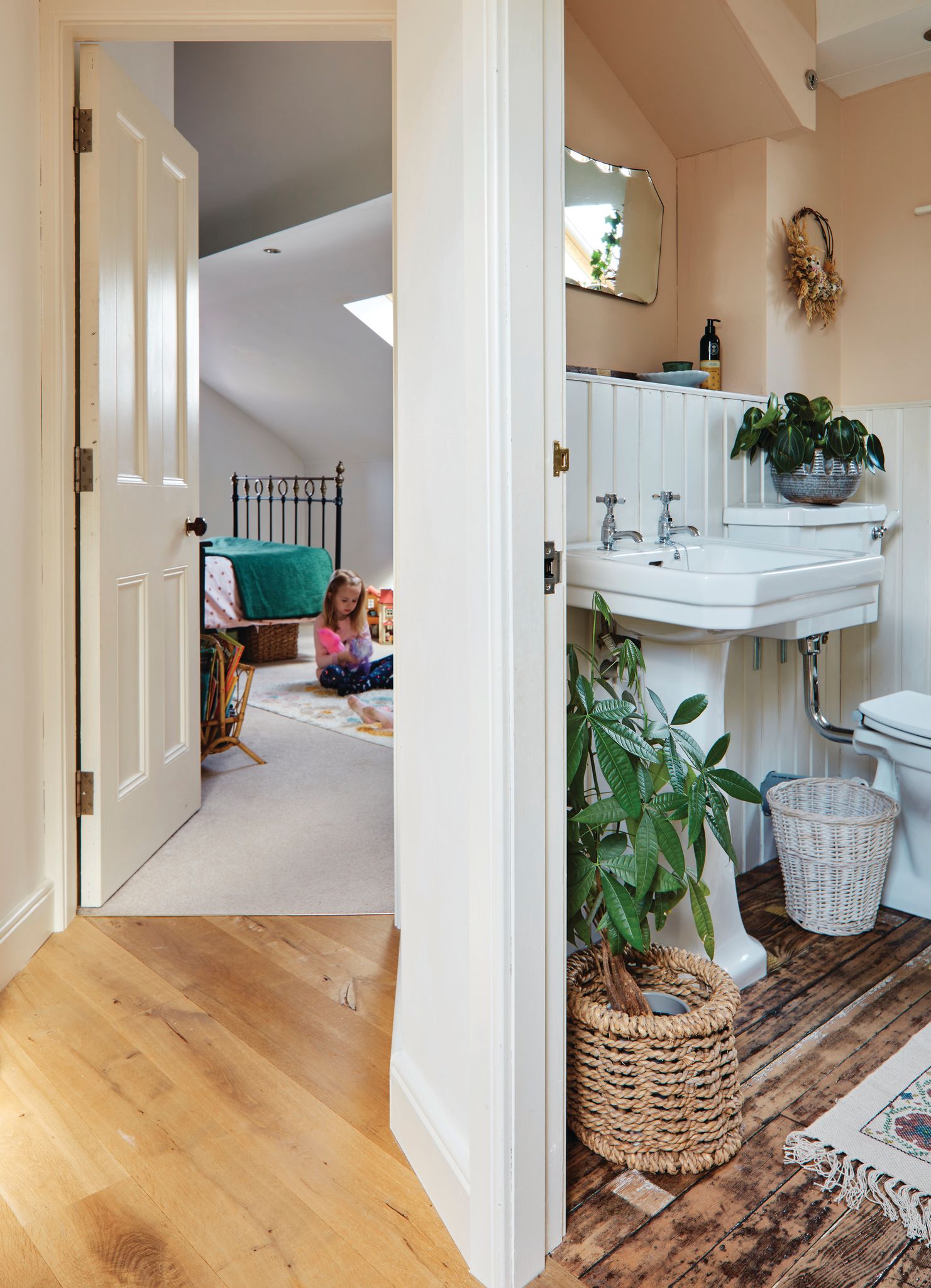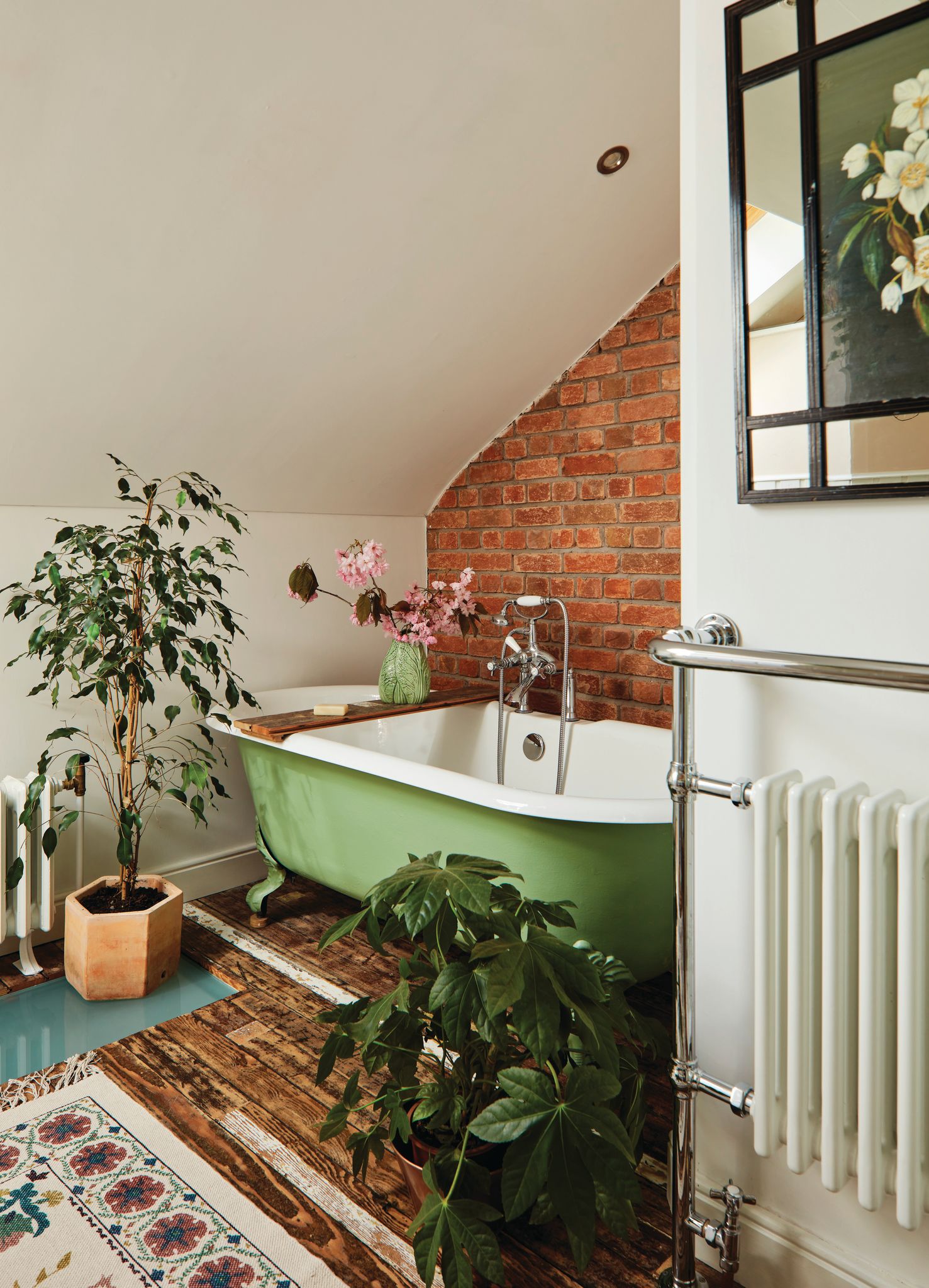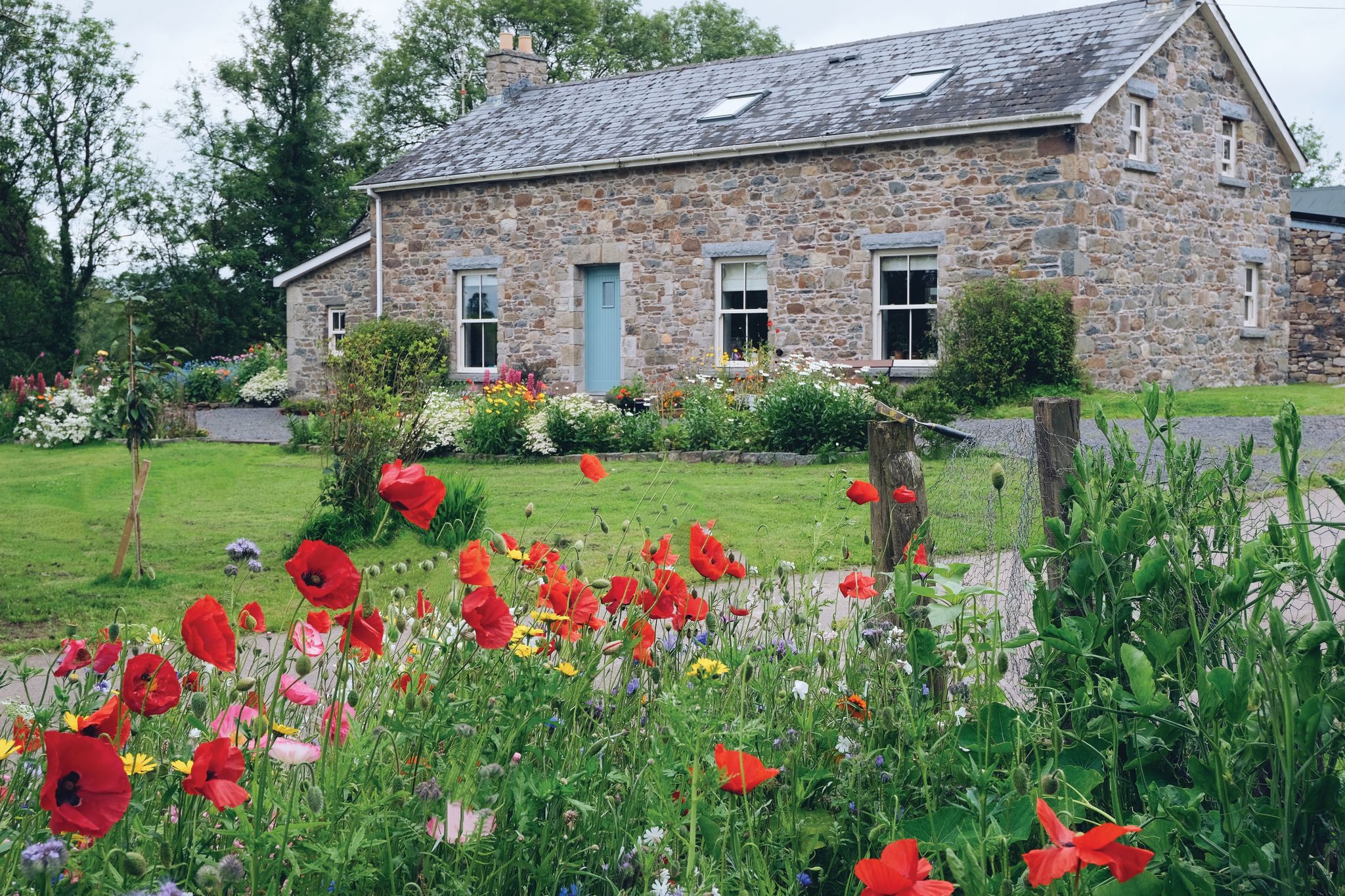 Freestanding vintage cabinets, from Marks granny provide extra storage in the dining space.  The rattan chair was a chance find in a local charity shop.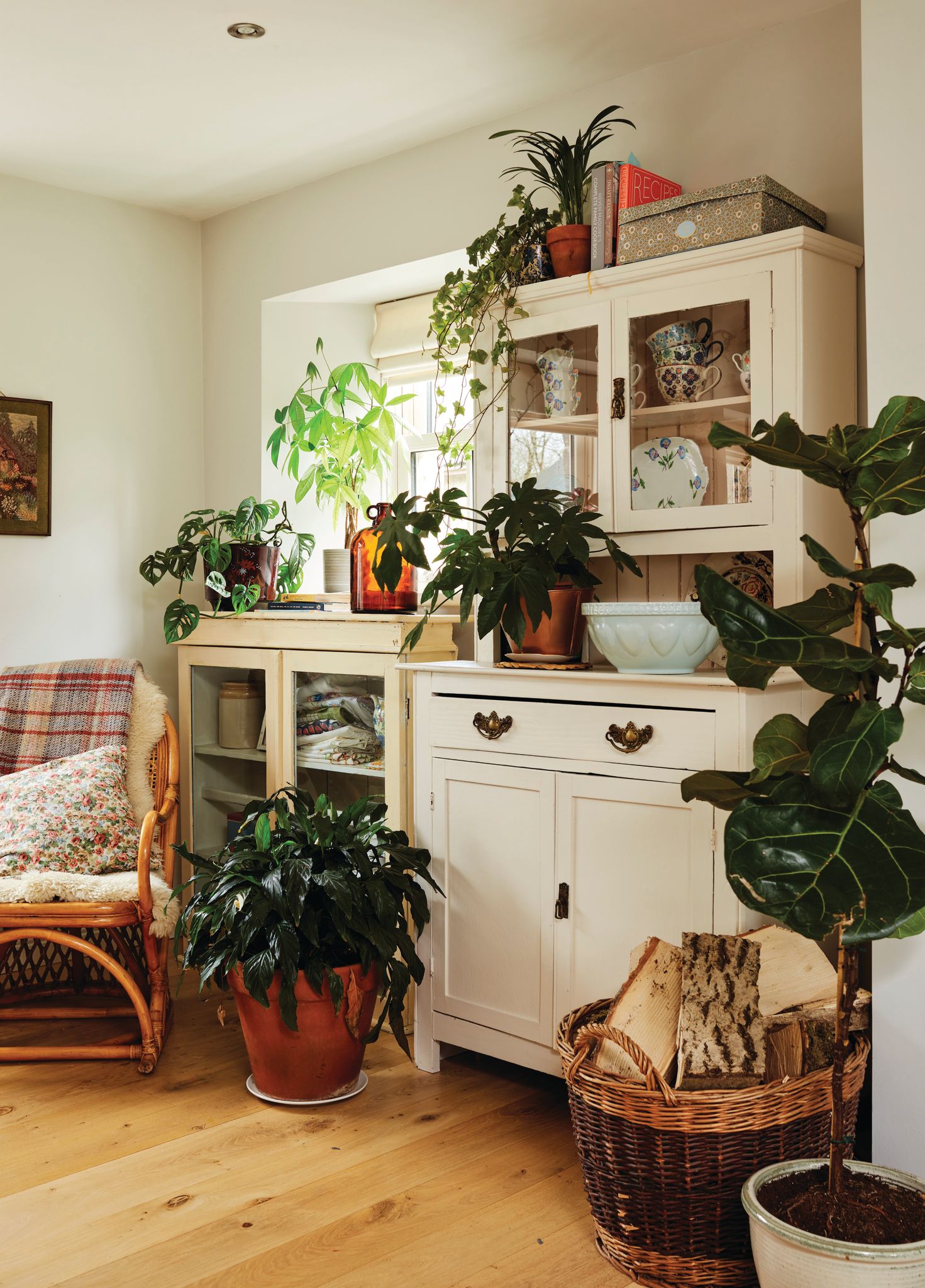 The cabinet was made by Michael Killoran Kitchens.  Elizabeth found the old vintage frame in a charity shop and incorporated the blackboard into it... the selection of baskets are from Oliver Bonas.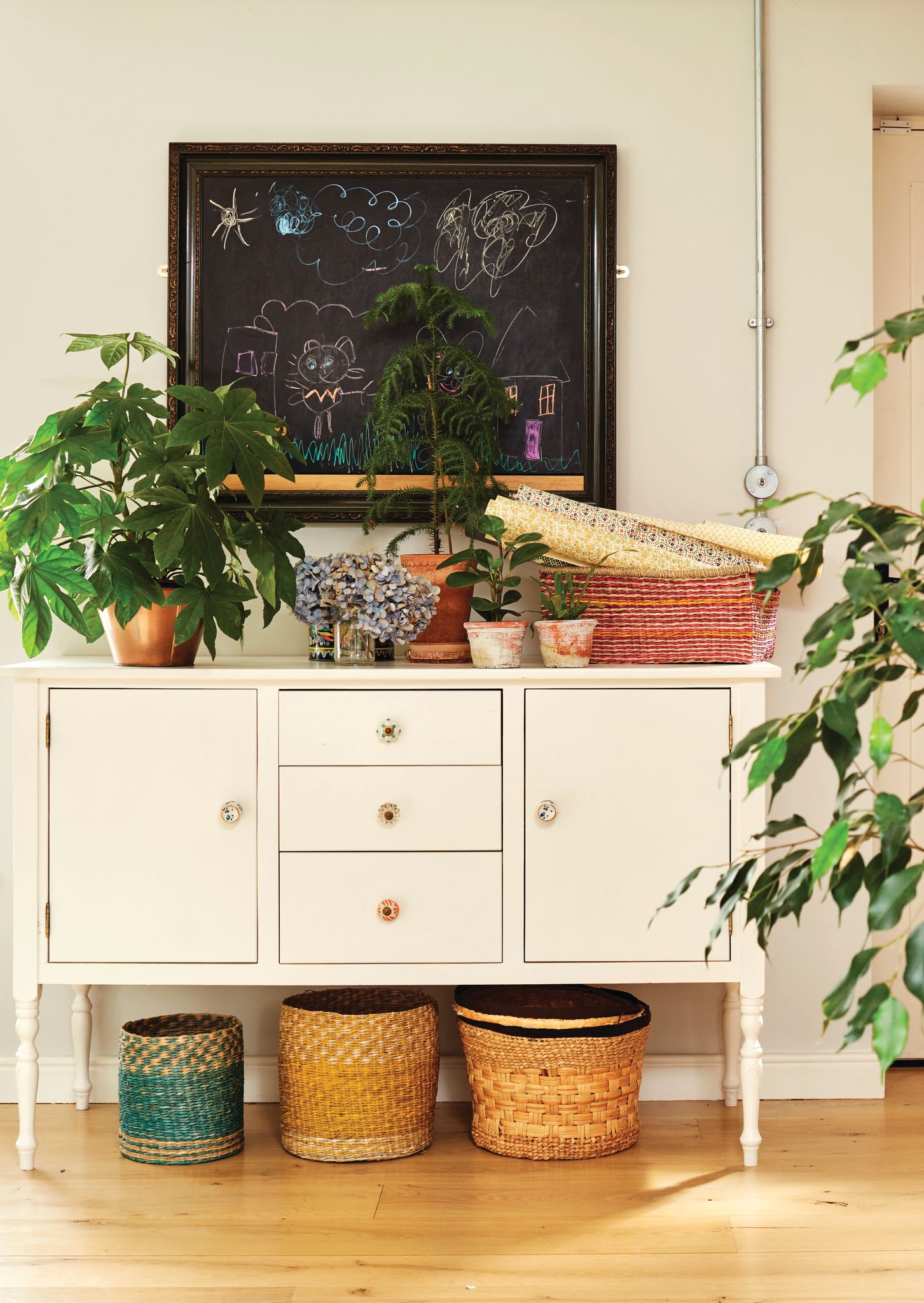 The couple had the stairs bespoke made by William Johnston of Johnston Bros The vintage cabinet is perfect for storing plates and linen, it came form Riverview Auctions.  The old bread bin belonged to Mark's uncle it was saved from the shed.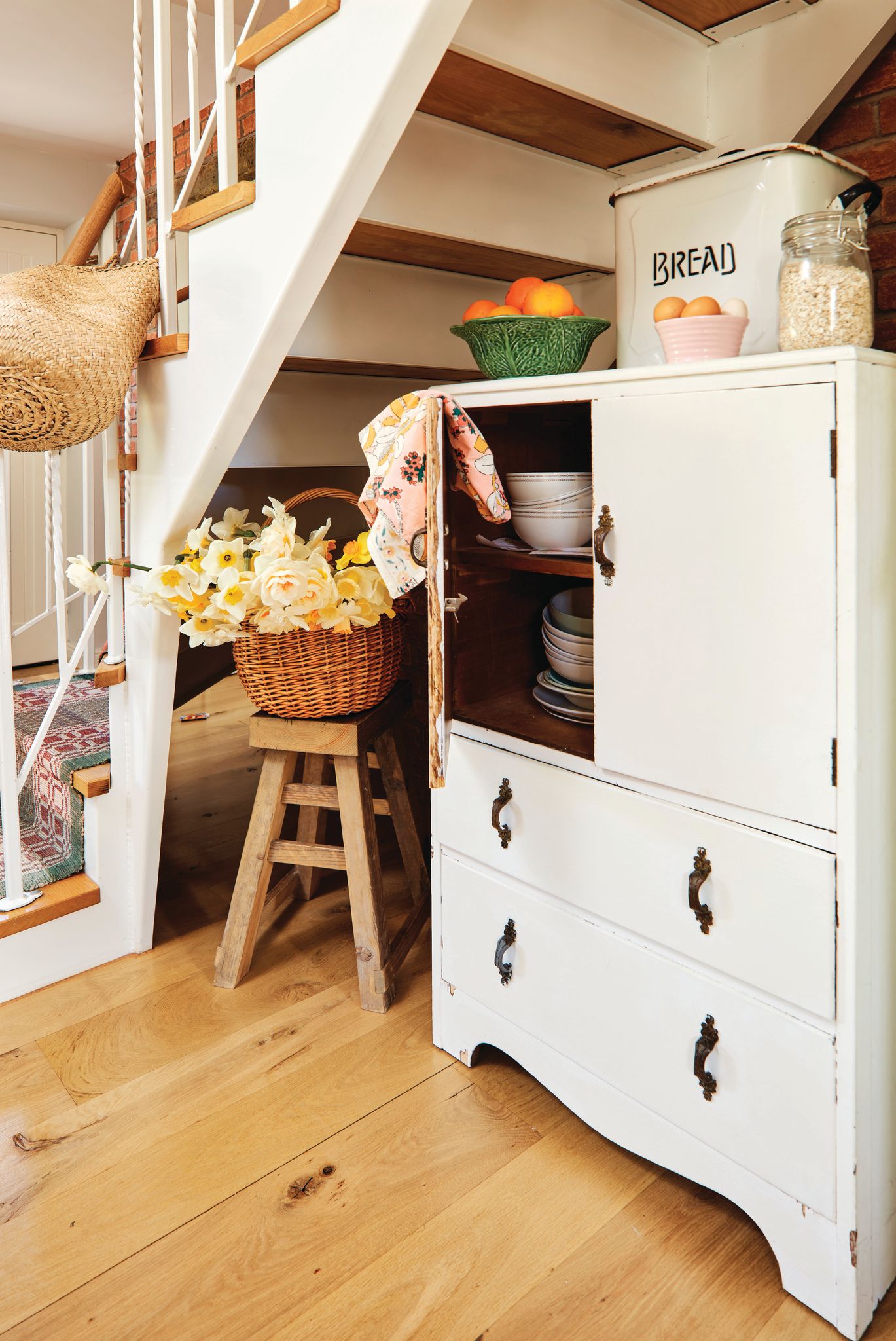 The newly fitted Charnwood stove provides the main heat source for the house.  The tiles are reclaimed Spanish tiles from Maitland and Poate.  Elizabeth had the fitted shelves bespoke made by Michael Killoran Kitchens.  The coffee table is Ercol.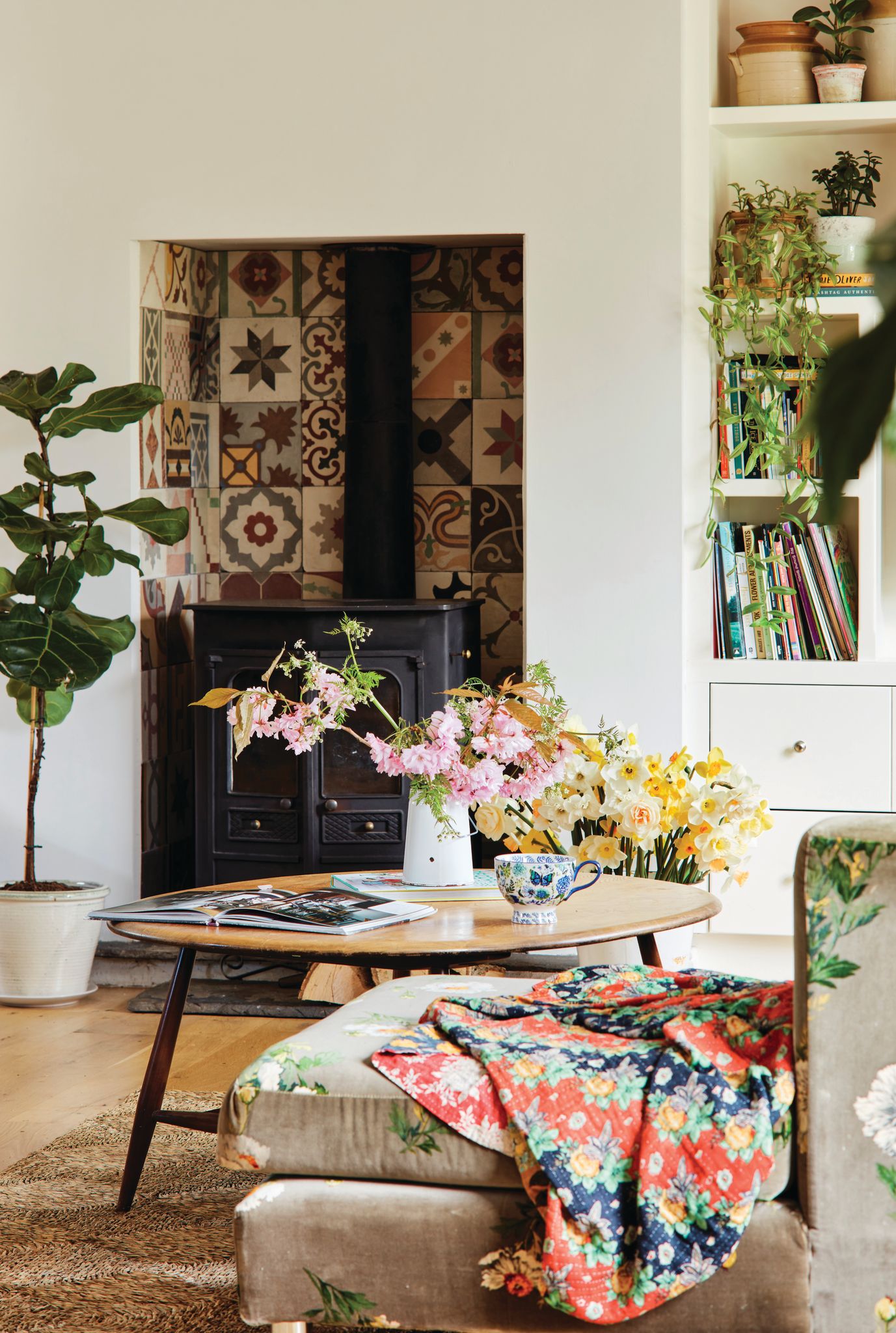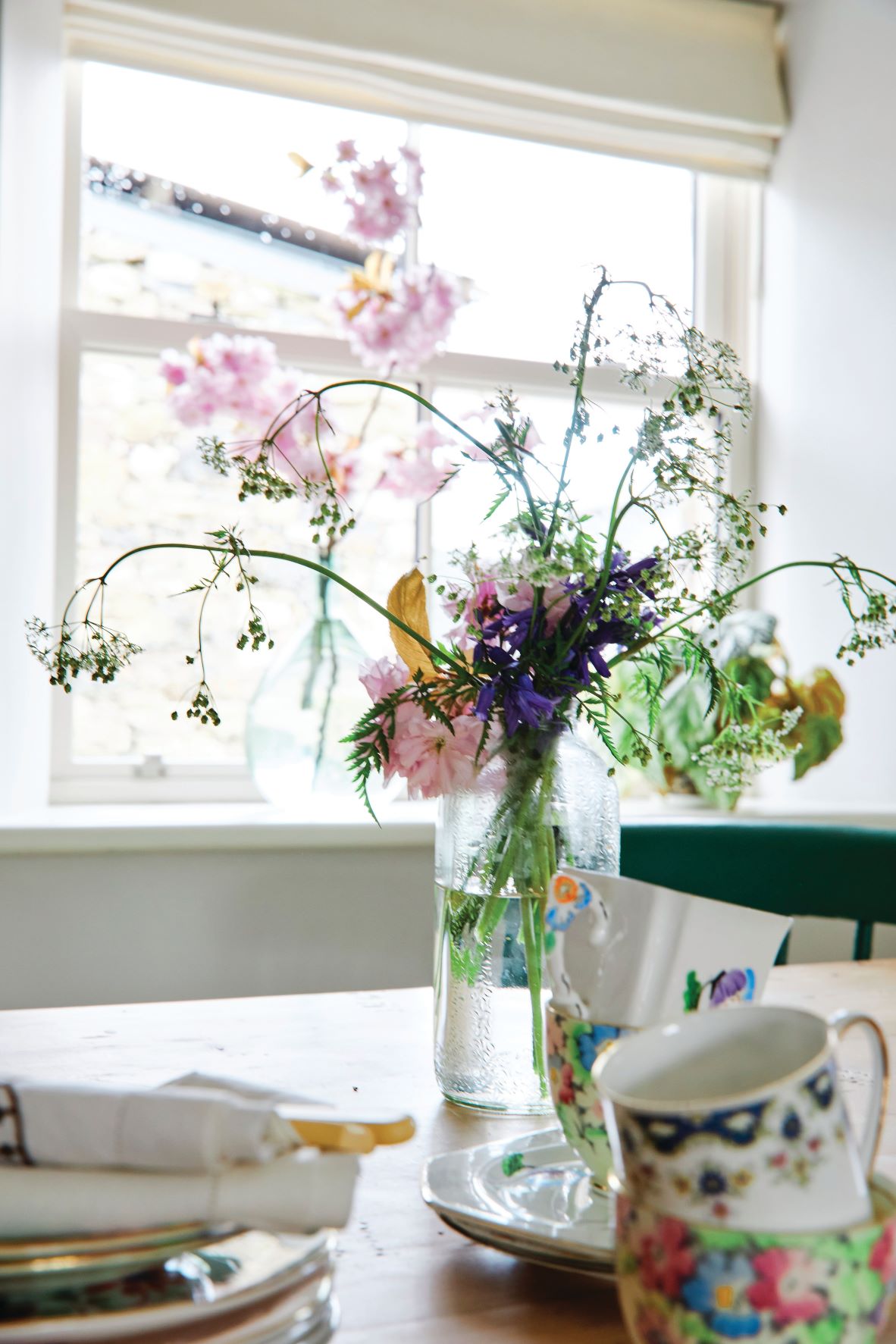 One of Elizabeth's favourite items is the sofa, 'I spotted it in Living etc and fell in love with it.  It was way out of my price range so I got a bespoke frame made for me, ordered the fabric, Islandic Poppies by GP and J Baker, and had it upholstered by Timeless Interiors. So I ended up with the sofa I love, at a fraction of the price, and it also gave me the idea to work with local craftsmen to recreate items within my budget,' explains Elizabeth.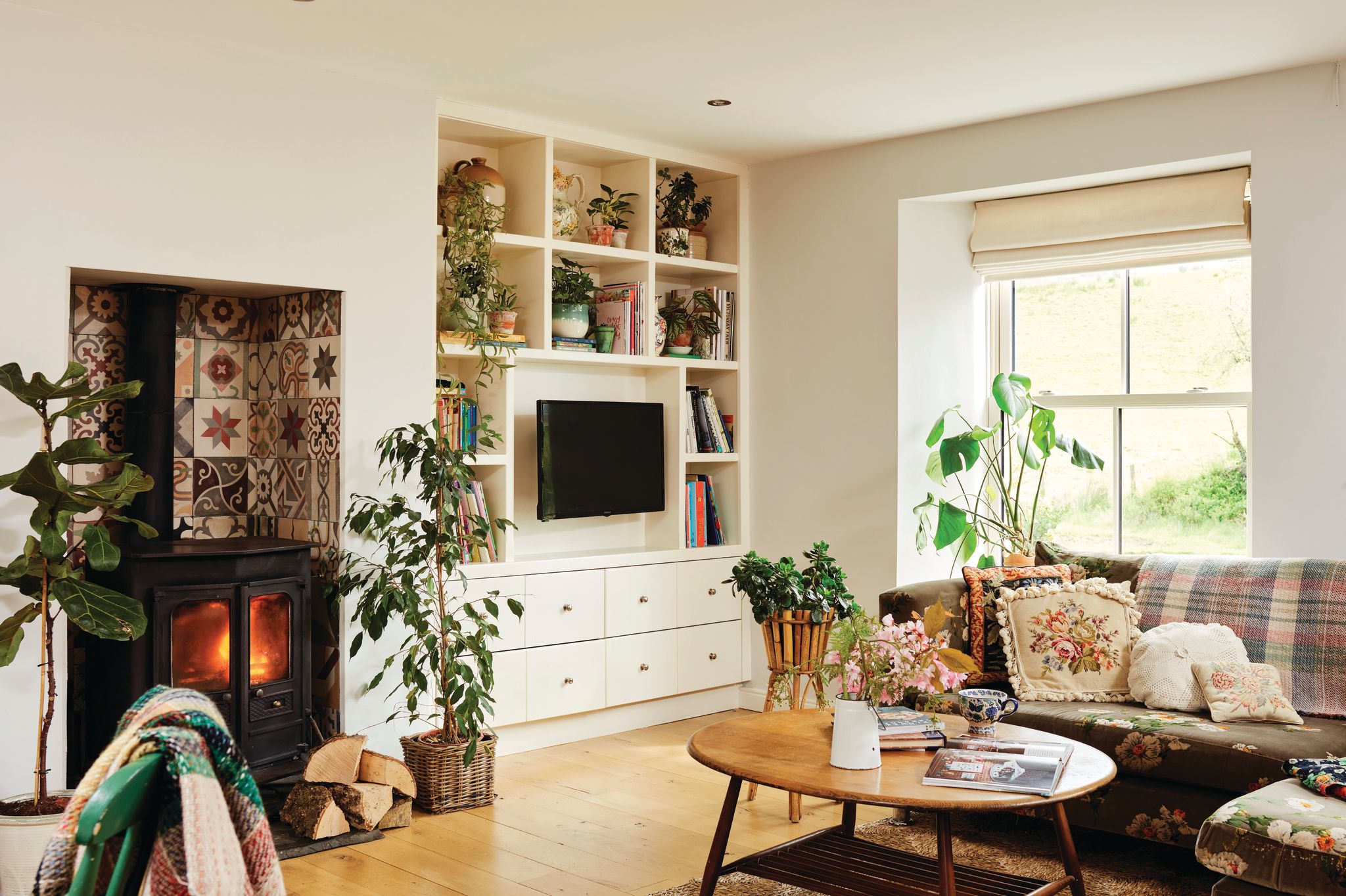 BOTANICAL ARTIST ELIZABETH'S TOP SIX 
GARDEN PLANNING
 TIPS
If you don't have a large space start with pots and containers, this will instantly brighten up the space.  In my first year of gardening I sowed seeds in a rusty old wheelbarrow, it looked great.

 

Grow what you like to pick, I love being able to go out to my garden and pick a beautiful bunch of flowers.

 

I always plant things in the autumn like tulips and daffodils and my favourite Islandic poppies.  In early spring when they start to appear you will be really pleased you planned ahead.

 

For a wild flower patch you need to put the work in before and clear the space, have it as weed free as possible, so when you sow you can see the seedlings appearing.  Weed out any stray weeds before they take over and sow when the ground warms up.

 

Think about having colour into late summer and early autumn, dahlias are great for this and provide a beautiful display in the garden.

 

Visit your local markets and chat to the stall holders, they will advise you on your last frost date and what and when you should plant out. There's nothing worse than having your pots filled and a sneaky late frost gets them.
Share This Article