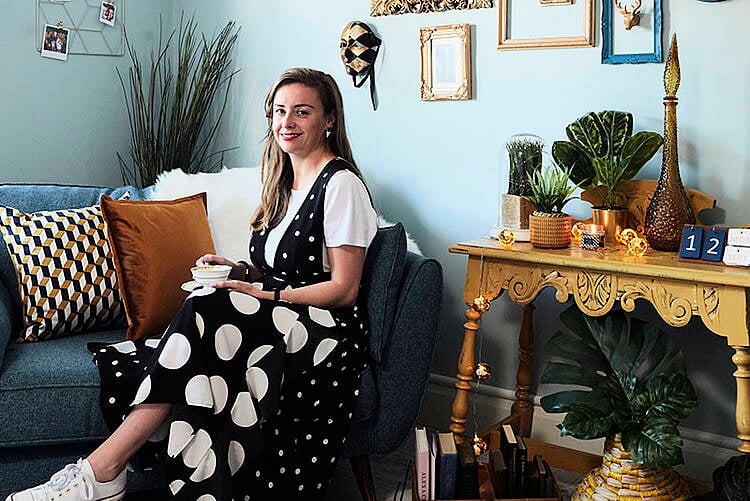 "It's an adult room, no doubt. The kids are banned," laughs Katrina Carroll, of the art deco-inspired living room in her Dublin 12 house. Living here with Katrina are husband Adam and the aforementioned nippers, daughters Nainsi (three-and-a-half) and Bonnie (six months). The girls have their own playroom, dedicated to all their toys, so Katrina and Adam reserve the living room as an evening retreat to relax and unwind.
A regular on our Instagram 'like' list, her @vintageirishkat feed is full of inspiring ideas to copy – whether you want to recreate a clever upcycle or take inspiration from one of her rooms. Katrina's clever eye means her style is a blend of affordable trend pieces from stockists such as Penneys, vintage pieces and highstreet buys.
Style guide
"I got into decorating as soon as we bought the house in 2016," she says. "I'd never really been into it before, but I was clear about what I wanted. I wanted an art deco living room," she says.
Katrina's always had a personal vintage style so it's no surprise she's adopted the same approach with her décor. "I'm very old school," she agrees. "I've always been into vintage, and second-hand, and I've always been addicted to charity and vintage shops. It's always been my style – the same with clothes."
Memories matter
When it comes to the pieces Katrina decorates with, they must have meaning. "I like old things with a story," she says. On the gallery wall in the living room is a pipe which once belonged to her grandfather. "Every time I see it I think of him. I have a black and white photo of my dad on his Communion day – it's little things like that I love."
Her TV unit has a globe-spanning tale, too. "This has such great story," Katrina enthuses. "I bought it off eBay when I lived in London, and my husband collected it from a really expensive apartment in Chelsea. The woman who owned it was from San Francisco; it had been her grandfather's and she'd shipped it over. It was pine with creepy scorpion handles so I painted it grey and put the antler heads on instead."
A dedication to DIY – which you can follow on Katrina's Instagram @vintageirishkat, where she showcases regular projects as well as does engaging daily Stories – has helped personalise her space further. "I'll try my best to make things – as opposed to buying them," she agrees. Recent DIYs include a fringed lampshade, the materials for which she bought on eBay, and a cute neon light sign. "I'll give it a go! For trend pieces, I'll try to make it instead of buying it."
Living room lovelies
In her adult-only space, she loves the sense of peace it has. "It's just the cosiness and calm," she says. "With two kids, when they're in bed it's a haven for us. It's an oasis of, 'let's just relax now'."
To achieve that cocoon-like feel, Katrina has decorated in her favourite shades of navy and mustard and brought in elements she really loves. "I always wanted a drinks trolley, so we got that, and I love a good rug," she says. Candles too, are a living room essential. "I love cinnamon and spice for winter – something cosy when it's bitter out."
Lighting must be right. "I'll have fairy lights everywhere – it's a grotto!" She loves to add in throws as well – "I'm all about more comfort" – she and her husband will have a tipple on a Friday, add a few nibbles and watch a good film.
So, if cosy comfort is Katrina's bag, what wouldn't she have in her living room? "Grey! I'm not into it. I hate any crystal candle holders and diamante or mirrored furniture too," she reveals.
What she does love is a plan, and she has a few up her sleeve for this room. "I want to change up the walls – I love the frames so those will stay but I'm going off prints. Now I love finding pictures instead – I love supporting small businesses I find on Instagram."
More long-term, Katrina wants to change her couches. The icing on her cosy cake? "I'd love an open fire – that'd top it all off. We want a stove – and we'll get that at some point." With her prolific redecorating output, we've no doubt she will.
Photographer: Philip Lauterbach; Stylists: Emma Kelly and Leonie Henson
This post is sponsored by Penneys. The Retro Luxe collection is available from Penneys stores nationwide now.