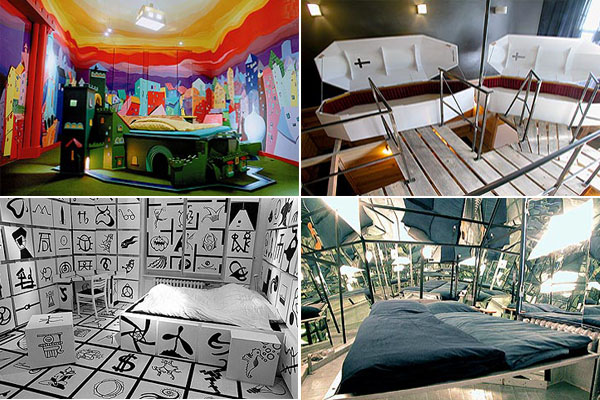 What is it?:
Propeller Island City Lodge in Berlin.
What's so special?:
Self-designated as a "work of art" rather than just another banal hotel, 30 rooms with utterly different personalities fill this work of fancy... I imagine staying here would be like falling down Lewis Carroll's rabbit hole. Want to stay in a room with a levitating bed? Check. Seriously folks, the staff at this hotel are legally obliged to leave instructions for use in every room.
The details:
Rooms are from €69 per night for one guest and prices vary according to your taste (the Upside Down room costs €115 while Two Lions – with the option of sleeping in a cage – will set you back €190). Additional guests are charged at €15 per night and brekkie costs €7
Getting there:
Both Aer Lingus and Ryanair fly to Schoenefeld airport in Berlin. From there you take the the S-Bahn to Bahnhof-Charlottenburg. Once you reach the station there's only a ten minute walk or (€3 taxi ride) between you and utter madness.
Share This Article