Words: Alison Gibb | Photography: Douglas Gibb
Anna's mantra is to 'expect the unexpected' when it comes to her Edinburgh home. "I like to mix it up," she admits, but her imaginative combinations go far beyond the well-established 'old with the new'.
Rather, she regularly assembles extravagant designer choices with fun bargain finds; Crittall glazing is paired with glamorous chandeliers and vibrant colours sit alongside pale, subtle tones throughout her home.
Self-taught as a designer – Anna studied History of Art at university – she honed her craft by undertaking a series of ambitious property renovations, all in the same area of Edinburgh's Georgian New Town. Anna's knowing eye is a result of her many years' experience in property.
A career in PR followed college, but she set up PAD Lifestyle (Padlifestyle.com) after her son Leo was born, realising that the world of interiors was her ultimate career destination. Now, PAD has become a very successful design and homeware store, both online and with bricks and mortar stores in Edinburgh and outlets in Harvey Nichols.
Anna sources products globally. Initially starting off with a range of Balinese furniture which she discovered while visiting family in Singapore, she quickly moved on to include American and European designers, selecting an eclectic, niche range of luxurious designer treats – all with a twist.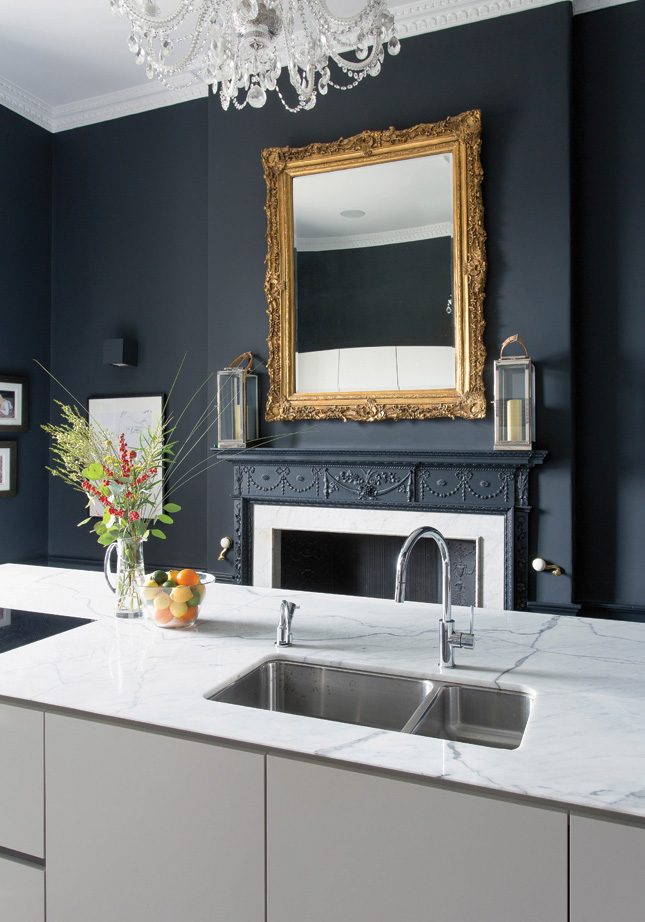 "This Edinburgh home came up for sale while my husband, Haj, was away on business, but it was in the street that he had always wanted to live in, so I went ahead with the purchase, knowing it would be perfect for us," Anna recalls. "It had been empty for five years, but was in sound condition. All we did initially was lift the carpets and paint the place a fresh white. We then lived in it for a year whilst making more elaborate plans," she says.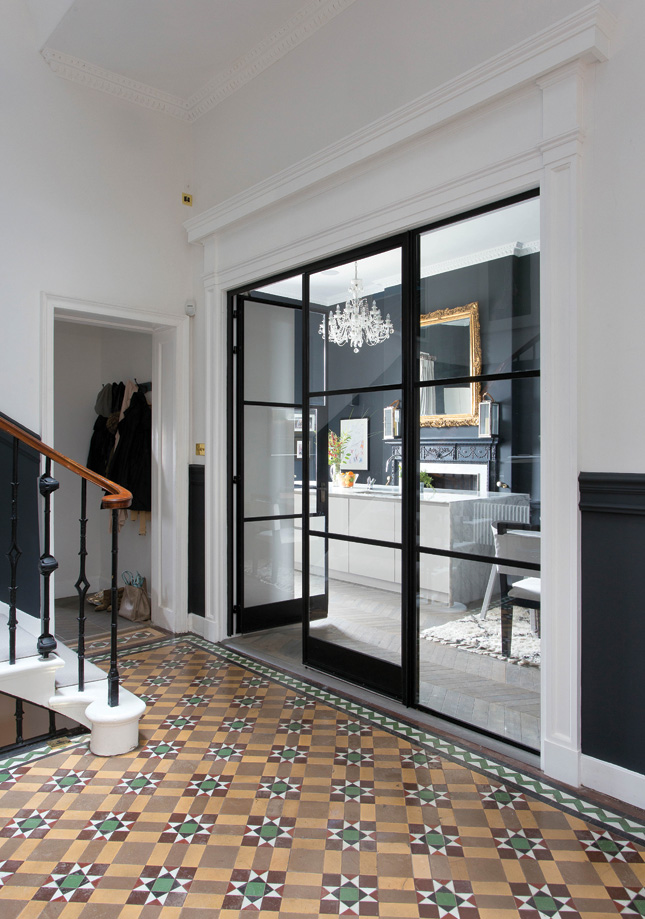 Anna and Haj, after a stint as serial renovators, are determined that is their forever home. Their son, Leo, now seven, is settled at school and Anna is enjoying both the flexibility and the challenges that self-employment brings.
Plans for the Edinburgh home, set in an iconic, traditional Georgian terrace, included making sure it was completely different from all its neighbours. "We love the period features of Georgian buildings, but we are not afraid to add our own stamp," Anna states.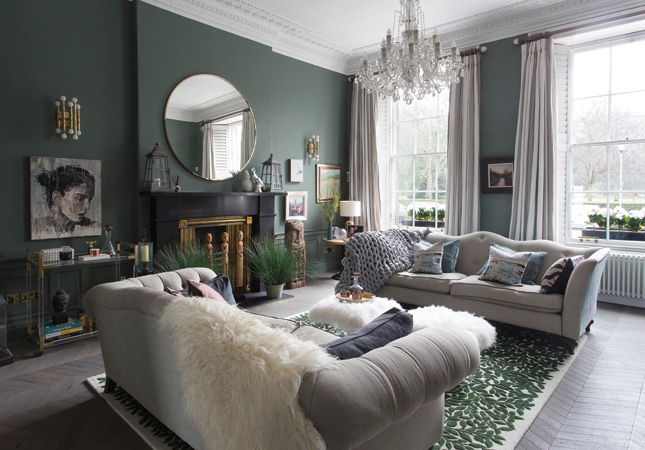 Louvered shutters, parquet flooring and internal metal and glass doors are all highly individual touches that succeed in transporting the interior elsewhere. Entering off the street, you know you are in Edinburgh but as you step inside you feel as if you could be in Paris or Berlin, so strong is the feeling of 'difference'.
The ground floor reception room is decorated in a moody green. The results are cosy and welcoming. "This is where friends drop by and we curl up as a family and watch movies," Anna reveals. The kitchen is painted deep charcoal, yet lavish white marble worktops prevent it from seeming the slightest bit downbeat. In fact, this is a real party room: great for entertaining.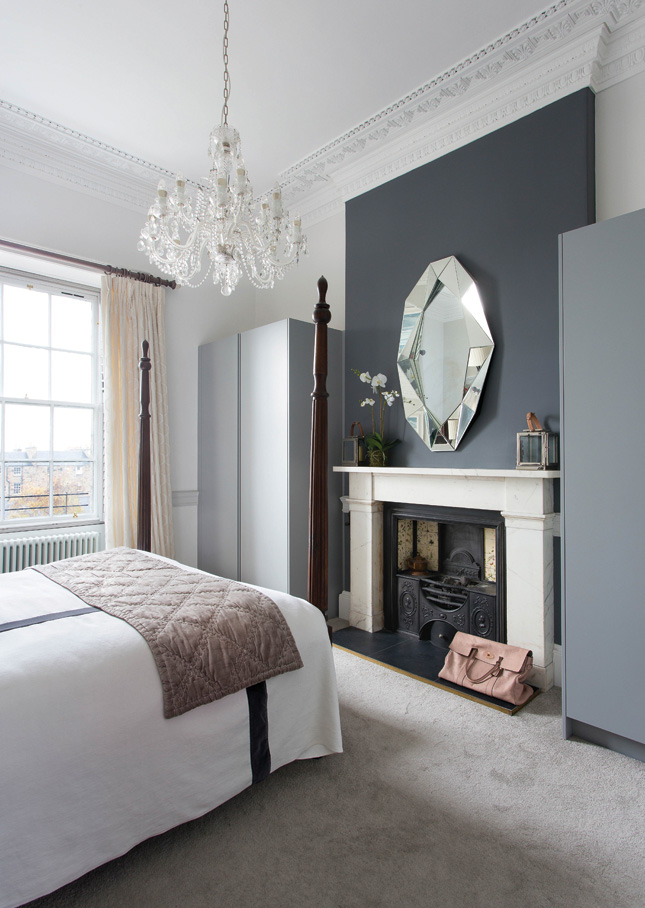 The minimal cabinetry provides every possible need for storage, but its discreet profile means it disappears neatly, allowing the feature fireplace really stand out.
Upstairs, the first floor has been converted into a stunning master bedroom suite. This is a private sanctuary where Anna can completely escape.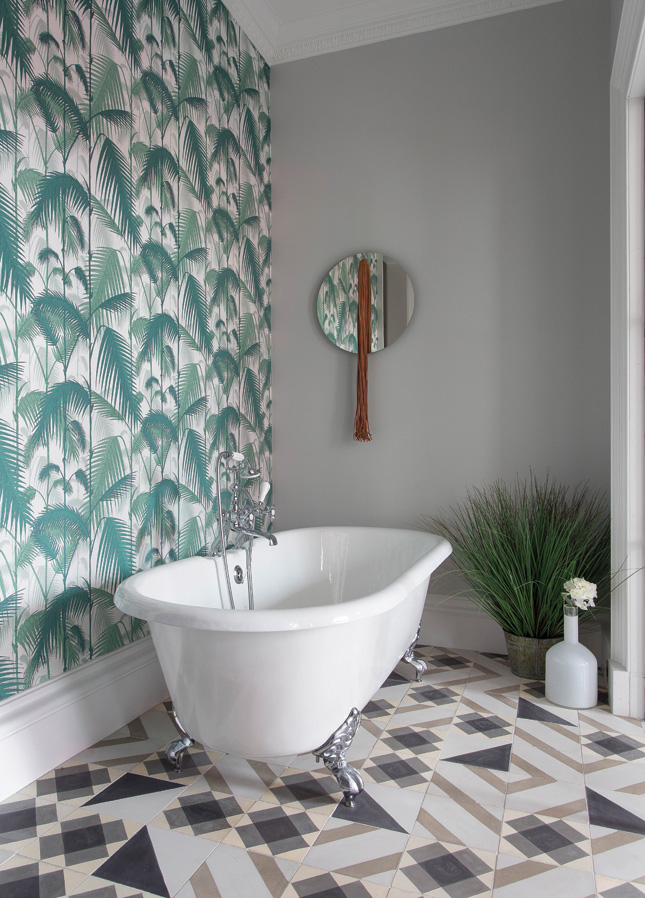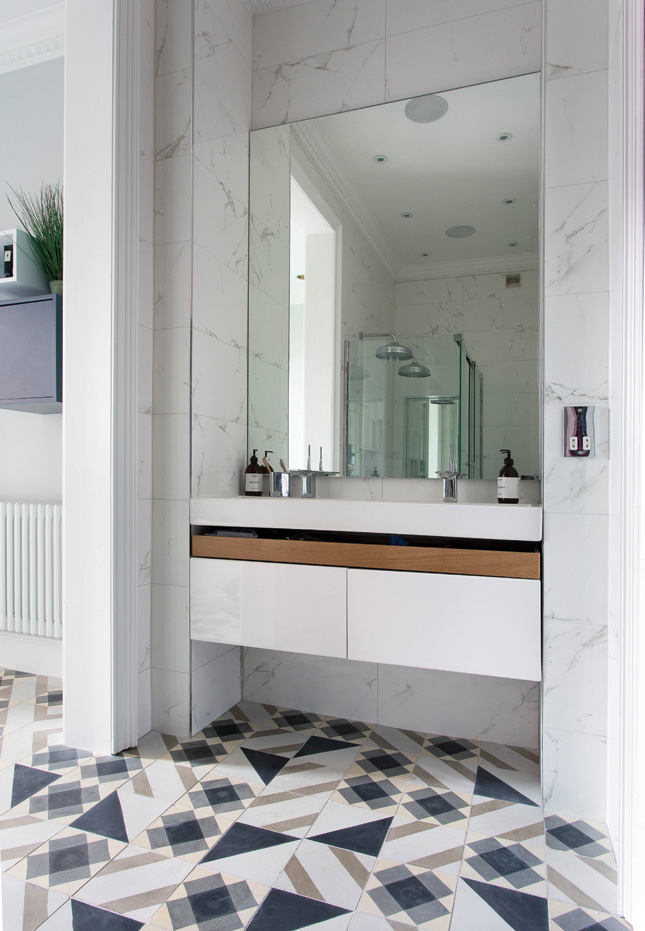 No luxury has been omitted: a freestanding bath sits in front of a wallpapered wall concealing a lavish double rainfall walk in shower, tiled in marble. The bathroom is midway between the private, upstairs sitting room and the master bedroom. The master bedroom is decorated in soothing neutrals and serves as a quiet retreat, simply to sleep in.
The adjoining sitting room, originally the drawing room, is the jewel in the crown of this already beautiful home. A stunning soft pink sofa is offset against a palette of delicate greys. Anna has added artworks, far from what you would expect to find in an Edinburgh New Town drawing room.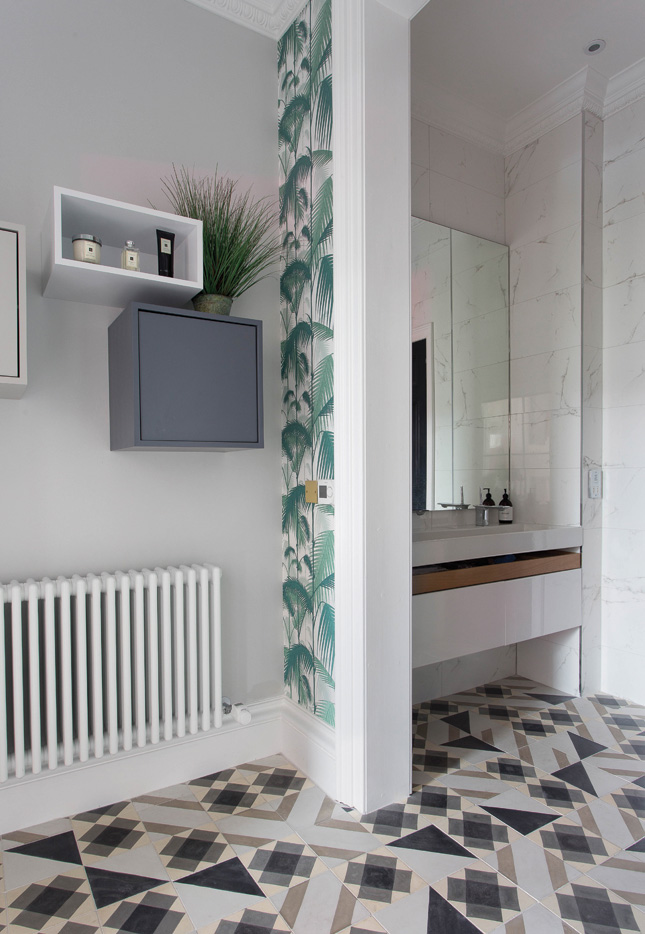 Her choices are not intentionally brave though: she and Haj simply like to have fun with their home. "We're not trying to be deliberately bold or thinking that hard, we just enjoy art and pick pieces we like and hope they work," she rationalises.
It's that spontaneity, mixed with some tongue in cheek moments, layered into this already beautiful, period property has resulted in a knowing, spot-on interior that is as comfortable and friendly as it is elegant and stunning. This house is both a showcase for Anna's design practice and her family's home. She combines both brilliantly.
DON'T MISS THE DETAILS
An over-sized rough-hewn wooden mirror leans against the elegantly curved back wall; salvage yards will have similar; In the kitchen, Anna's juxtaposition of the old and the new works incredibly well; Upstairs in the drawing room, take a tip - two chairs substitutive for a smaller couch really well and provide better privacy and personal comfort; In the master bathroom, the double sink and vanity unit are simple and sit neatly in the transition area between the spaces.
See more from Anna's gorgeous Edinburgh home in the gallery below!