Buying bespoke proved to be a huge hit for Emma Hamilton, who has created a social space that works well for her family through this kitchen makeover
Words Kirstie McDermott | Photography Philip Lauterbach

Makeover details
Project: Remodel an awkward space, add light, and install a custom kitchen.
Homeowners: Emma Hamilton and her husband, who live here with son Arthur, three, and Yorkie Lily.
Budget: €38,000
What they did: Emma did a complete revamp of a tired and dated '90s kitchen, including structural work and removal of two conservatories. She added a wall of windows and installed a brand new, bespoke kitchen for a result that's contemporary and light-filled.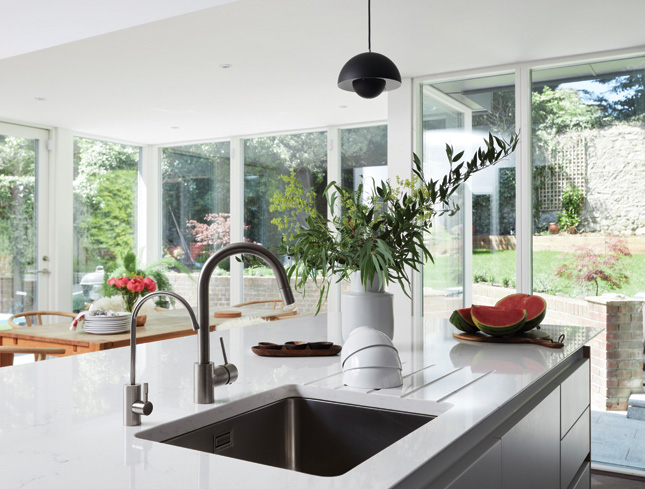 Stuck in a 1990's time warp, Emma Hamilton's South Dublin home needed TLC – and fast. "It had been rented for a couple of years, there were yellow walls everywhere and everything needed replacing – the kitchen, bathrooms, windows, doors, floors – everything," she recalls.
Property manager Emma and her husband moved in with son Arthur and dog Lily in November 2017 and set straight to work. "We came up with a wish-list of everything we ever wanted – the Lotto list. The priority for us was to have a really good kitchen space because we like to cook, to be there with family – we've a large extended family and we like to have them over," Emma says.
The couple lived in the house as work began – "the builders partitioned off the kitchen so we just had a hotplate which we used to make one pot dinners" – which meant they saw first-hand the changes taking place.
"We didn't extend, but we had to do some work on the back of the house," Emma explains. "There were small windows which we wanted to open up, to make use of the garden." Previous owners had added not one, but two conservatories, so they were taken down, as was a structural pole in the middle of the kitchen. 10m of steel was added instead. "It was an expense, but when we're in the space now, we're so glad we did it," she says.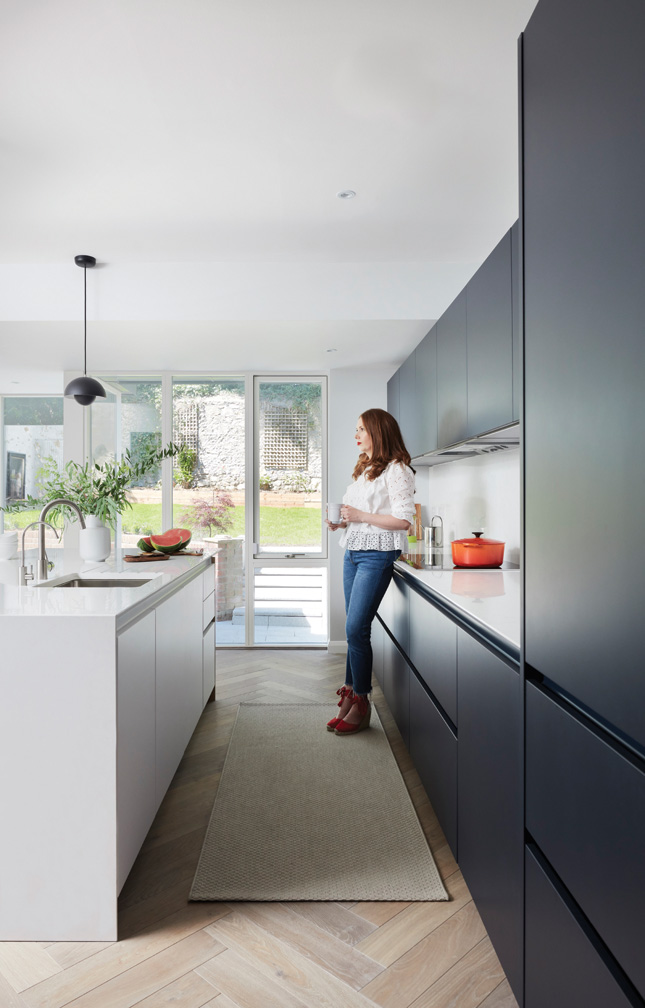 When it came to picking a kitchen makeover company, Emma did her research. "We went to a lot of suppliers, but Noel Dempsey had the edge in the colours that were available in a modern kitchen. I wanted one that was lacquer-finished – and I wanted that because of little people," she smiles. "It just wears a bit better."
Emma was clear that she wanted a custom kitchen makeover, made to her specifications. "When you're designing your kitchen from scratch, you get to tailor it the way you want," she points out, adding, "while you can do the same functions in any kitchen, everyone uses theirs differently and really thinking about what you want, means you'll get it working perfectly for you."
The benefits of bespoke shone through time and time again. "I was really happy with the attention to detail they had and Lynne Baillie in Noel Dempsey was so nice from the get-go," she enthuses. "They were brilliant with ideas: they incorporated great drawers under the ovens, so all my baking stuff is easy to find. They got us to think about the flow we'd need, the kind of food we'd be making – do we use the freezer much or are we more fridge-based? So we went for a full larder fridge as a result."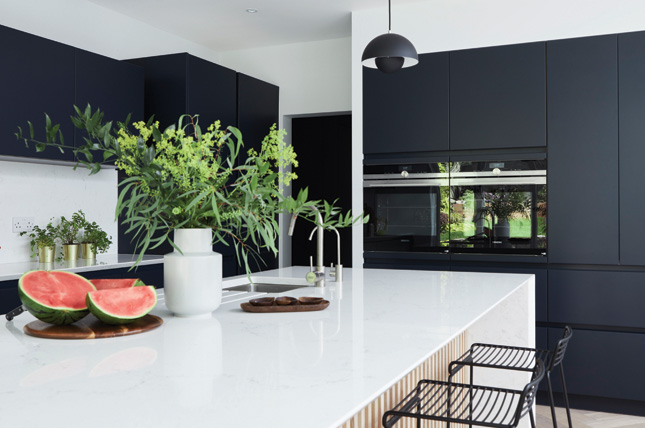 It took around nine months from the initial meeting to kitchen completion, but Emma says there are benefits to talking to your kitchen supplier early in any renovation process. "Budgets can go out of control, so it helped to rein us in and decide what we could spend elsewhere on the house. Plus kitchen companies have a long lead time at the moment, and it meant we could do changes – when the steel went in, the ceiling height came down a bit so the cupboards had to be tweaked."
Is there anything she'd do differently now she's lived in the space for a while? "Lots of things," she laughs. "I'd add more plug sockets and I'd make the light switch into the pantry a sensor, but these are minor things," she reasons.
Overall, though, the kitchen is a huge hit. "We are delighted with it," Emma says. "It has surpassed all my expectations, it's better than I'd ever imagined."

Sourcebook
Kitchen: Noel Dempsey Kitchens and Interiors
Engineered oak flooring: Matt Britton
Appliances: Siemens and Liebher and Myliebherr.ie
Worktops and backsplash: Wells Granite & Marble Ltd
Taps: Franke; Franke.com
Island lighting: &Tradition FlowerPot VP1 Pendant Lights
High stools: Hay Hee bar stools
Kitchen chairs: Helen James Considered