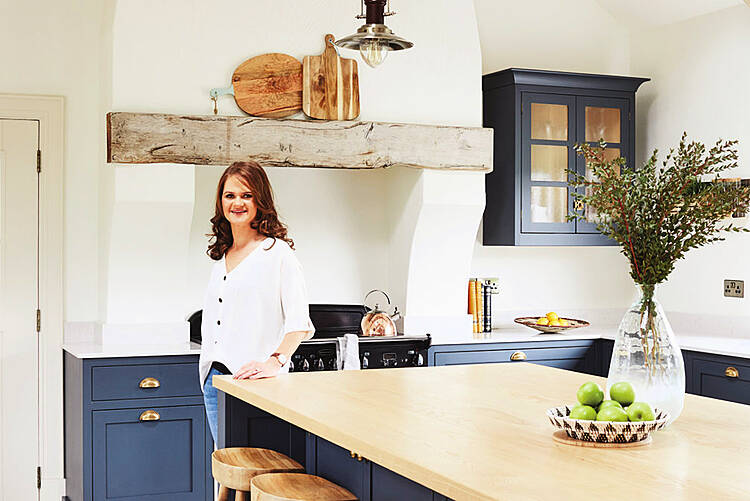 Stand at Caroline Hassett's front door and you'll see three key things: ahead is the cottage her mother grew up in, to your right is the much-loved stand of trees her granduncle planted decades ago – and at your fingertips is a porch built from stone reclaimed from a barn her father once built with his own hands.
Family ties brought Caroline and husband Brian back to this beautiful part of Tipperary to build and raise their young family. Now, with Charlie, Esmeé and Milo on board, they have created a stunning home among her beloved trees.
"My mother Mary was born and reared in the cottage on our site. My granduncle Jack lived there until about 10 years ago and as a child I loved visiting because he kept a big bag of sweets on the old dresser. I used to play in the trees and imagine I'd move back here, so my kids would get to do the same," Caroline reminisces.
In one of life's twists of fate, Brian is woven into the history of the place too. "He used to spend his summer holidays with his cousins who live down the road, and they'd visit Jack."
Clever design and material usage ensures that the couple's new-build home looks like it's always been here. They sourced reclaimed tiles for the roof, put a lime render on exterior walls and used a local architect who understood the Tipperary planning process. The couple elected to manage the project themselves, a mammoth task.
"Direct labour definitely has its challenges," Caroline says (read more on the story of their build here). "There's a lot of decision making, planning and organising and, due to work commitments, Brian was only able to be on site in the evenings and weekends. I was responsible for ordering the majority of building materials, from roof slates and insulation down to nails, and meeting tradesmen. I was pregnant with Esmée, Charlie was only little – he was practically reared in our local hardware store!"
Brian put in the hard graft in his off-time. "He spent almost every evening and weekend working here for the duration of the build. He spent days punching holes into each individual roof slate. He also insulated all our vaulted ceilings, did a lot of our painting, laid some of the flooring and completed our entire boot room by himself. It's amazing what you can achieve once you try," she says.
Her husband may have done the heavy lifting, but décor was very much Caroline's remit. She now documents her interiors journey on @ahousebythetrees, a very definite nod to the enduring stand of evergreens she loves so much.
"I love the warmth that natural materials add, and a neutral colour palette allows for different colours, patterns and textures throughout the year," she says.
"I use plants throughout the house, I love the feeling they bring to a space. The trees beside our house mean so much to me. Jack planted them with his father when he was a young boy. They've been on our site for 80 or 90 years."
Many of Caroline's pieces are finds from her travels – "I picked up cushion covers in Egypt years ago. I didn't even have a sofa, but I couldn't leave them behind!" – but one is particularly special.
"When we moved in, our neighbour gave us an old number plate from the horse and trap that belonged to my great-great-grandad, over 125 years ago. It's great to have such a piece  of history in the house."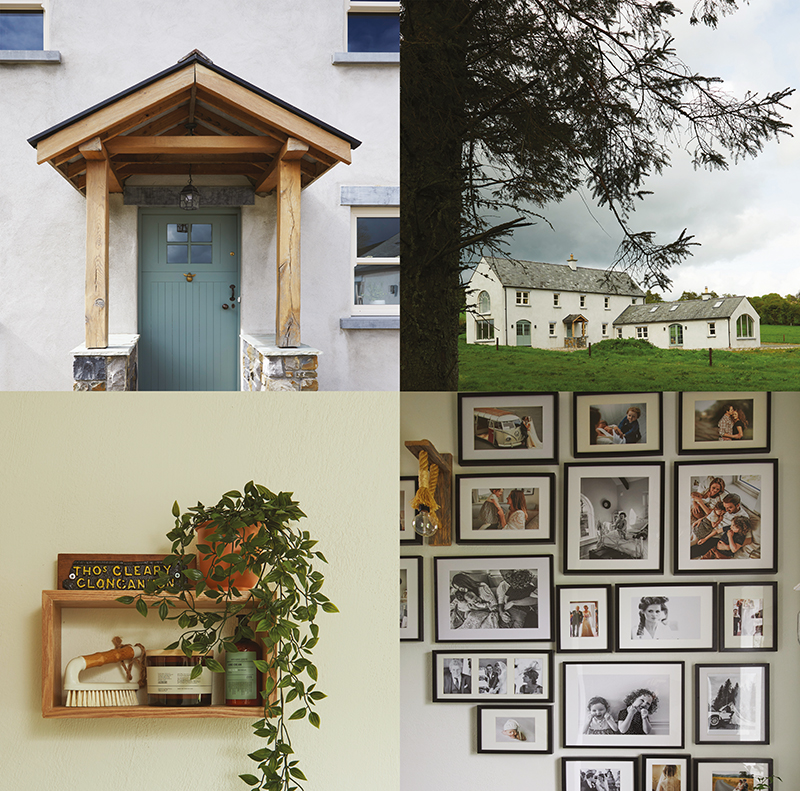 DON'T MISS THE DETAILS:
Clockwise from top left: The porch features stone supports made from the remains of an old barn built by Caroline's father; on the stairs is a gallery wall of treasured family photos, some taken by Caroline and Brian and some by Cathy Murphy Photography; A view across to the house from Caroline's beloved trees; In the utility room, she has added a number plate which once belonged to her great-great-grandfather
WORDS: Tara Corristine
PHOTOGRAPHY: Philip Lauterbach
STYLING: Alannah Monks