Donna Wilson tells us how she channelled her love of Abigail Ahern to create her richly coloured and softly lit Belfast home
Words: Victoria Hrastic | Photography: Philip Lauterbach
When Donna and husband Alan Wilson moved into their three-bedroom house in Belfast nine years ago it was all magnolia and cream walls, something she knew she would need to sort. "I've always been interiors obsessed," she admits. "From the moment I got my first house when we married I was away picking wallpaper and paint, choosing furniture and making curtains, I always loved doing up houses. In our last house I would have had big, bright, bold wallpapers."
Donna usually redecorates rooms every three years, rejigging, repurposing and bargain hunting, all without spending a fortune, and with no structural work needed, those pale walls provided the perfect blank canvas for her next interiors chapter.
Fast forward to three years ago and with the last of her four children soon to be leaving home, Donna was completing an interior design course when the pandemic hit. Forcing her to work online, she started taking more pictures of her house, growing her Instagram and honing her own personal style. When she discovered the designer Abigail Ahern, she fell in love with the look.
"I loved dark interiors and would always have a dark wall in there with the bold wallpapers," she explains. "I had floor-to-ceiling mocha tiles in my bathroom once, but over the years I would often stick to the rules thinking I didn't have the space or ceiling height. Moving in here with all the cream walls I started using a dark, dark grey and when I saw Abigail Ahern's work I felt totally inspired by her and the earthy colours. But I've put my own touches in too."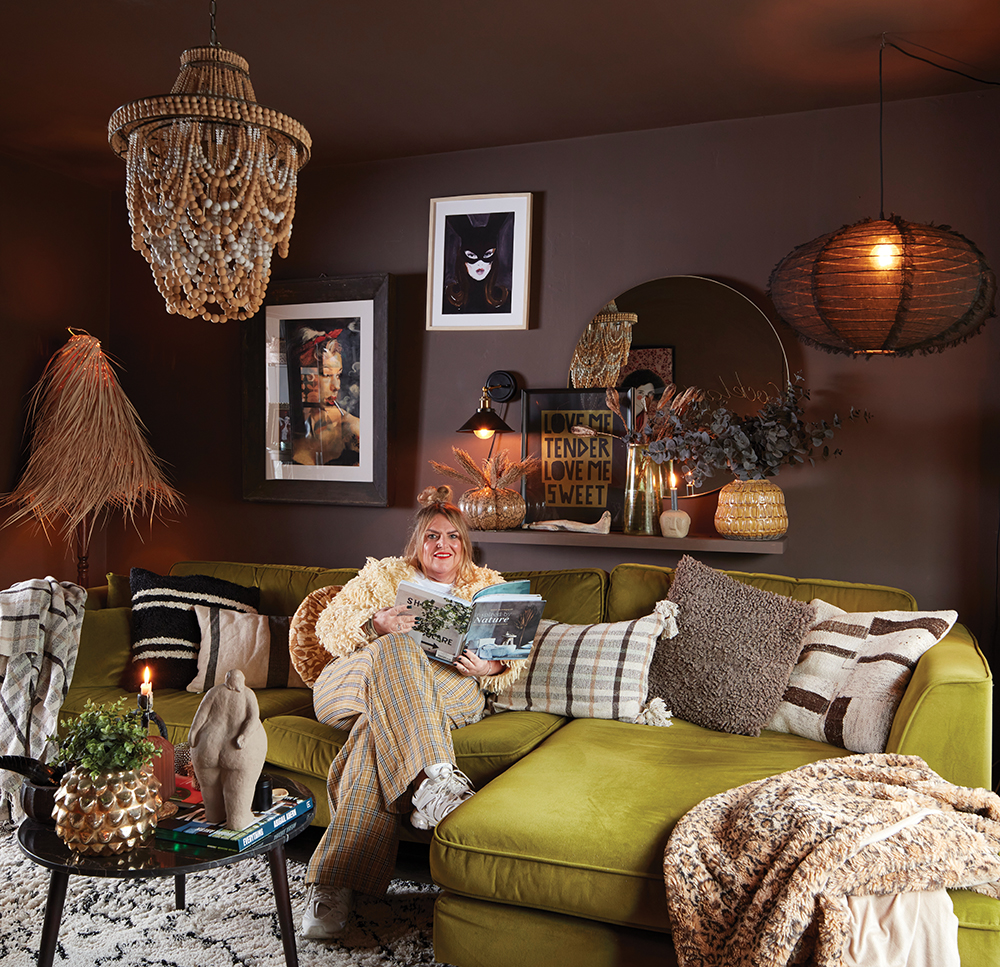 Living room
When she painted the living room in Ahern's Crosby brown, Donna had to be brave as even the decorators were trying to discourage her. "I told them I was going to do it, and the ceiling too!" she laughs. "I went to work doubting myself but Alan and my son were there already when I got home, and they all couldn't believe how good it looked. It just changed the whole room."
The large green corner sofa from Keens anchors the space, with the room layout working around it. The shelf is painted to match the deep brown walls, which are in Abigail Ahern's Crosby (Abigailahern.com). The mirror reflects the light, candles and vases. The Berber style rug is from La Redoute, with the chandelier, originally from M&S, picked up on eBay. A mid-century leather sofa is layered with cushions for cosiness. The wall art is by Sofia Bonatti with lamp by Abigail Ahern casting a warm, bright glow.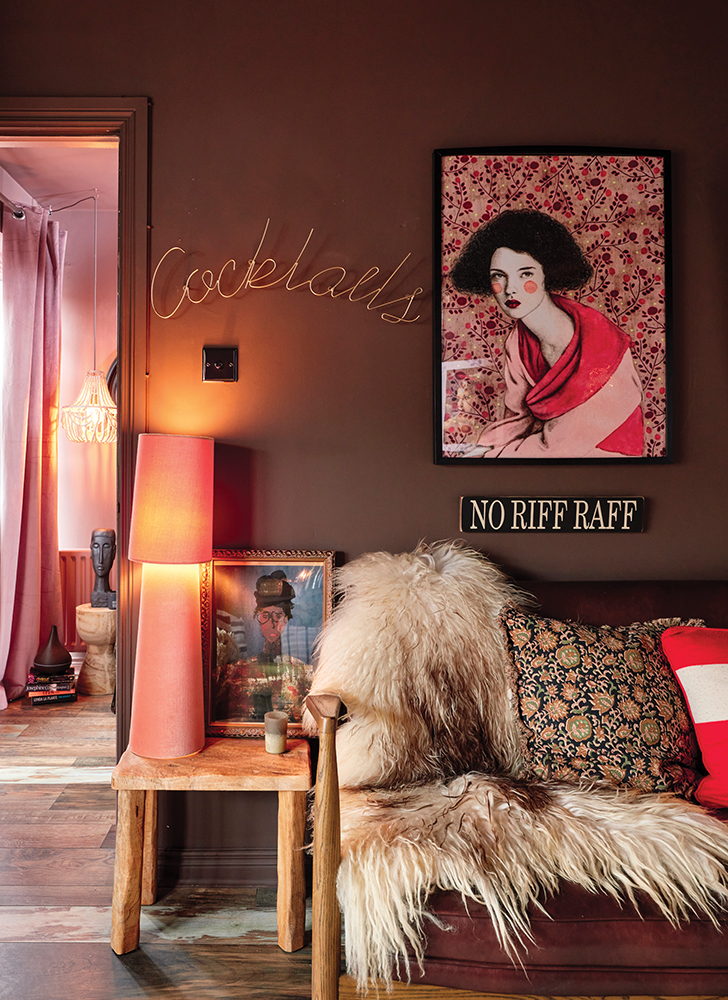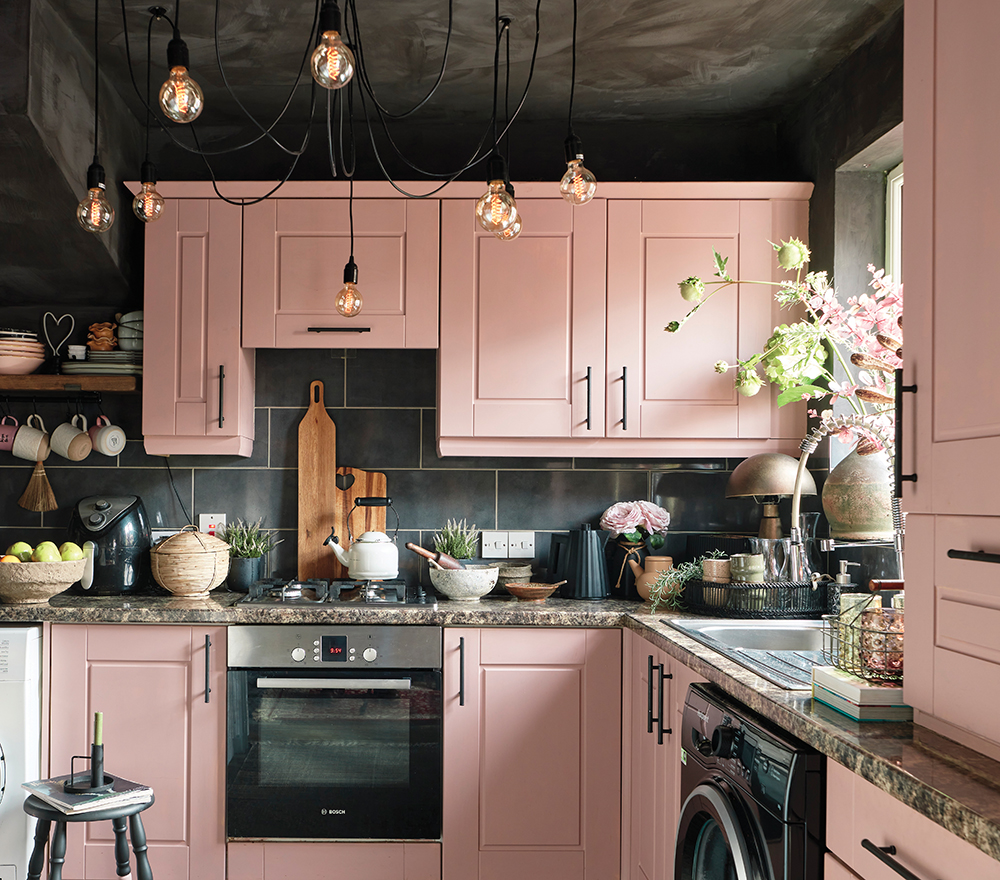 Open-plan kitchen-diner
The living room benefits from plenty of natural light from the bay windows at the front and also connects to a kitchen-diner with French doors to the garden at the back. After originally painting this space green, Donna recently repainted it in Bauwerk's Limewash Onyx, with Frenchic's Pink Dusk furniture paint giving the cream kitchen cabinetry a new edge. "If the cabinets had stayed cream it wouldn't have looked as cool," she adds. The stool came from her aunt Martha's home, painted to match in with the colour scheme of the kitchen.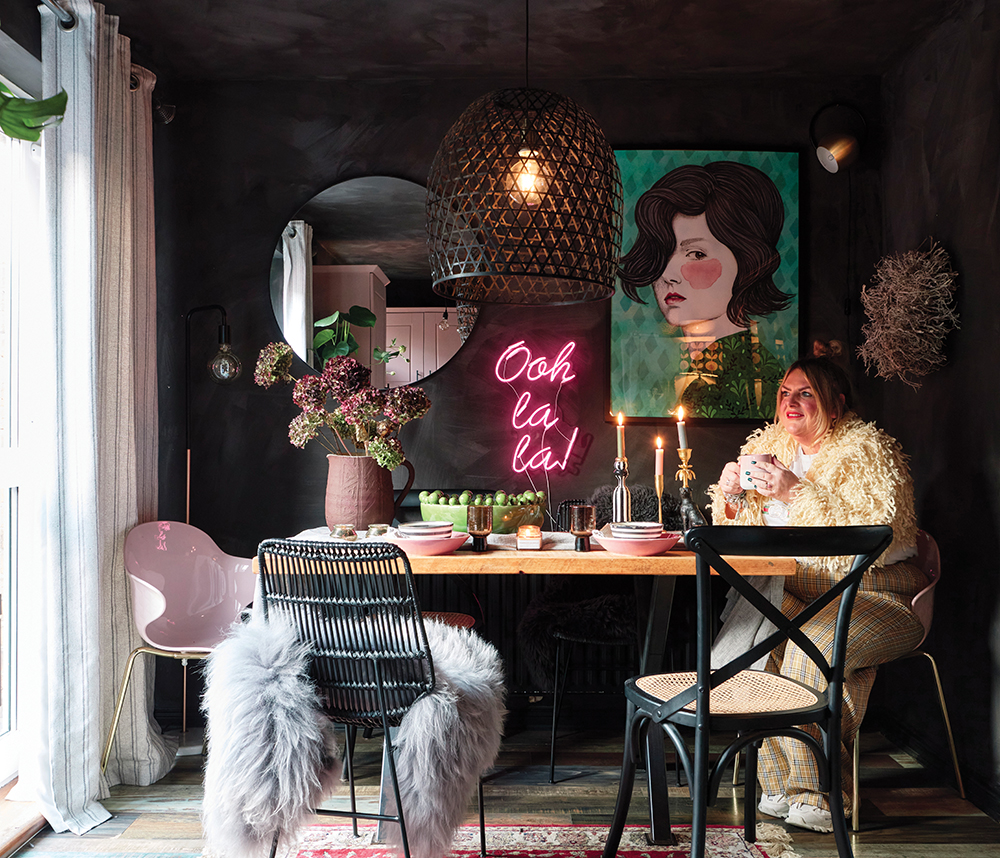 A large mirror from M&S and pink 'Ooh la la!' sign pop out of Bauwerk's Limewash Onyx paint, reflecting light into the space from the French doors at the same time. The table is from Etsy with a mix of pink and black chairs, from Calligaris and La Redoute. The pendant, also from La Redoute, continues the industrial vibe.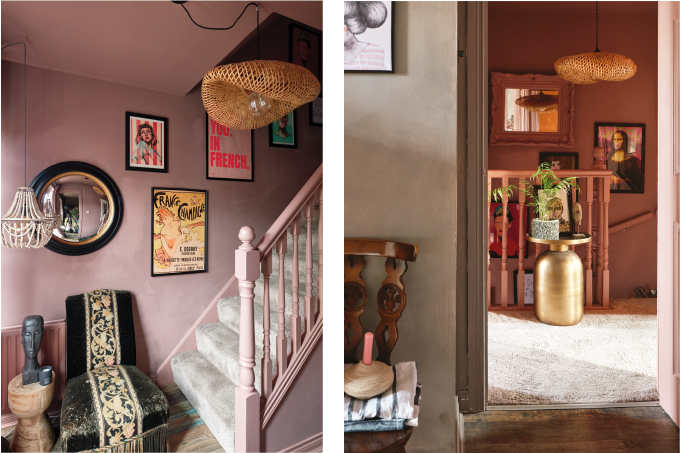 Hallway and landing
Clever layers of lighting create a warm glow throughout the house, with Donna's signature vintage-style light bulbs. While cushions and texture, artwork and décor all reflect her personality and style. The chair at the bottom of the stairs was sourced at The Old Potato Store, with mirror from TK Maxx and pendant light from Next. Artwork is from Nelly, Florence Lee & Co and other Instagram and online favourites.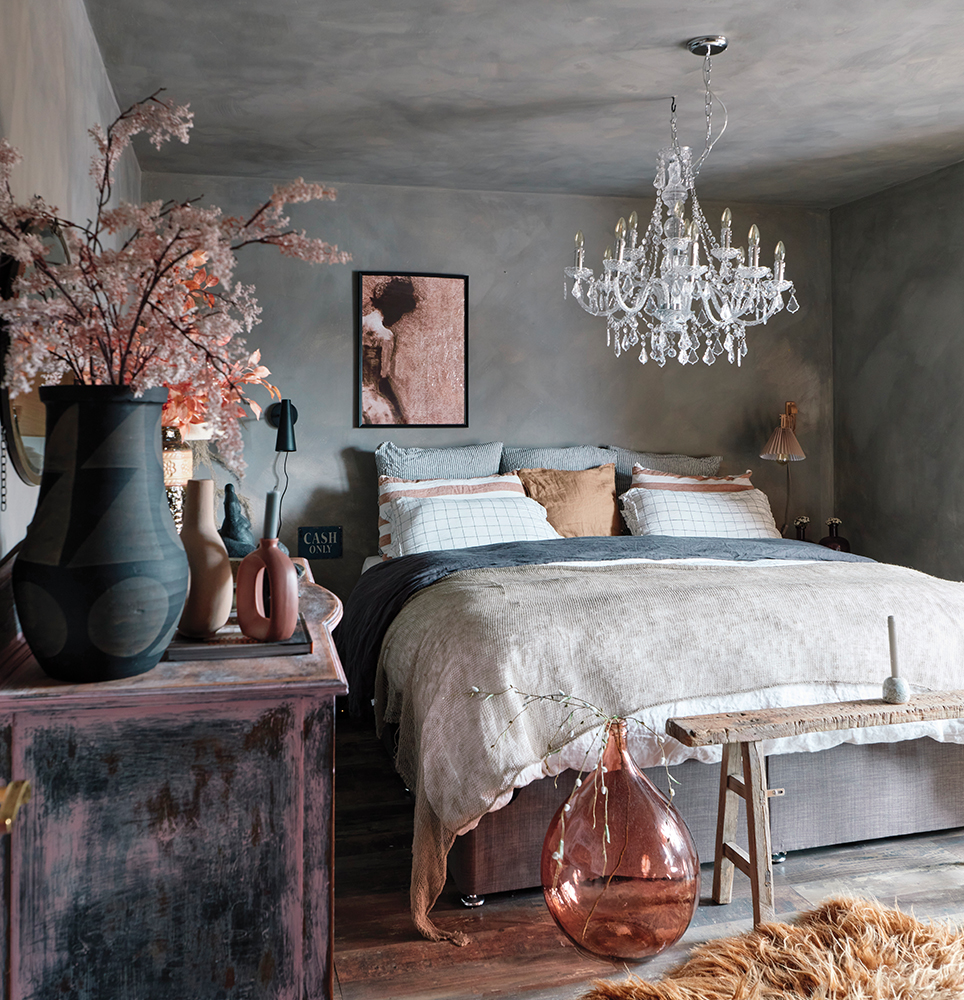 Master bedroom
Upstairs, the master bedroom first had a bold floral mural with dark green walls, but the space felt crowded with large built-in warbrobes. The couple had the idea of creating new fitted wardrobes designed to look like panelling in the second bedroom, this way they could take out and sell the bulky furniture in their own room.
"We wanted our bedroom to have an apartment feel, for the walls to look old with this big vintage chandelier to glam it up as a focal point," enthuses Donna. "I had three moodboards for this room, one of them was a warm pink, but I came back to the grey beige tone. I never thought I'd have greige, but I've fallen in love with it now."
The grand chandelier is from Dunelm with vintage-style warm bulbs to create a soft glow and big statement. The chain was too long and Donna wanted the flexibility of being able to move it to another space, so Alan, an electrical engineer, hooked it up rather than cutting it to size.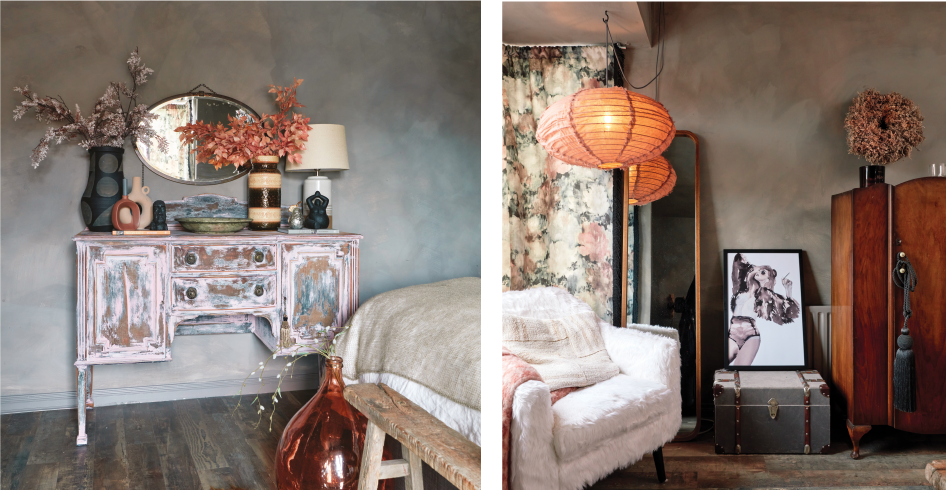 Donna's sideboard was gifted by a friend. Originally painted in black gloss with pink inside it fitted well with her last bedroom scheme. For this look she sanded down to the wood then began painting layers of different shades of pink, re-sanding at each stage until she had the look she wanted. Donna wanted to create faded vintage style in her master bedroom, choosing this fabric first and handmaking it into curtains with a black fringe. She picked up the small vintage wardrobe in The Yard Shop. Her Drongo fabric pendant light in Umber is by Abigail Ahern, with the armchair from Dunelm and mirror from Zara Home.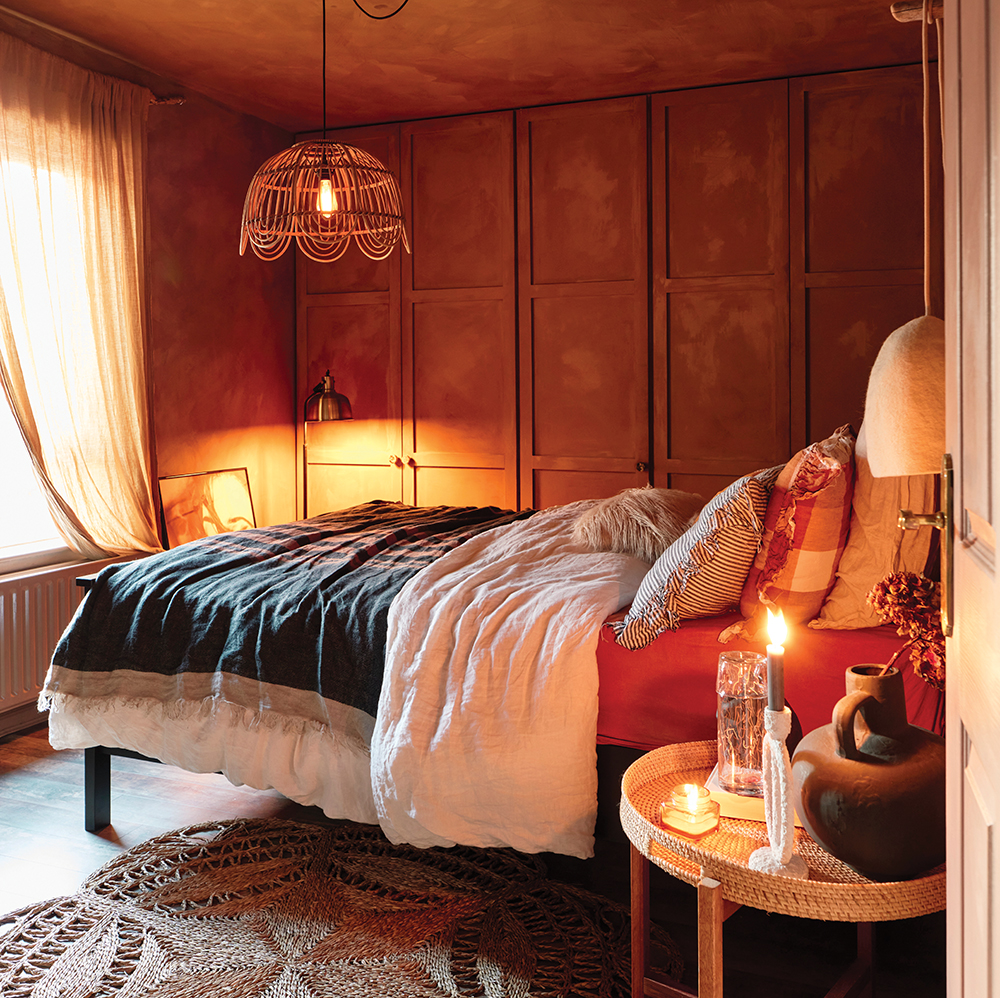 Second bedroom
Inspired by Lockdown, Donna created a holiday vibe in the second bedroom, painting it in Bauwerk's Limewash Beach Grass to look like a cabana in warmer climes. The couple's brown wooden bed was moved from the master bedroom with a large basket tray as a bedside table. Artwork came from the Junique Art Store with a pendant from Folkster and wall light from concept store Couleur Locale.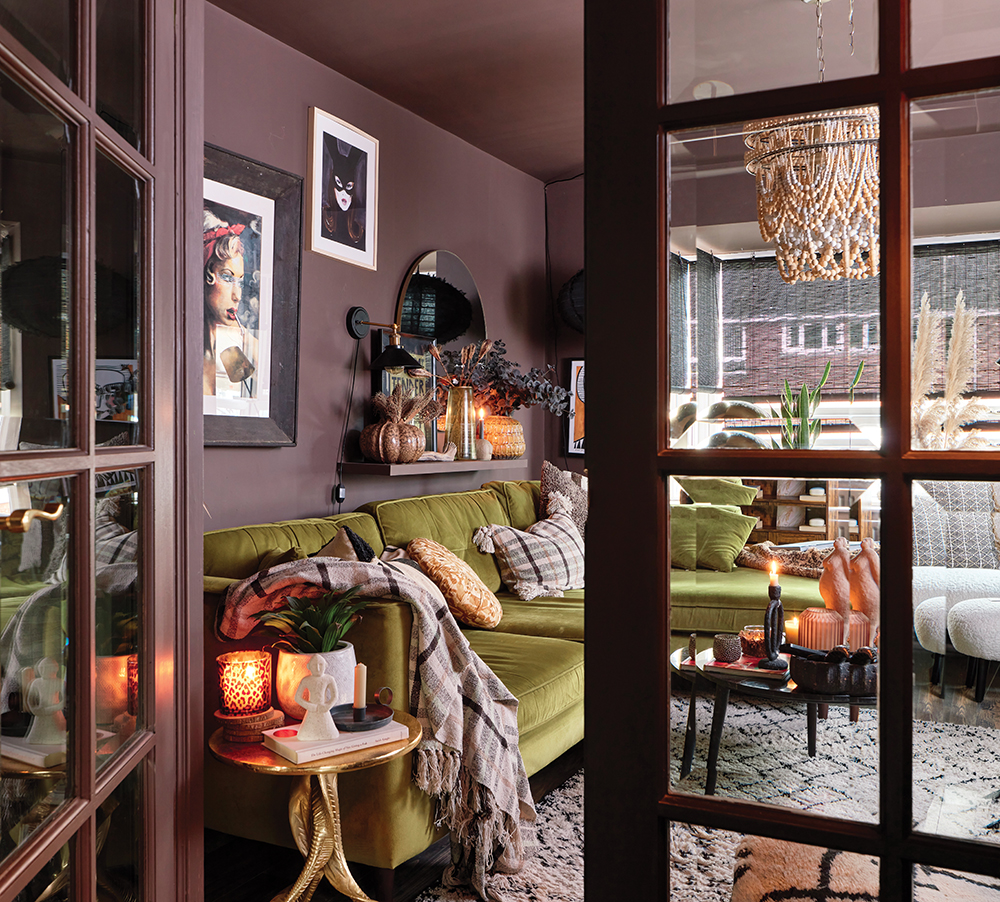 As well as taking on interiors projects outside of her own four walls, Donna's next project will be the third bedroom, which will likely feature the Moroccan paint, and then technically it should be time to think about re-working the living room. "This probably would be my favourite room and because it's coming on to three years I would normally be thinking about what I should do next," she smiles. "But I do still love it and I've never got fed up with it. When I get home at night, if Alan's home and all the lights are lit, it feels like a big hug."
Follow Donna's ongoing renovations on her Instagram @decorbydonna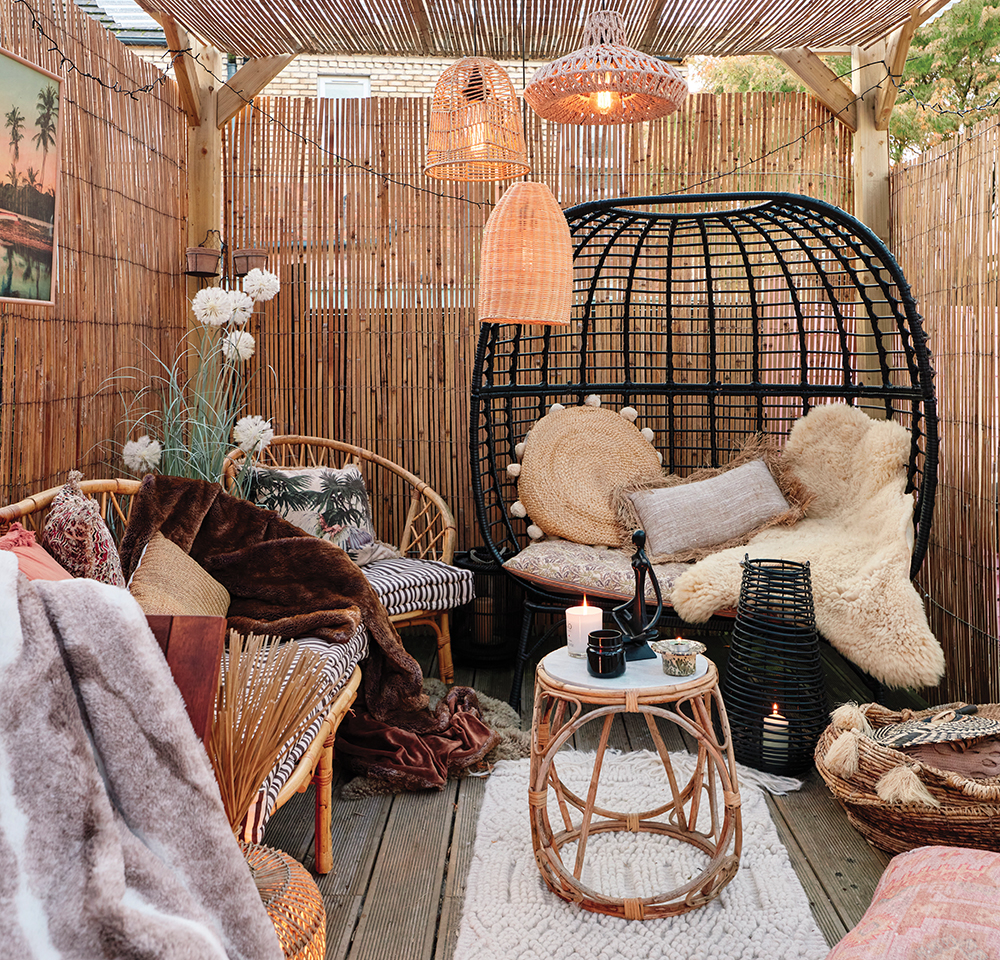 Enjoyed this tour of Donna's home? Well, don't miss the story of her resort-style garden renovation.
Share This Article