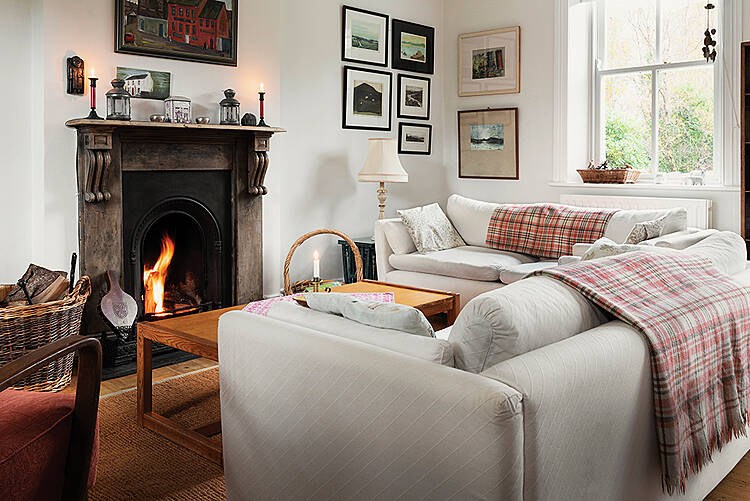 A charming traditional Kerry farmhouse, nestled in the countryside, has been lovingly restored into a quaint and authentic airbnb holiday rental. For advice on how to take on such a project, check out interior designer Moya Farrell's top tips.
Words: Laura Ewart | Photography: Lynda Kerry
Restoration – why do we do it? What draws us to tired old buildings, houses in ruin that require more than just a lick of paint. Is it an act of love, is it a desire to own a piece of history? Perhaps it's about blending old with the new, weaving your story into someone else's tapestry. Or maybe there is that feeling of fate, as though it was written in the stars that you would bring a house back to life.
There is something almost serendipitous when it comes to the story of Bell Cottage. Now owned by Jens Bachem, the farmhouse, built by Francis Bell, a local horse and coach driver in 1930, has been in the background of his life since childhood.

The original cottage
"My mother was an auctioneer (I believe the first female auctioneer in Ireland) and sold the house for Alice Bell, the wife of Francis' nephew, in 1987 to an English family and later to a German family," says Jens. "When she sold the house for Alice, it was in a very poor state. She once told my mother that she sometimes had to get up in the middle of the night to make herself a cup of tea to get warm again."
Back then the house comprised of a large kitchen featuring a range cooker, a small utility room and a parlour with an open fireplace downstairs. Upstairs was three bedrooms and a toilet/bathroom. It was 1993 when Jens' mother was asked to sell the house once more, but this time the house was in even more of a sorry state and it stayed on her books. "I moved back from Paris in 1995," explains Jens. "My parents had the idea to buy the house themselves and do it up for me to move in to."
And so began the sympathetic restoration of reviving a run-down property back to its former glory – and then some. Jens' parents had a simple goal in mind – to keep the look, inside and outside in line with a traditional two-storey Kerry farmhouse.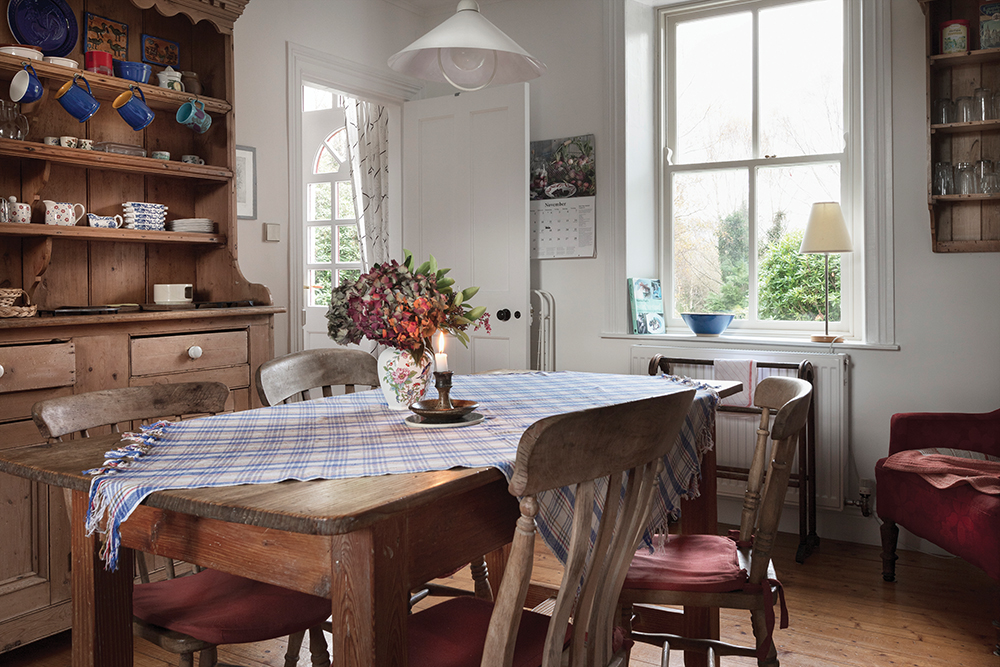 The new layout
The carefully considered plans for the upper floor saw three bedrooms converted into two spacious rooms, plus a double en-suite, and a separate bathroom. Fresh cans of paint were opened, wallpaper removed and walls knocked down to make way for a comfortable upgrade. The kitchen was transformed into a cosy living room, complete with an open fireplace, whereas the parlour and pantry were reshaped into a kitchen-dining space, whilst retaining the much-cherished original fireplace.
Central heating was installed and radiators added to each room. Timber floors and ceilings were partially restored and classic carpentry techniques saw built-in wardrobes and kitchen units made from old window shutters – no flat packs allowed here. This renovation was fortunate enough to benefit from owners who appreciated and respected the house and its history.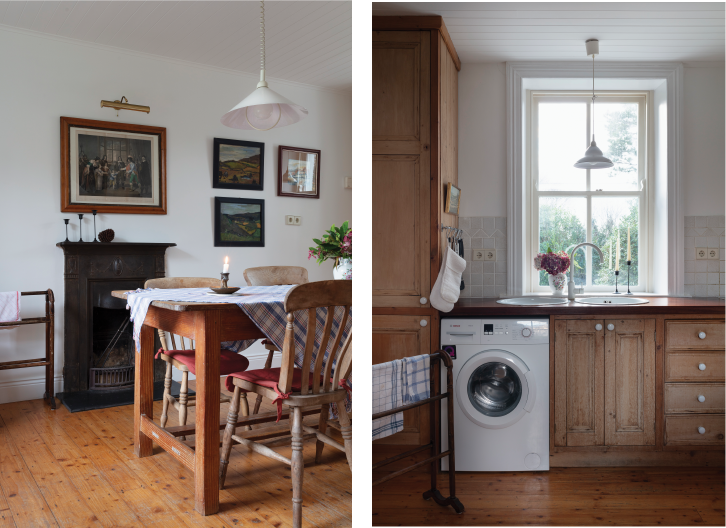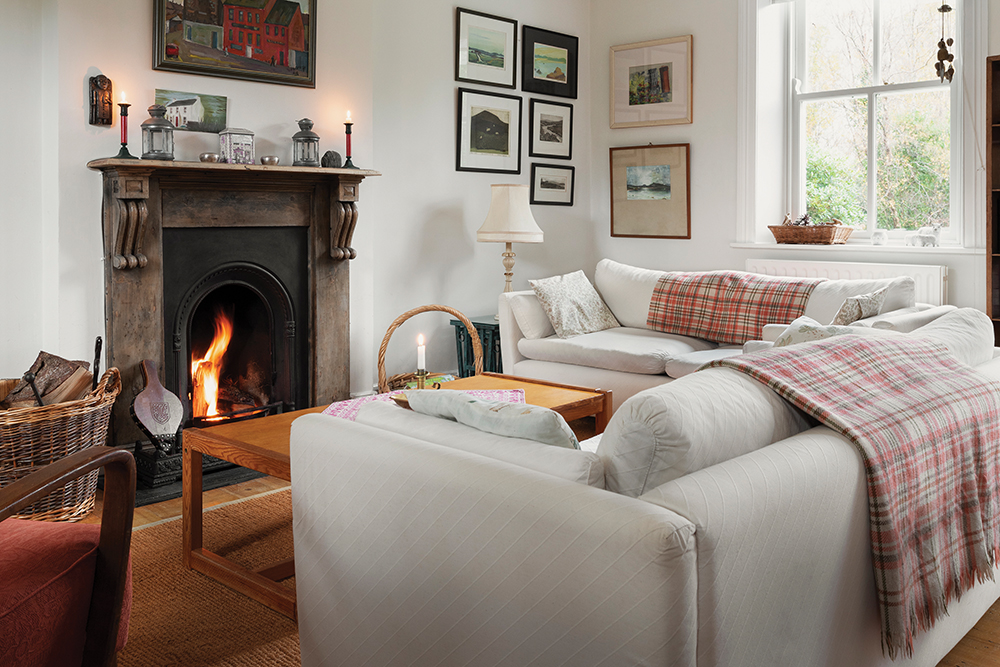 The interior design
"All of the windows were specially manufactured in the traditional sash style, but are double glazed," Jens says. "All of the inside doors were also restored in the original style, while the outside doors were replaced in keeping with the house's age."
The rooms are furnished with salvaged pine tables, chests of drawers and dressers, as well as comfy old chairs and soft armchairs. Books are kept in an antique post office sorting cabinet. Walls are adorned with old paintings and prints to complement the age and era of the house. And with age in mind, it came as no surprise that the house had to be reroofed, with the family opting to use natural slates to preserve the integrity of the build.
Utmost care was taken using allergy and eco-friendly materials for the preservation of the structural timber, main roof and timber ceilings, floors and lintels. Similar efforts were applied to restoring and reviving flower beds, driveways and the lawns. After the project was complete the house was finally ready to be loved again.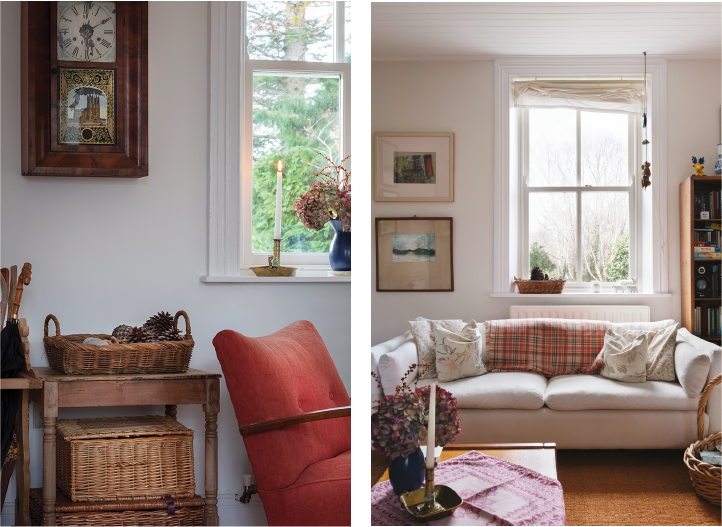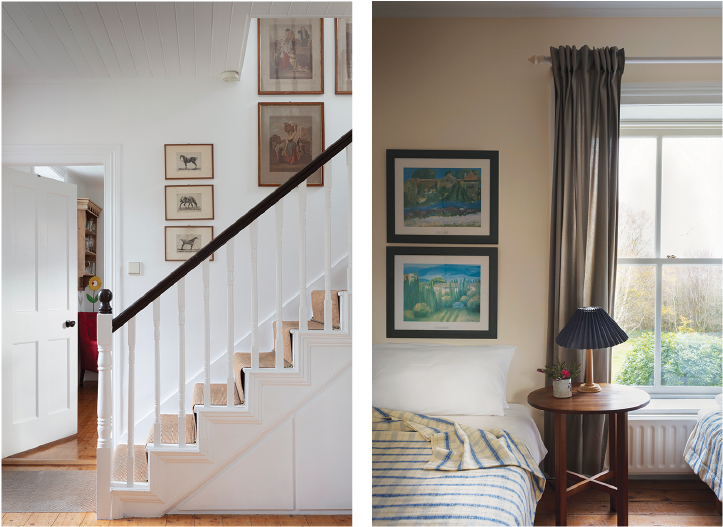 A new era
"Due to other commitments, I had to move to London in the spring of 1996 however, so my parents started renting the house out to holiday makers," says Jens. "It was so important to my parents that guests from all over the world enjoyed staying in the house, that they enjoyed the ambience and the flair," Jens continues. "When guests are happy, they're happy."
Jens moved back again at the end of 2015, but the cottage continues to be rented as an airbnb. "Whenever I get to stay at Bells Cottage, I feel so comfortable and relaxed," he says. And the advice that Jens has for anyone else about to take on a renovation? "Do it with love, invest in craftsmanship and be ready for the unexpected."
Bells Cottage is a short walk to Caragh Lake and is surrounded by six acres of natural gardens that have stood the test of time. And now, nearly a century later, after a methodical renovation, it is finally back to how it should be, something that is eminently satisfying to see. Maybe that is why we take on restoration projects.
Tips to make it work
If you're feeling inspired to take on your own renovation or add some cottage charm to your home, here's some ideas to get started.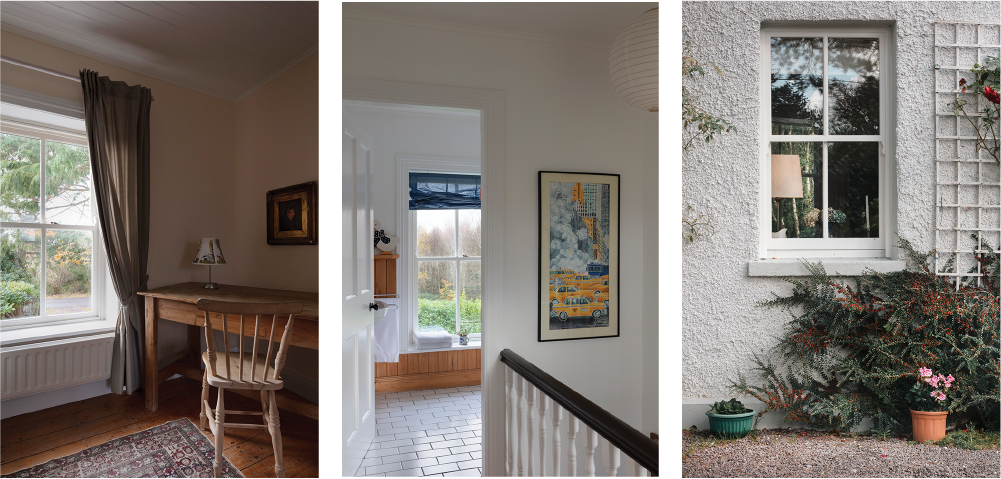 Go for antique furniture: As well as being sustainable, older, salvaged and reclaimed items will always look better in period properties.
Don't be afraid of white walls: A mostly-white space always looks chic and can be rejuvenated with simple pops of colour by using blinds and artwork.
Preserve original features: It can be tempting to rip everything out but retaining fireplaces and sash windows are key to this renovation.
For even more top tips, make sure you read Moya Farrell's ideas on renovating a cottage. The interior designer has eight excellent pieces of advice to share.
Share This Article