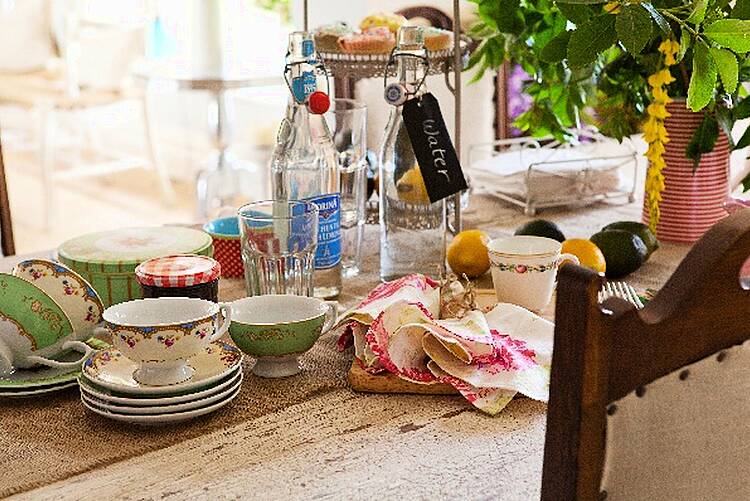 If you haven't picked up the latest issue of House and Home magazine yet, here's a sneak peek at one of our Real Homes features for you to feast your eyes on! Interior designer and blogger Amber Clery designed and built this beautiful French country style home in County Carlow alongwith her partner Mick and moved in just over a year ago. The house is styled with an eclectic mix of vintage finds, rustic antique pine pieces and unique salvaged treasures.
Two arches either side of an antique pine dresser leads to the dining area off the kitchen and creates an open-plan feel as the couple didn't want a separate dining room. Salvaged brick from Manor Stone was added to create texture and warmth and to define the space. Amber designed the central island and it was made by Mark Renshaw, an excellent local craftsman that Amber has used on many projects.
Amber's kitchen is filled with vintage-inspired china and accessories from Avoca, Cath Kidston and Greengate and mixed in with mismatched fleamarket finds. The water label was made by painting a luggage tag card with blackboard paint left over from painting an entire wall in her kitchen and simply writing on it with chalk. We love this! Amber also uses these pretty but practical labels in her linen closet to keep bedlinen organised.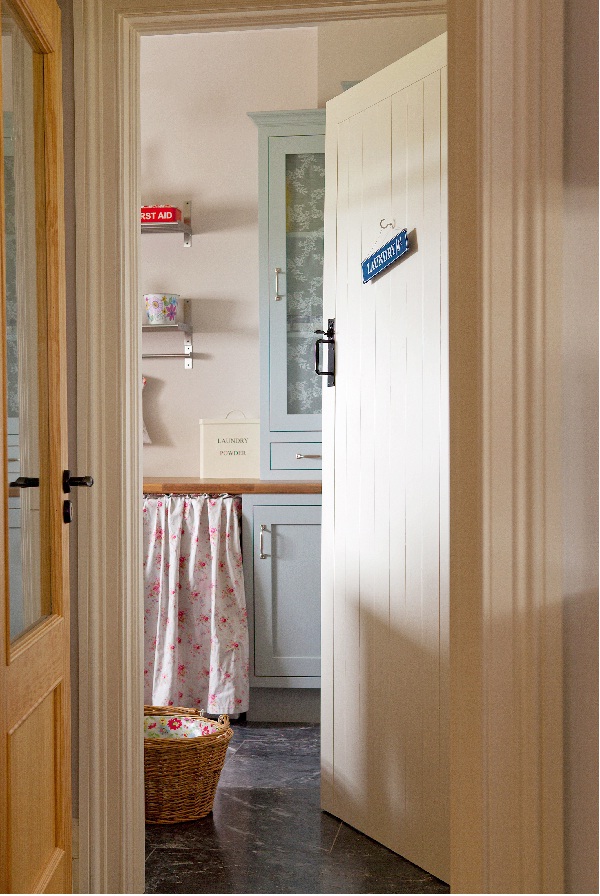 Amber chose a plank door with traditional latch in the utility for a rustic country look. A friend made the curtains out of Cath Kidston fabric and Amber stapled them to the underside of the wooden top to hide the washing machine and dryer. Left-over lace was tacked to the inside of the glass doors for a pretty vintage feel. Retro accessories add such charm and character to this room.
A balcony above looks down onto this cosy nook in the hall. The comfy linen day bed was bought at Thorny Hall Interiors and the throw came from Ralph Lauren Home. The limestone slabs were bought at The Stone Warehouse in Kilcullen after Amber saw them used on the wall in a friend's house and fell in love with them!
Amber spotted the carved stone panel at Morgan's Garden Centre in Carlow and it found a home above the bed in the Master bedroom.
The mahogany four poster bed was an eBay find and Amber added lace panels from IKEA for a delicate vintage feel.
A low hanging glass pendant provides light for night-time reading in this bright and airy guest bedroom. The shabby white-painted table was found in Mick's family home and the bedlinen is from Ralph Lauren Home where Amber worked.
An antique trunk and Amber's grandfather's old suitcase have been painted white and placed one on top of the other and now serve as a quirky bedside table. The antique wardrobe was found on DoneDeal, painted white and given sparkly new glass knobs. Pretty cool, huh?
For more beautiful images of Amber's home, you can pick up the July/August issue of House and Home magazine! You can also check out Amber's interiors and lifestyle blog where she offers advice, tips and lots of inspiration, but we will warn you that you may get hooked!