Bright white walls are the canvas for Jacqueline Mercer's whimsical collections and impressive knack for curation in her London end-of-terrace home
Photography Alys Tomlinson | Words Kirstie McDermott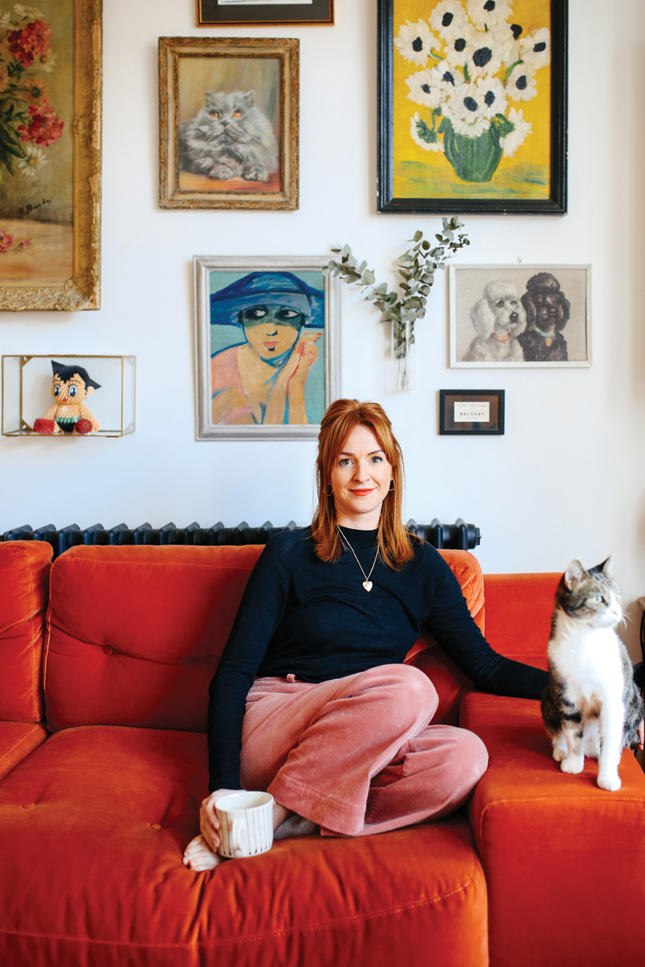 When we viewed the house, other people were coming out of it and the look on their faces was screaming, 'run'," laughs Jacqueline Mercer, as she recalls seeing her home for the first time.
"It was bordering on hoarderish," she says. The previous owners had collections everywhere – including birds and tarantulas. "It had no heating, the windows were rotted or boarded up, and there were tanks everywhere – including in the chimney breasts."
Other, less faint of heart folks would have run a mile, but to Jacqueline, because the house was in such a bad state, it represented an opportunity. "I knew it had to be taken back to basics," she says. A late Victorian, early Edwardian end-of-terrace, it has three bedrooms and is located in the London suburb of Tottenham.
Originally from Maguiresbridge, near Eniskillen in Co Fermanagh, Jacqueline has lived in London since 2005 and with a career as a shoe designer, it's clear she has translated her skills to her home. "The more you do design, the better you get at developing ideas," she explains. "You look at everything. I look at colours – for example pink started in started in clothing, and now it's in décor."
Along with husband Joe (and Tiny the cat), Jacqueline turned that creative eye towards the extensive renovation needed on the house. The blank canvas that was so appealing initially meant that everything needed to be done: new windows, heating, kitchen, bathroom, plastering and the roof were just some of the tasks undertaken to get the house up to scratch.
All-in, they spent around €135,000 and carved the budget up carefully. "I always wanted my kitchen, it was my splurge," Jacqueline says. Crittall-alike windows – "that was a cost!" – were used on the back wall and a wooden kitchen installed. Joe wanted concrete floors here, but the couple settled on worktops in the material instead. "That wasn't cheap," she says. The lighting in the kitchen was also an outlay, costing about €1,350 from Heal's.
They made some smart decisions elsewhere. "I was always going to do shelving above the kitchen units as it's a massive saving to not have cupboards," Jacqueline reveals. She's a dedicated fan of a market and the couple got their kitchen table for around €250 at one. "The chest of drawers in the bedroom was from eBay for around €75 and the sink in the bathroom was about €100 – if you put the right things together it doesn't have to feel cheap," she says.
And Jacqueline absolutely has a knack for putting the right things together. "People often say that about me," she laughs. Her ability to create vignettes is the hallmark of her décor style, which she describes as, "quite eclectic, I like it to be cosy and fun at the same time."
Humour abounds in this home, from the whimsical paintings Jacqueline collects on her gallery wall – "I'm really into oil paintings. I love animal and people portraits. I find them in Portobello market and I they always seem to be a bit fun. The poodle is one of my favourites" – to the little birds peeking off the tops of lamps and her eye-catching collections of china and wooden dolls.
Jacqueline brings home china pigs from business trips to Taiwan, and her love of home is represented in her art collection too. Look closely on the gallery wall and there's a little 'Belfast' there, while in the hall, a print of a Lough Erne railway painting takes pride of place plus there are special pieces of Belleek pottery from family dotted about too.
So what's next on Jacqueline's decorating agenda? "I'd love some wardrobes but as I'm pregnant at the moment, we're going do the baby's room next. Everything I've looked at has been very silly," she laughs. "I hope the baby shares my taste!"
Keep up with Jacqueline's home journey on her Instagram, @tinyandthehouse, and see more from her house tour below!