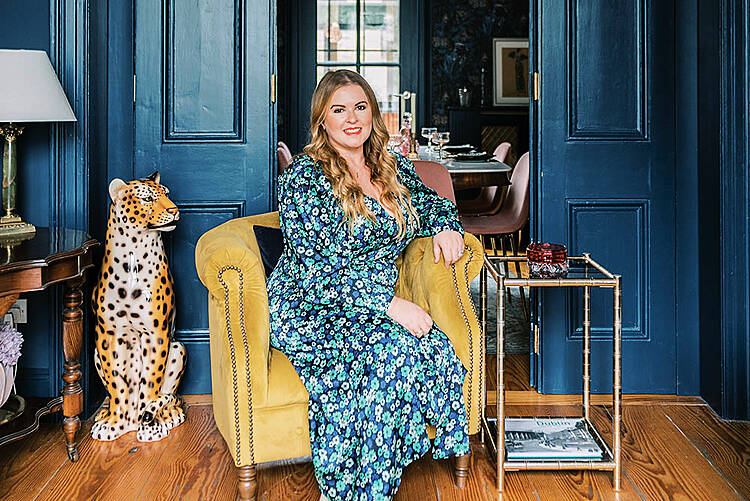 A bold layering of antiques, textiles, colour and pattern make Kathleen and David's home a maximalist's dream
Words: Ciara Elliott | Photography: Claire Brown
From the moment you step into Kathleen and David Lonergan's richly decorated home in West Dublin it feels like you have entered an exotic wonderland of print, pattern and confident good taste. Nature, botanical and animal inspired ornamentation is everywhere, from the vintage wall art in the hallway to the parrot wallpaper in the downstairs cloakroom. Items twinkle and shine in Chinoiserie-style cabinets and on glossy surfaces and the table is set for a glamorous post-theatre style supper.
"For me, taking a maximalist approach to decorating is a bit like Marie Kondo's decluttering approach only the opposite," laughs Kathleen. "My motto is more, more, more."
Kathleen and David moved into this 1890s doer-upper three years ago, having upgraded from a smaller house in Kilmainham, just a few miles away in Dublin. "We have always loved this neighbourhood. The proximity to the river and the Phoenix Park in particular is what initially drew us in so when we went looking for another house we knew we wanted to stay in this vicinity," says Kathleen. "The online pictures looked like it needed some work to make it our own, so initially it took a lot of convincing my husband to view it. However once he saw where it was and the potential it had he was won over."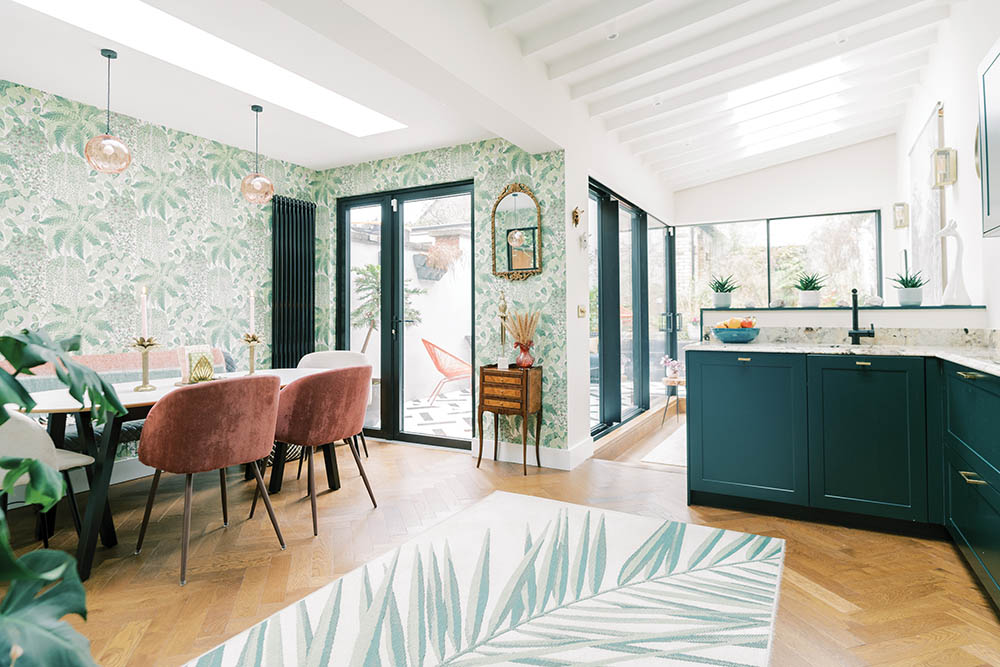 While the couple knew it would take a lot of work to make it their own, they had lots of ideas and started the planning straight away, with building works commencing six months after they moved in.
With the help of architect Antóin Doyle from Works Architecture & Design, plans were drawn up for an extensive renovation at the back of the house to transform the downstairs space. Kathleen says her and David talked a lot about what was most important to them, and one of the most salient features was a strong connection to the garden.
"We lived here during the building works which we thought would be easy, but it wasn't," says Kathleen. "We set up a 'kitchen' in our hallway which consisted of a microwave, a fridge and a bucket for a sink which affectionately became known as the 'slop' bucket. We also had to store our bikes in the hallway. The real fun though was when we had all our wooden windows removed to have them restored and double glazed. We were left in the dark with boarded up windows in freezing mid February for quite a few weeks. It was all quite challenging but we got through it in the end."
The renovation work was finished by the end of 2019 and then the real interiors fun could begin for Kathleen. "I think some people look at maximalist homes and perhaps see clutter, but really the look doesn't just happen," she says. "My style is very carefully thought out and curated over time. I'm always on the look out for things I love such as cranberry glass and unique brass objects like my swan bookends or peacock fireguard, and with those pieces I can then build up a look around them."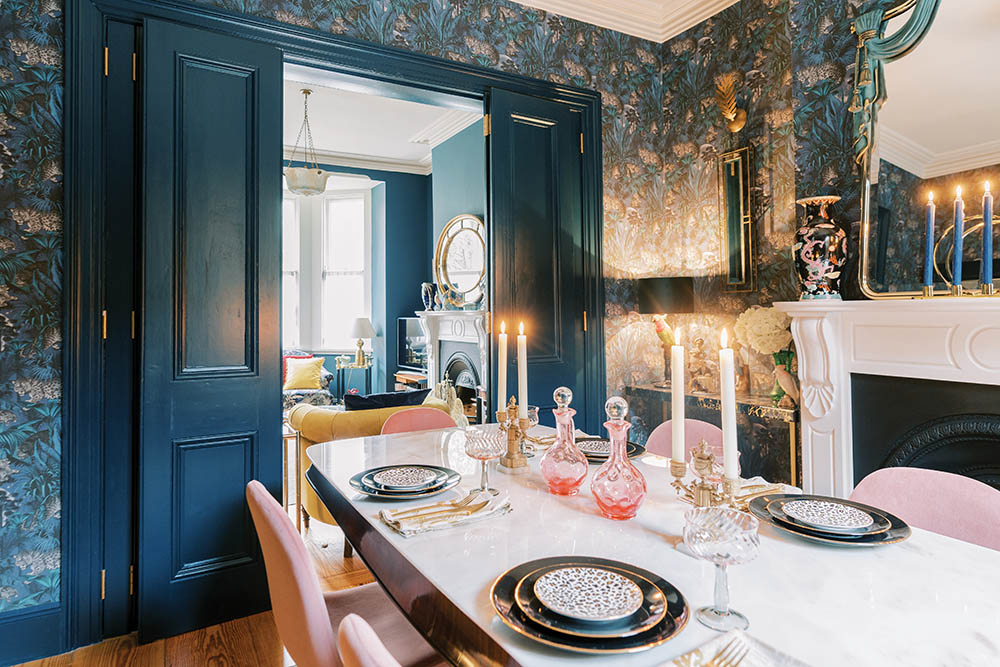 Kathleen says her and David used magazines, Pinterest and Instagram for visual inspiration and wall paint colours and also found lots of ideas from looking around antique and vintage shops as well as scouring flea markets and salvage yards. "For me, the key to a maximalist space is about layering textures to create something beautiful to look at, using pieces you really adore."
Kathleen admits that she knew she was a maximalist the day she handed the decorator her navy jaguar wallpaper from Divine Savages for the dining room. "He stood staring at it and asked my husband, not me, were we serious," says Kathleen. "He was even more shocked when I told him it wasn't just for one feature wall but the whole room."
Now that the downstairs rooms are 'done' is there anything that they would have done differently? What's next? "If we were to do it again we would probably renovate the whole house all at the same time," says Kathleen. "We weren't sure of what we wanted for upstairs at the time though so we did the easier thing and arranged the faster works downstairs first."
The good news for Kathleen is that they are currently finalising plans with their architect for the second floor and attic space renovations. "We both need office spaces as we work from home and we are also hoping to create two large self-contained bedroom suites, one for our use and one for visitors."
Living room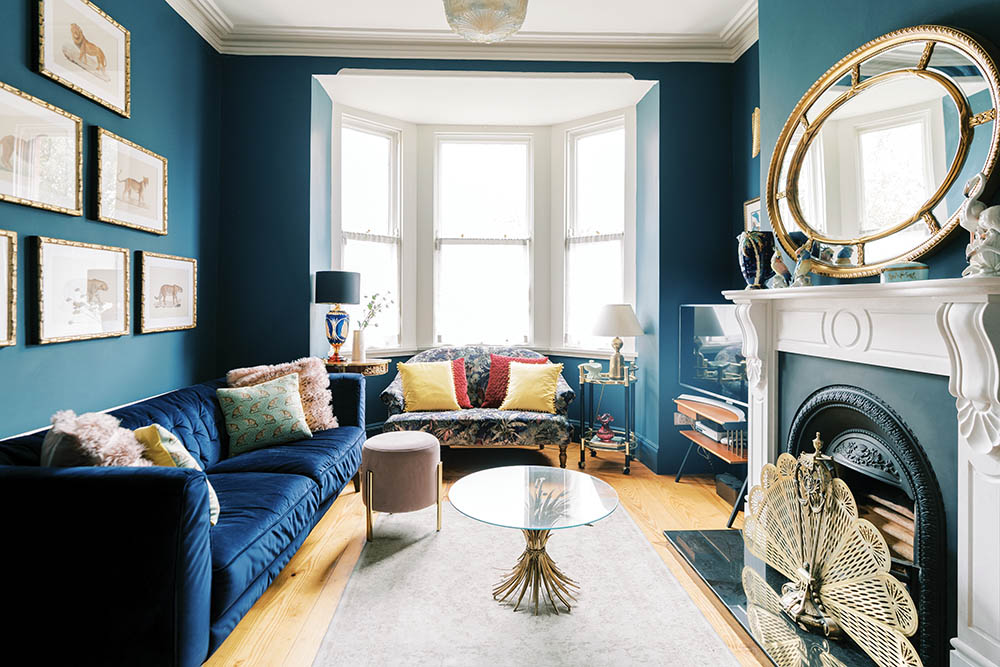 With its sumptuous dark walls, mismatched sofas and manifolds of colourful and quirky art, cushions and accessories the living room manages to feel cosy and spacious at the same time. The walls are 'Hague Blue' from Farrow & Ball.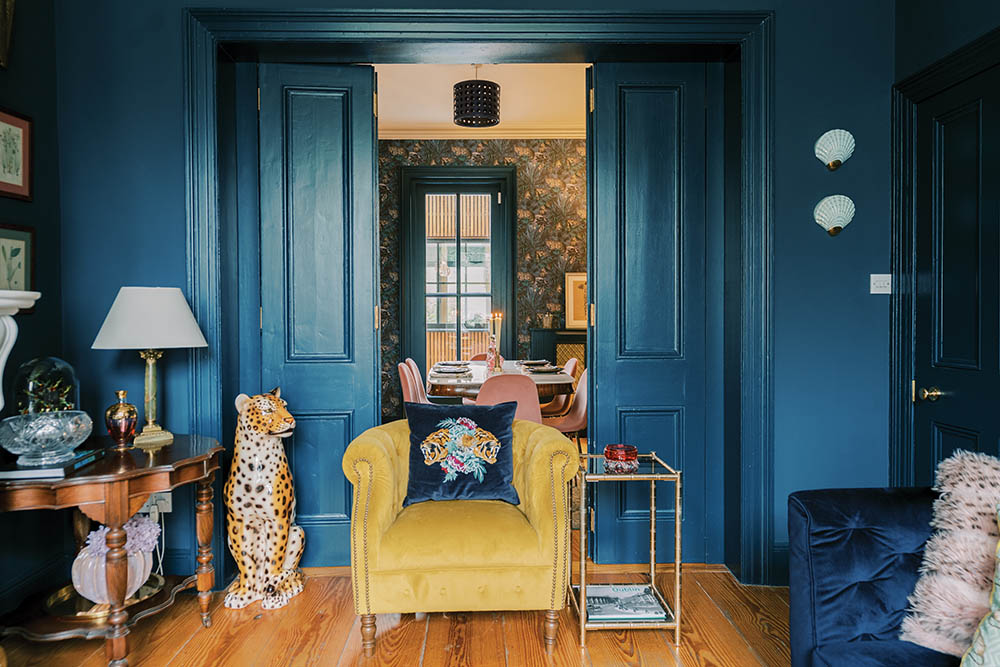 Dining room
Deeply patterned walls, a marble dining table and lavishly decorated surfaces lend a rich Chinoiserie feel to the dining room. The table is 1950s, from Pamono, with wallpaper from Divine Savages. The mantelpiece and mirror were sourced at Fado Antiques.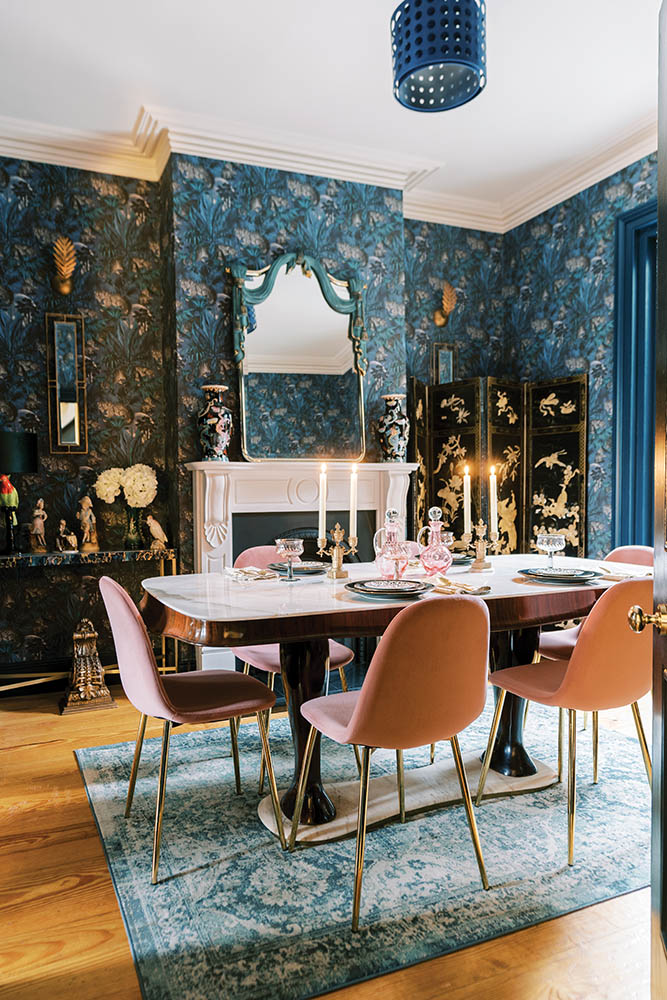 Kitchen
From the start it was a priority for us to redesign the ground floor to have a strong connection to the garden," says Kathleen. "We wanted to open up this area as much as possible in order to bring in as much light as we could." The lush dark kitchen cabinetry, which is in keeping with the indoor-outdoor feel of the space, was made by Chris Keating at House of Design in Cork. Patagonia granite backsplash worktops were sourced at Tile Merchant, while the brass handles are from Dowsing & Reynolds.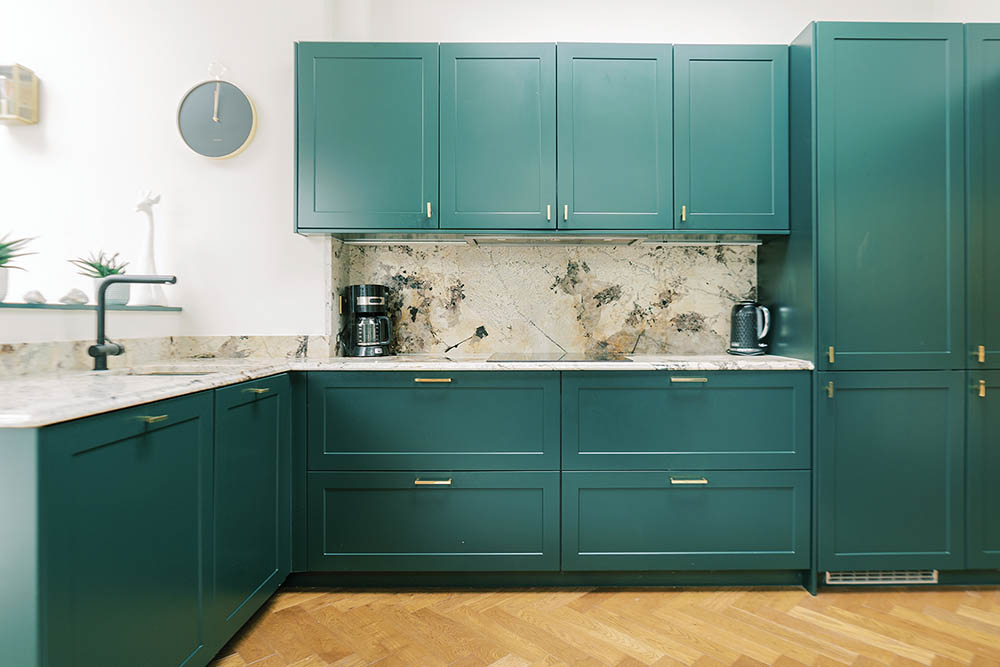 The table in the colourful dining nook is from Ikea with chairs from Søstrene Grene and lighting  from Made. A rug, which is from Arnotts, zones the space between kitchen and dining area and reflects the botanical wallpaper, which is from Cole & Son. Ceilings and walls are painted in 'Schoolhouse White' by Farrow & Ball.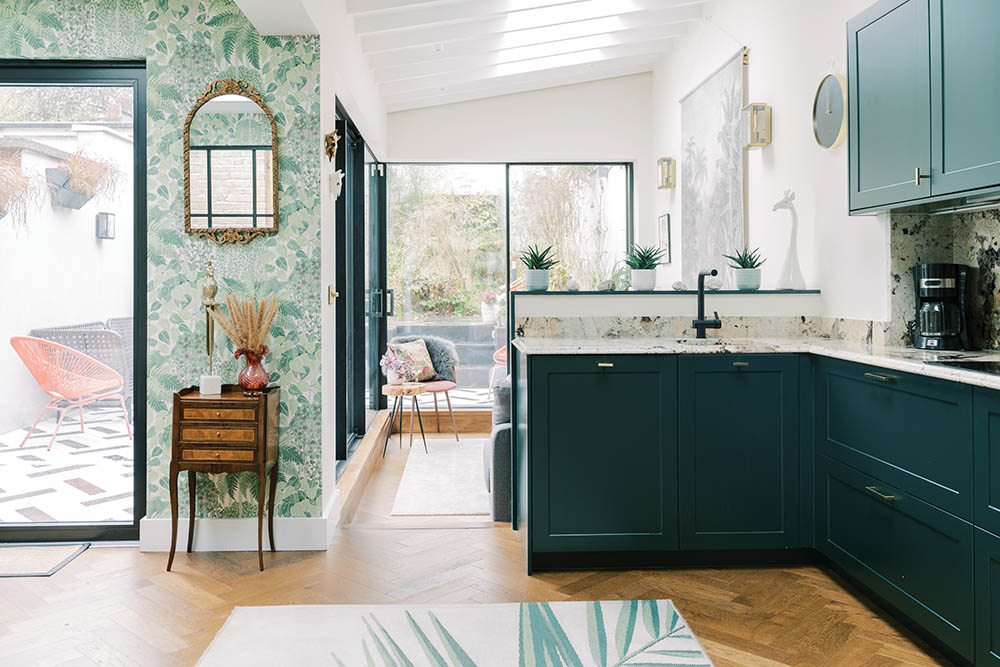 Kitchen extension
As this was a side return house extension on a period house the option to keep the original kitchen window was there when the couple were planning building work. "My advice to anyone doing a renovation is to try to keep as many original features as you can," says Kathleen. "They're pieces of history and add such beauty and original character. Also, what really helped us was having a very clear idea about what we wanted before meeting with tradespeople."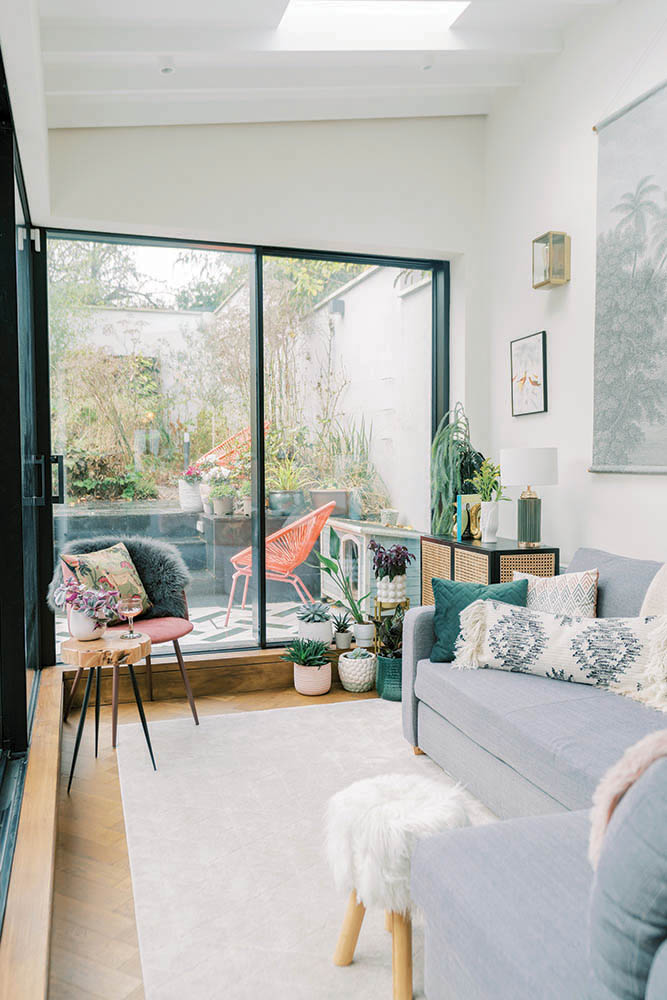 Den area
There is no TV in the seated area just off the kitchen so this is where the couple go to relax and read or have a morning coffee. A view to the garden and an eye-catching wall hanging (from Luxeology Home) sets the serene scene. A comfortable corner sofa (from Marks & Spencer) with botanical cushions (from Homesense and Dunnes Stores) as well as a rug from Arnotts add texture and cosy, while lush plants keep the space feeling fresh.
Hallway and landing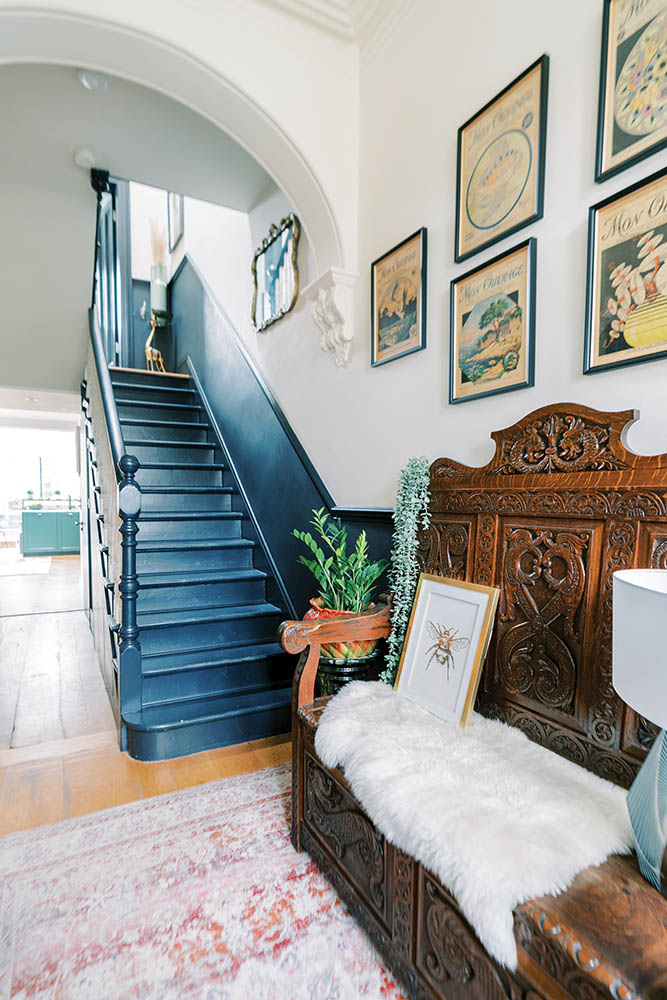 The through spaces set the tone for the rest of the house, with striking artwork, glossy black stairs and painted exposed brick walls. The stairs and banisters are painted in Railings, while the walls are in Schoolhouse White, both from Farrow & Ball.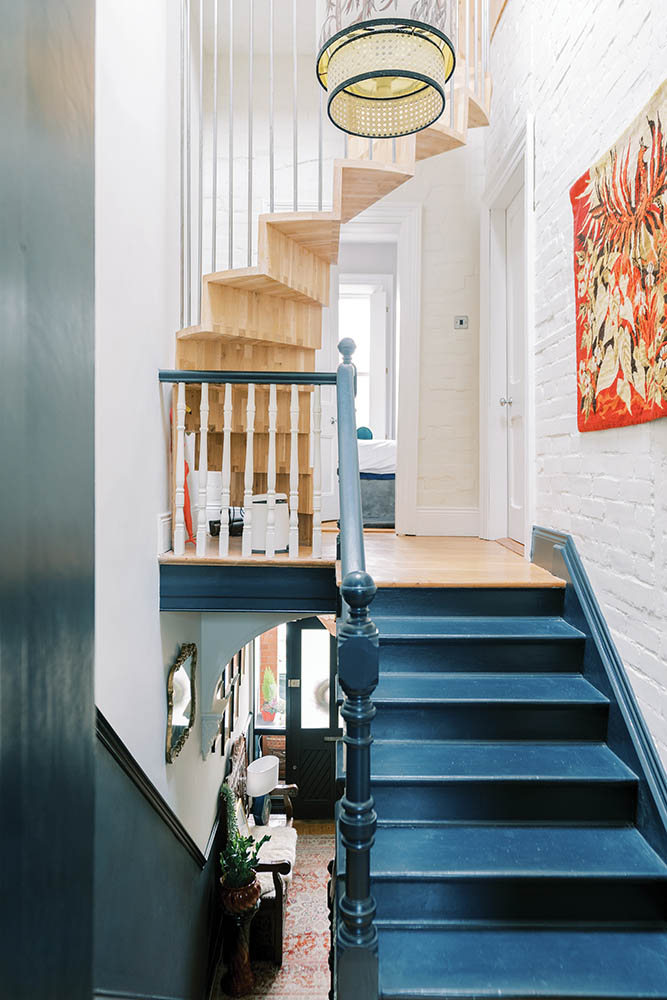 Bedroom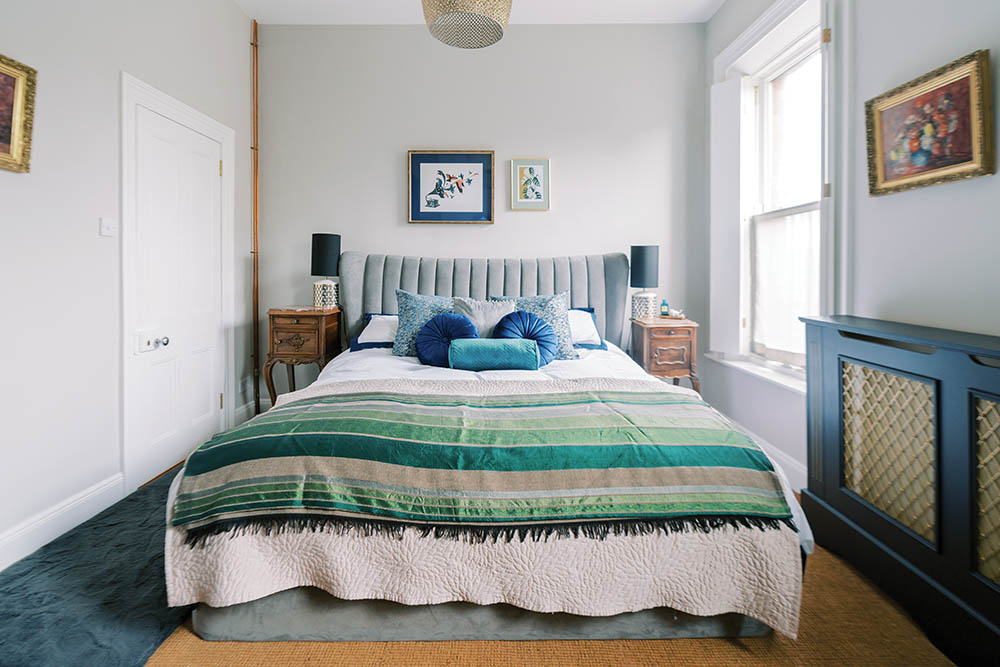 A restful space has been created in the bedroom using a pared down palette of grey, blues and greens. The bed and bed head are both from Arnotts with linen from Bedeck. Walls are painted in Cornforth White, Farrow & Ball.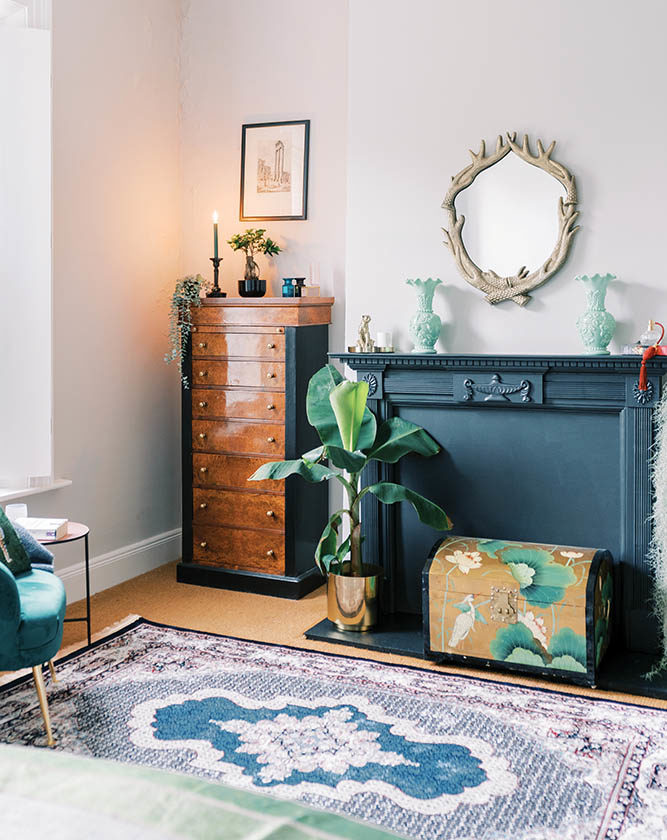 "We have decorated each room over time using both  vintage and new," says Kathleen. "We love looking around antique and vintage shops and some of my favourite buys have come from flea markets and salvage yards." This chest of drawers is from Irish furniture restylist Emporium K Designs.
Bathroom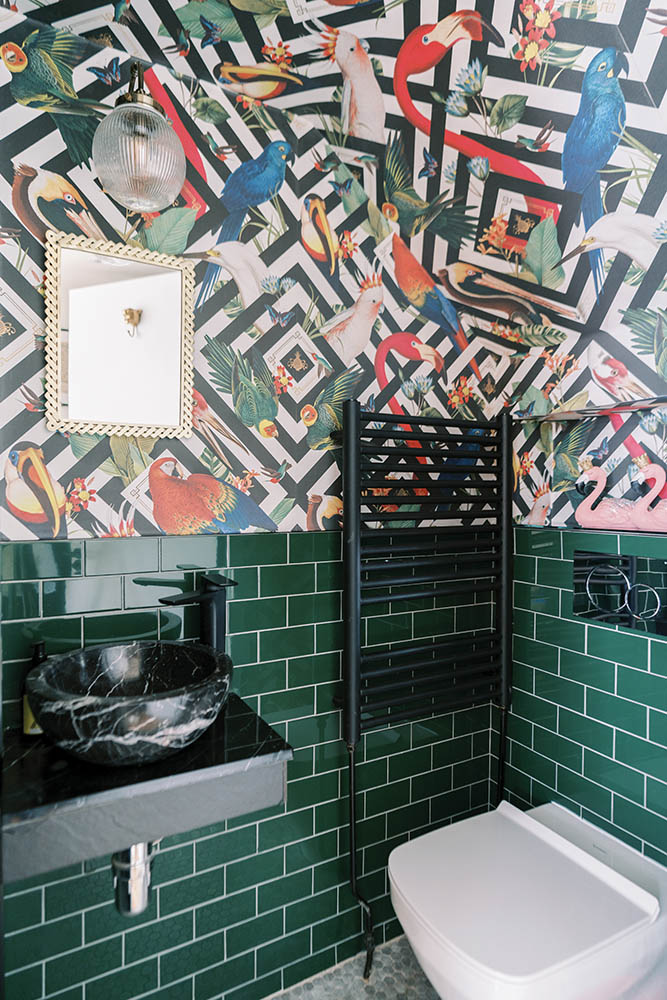 From the tropical wallpaper (from Divine Savages) to the glossy tiles and marble sink (from Rocca Tiles) this washroom is a master class in maximalist interiors.
Garden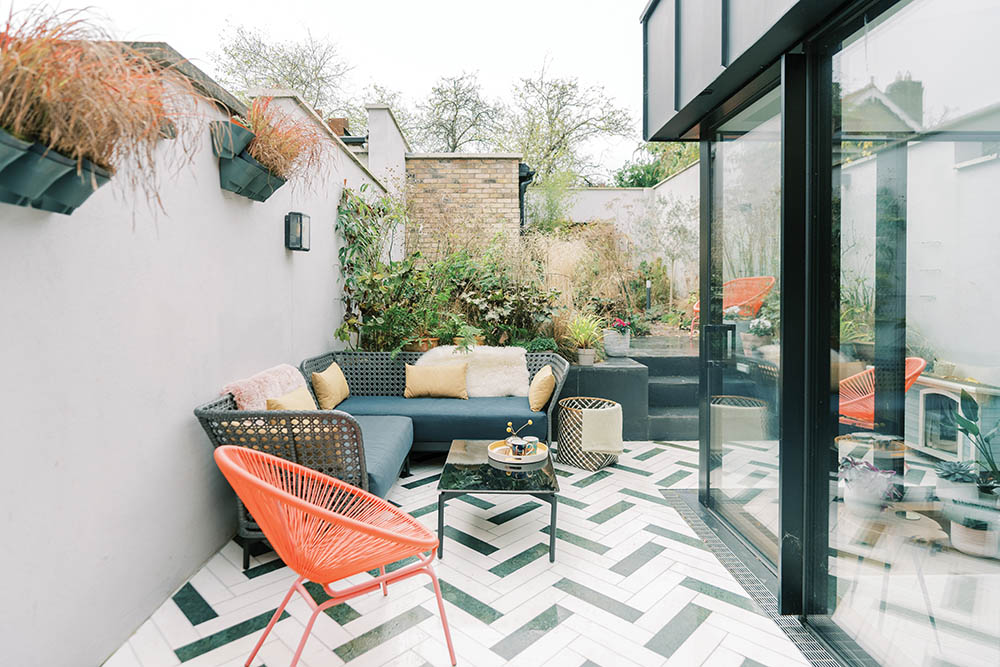 The outdoors terrace area is broken up into two sections with a lounge area on one level and planting above. The year-round corner sofa is from Made with all-weather chair, Marks & Spencer.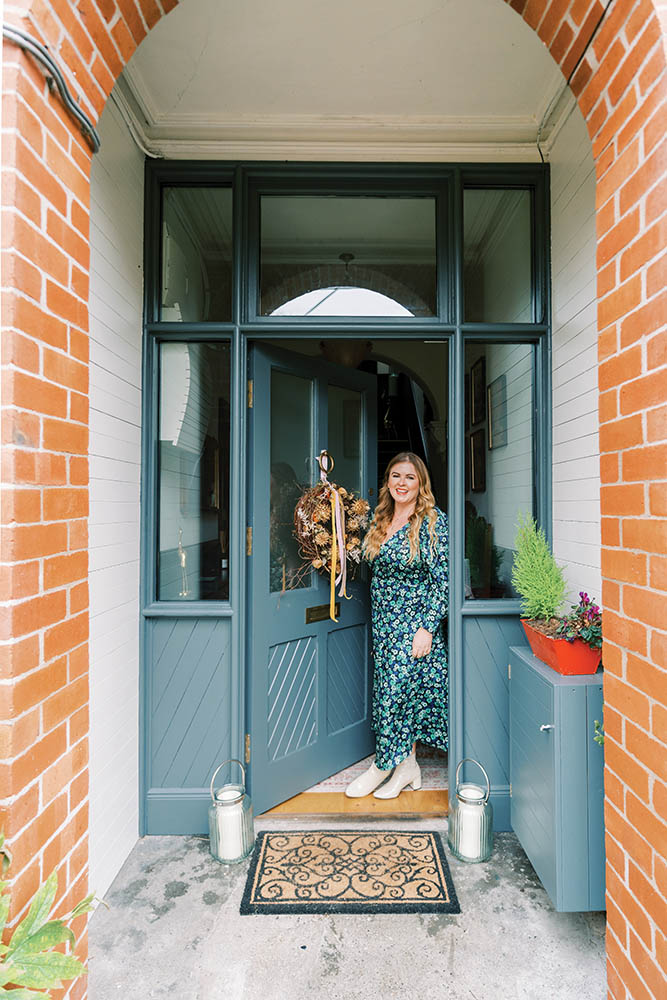 You can follow Kathleen's ongoing refurbishments on Instagram at @houseofklaximalism
Feeling inspired but looking for even more ideas? Make sure you check out our other real homes.
Share This Article