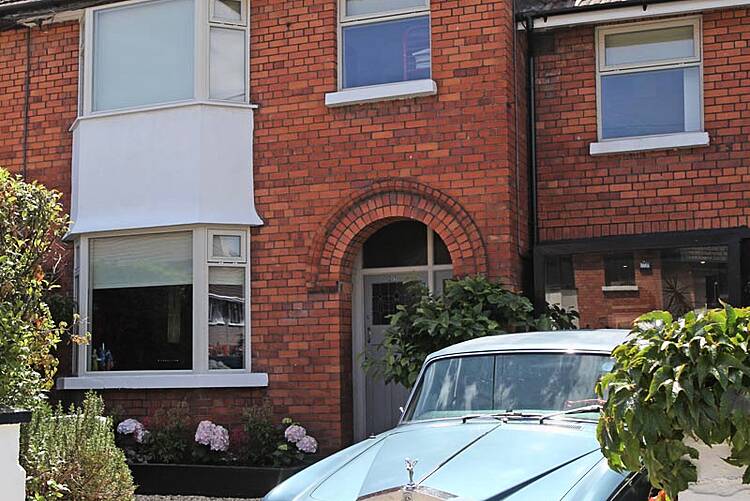 East is East
Darran and Lorraine Robinson have brought a touch of Eastern paradise to their redbrick Dublin terrace, filling it with extraordinary things from all over the world.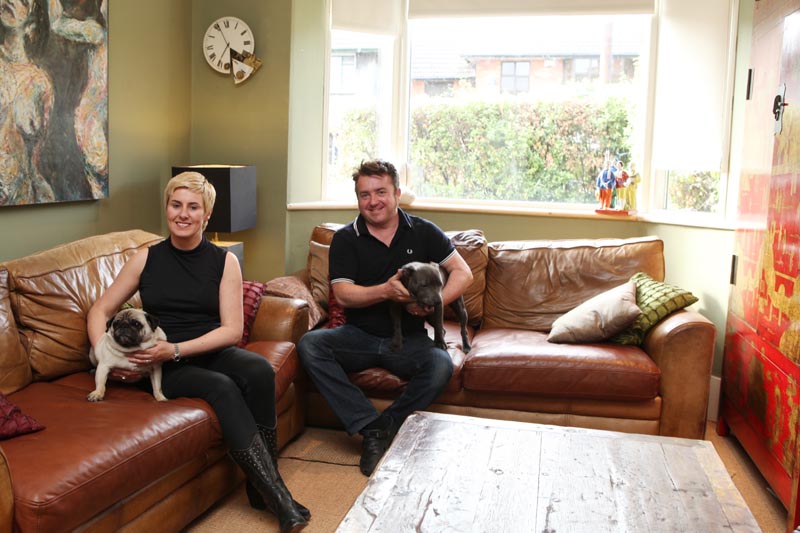 FACT FILE
Owners: Artist Darran Robinson and his wife Lorraine, who also own Décor, a design shop on Dublin's Wexford Street
Property: A three-bedroom, 1940s redbrick terrace
Location: Dublin
Lived here since: 2005
What they did: Opened up two reception rooms to create one large space; extended the kitchen; installed a 20ft teak rear extension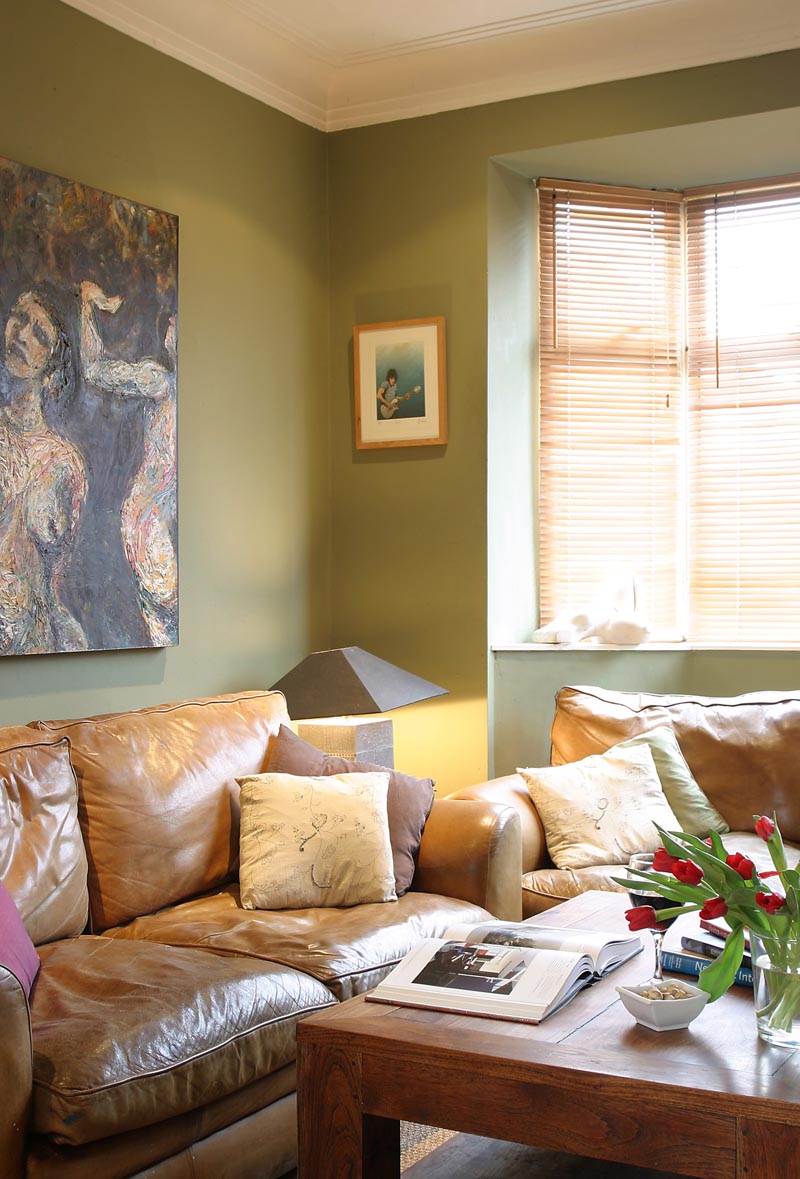 Since time immemorial, West has looked East with curiosity and a fascination for all things oriental. Darran Robinson, the artist and sculptor, knows the beauty of eastern influences better than most: as owner of Décor on Dublin's Wexford street, he and his wife Lorraine are experts in good quality reclaimed and antique furniture from China, Malaysia, Hong Kong, Singapore, Tibet, Mongolia, Indonesia and Europe.
The couple has a home in Indonesia, where they spend part of the year running their furniture business. But their home in Dublin – a comfortable 1940s redbrick they purchased seven years ago – is a surprisingly fitting backdrop for the couple's passions for ethnic furniture and art. This free-roaming duo had little trouble making their worldly treasures fit their three-bed space – once a little groundwork had been laid.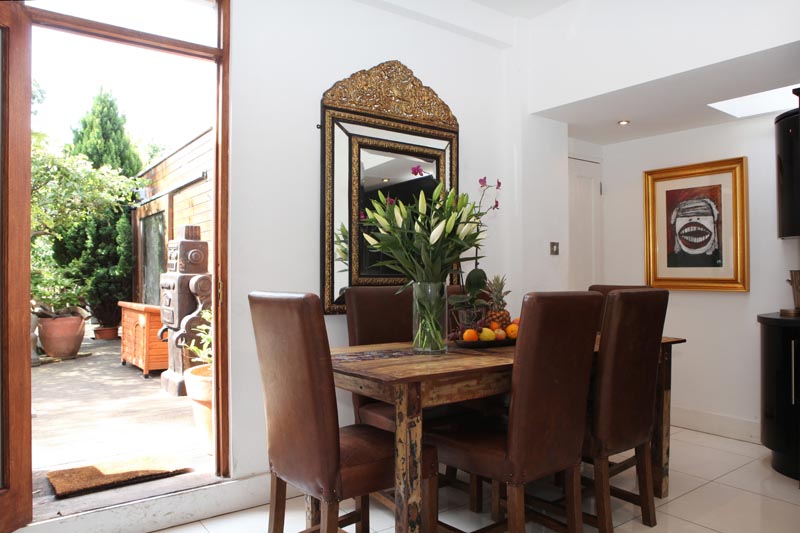 "One of the first things we did on moving in was to open up the two reception rooms downstairs, which allowed light from the back of the house to illuminate the front, via the glass double doors to the garden," says Darran. The kitchen area was extended and a second door added to provide access to the back garden. Since a front kitchen extension wasn't allowed due to planning restrictions, Darran added a 1m-long suspended glass box that adds extra space and allows light to flood into what would otherwise have remained a dark area.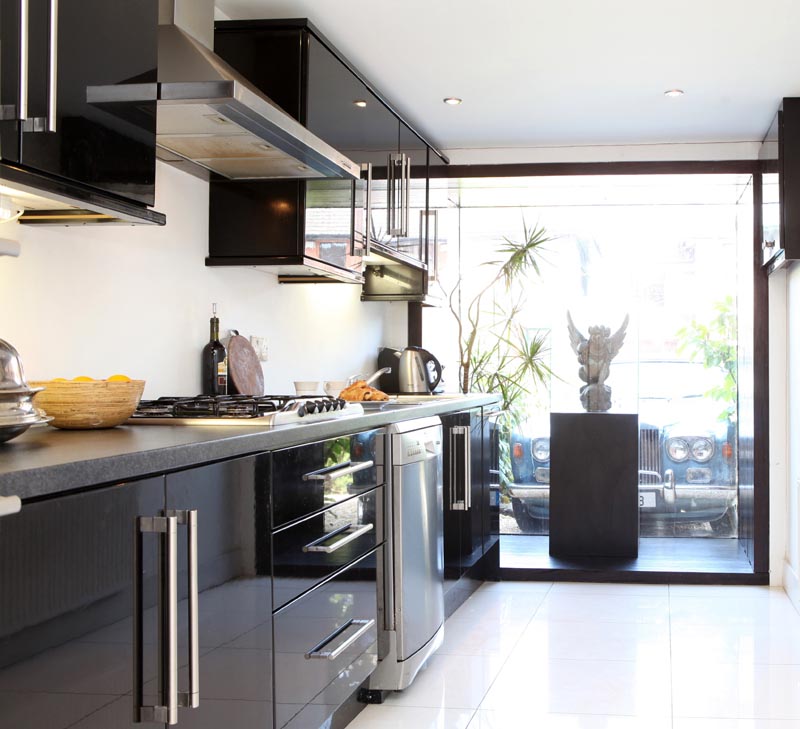 In the kitchen, the black units and granite worktop were installed, and provide a striking contrast to the white walls and porcelain tiles. In the glass extension, a 100-year-old dragon from a Balinese King's Palace guards the front of the house. To the rear, the old wooden salvaged dining table clashes comfortably with the rest of the space, which is modern in design. Near the garden door is a leather chair sourced from Poland.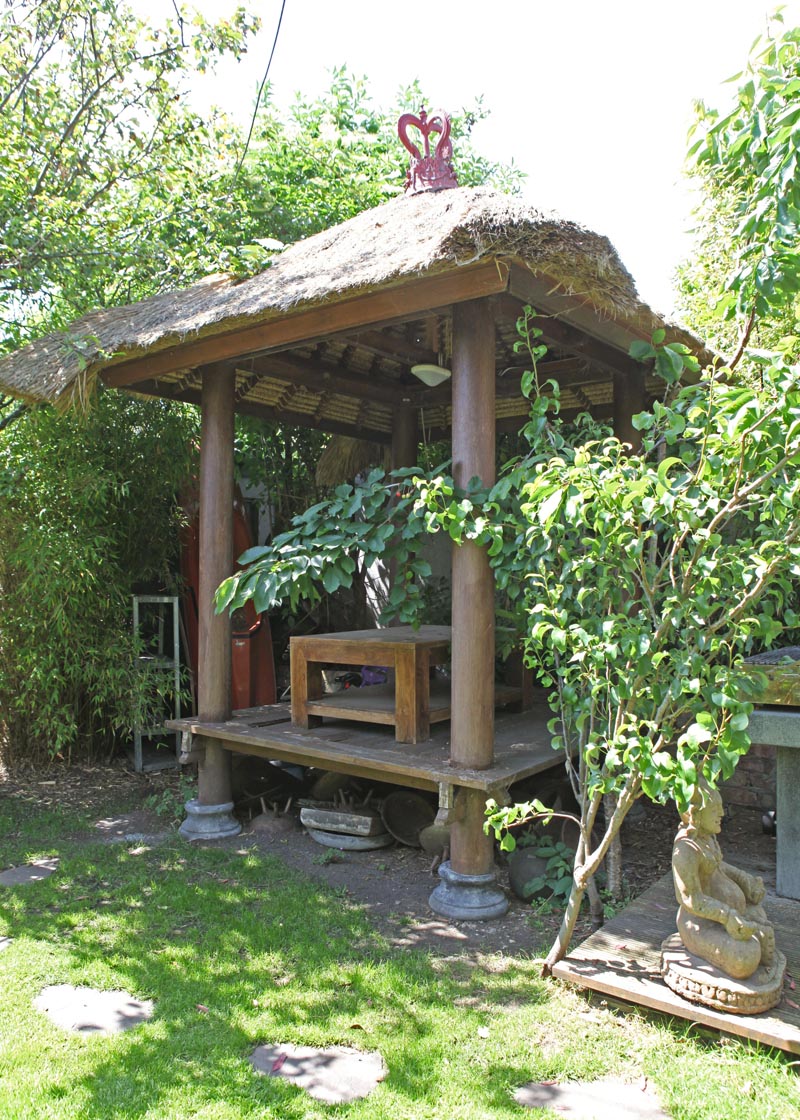 At the rear, a 20ft teak extension was added to house one of the couple's luxuries: a spa bath. The garden itself is a haven of treasures and eclectic item, and home to some of Darran's sculpture pieces, alongside a Balinese daybed. The terrazzo table and chairs – a mixture of marble, concrete and pebbles – were designed by Darren, with salvaged wood decking beneath. It serves as the family dining area and a play area in the summer. At the end of the garden is Darran's studio complete with his favourite 'toys' – a pool table, an easel and many canvases.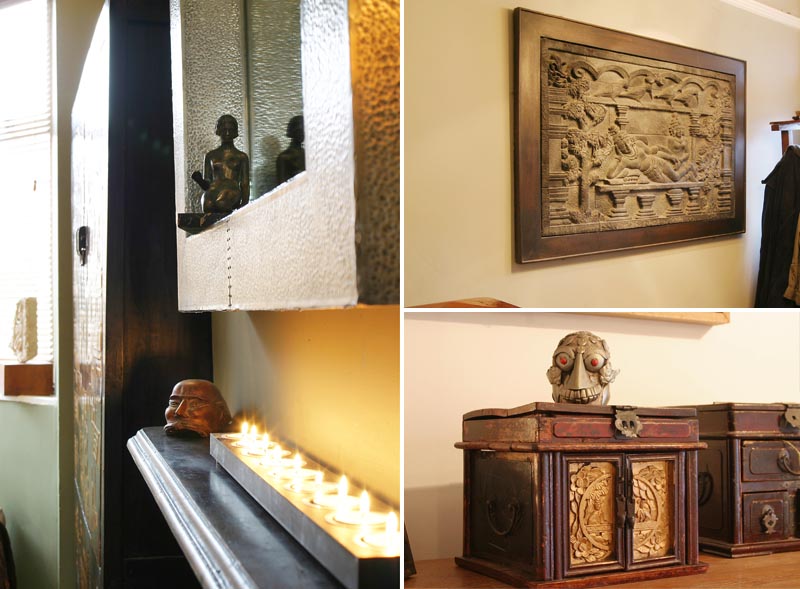 Most of the furniture in the house is made from reclaimed wood. "Old wood just looks better. It doesn't crack as easily and you are not chopping down new trees," says Darran. "The more wear and tear a piece gets, the better it looks. So I only buy things that I like and that will wear well. Houses should be lived-in and nicks and marks on furniture add character and tell a story of all the events and characters that have passed through."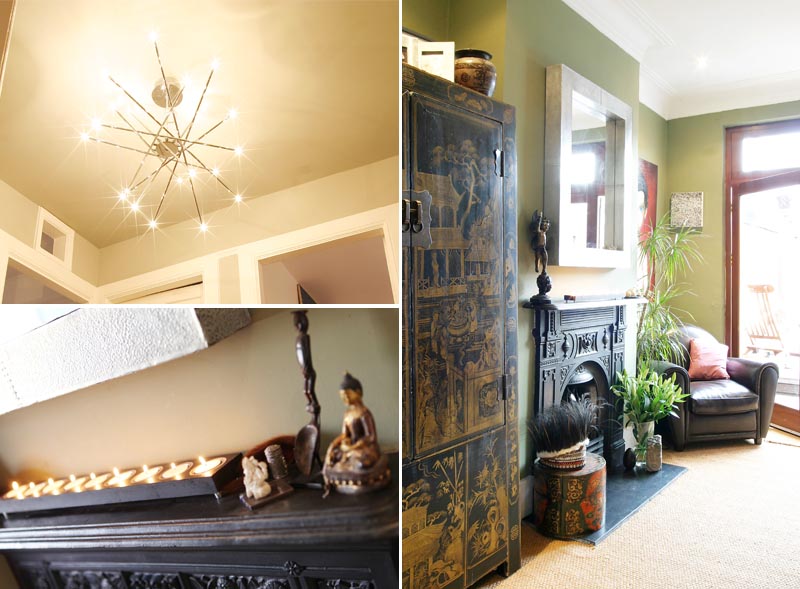 The light fitting, top left, is from the National Lighting Showroom in Dublin
The original fireplaces in the house were tiled 1950s models, which were removed and replaced with beautiful Victorian cast iron fireplaces. In the lounge, the interconnecting reception rooms are painted in Farrow and Ball's Olive, lending the room a warm, classical feel. Old Chinese lacquered cabinets provide storage, but also tell a story, since they were commissioned by a wealthy individual who would have asked that their own personal tale or legend be etched onto the furniture.
The Indonesian reclaimed teak coffee table and eight-year-old Italian leather sofas are aging well, despite coping with the traffic of two active young boys, a pair of dogs and scores of parties over the years.
"I'm of the belief that it is difficult to live life fully in a house that is too minimalist. The most important things should be comfort and durability, as well good design and style," says Darran.
Living Room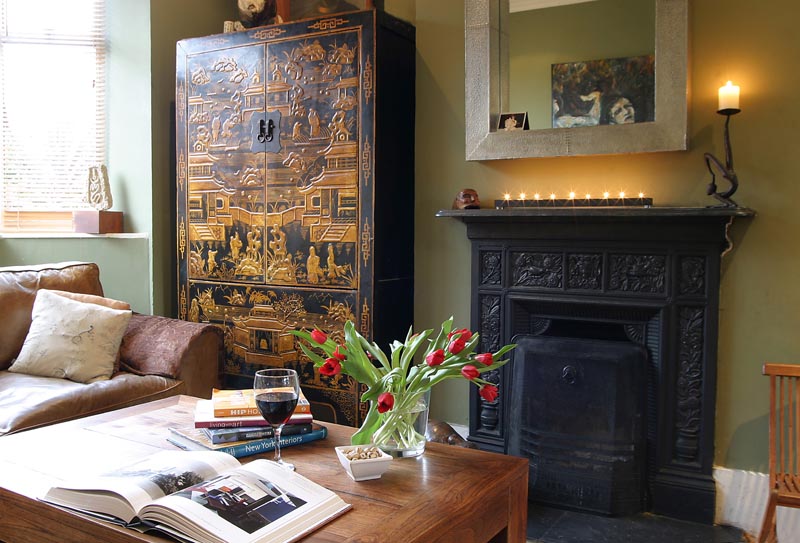 In the front room, a lamp from Australian designer Laurence Sanders sits on a small walnut Indonesian side table. Sanders also made the aluminum and teak mirrors. The egg-shaped figure by the fire was Darran's first stone purchase, a piece of architectural salvage from an old building in Sumatra. Above the cabinets are the now-famous paintings by cult Russian artist Vladimir Tretchikoff.
Hall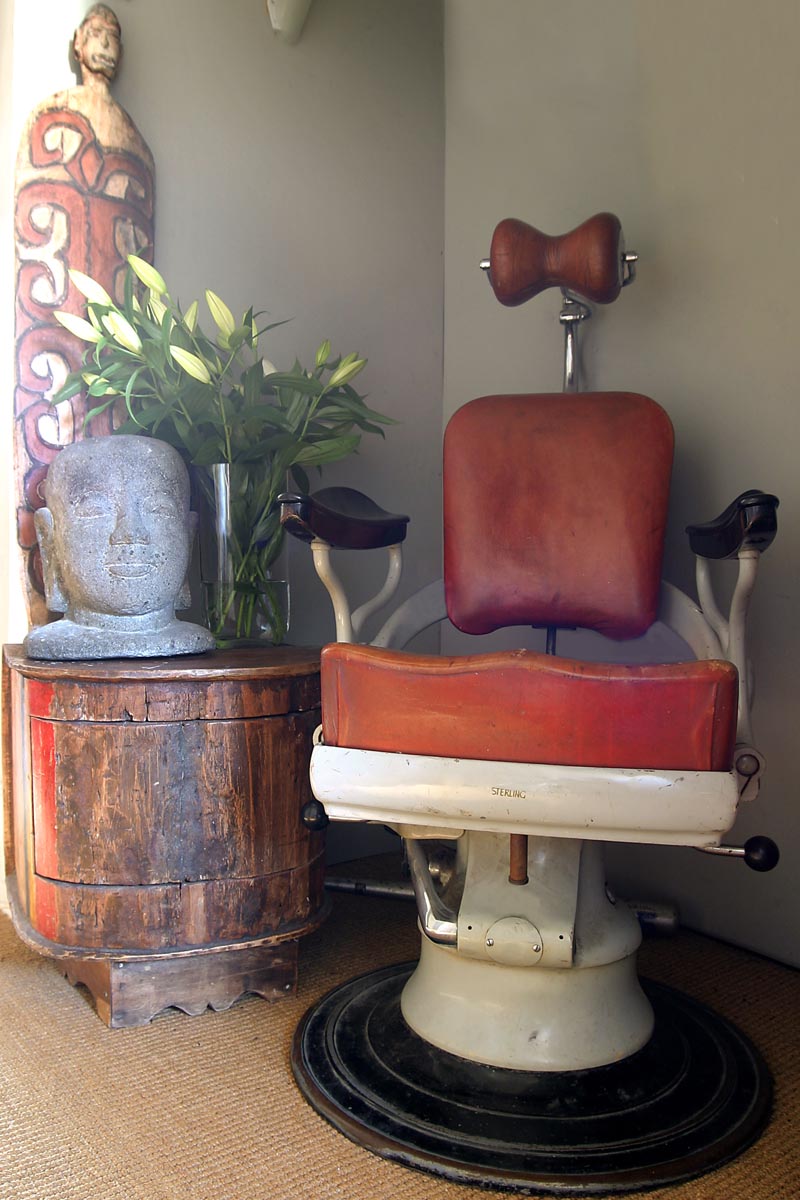 An American dentist's chair from the 1920s sits beside an old tribal shield and a Buddha head made of volcanic rock. The chair was bought in the old Blackberry Fair Market in Dublin 6. The plaque by the front door is a piece of framed volcanic stone depicting scenes from the Kama Sutra.
Bedroom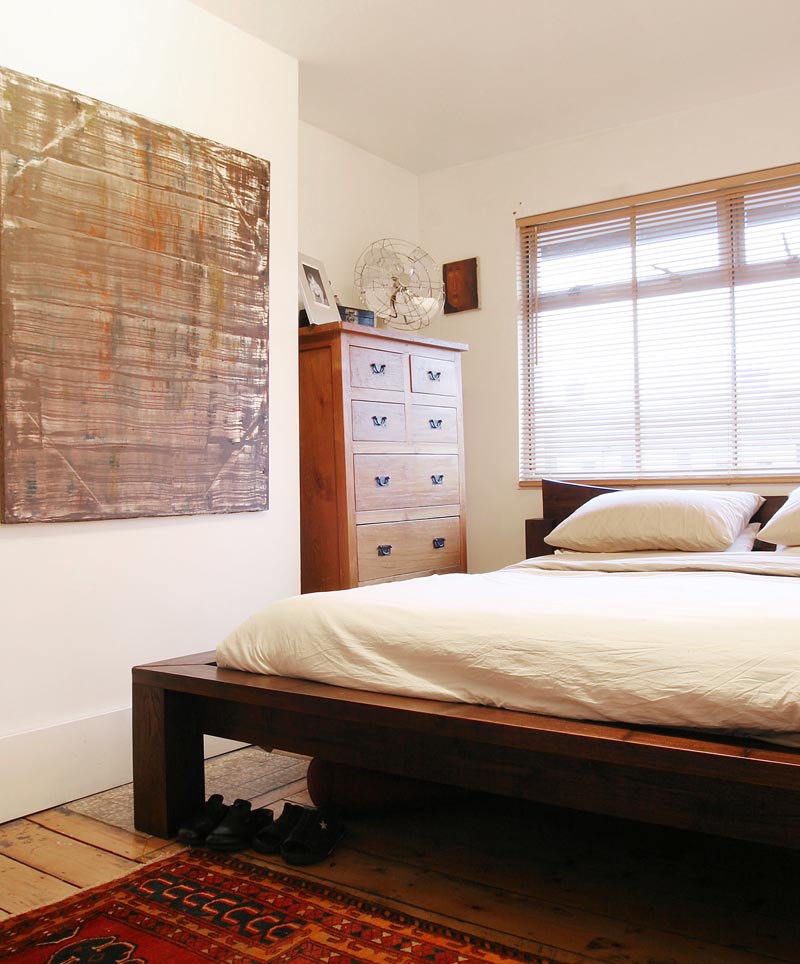 The generously-proportioned bed in the master bedroom was designed by Darran, and is made of solid teak with a ledge surround. A painting by Darran hangs in good company alongside a piece by Ron Wood (not shown).Throughout the house there are also works by Helen Gaynor, Graham Knuttel and Jonathan Knuttel.
Garden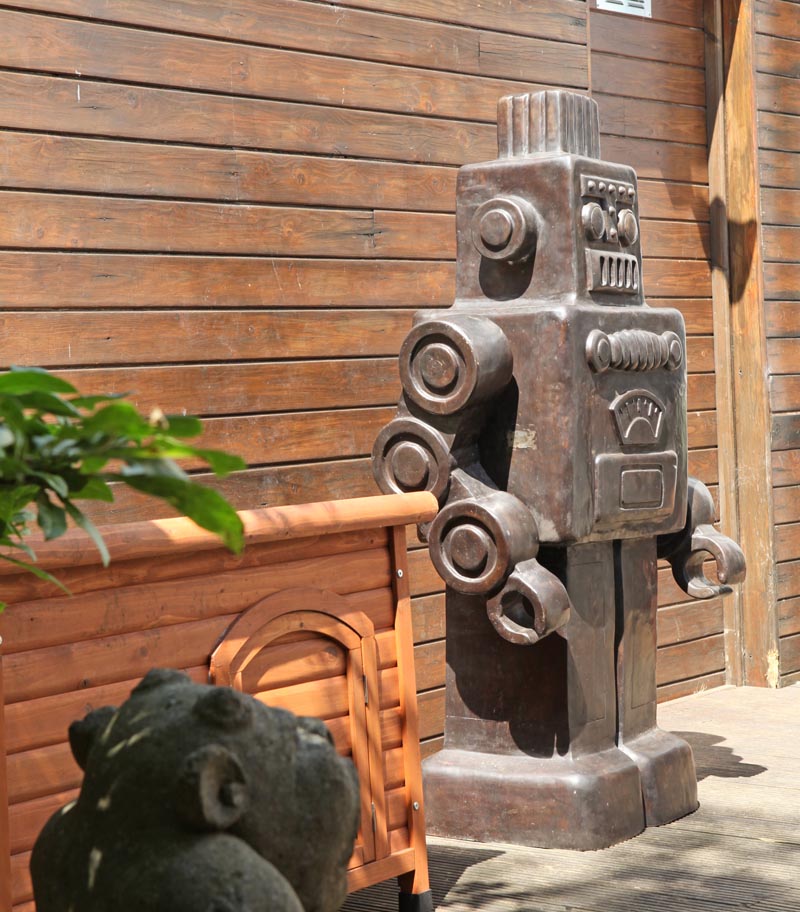 Running along one side of the garden is a teak extension, which houses the spa bath. Here, a beautiful Indonesian Mother of Pearl chest holds towels and bathrobes for lounging in after a dip. The robot and baby bronze sculptures are Darran's handiwork, made of bronze dipped in chocolate patina. The doors to Darren's studio were reclaimed from an old Balinese house and retain their original paint colour.
Address Book
WORDS AND PHOTOS: SASFI HOPE ROSS