Photography: Philip Lauterbach | Styling: Alannah Monks
Nothing gets us in the festive spirit like a dazzling Christmas tree with beautiful baubles, twinkling fairy lights and glittering garlands.
Like so many of us, interior architect (and interiors influencer), Ruth McGahey has a serious soft spot for the festive season. "My mum is a great woman for throwing everything at a celebration but I'd say Christmas is her speciality," she reveals. "Their house is like Santa's Grotto at Christmas! So, I think I've inherited her love of the season."
This year marks Ruth's fifth Christmas in her Meath home with husband Andrew, three children, Edith (6), Laurence (4) and Henry (3) – not forgetting two two donkeys, mother and daughter duo, Lucy and Rabbit.
Before they moved to Meath, Ruth and Andrew lived in a four bed Victorian terrace in Balham, South West London. The pair are no strangers to restoration projects but were unexpectedly bitten by the renovation bug once again when they bought their current home in 2015. "We'd renovated two previous properties in London and had said that we wouldn't touch this house! However, after living in it for a few months we just couldn't leave it alone," Ruth explains.
Built a mere 18 months previously, they were itching to alter some aspects. "We made some small structural changes internally, moving the living room door to create a double door, removing a patio door in the kitchen to allow for more counter space, redesigning an en suite and walk-in-wardrobe to create a family bathroom and converting the attic into a playroom which can adapt and change as the kids grow up," Ruth says. "We replaced the kitchen, bathrooms and all the joinery… basically we kept the fireplaces and one bath," she laughs.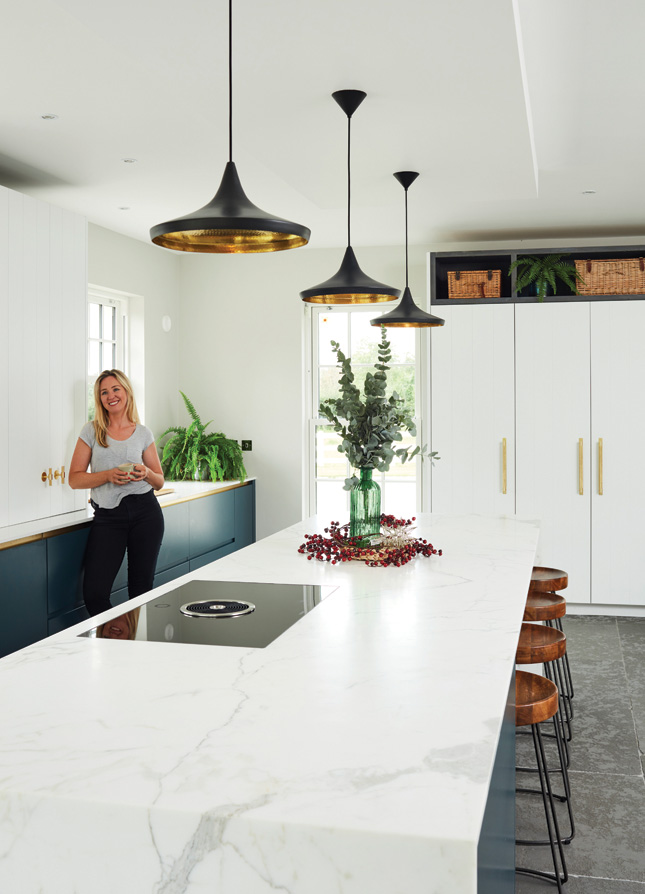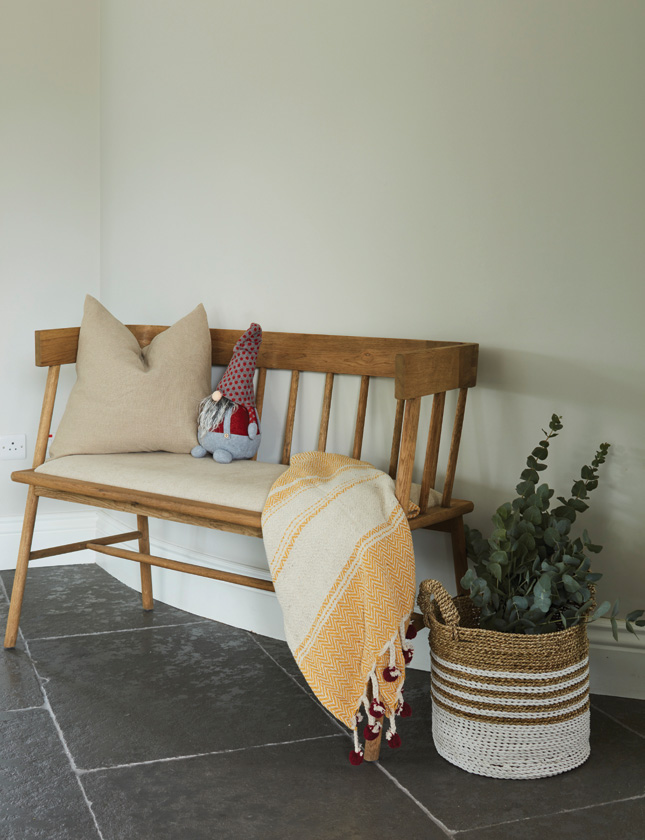 The project wasn't without its pitfalls. "The biggest hiccup was with the timber floors. The subcontractor who laid it did an incredible job laying the floor, however they didn't have any experience staining floors as dark we wanted and it went badly wrong. It was darker in some places and lighter in others."
Ruth's builders, Renova (Renova.ie), came to the rescue and found a new subcontractor who specialised in staining floors. "The floors had to be sanded back again and re-stained and lacquered, but we've ended up with great finish so we were thrilled,' says Ruth.
Now completed, the McGaheys are preparing for some festive family fun. "This year we'll have my folks and Andrew's folks. Our first Christmas in the house we had 22 people and two dogs for Christmas Day. It was manic but we loved it," explains Ruth. "Every second year or so it's just us and the kids and that's lovely too as we don't leave the house; we just relax and play with all the toys the kids get."
Ruth describes her Christmas decor style as traditional. "I like to stick to red, green and gold with lots of natural foliage and a twist of Scandinavian style. My mum is great at styling for the season, sometimes I let her rearrange a few things! I tend to get a lot of inspiration from Instagram: Leoma from Style The Clutter (@styletheclutter) is the one account that springs to mind. She's the queen of seasonal decorating," says Ruth.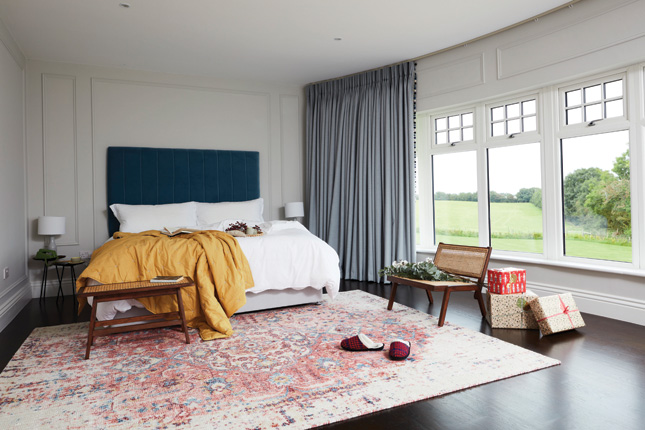 Just over a year ago Ruth set up her interiors Instagram account, @house_of_goose_studio, as a 'gentle way' of dipping her toe back into the interiors scene. "I started off nervously posting one image a week – breaking into cold sweats as I hit the post button, thinking, 'what am I doing!' Now I'm casually chatting away on Stories showing different areas of the house or the latest painting job I'm tackling."
With over 14,000 followers to date, Ruth has exciting projects in the pipeline. "The interiors community on Instagram is such a positive space and it has given me the confidence to take on collaborations, such as a recent design collaboration with Sofa So Good (Sofasogood.ie) where I am designing a small collection of couches." Sounds like she's got it all wrapped up.
DON'T MISS THE DETAILS
Ruth's simple, relaxed dining table is perfect for a family Christmas spent at home. Her classic Christmas tree is all drama, big enough to carry even the most OTT of decorations, such as this glam, glittery bird from Brown Thomas. One of the family's donkey's, both of whom live in a paddock to the front of the property. Above the lovely blue and brass kitchen units, floating shelves display some cute Christmas pieces. In the kids' playroom, a smaller tree offers an opportunity to have a bit more fun with festive decorating. The colourful family bathroom is super-functional and a hit with the kids. Ruth removed some patio doors and added a window to allow for a longer countertop in the kitchen. In the boot room, woodwork is Olive Colour by Little Greene (Littlegreene.ie) and handles are from Buster and Punch (Busterandpunch.com).
Photography: Philip Lauterbach
Styling: Alannah Monks
See more from Ruth's gorgeous home in the gallery below!
More Images
Share This Article