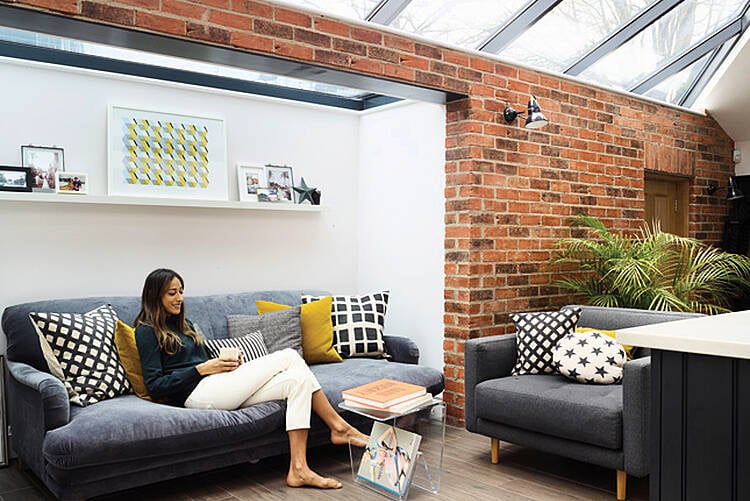 When Sarah and Phil Crawley viewed their house for the first time, they were instantly enraptured. "We fell in love with the beautiful Edwardian detailing and the double-height ceilings. It was also in the right location for work and family nearby. Immediately we saw the opportunity to take what was already a classic home and bring in a more contemporary, fresh feel," Sarah says.
Recently engaged, the couple had been living in a small flat, having moved back from Leeds to their native Nottingham. On a mature road, the house is near parks, corner shops and the city centre, as well as around the corner from Sarah's parents, and it felt like the perfect family home. "That was five years ago, and we bought it planning to grow into it, hoping we could have a family," she recalls.
Now, they've got 18-month-old Theo in tow, and it's the ideal family home.The first thing they did was to change the magnolia walls, and they also re-carpeted the halls and re-tiled the bathrooms, but left the loft rooms and kitchen area as they knew they were eventually going to do a bigger job.
"We spent six months drawing up plans, and a further year getting permissions needed," Sarah says. "We then spent six months doing the front extension and finishing the house."
Once planning was achieved, phase two kicked off. The couple knocked the kitchen into a lean-to and garages at the side of the house, in order to create a new open-plan kitchen, dining and utility area.
In terms of design process and ideas, Sarah first locked in a colour palette for each room, choosing schemes that would flow throughout the house. She then built up her ideas through mood boards which brought to life the hues, textures and furniture, in order to pull it all together.
"We mostly went for quite a muted palette," she muses. "But then there are some really strong colours throughout the scheme too, and I'm glad about that as we now have a combination of calm along with impact." For inspiration, Sarah looked to Pinterest and magazines, and also admits that she developed a bit of an addiction to Instagram along the way.
I'd find myself lost in an interiors hashtag hole," she laughs. "I love seeing how other people style their homes. Through doing this project I've definitely developed a love for interiors, and left to my own devices – and with a limitless budget – I'd start refreshing all of rooms again!"
Every project comes with its issues, so what did she take away? "I feel we should have been more realistic about how much time and budget we had for it," muses Sarah. "I made the mistake of buying some mega-expensive things and then not having anything left over for the fun stuff. Saying that, it's important to have the odd splurge too! For instance, I looked for months to find some cheap bedside lamps for our bedroom, which were like the Loaf ones I had seen and loved. In the end I couldn't find anything as nice, so I bought them – and honestly I've never regretted it."
So, what's next for this home-loving couple? The dream is to buy a piece of land and build from scratch – or is it? "Actually," Sarah says, "I know it is completely different, but a minimal barn conversion would be the ultimate project for us!"
DON'T MISS THE DETAILS
At the end of the kitchen-diner is a clever boot room addition to the family uses to store coats and clutter. In the downstairs cloakroom, tongue and groove panelling and Victorian-style floor tiling are contrasted with fun Flamingo wallpaper by Cole & Son (Cole-and-son.com). In the Cotswold room, muted tones and original features combine for a restful, relaxing vibe that's really inviting. The old and new combine seamlessly on the exterior of the couple's Edwardian house.
See below for a look at some of the other aspects of Sarah's beautiful home.
PHOTOGRAPHY: Rachael Smith