Words: Hannah Newton | Photography: Claire Worthy
"I said to my boyfriend: I want to live like I'm in a movie – so that's what we did." Meet Whinnie Williams, self-confessed love-child of Brigette Bardot and Del Boy Trotter, musician, DJ, curator, visual and textile artist, interiors and eBay addict, whose five-bedroom house, home to 18 pets, pulsates with the kind of eclectic mid-century vibe once du jour on the pages of Playboy magazine.
Think marbled ceilings, a tangled profusion of house plants, bold furniture design, wooden panels, soft earthy colours interspersed with textured walls, gold swan head taps and lots of shag pile.
Whinnie, her boyfriend, the film director Tom Dream, poodles Brian and Peachy and assorted rabbits and guinea pigs, live in the southeast English seaside town of Margate. Once the terrain of junkies and jacking up, it's now the pulsing heartland of vintage retro. Pockets of regenerated streets and avenues are home to artists, designers and musicians, who, having left the sky-high prices of London behind, have turned their attentions to this corner of North Kent, embracing the vast skies that hang over the North Sea.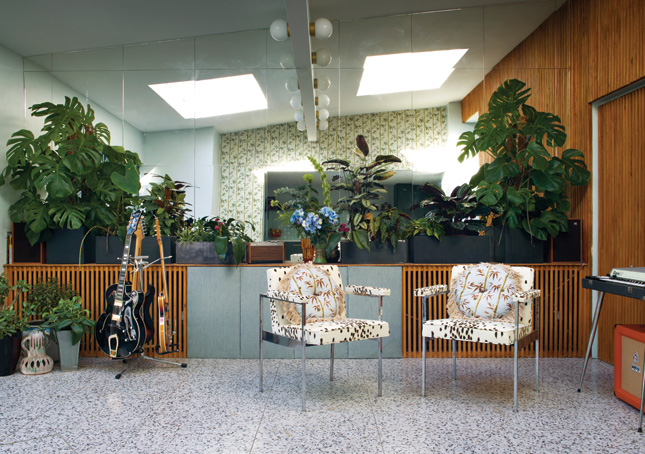 When the couple moved in, their Victorian home had been divided up into flats with few original features, but within 12 months they had stripped it back and begun the process of returning it to a home. With a background in set design, Whinnie was unphased by this process and enjoyed styling each room individually. "Give yourself a year time-frame," she advises. "Don't rush it, be open-minded, be brave with colours and make sure you don't overlook the ceilings."
"You don't need to spend a fortune," she stresses. "I spend hours on eBay, literally hours and hours, and in auction houses. I buy the stuff no one else wants, like my velvet shell bed – it's kind of weird but I adore it – it cost sixty quid."
Last year Whinnie co-founded her interiors brand, Poodle & Blonde (Poodleandblonde.com), which is in part inspired by her passion for mid-century vintage. She sources second-hand pieces, furniture and lamp-bases and re-upholsters them in Poodle & Blonde fabrics. However, she also sells her own designs, which she hand-draws or hand-stitches directly onto material then prints onto wallpaper, stationery and fabrics.
The challenge of creating a unique home on a budget is, for Whinnie, fun. "Everything has a story, even the kitchen, we've learned so many hacks from doing up this house. The kitchen is Ikea, I painted the doors and got gorgeous handles from Etsy," she reveals.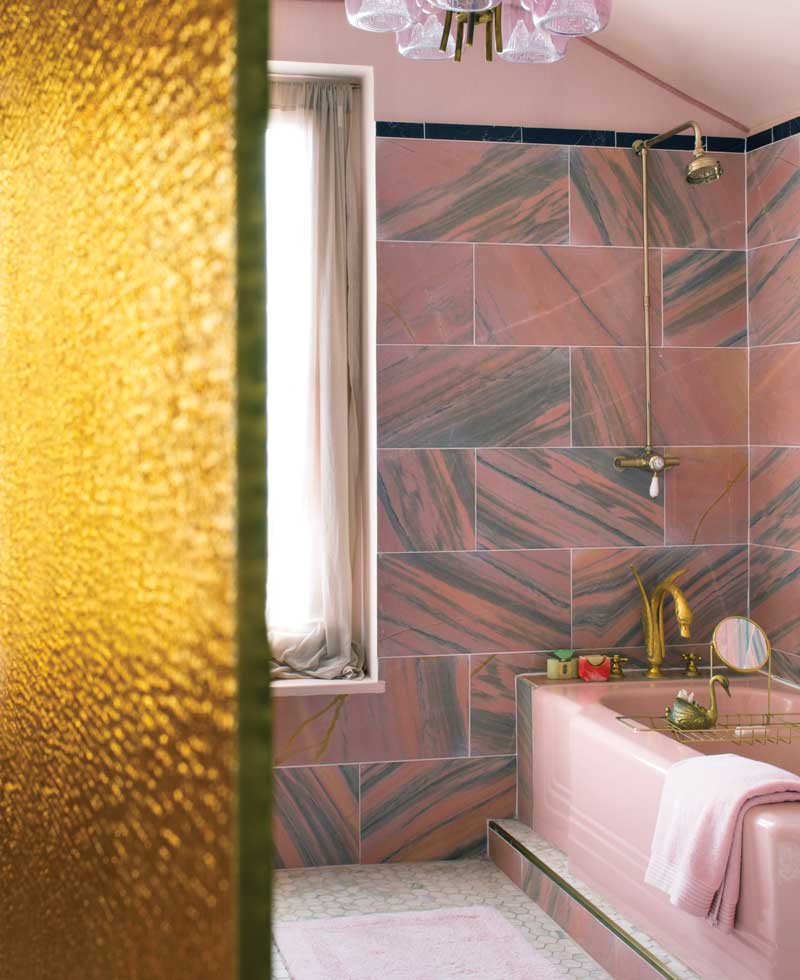 Plants and poodles feature heavily in Whinnie's home and as a vegetarian who is passionate about animals, this touch of humour and humanity comes across in her styling aesthetic. Poodle vases, '70s jugs and old pictures flourish – Whinnie picks them up in junk shops and car boots like a magpie. She has a love of unwanted pieces, and isn't in the least bothered about being precious or on trend. It's this gloriously singular vision that places Whinnie Williams firmly in that rare camp of beautiful individuality.
DON'T MISS THE DETAILS
The trap, cups and saucers, fruit bowl, pineapple ice bucket and vintage salt and pepper cruet set are all vintage finds; in honour of dogs Brian and Peachy, knitted poddle toilet roll holders sit resplendent on the loo - Whinnie's stepmum created them for her; vintage photos sit with classic instruments and gold standard amps; In the living room natural tones make for a relaxing atmosphere, as does the huge, 1970s sofa, found on eBay for €250.
See below for more beautiful sneak peaks of Whinnie's home: