The House and Home team head north to discover the sights, sounds and interiors shops amongst the city's flower-lined laneways and architectural delights.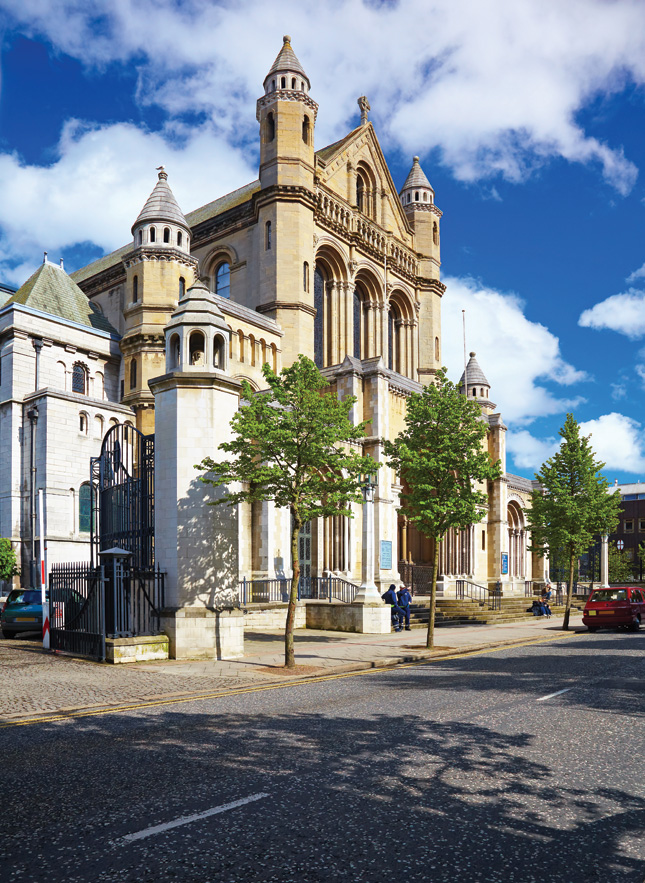 Don't miss…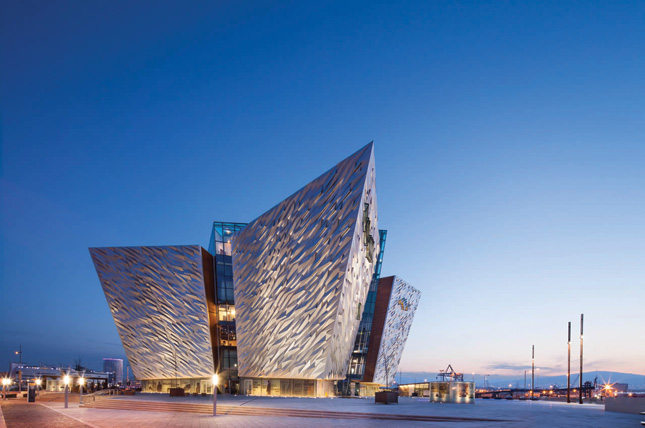 Titanic Belfast, 1 Olympic Way, Queens Road, Titanic Quarter, Belfast BT3 9EP
It just makes sense that Belfast is home to the world's largest Titanic exhibition. This stand-out, six-floor building features nine interpretive and interactive galleries that let you explore the stories of the liner, as well as learn about the people who made her.
The MAC, 10 Exchange Street West, Belfast BT1 2NJ
For lovers of art, theatre, live shows and and a whole host of eclectic events, the Metropolitan Arts Centre should be the first port of call.
Grand Opera House, 2-4 Great Victoria St, Belfast BT2 7HR, UK
Not only does this venue champion the arts through a number of drama, dance, opera, comedy, musicals and pantomime performances, on a world class level, it also has a really wonderful interior and exterior you're sure to marvel at.
Drink at…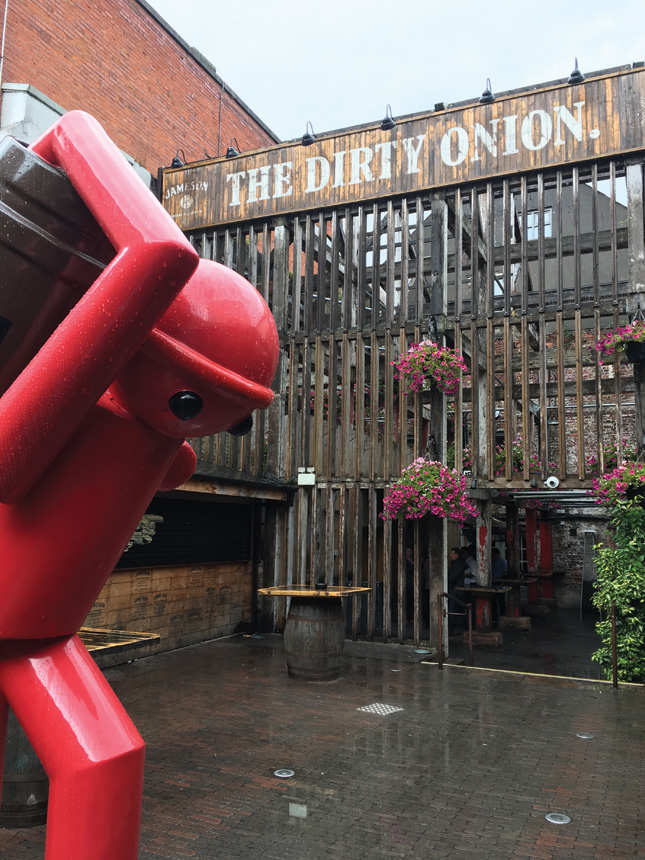 The Dirty Onion, 3 Hill St, Belfast
BT1 2LA
Dating back to 1750, The Dirty Onion is located in one of Belfast's oldest buildings. Originally a warehouse, it was first used as a spirits bonded warehouse in 1921. Used to store Jameson, thousands of bottles passed through these doors. Today, you'll hear Irish music, seven nights a week, within The Dirty Onion's historic walls and the semi-covered beer garden can be enjoyed anytime – even on a rainy day.
Bullitt Hotel, 40a Church Lane, Belfast,
BT1 4QN
A recent addition to the city's bustling bar scene, the Bullitt has everything you need for a great night out. Explore a trio of drinking dens for coffee, craft beers, super cocktails and live music – Bullitt Bar, the courtyard beer garden and Baltic, Belfast's first ski-themed bar, will sort you out.
The Duke of York, 7-11 Commercial Court, Belfast BT1 2NB
This old-fashioned pub, with its white exterior, is one of Belfast's gems. Located on a gorgeously decorated laneway, it's hard to miss the metal adverts for whiskey and Guinness, along with hanging flower baskets.
Eat at…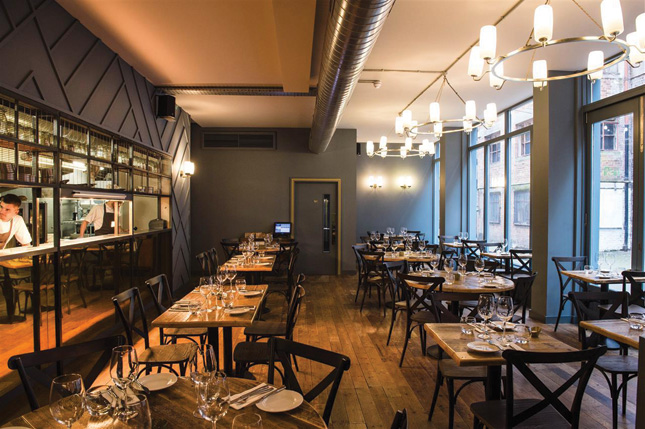 The Muddlers Club, 1 Warehouse Lane, Belfast BT1 2DX
Nestled between Waring Street and Exchange Place, in the Cathedral Quarter, the vibe, as well as the food, at The Muddlers Club is certainly one to savour. Named after the secret society that met there over 200 years ago, head chef and owner, Gareth McCaughey, hand-picks delicious, homegrown produce to create high-quality dishes. The open kitchen lets diners watch as all of the components come together and with a carefully considered wine list as well as an extensive cocktail list, it's an ideal place to catch up with a group of friends over delectable food and perfect pairings.
Home, 22 Wellington Place, Belfast,
BT1 6GE
Go here for the undeniably friendly staff and an extensive menu that caters for every type of eater, be they vegan, veggie, Paleo or denied certain foods. The interior gives off lofty New York vibes with a glass-fronted façade that let's you watch the world go by. The space also features previously loved and upcycled interior pieces, available for purchase, alongside works of art by local artists. Home serves feel good food with menus created by co-founder and award-winning chef, Andy Rea.
Sleep at…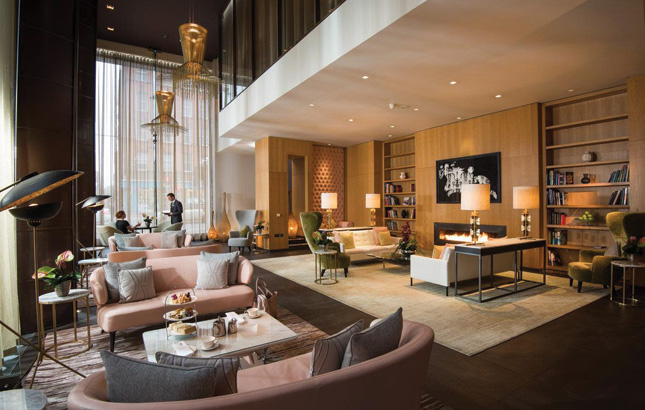 Fitzwilliam Hotel, Great Victoria Street, Belfast BT2 7BQ
This five-star hotel sits right next door to the Grand Opera House and is just a short stroll from the Belfast's waterfront. While there, it's worth checking out the bar's excellent cocktail menu, filled with carefully-crafted combinations that will blow you away. Afterwards, enjoy a nightcap by the contemporary fireplace, surrounded by blush pink accents, marble finishes and sculptural light fixtures, before retiring to your spacious, fabulously appointed room.
The Merchant, 16 Skipper Street
Belfast BT1 2DZ
Live it up in the heart of Cathedral Quarter, and check in to one of The Merchant's tastefully decorated, Art Deco or Victorian-inspired bedrooms. The hotel even offers the opportunity to live your best life in a chauffeur driven Rolls Royce Phantom – why not give it a whirl, even if it's to get to the airport, dine out or just experience something a little different?
Shop at…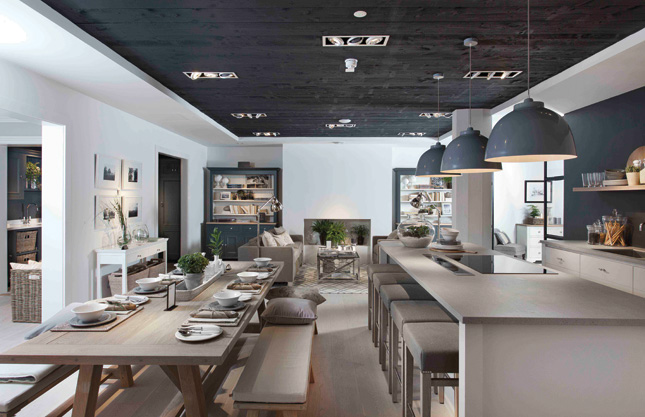 Neptune 315 Ormeau Road, Belfast,
BT7 3GL
This is Neptune's first flagship store in Northern Ireland. Recently opening its doors on Belfast's historic Ormeau Road, the ground floor space leads you through a cleverly mapped out series of room sets where you can see all of their fantastic designs in situ.
Maven Reid Memorial Hall, 4a Maryville Avenue, Belfast, BT9 7HE
Maven is a shopping destination for anyone with a great love for design. They stock brands such as Marimekko, Ferm Living, Hay and Muuto, alongside the local designers like Derek Wilson ceramics and textiles from Newry-based, Mourne Textiles.
Studio Souk, 60-62 Ann Street, Belfast BT1 4EG
Studio Souk is an open plan creative outlet, with a main aim to support local makers. Located in the city centre, you can meet the designers, for an interactive experience as soon as you get there, while picking up some thoroughly bespoke buys.
REFOUND Belfast, Unit A3, Sydenham Business Park, 17 Heron Road, Belfast
BT3 9LE
This is unique interiors emporium that offers a range of upcycled, redesigned and vintage homeware and gifts. With an ethos on recycling and an eye for a great design, ReFound reincarnates vintage furniture, sourcing classic, vintage and industrial style pieces to repurpose and produce one-off and stylish designs.
Share This Article