A House and Home promotion
Time and time again when we speak to interior designers, they tell us the importance of lighting. Your interiors game can be totally on point, but if you haven't planned your lights correctly, it just won't look right.
And worse again, it's likely that ill-considered lighting can impede how the space works practically, making it a harder space to live with.
While layered lighting is usually the best option for most rooms, each space will have its own requirements and it can be hard to keep track.
With that in mind, we asked experts National Lighting for their advice on how to plan the lighting for all the major rooms in your home, so it's both stylish and functional.
Living room lighting
Layers of lighting are most key in the living room. While functional lighting is less important than in rooms like the kitchen, it is important to consider how you want to use your living room, and what lighting you will need for those functions.
Living rooms look their best in the evening when lit in layers, including ambient, task and accent lighting. For a living space, your ambient light mimics natural daylight and can be created with pendants, lamps and wall lights for soft pools of light. Task lighting is more focussed lighting, so this may include a table lamp or desk light near a reading nook or bright ceiling downlights where necessary.
Finally, your accent lighting is created with spotlights, downlights and uplights, usually used to highlight design features like artwork or alcoves. You can also use floor lamps to help create zones in your space, especially if your living room in part of an open plan scheme.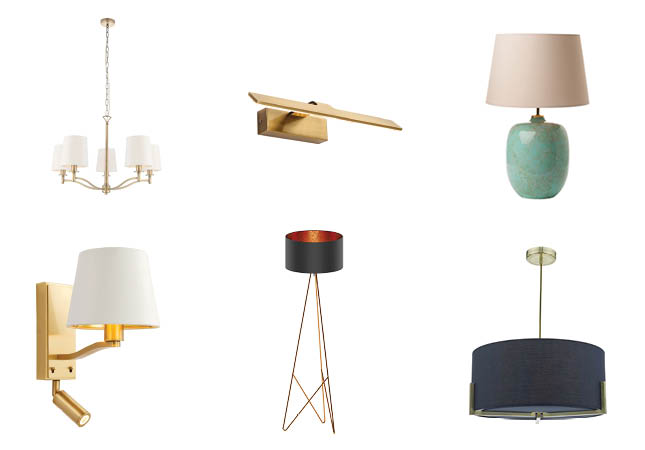 SG70245 Ortona 5LT Pendant 40W, €357.00
SG70111 Sartre 1LT Wall Light Warm White in Antique Brass, €135.00
DHELG4255 Dar Elgar, €208.29
SG69092 HARVEY 1LT Wall and Spot Light in Brushed Gold, €171.00
EG39229 STL/1 Kupfer/Schwarz-Kupfer 'Camporale', €235.00
DHSAN0323 Santino 3 Light Pendant Gold with Navy Faux Silk Shade, €260.37
Kitchen lighting
The three styles apply similarly in the kitchen - you still need a mix of ambient, task and accent lighting. However, in the kitchen, there is a much bigger focus on task, which is purely practical. It should be designed to allow you prep food and cook safely and easily, so this may include ceiling downlights and under-cabinet lights, placed cleverly above worktops in order to illuminate your counter space. Downlights over a kitchen island are key if that's a space you want to use for working as opposed to dining, predominantly.
Your accent light in the kitchen is again used to softly light elements of the kitchen. Pendant lights as a focal point over a kitchen island or dining table bring a soft glow to the space. LED strips under a breakfast bar or the edge of your kitchen island, over wall units or within shelves can highlight these features but also provide a warm backlight to bring a nice atmosphere to your space.
Wall and table lights provide your ambient light in the kitchen. Your main task lighting in the ceiling downlights can do double duty as ambient light if you install a dimmer switch so you can dim them down when you're not working in the kitchen.
The big mistake to avoid when planning your kitchen lighting is underestimating the amount of lighting you actually need - you're better off having more light than you need that you can dim down, rather than be struggling to see as you cook, so that's worth bearing in mind.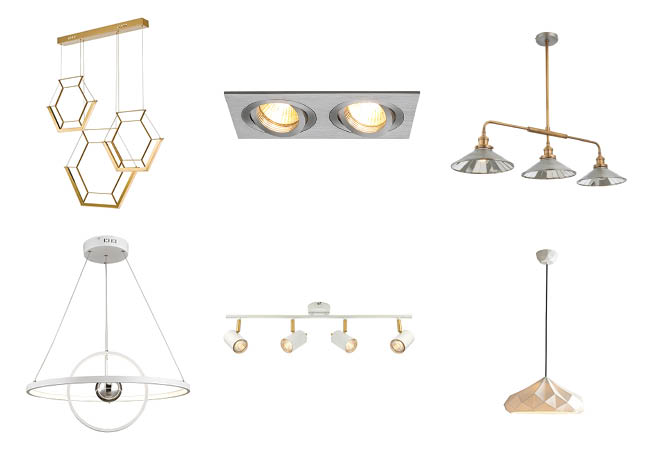 DHHEX0335 Hexagon 3lt LED Bar Cluster Pendant, €649.29
DHMER882 Mercury LED ceiling light, €275.02
SG59933 Matt White Paint and Satin Brushed Brass Plate (Lamps included), €88.00
BTCFP569N Hatton 5 Pendant, €720.00
Bedroom lighting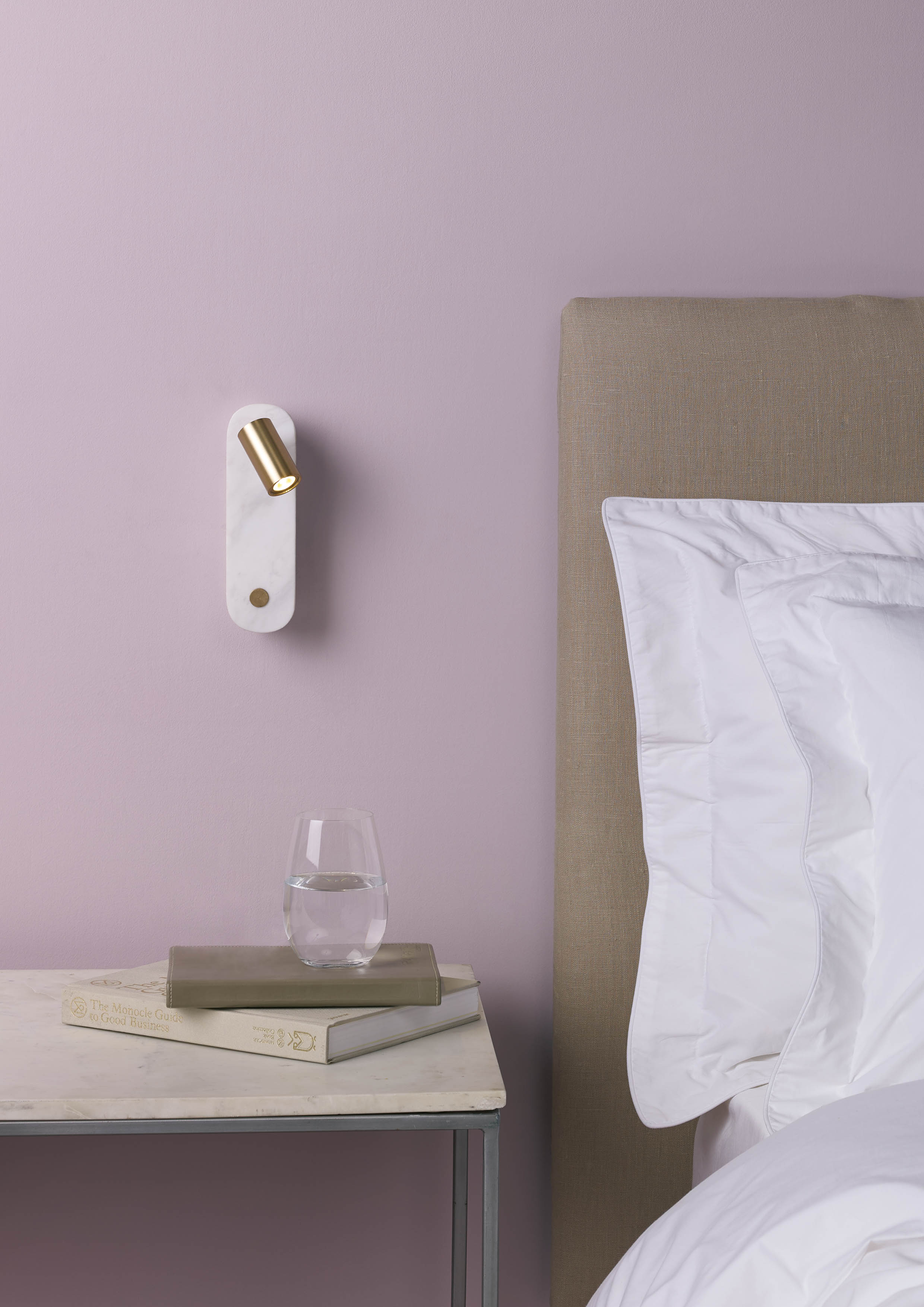 Ambient light is your main man when it comes to the bedroom. Bedrooms look their best when lit with low light, because most people use their bedrooms predominantly in the evening/night time. However, unlike a living room where you use the three types simultaneously quite often, in a bedroom you rarely do as you want it to feel soft and inviting.
A statement ceiling piece is great for style, but word to the wise - opt for something that diffuses the light nicely so you're not staring up at bare bulbs. Choosing a mix of pendants and lamps will give you soft pools of light for a relaxed atmosphere.
Task lighting and accent lighting often crossover in the bedroom, as you're using things like bedside lamps or adjustable wall lights for reading and late night relaxing. Ideally set this up so you can switch off your bedroom lights from your bed - the ultimate practical pre-planned lighting move.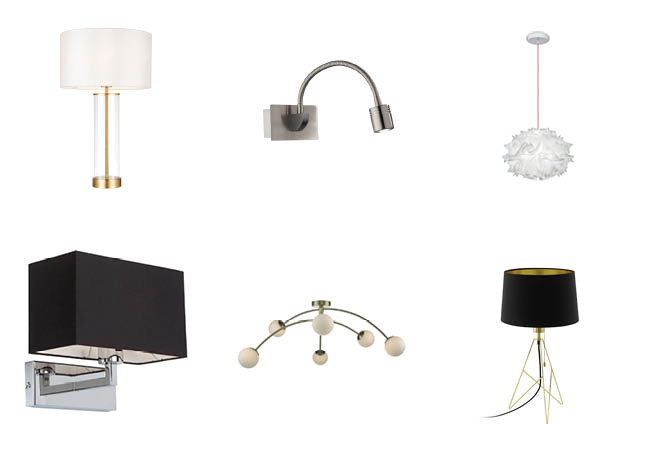 SG68802 Lessina Touch Table Lamp Brass, €113.00
ID031477 Dynamo AP1 Nickel (Lamp included), €94.50
SPVEL78SOS0001BW000 Veli Suspension Lamp Couture, €362.00
SG96750-CH Chrome Wall Bracket Complete with Black Shade, €95.50
DHPUG6475 Puglia 6LT Semi-Flush Adjustable Antique Brass/Opal Shade, €187.14
EG39179 TL/1 Messing/SW-Gold 'Camporale', €102.00
Bathroom lighting
Similar to kitchens, functional task lighting is top of the agenda in bathrooms. Lighting around the mirror and by the sink is obviously the key practical lighting consideration, especially if you often apply makeup or shave in the bathroom.
Cleverly place wall lighting either side of your mirror to balance it perfectly, and place your ceiling downlight ideally not directly above the sink, to avoid shadows that make the mirror awkward to use. A chandelier is becoming an increasingly popular choice in the bathroom, especially where the room has a high ceiling.
Accent lighting can be placed in the form of strip LED lights in niches, under wall-mounted units or bath panels, all of which draw the eye to design features in the bathroom.
One thing to consider if you're planning from scratch is night lights that automatically come on via a motion detector when someone enters at night - these can low-level lights or LED strips under the vanity, which will provide enough illumination at night without being so bright that it will fully wake you, or the whole house, up.
All bathroom lighting should have an IP (Ingress Protection) rating, so it's important to keep an eye out for this. There are 3 main zones – Zone 0 – inside the bath or shower – need an IP65 rating. Zone 1 – the area above the bath to a height of 2.25m from the floor – and Zone 2 – the area stretching 0.6m outside the perimeter of the bath and to a height of 2.25m from the floor again – both require IP44.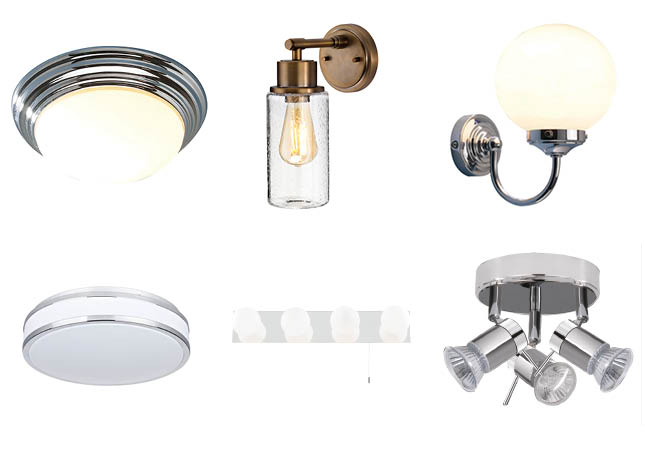 Left to right:
DHBAR5250 Barclay Ceiling Light, €97.64
Elstead Morvah Bathroom Wall Light Brushed Brass Bubble Glass, €135.00
DHBAR0750 Wall Bracket - Polished Chrome Finish, €78.11
CKSF285/22 Flush Bathroom Fitting, €93.00
ST6337-4-LED Bathroom Wall Light (LED lamp included), €100.43
ST7443CC-LED Aries 3/L H12 o30 Chrome (LED lamps included), €118.56
National Lighting