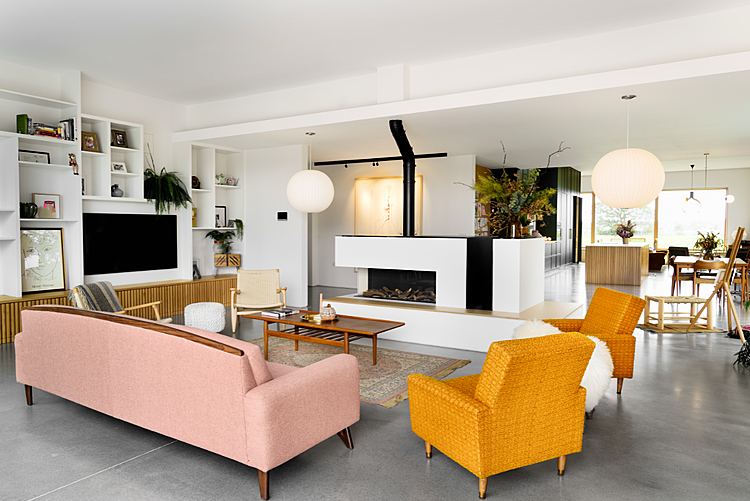 From self-builds to small spaces, upcyclers, DIYers and interior designers, here's who we're following on the 'gram.   
Words: Róisín Carabine  
Broodingly dark and dramatic no more, Eniko Kirwood's Belfast home has been slowly getting a colour revamp.  Her aesthetics still lean towards maximalism - an eclectic mix of furniture and styles with a big focus on wood, texture and plants to create a depth of character. Here's her advice for staying relevant on the 'gram… 
How can I make my home more instagrammable? 
Take photos of your home from different angles to see what works best. Also, adding plants and a pop of colour into a shot always does the trick.  
How can my posts get more real likes? 
Engagement is the key to everything on Instagram. The more you interact with people the more likes you get.  
How can I grow followers? 
I gain followers when I post reels as Instagram prioritises them and shows them to a wider audience.  
Any tips for taking pics? 
For some reason people don't like close up shots and prefer to see the whole room. Before and after shots are always popular.  
Do you use photo apps or filters? 
I use my iPhone to take photos as it's a lot quicker and the perfect size for Instagram. (Photos taken with cameras are too large and tend to get cropped by Instagram . I don't use filters, but I always sharpen my photos within the Instagram app.  
What makes for good content? 
Makeovers on a budget and DIY ideas are always popular, especially now when people are spending more time at home.  
Our very own September/ October cover star, Sara Austin is one to watch for her savvy approach to blending interior styles.
The charred cedar clad, barn-like self-build in the Country Antrim countryside of 2020 Architects' co-director Gareth Boyd is a masterclass in Scandi minimalism - and staying stylish with a young kid in tow. 
Formerly @aproudhome, content creator, crafter and shop owner of Tiny Things, Joanne Mooney's colourful and creative approach to her North County Dublin home is just as fabulously flamboyant and quirky as her outfits. Here's her advice for a curated account… 
What's the secret to an instagrammable home? 
I fell victim to trying to emulate homes I saw on Instagram when I first started my account three years ago. My advice? Be true to your own style and stick with it.  
What makes for good content? 
Just be yourself. Don't over analyse what you're doing and don't look at the numbers - people viewing you or following you. Also be consistent. Plan your posts. Over time you get to know your audience and what they like. Post at optimal times and use hashtags to get discovered. 
Any tips for taking pics? 
Make the most of natural light. If it's a sunny bright day I take lots of photos and keep them in my drafts.  
How important is engaging with followers? 
Super important. I try to take the time to message and respond to every comment on my page. Also, for the algorithm, the more engagement you create, the higher the chance of people seeing your post.  
Blogger Darran Heaney shares the renovation journey of his 1890s redbrick Victorian terrace in Dublin from drab to fab. DIY projects, upcycling ideas and lots of before and after pics abound.  
Belfast-based lecturer (and avid DIYer) Laura Dixon has created an inspiring home on a budget using paint, repurposed finds and Mid-century modern furniture.  
New but notable. Interspersed with sneak peaks of projects she's working on, are images of interior designer Carla's own deliciously dark and texturally rich Dublin home.  
From ruin to restoration, Ciara Denvir and husband Peter Boyle's feed charts the extraordinary transformation of one of Belfast's most historically significant properties into their family home – complete with 10-bed Sleepover Room. Swoon.  
Self-confessed teak geek Frieda Furlong's home is a Don Draper-inspired dream in a Dublin Edwardian setting. Think Mid-century sideboards, Danish lighting and ceramics set against a palette of white, terracotta and painted terrazzo.   
Budget-friendly makeovers, creative craft projects and mantlescaping ideas abound in Bronagh Flemming's colourful pad. It will inspire you to get the paintbrush out.  
Creative director Tanya Ross has taken a gorgeous Georgian townhouse in Tullamore and filled it with French antique market finds. What's not to love.  
Blogger Gill Corrigan's bright and cheery rainbow-hued Limerick home is the perfect interiors pick-me-up. Guaranteed to put smile on your face.  
Upcyler and bargain hunter Kerry Devlin's eclectic retro-look Belfast home is filled with 'a wee bit of everything that makes her smile'. 
Alison Byrne's charming transformation of a 200-year-old townhouse in New Ross, Co Wexford replete with Downton Abbey-inspired bedroom. Dreamy! 
When he's not restoring vintage Telefón boxes, antiques lover and avid-DIYer Paul Murphy is kitting out his eclectic Dublin home with salvaged finds and retro furniture picked up from his travels in the UK and France. 
A former art student with a passion for interiors. Follow lifestyle blogger Lynn Ferrari's renovation of her 1950s semi in Waterford. Tips, tricks and practical projects galore.  
From bedsits back to beautiful family home. Follow the O'Driscolls renovation of a Victorian Rathmines redbrick.  
Belfast-based Julie Choi has a knack for pulling together an eclectic mix of furniture and accessories from charity shops, flea markets, the high street and her travels to craft a beautifully curated home.  
From her self-build in Tipperary, colour confident upcycling queen Joanne delights followers with modern ways to transform walls and furniture with paint and paper.   
Mother, maker, magpie. Saara's maximalist Limerick semi is a melange of mid-century, modern, bohemian and Scandi styles packed with personality and punchy colours.  
DIY takes on new meaning in Brazilian Ediana Dolan's Westmeath semi, she shares with husband Kevin (and two children). The botanical-inspired home is a homage to their combined creative talents. Blackboard wall anyone? 
Suzie Flood and husband Marc have taken a 1940s ex council house in Dun Laoghaire and turned it into a verdant, tropical oasis, full of quirky antique finds, gothic revival architectural gems and gallery walls galore.   
Beyond the yellow front door, every nook and cranny of Aisling Nugent's nest is filled with vintage treasures, right down to the 1970s Turkish rug adorning her kitchen floor. Homely yet high-style. 
Cathy's characterful Fermanagh cottage is a home for the soul with its exposed brick walls, painted panelling, rustic wooden furniture and tactile fabrics. Design inspiration is everywhere. We're smitten. 
Interior stylist Sarah Twigg Doyle delivers all kinds of interiors motivation in her laid-back Bray abode. Her design sensibility takes its cue from nature; think earthy shades, layered fabrics, natural wooden furniture and potted plants everywhere.  
Colourful, fun and homely. Style savvy, leopard print-loving nurse Lisa Joyce's feed is filled with design tips and tricks for decorating on a budget with plenty of before and after projects to inspire. We're a little obsessed with her en suite.  
Karen Coleman is a whizz with paint and Frogtape. There's not a surface in her 1950s Dublin semi she hasn't transformed – sometimes twice! She's also a dab hand at reupholstering and making curtains and cushions.  
@ciaraelliott Who better to keep us in the loop about all things interiors than our very own Editorial Director?! We swear we're not biased; we just know you'll love her charming renovation of a 200 year old home and her wholesome, positive vibes.
https://www.instagram.com/p/CTzkrm9Met8/
Looking for tips on how to style a new build? Galway-based, decorating enthusiast Tanya Lee Conroy is a master at character building. Her home combines textures, patterns and colours with a modernist twist to great effect. 
https://www.instagram.com/p/CRRGkHTLVIX/
In Lorraine O'Connor's hands a paintbrush becomes a magic wand. Kitchen cabinets, furniture and even PVC windows and doors in her Mayo holiday home have all been made over with paint. Before and after projects aplenty.  
https://www.instagram.com/p/CSM8-sxKftf/
Resourceful decorator Lorna Pringle's eye for design is evident throughout her pale but interesting Kildare home. Her tranquil decorating style combines soft neutrals with just the right amount of embellishments.   
https://www.instagram.com/p/CFaRml9gKI8/
Blogger Grainne's feed documents the interiors transformation of her new build home and 'obsession with coastal décor, plants, dark bathrooms and sustainable living'. One to follow if you're planning a self-build. 
https://www.instagram.com/p/CUDYUKlKZll/
Caroline Hassett's Tipperary home is a considered mix of old and new, combining natural materials with a neutral colour palette and just the right amount of greenery. The exposed beam ceilings had us hooked from the get go.  
https://www.instagram.com/p/CFWWUa3n1Do/
There's not a hint of chintz in interior designer Dee Noone's extended 200-year-old Galway cottage. The décor can best be described as modern rustic with a touch of the unexpected. Cow print painted walls are a case in point. 
https://www.instagram.com/p/CQyPB-nHCn6/
An electric blue bedroom, pink 50s-inspired home office and black sitting room. Jen Connell isn't afraid of colour – or mixing patterns or styles. If you're a sucker for glitz and glam there's plenty of eye candy here.  
https://www.instagram.com/p/Bz2Z-GWHnrt/
Writer Katty Patterson's home oozes Scandi vibes, incorporating both Lagom and Hygge elements. It's cool, calm and very comforting. For gallery wall devotees, she has tutorials on creating DIY artwork. 
https://www.instagram.com/p/COYN0P8rOQA/
Laura Magee's secret to creating a perfectly put together home capitalises on creating mood boards first – then it's all about layering, adding art, plants and personal touches: neon lighting, accents of brass, pink Zellige tiles. She's also a dab hand at curating photos for the gram. Here's her top tips for taking pics. 
Use natural lighting, always.

 

Ensure the area is de-cluttered. No-one wants to see mess or junk in a pic.

 

Don't overly filter; I only ever lighten and straighten my pics, as I don't like an image to appear unrealistic to viewers. This is especially relevant when showcasing paint colours.

 

I always ensure an area is styled before I shoot. I want to show my followers how they can achieve the same themselves and provide as many ideas as possible. 

 

Portrait images always work best for me on Instagram as do wide angle shots. 

 
https://www.instagram.com/p/CLuXyLAHqKm/
Vintage queen Katrina Carroll loves all things eighties and second-hand; 'old things with a story'. She's also not averse to upcycling, crafting and DIY; her feed is full of inspiring ideas to steal. A huge hit on the 'gram, here's her top tips for making your home more instagrammable.  
Take clear and crisp photos. 

 

People love before and after photos of a project. My top tip is to show the finished project first then swipe to see the before. It will be more appealing to your followers. 

 

Add candles and throws to photos to give your home a really cosy feel.  

 

Create fun DIY ideas, something different to inspire others to do the same. 

 
Declutter; get rid of water bottles, plates cups, etc. It will make the photo more aesthetically pleasing. 

 
https://www.instagram.com/p/CUH7aUhqvyb/
"I just don't think outside the box, I think of what I can do with the box," declares Yvonne Purcell on her Instagram feed. The self-described upcycler and salvage hunter has a real flair for styling and propping as evidenced in her fabulously bohemian cottage. With 283,000 followers and counting, she knows what makes a house an instagrammable home… 
What's the secret to an instagrammable home? 
It helps to take clear and bright photos. There's also nothing that draws the eye more than a pop of colour in a room; it can usually make viewers stop scrolling. 
How can I grow followers? 
Engage as much as possible. Answer DMs, reply to as many comments as you can and comment on some of your followers posts too.  
How can my posts get more real likes? 
Be your authentic self. People will notice if you're trying too hard or appear desperate for followers.  
Any advice for taking pics? 
The right lighting and camera is key, having said that some phones come with excellent cameras. We all love a sunny day but it doesn't always make for a good photo. An overcast day is much better.  
Do you use photo apps or filters? 
I use Snapseed to edit my photos and sometimes Lightroom and VSCO. If you have good lighting you'll need to edit your photos very little, if at all.  
What makes for good content? 
My followers love to see my kitchen and bedroom and although our bathroom hasn't been renovated yet, people love seeing bathrooms too.  
https://www.instagram.com/p/CTjYcKNKAmG/
Paul O'Rourke is a master at juxtaposition. His 70 sq m Dublin 8 home pairs pattern, paint and paper with amazing results. He's a great eye for art and ceramics too.  
https://www.instagram.com/p/CTCO9ausSsC/
Can you ever be finished decorating? Interior architect Ruth McGahey doesn't think so – though she's 5,000sq ft to play with. She pairs neutral shades with pops of colour and luxe details. Check out her bathroom; serious spa vibes.  
https://www.instagram.com/p/CQsfQ_xHytO/
Artist Isobel Henihan's home is bursting with lots of genius decorating ideas to steal. We can't decide what we love more, her hand painted pink terrazzo bathroom wall, whimsical tree mural or slatted room divider? 
https://www.instagram.com/p/CUCTktBrjPH/
The Omagh-based blogger is a big fan of shades of grey (décor that is). Her classical style is clean and elegant sprinkled with blush tones and floral flourishes. We're crushing on the ornate spiral staircase in her kitchen.  
https://www.instagram.com/p/CUUdIsZMslf/
What's not to love about interior architect, Susan McGowan's home. It ticks every design wish list. En suite with freestanding tub, hidden door into a utility, pantry cabinet, oodles of built-in storage and Crittal-style windows – oh my! 
https://www.instagram.com/p/CPH9JOmrko-/
Estate dwellers take note. Teacher Aisling Kelly's feed focuses on ways to inject personality into her noughties Kilkenny home. Think jewel paint shades, painted murals, patterned wallpaper and the most fab library wall. 
https://www.instagram.com/p/CI314twH3hU/
Upcycler Saoirse Findlay showcases her DIY skills in her eclectic Cork home. It's all achievable and very affordable. She's painted ceilings, muralled walls, stencilled floors and embellished furniture. 
https://www.instagram.com/p/CQ22jnPnZxd/
Blogger Barbara Taylor describes her interiors style as 'Scandi-boho with a touch of industrial'. She uses charity shop gems, design classics and botanicals to give her rented pad personality.  
https://www.instagram.com/p/CL6h_vxHUqM/
Jenny Sheahan's tiny workers cottage is packed with lots of clever design ideas and punctuated with bold colours; you can do a lot with a little. 
https://www.instagram.com/p/CQsX9MDrRcU/
Marie McMillen's feed flits between her homes in Northern Ireland and Tenerife. She has an affinity for white décor and takes advantage of natural light, textures and textiles to pull the look together.  
https://www.instagram.com/p/CMFS5SZnQrF/
Ones to watch. Julie and Paul's transformation of an old Dublin coach house cum derelict office into a home. They've a way to go yet but it's coming along nicely.  
https://www.instagram.com/p/B_KSYrTnlKR/
Owner of The Wilds home store and café, Paula's feed details the renovation of her 1930s Waterford cottage to family home. She's a penchant for monochrome; sleek silhouettes paired with muted tones and natural materials. 
Image courtesy of ShinAwil, as seen in our RTE Home of the Year recap here.
Share This Article