The ultimate "Instagram vs. Reality" opportunity; coffee tables have the potential to look so beautiful, yet all too often end up as a dumping ground for remote controls, kids toys and random junk that seems hell bent on taking up residency front and centre of your space.
In an age of spending most of our time at home, it's really important to make your surroundings are uplifting and as peaceful as possible. But, like we said, sometimes it feels like the "real world" gets in the way of that. We don't think it has to be an either-or situation though.
We've got 6 tips to help you style a coffee table that's both pretty and functional.
Display your findings
Seeing as we've all been going on endless walks, now is a nice time to pick up some souvenirs from Mother Nature and display them. Kids might really appreciate the opportunity help out and to take pride in their findings. To avoid it looking like Zak Dingle's potting shed, the key is to group and contain. Whether it's in bell jars, vases or bowls, take a considered approach to how you display your findings.
Another nice idea we're taking from Alaina Kaczmarski's home, pictured above, is to leave a coffee table book open to allow you to enjoy the contents throughout the day. Bookmark it with a decorative magnifying glass or paperweight to both hold the page and add an extra element of styling. Flick the page every so often, and update your flowers and bam! you've got a whole new colour scheme.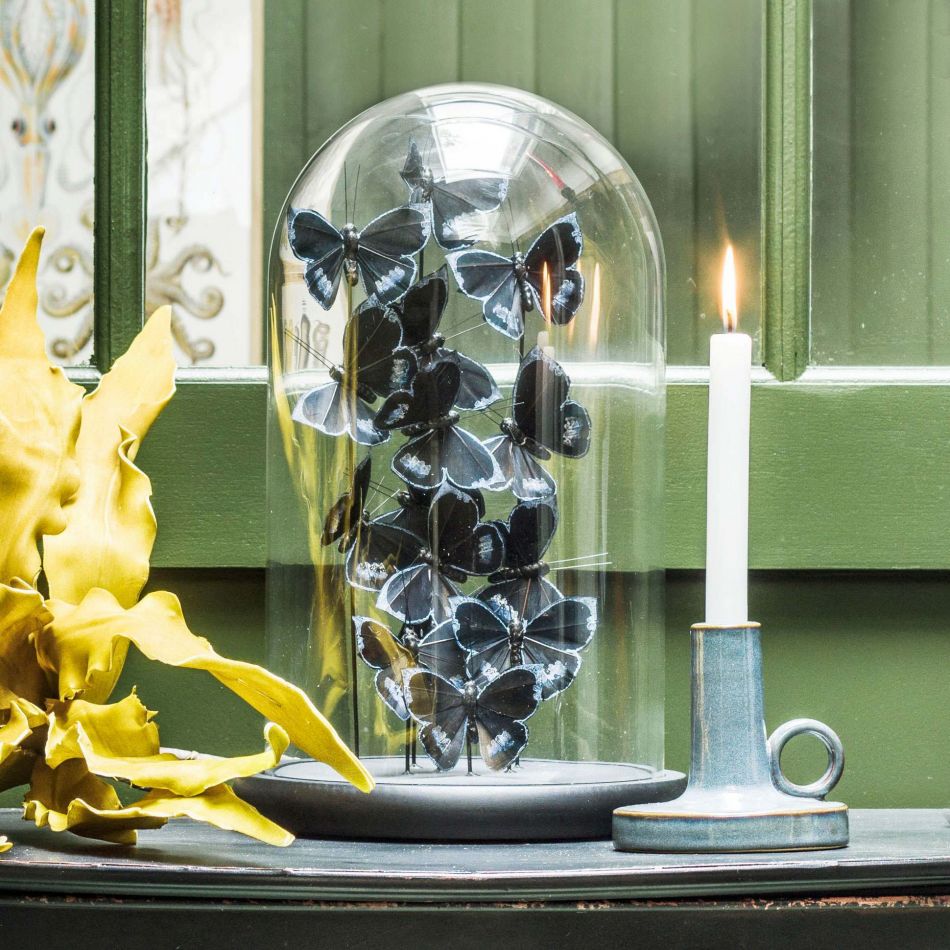 Get the look
This faux butterflies in bell jar from Graham and Green is a really beautiful way to add an antique vibe, and is a great conversation piece.
Book the trend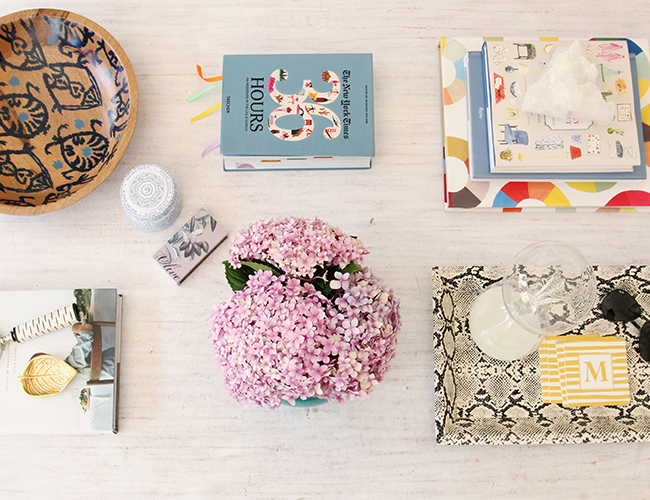 The clue's in the name; coffee table books really add so much interest to your coffee table set-up. On a very superficial level, they add shape and colour to your styling, as well as acting like trays to arrange decorative pieces on top of.
This may sound like we're encouraging you to judge a book by its cover... and we kinda are. But there are any number of amazing coffee table books out there to mirror your interests and provide a conversation starter for visitors to your home. The inspirational photography, quotes and teachings can be impactful as you flick through from time to time.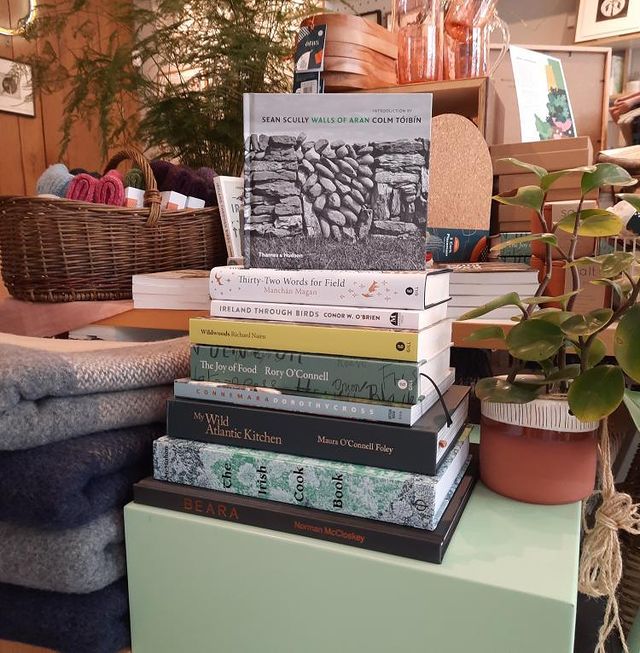 Get the look
The Irish Design Shop on Dublin's Drury Street has the most beautiful selection of coffee table books based on Irish food, architecture, nature and even kids' education.
Branch out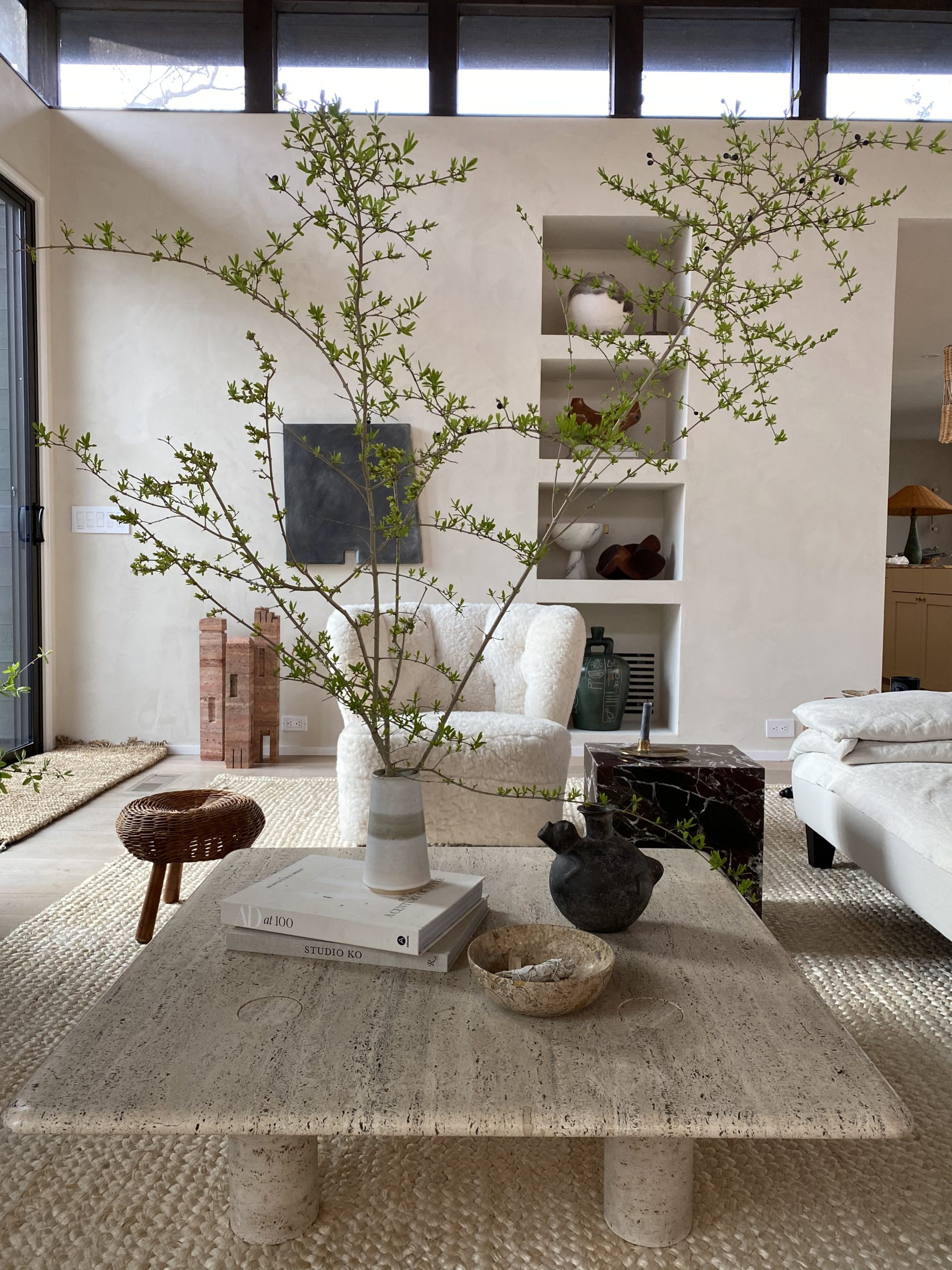 This is another one kids might enjoy helping with. Add some height and texture to your styling with an oversized piece of foliage. As demonstrated in Athena Calderone's home, a tall branch can add drama and architecture to an overwise low-sitting arrangement.
Variation of scale is a really important factor in styling, and without it your vignette can- quite literally- fall a little flat.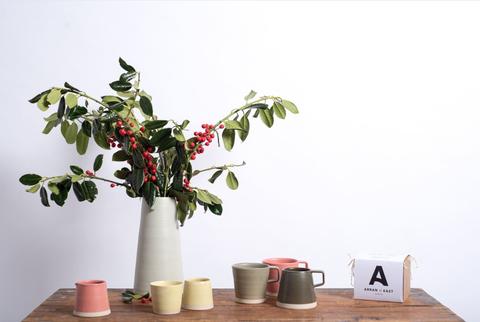 Get the look
The iconic Arran St. East pitcher from Industry & Co. would be amazing to plop a rustic branch into. Its simplicity is a lovely base on which to add colourful, unruly leafy nature to.
Tray chic
A few years ago, we wrote about musician Taylor Swift's LA home, and how intrigued we were by the curious mix of antiques and well-matched, mismatched patterns. Taylor herself seemed pretty proud of the oddities, as she posted this coffee table shot on Instagram.
This random mix of vintage finds could seem cluttered had it not been for the structure the two trays give. Everything- even remote controls- looks better when it's corralled in a tray. And for smaller bits and bobs, like phone chargers and hair clips, conceal them in small boxes. Still accessible, but looks great. Trays also mean you can very quickly clear off an area in case you need you need some space but don't have the time to fuss around with decor.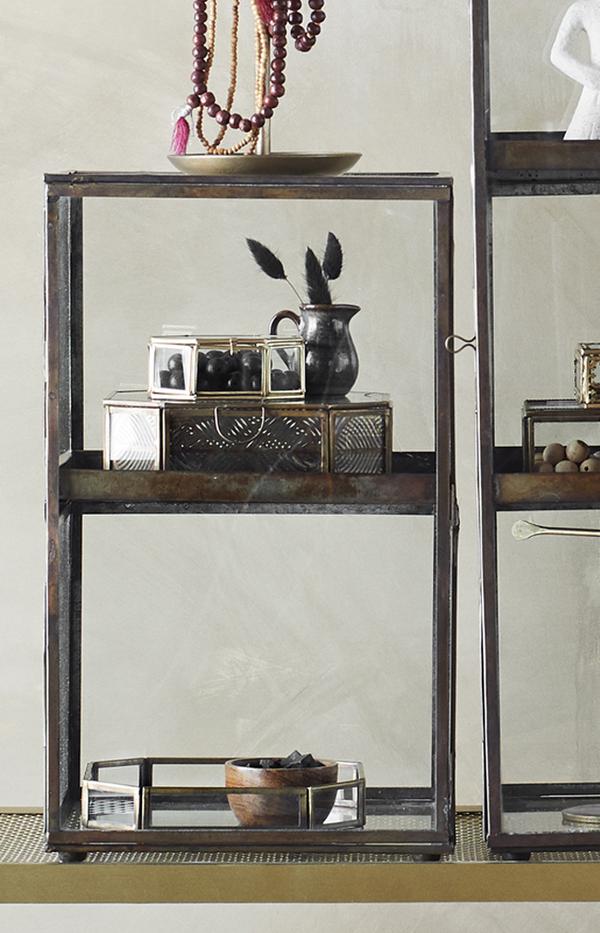 Get the look
Irish shop Folkster have a range of decorative trays perfect for a coffee table. Their signature bohemian, vintage-style would lend itself to the vibe Taylor has going. Folkster also have a stunning range of crystals, incense, smudge sticks, Palo Santo, and all things weird and wonderful that could look beautiful displayed on your coffee table.
Forever florals

Fashion influencer Lydia Millen has been renovating her contemporary English home to create more of a modern farmhouse feel, with lots of wicker, linen and dried foliage. This shot of her coffee table is a good example of a tablescape looking smart and sophisticated, but actually being very low-maintenance.
And for anyone concerned that many of these ideas don't leave enough negative space, here's one for you! Lots of empty space free to sit your laptop or even dinner plate on without having to rearrange.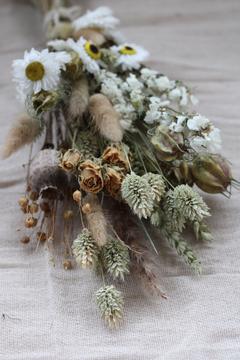 Get the look
Dried florals are really having a moment right now, and for good reason. Not only do they add a beautiful relaxed texture to your space, they last forever. Even the least-green fingered hands should grab hold of some dried flowers from Irish shop Paper Daisy which look beautiful and require little or no upkeep. Win-win.
Brass neck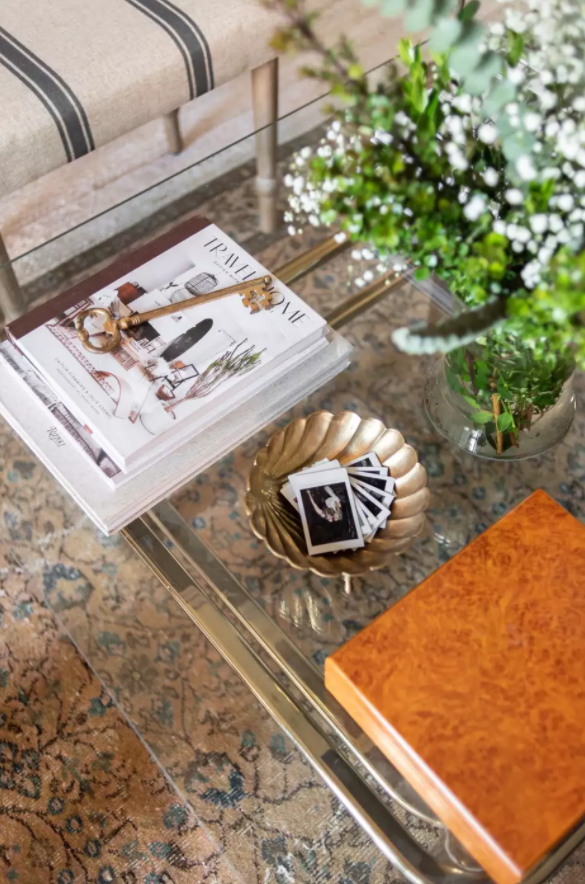 The trick to a unique coffee table is to make it personal. Adding your favourite books, candles and flowers that are special to you is a really nice way to let your home mirror your personality. But adding a little bowl of tangible photographs is an extra personal, nostalgic touch.
Instant print cameras and printers you can add to your phone mean you can document those special everyday moments. Displaying them in a little dish like in this photo from Laura Metzler keeps them organised, and may give your guests something to giggle at. We can "like" Instagram all we want, but there's nothing like an old-fashioned photograph.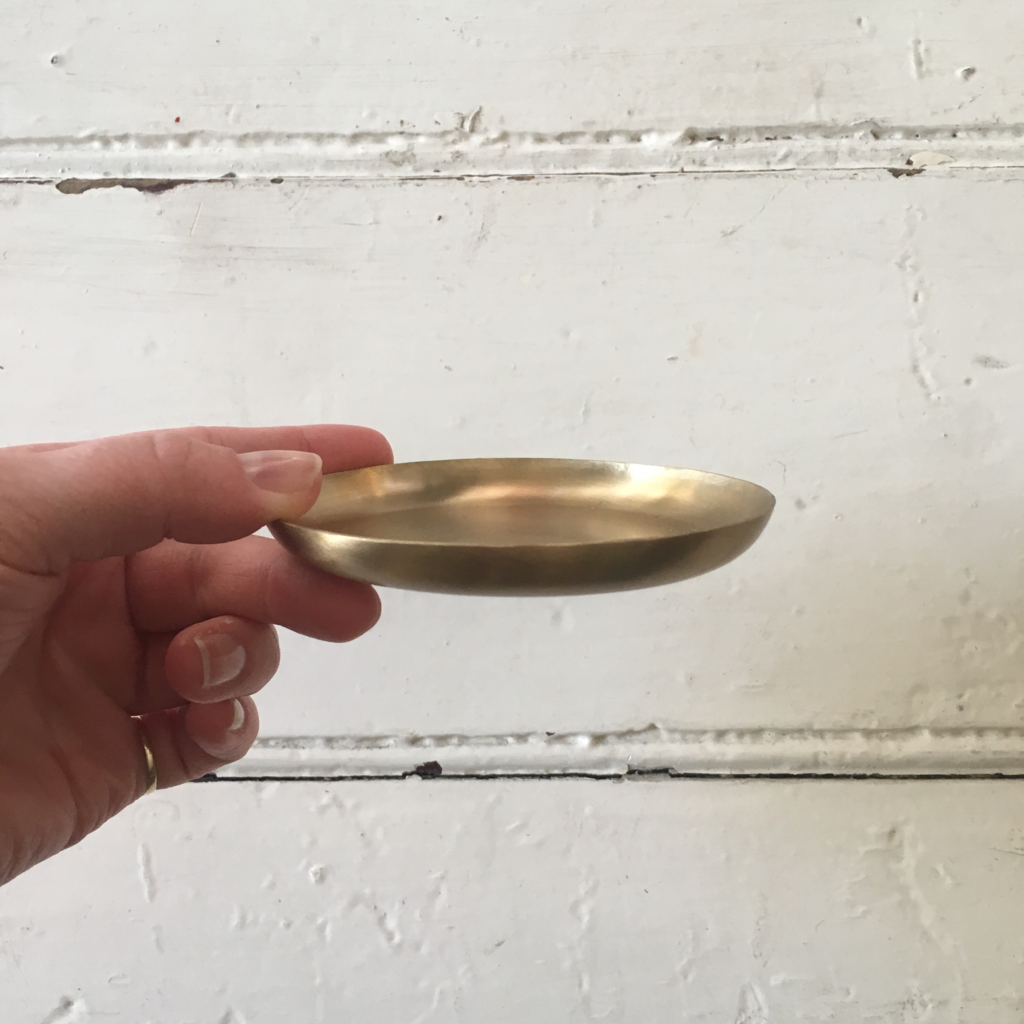 Get the look
This Fog Linen brass plate from Scout in Temple Bar is a great addition to your coffee table. Not only is it the perfect size to rest small photos on, but the simple design works well with virtually any style.
Crystal clear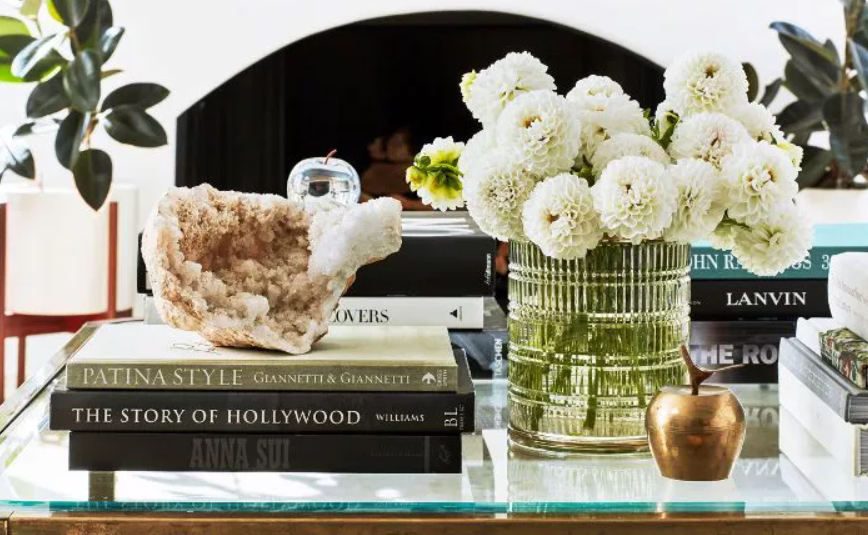 The mix of old and new, manmade and organic, sparkly and rustic, is a key factor in nailing interior design. If a space is too much of the same thing, it can feel one-dimensional and soulless. Here, in Lauren Conrad's stylish home, we see a mix of simple flowers, crystals, antiques, fashion books and a modern crystal vase.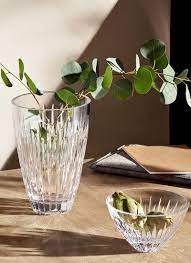 Get the look
In Ireland, many of us grew up with mammies who only loved a bit of Irish crystal, but today many of those pieces can feel a little dated and fussy. The Waterford Crystal 'Mara' vase from Kilkenny Design Shop is a contemporary design that even fans of modern, clean lines can appreciate.
Keep an eye on the House and Home Instagram account to see daily updates on all things interior design as well as all of our faves from Ireland's coolest homeware stores. We hope these tips offer some inspiration for you. If you try any of them out, make sure to tag us in an Insta snap!