We featured the home of Siobhan McFadden in our January - February issue, but loved it so much, we knew it had to live on here at Houseandhome.ie!
Siobhan is a Donegal native, who now lives in Edinburgh with her husband and three daughters Úna, Nora and Nell.
Siobhan began her career as a textile designer, and started her Instagram account Home_Stead thinking it could be a way for her to showcase her screenprints. But after undertaking the renovation of her Victorian terrace house, she began to use it as a renovation diary on which to journal decorating updates from her growing household.
These days, Siobhan has a built a large following of homesteaders online who are drawn to her gentle approach to design and use of heritage brands like Farrow and Ball and William Morris which honour the integrity of this period home.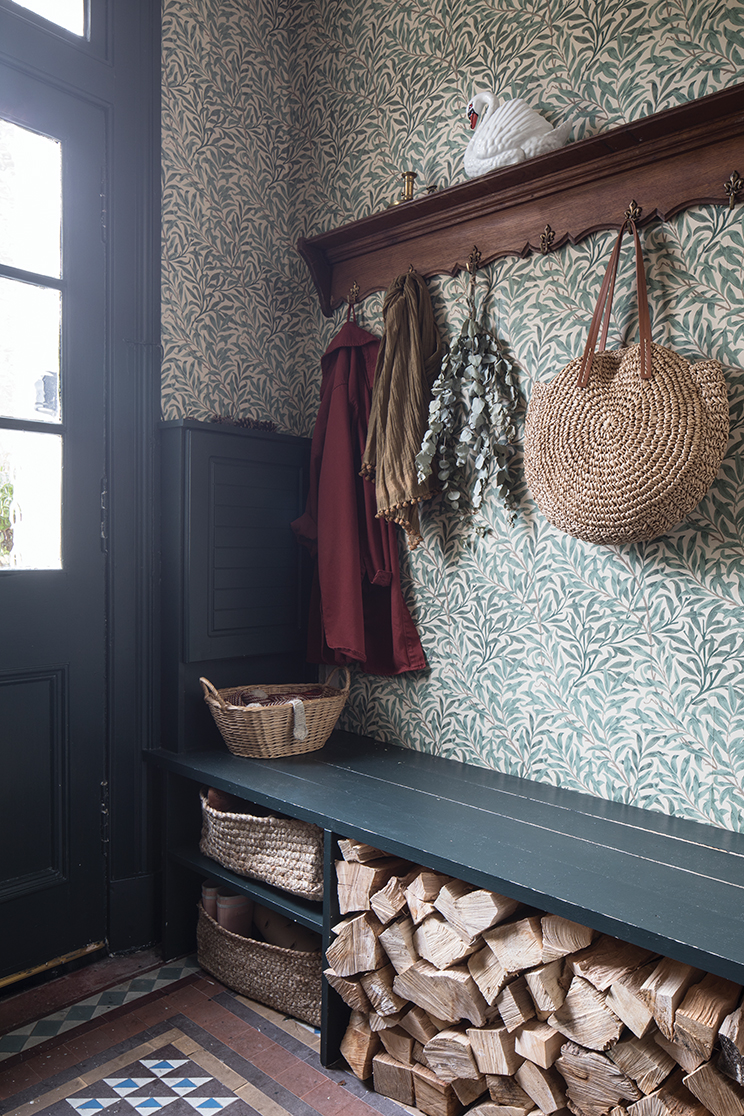 Siobhan now actually works as a Colour Consultant for Farrow and Ball, and her home is a testament to her eye for colour. Farrow and Ball shades are used throughout the home, with the exception of the William Morris 'Willow Bough' wallpaper in the entryway.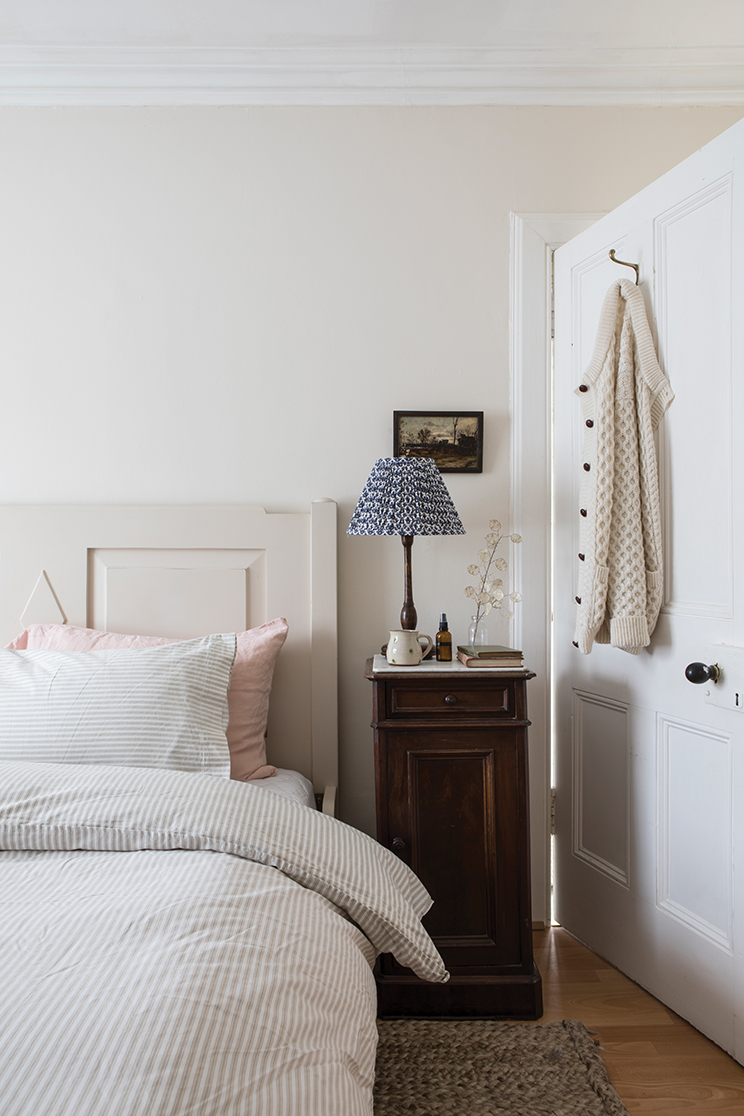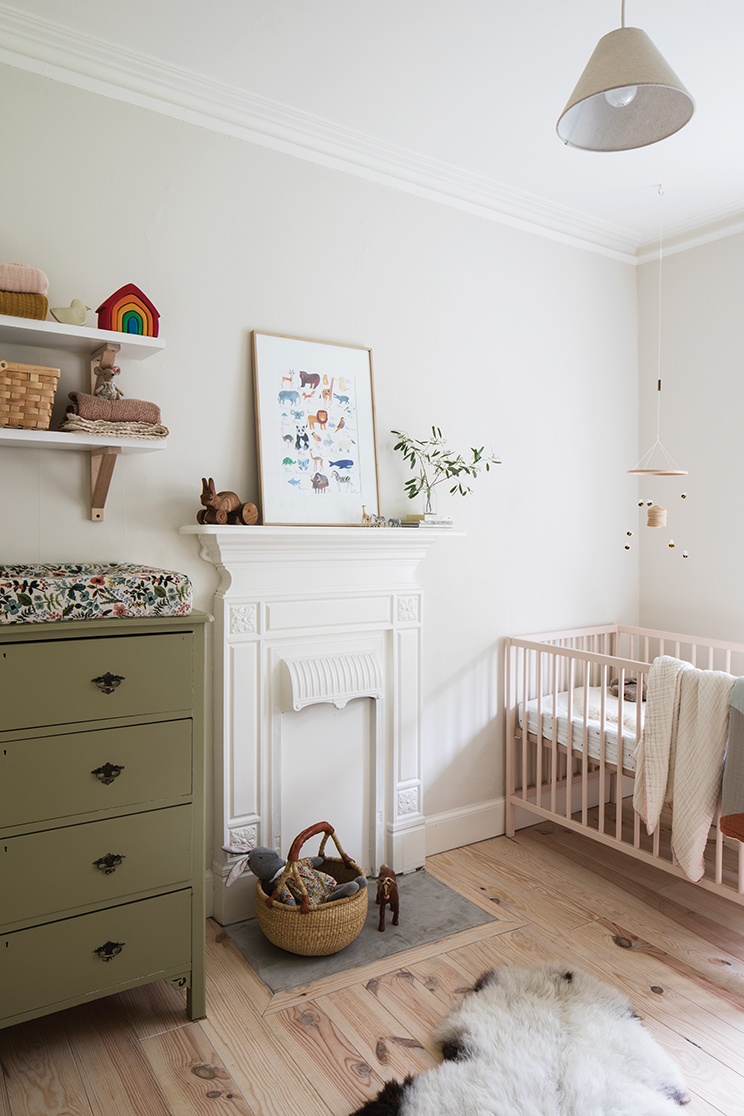 "It isn't a big house, so we've kept the palette to neutral whites," explains Siobhan, but adds that painted furniture in pale and earthy tones "gives the space a coherent look." Indeed, although much of the furniture is vintage and therefore doesn't match, it all looks very put-together, thanks to Siobhan's eye for design.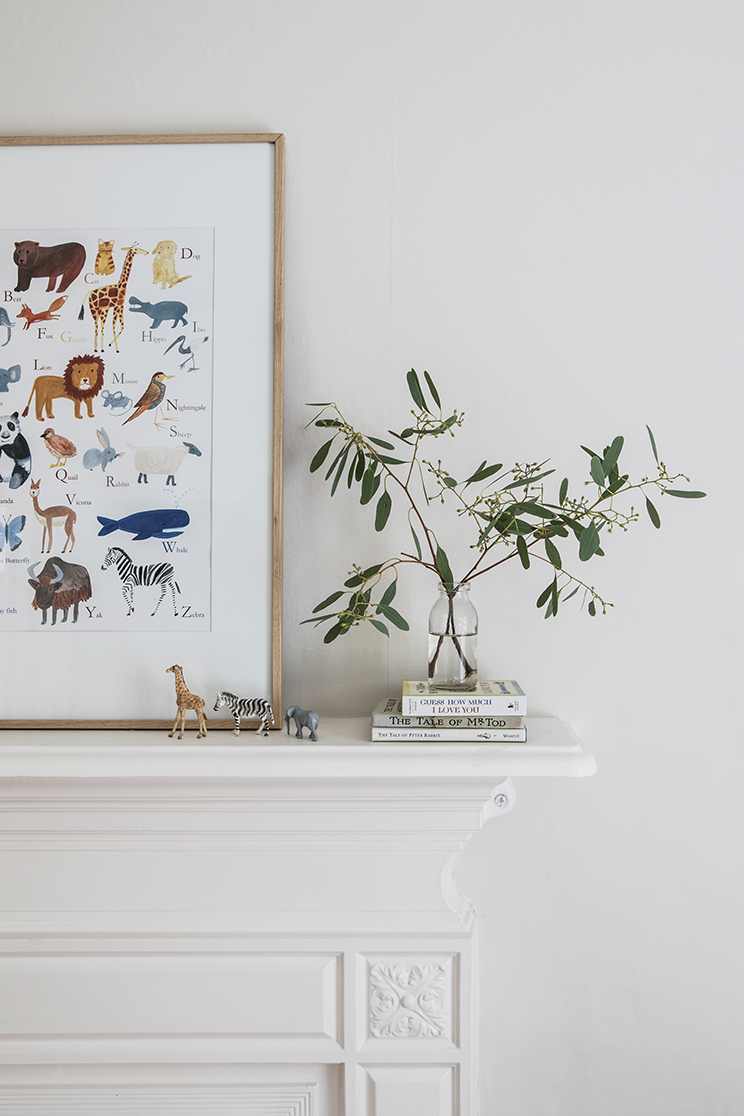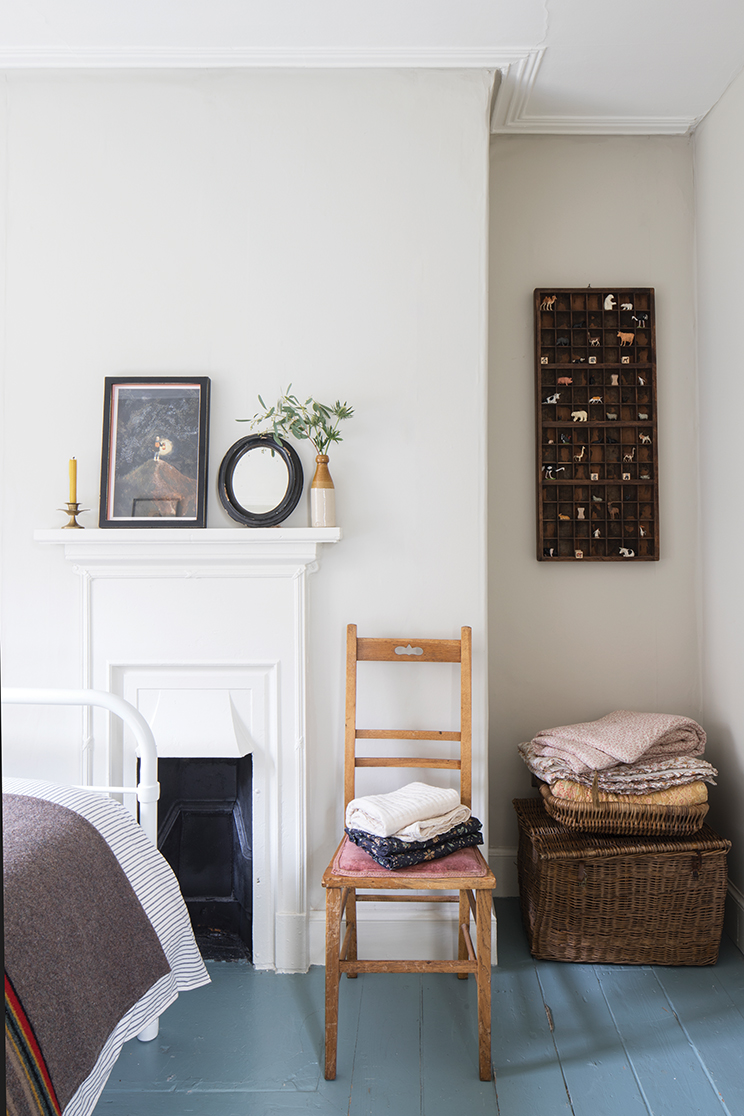 "I love anything old, and enjoy scouring the local charity shops and salvage yards for vintage finds to make our home look and feel more lived in," Siobhan tells us.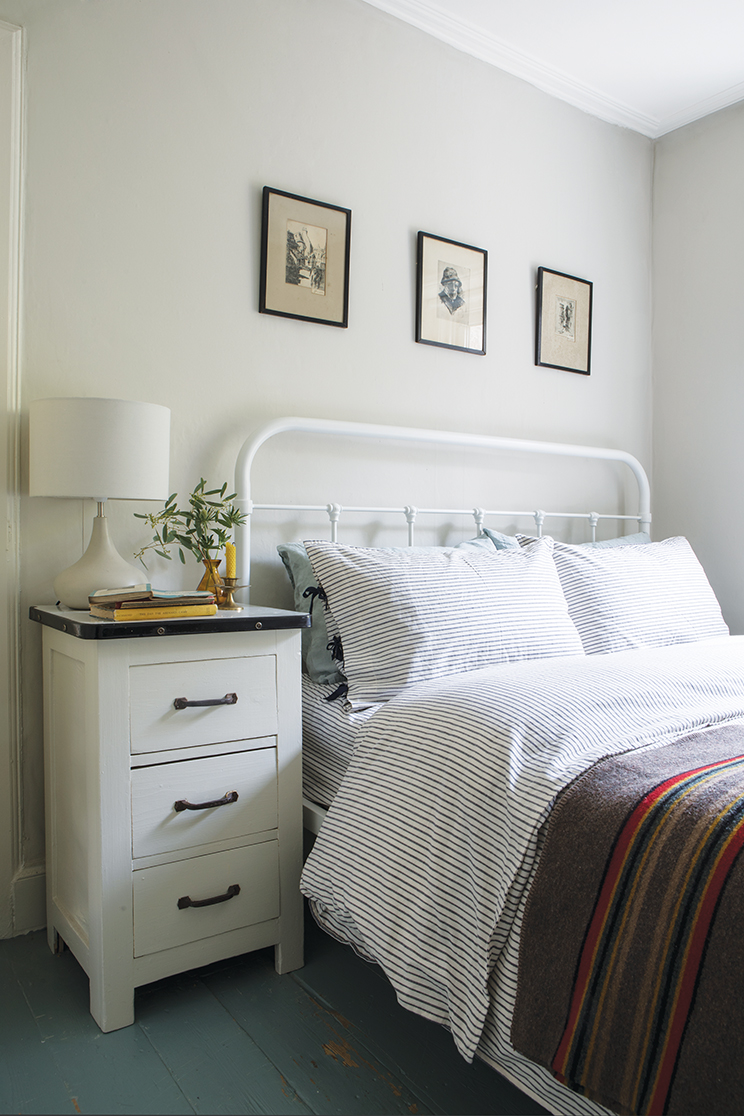 "Having a fourth bedroom was a must when we bought the house, so that our family and friends from Ireland could always have their own room when they stay," says Siobhan. "Of course we've had no visitors for ages because of lockdown. Hopefully soon!" Vintage finds add characterful interest to this room, with its striped bedding from Toast, considered art work and cosy throw from Pendelton Woolen Mills.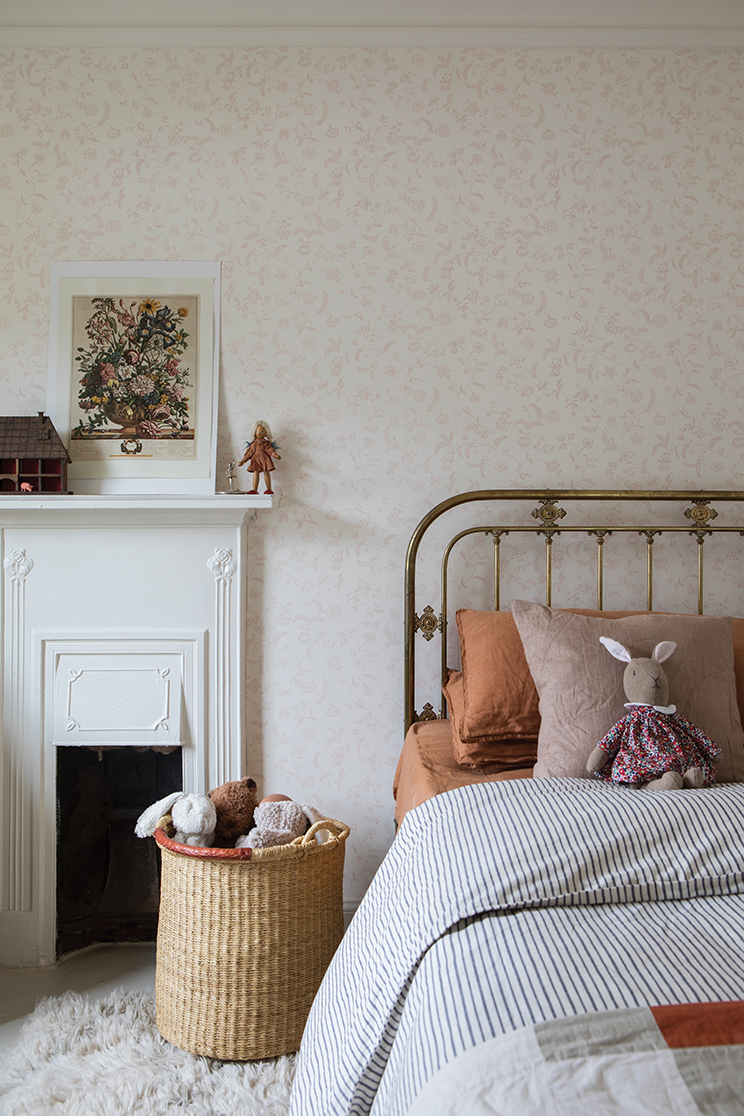 The traditional theme continues into Úna's bedroom, with its wrought iron bed, painted floors and antique illustrations. "Úna's bedroom is my favourite room in the house because I love the delicate designs of the wallpaper," says Siobhan. The couple were the highest bidder on the bed, which they bought at auction. Siobhan painted the wardrobe in Light Blue, while the walls in here are Slipper Satin, both Farrow and Ball. The room also boasts the dainty designs of Farrow and Ball Uppark wallpaper, which is available on Wallpaper Direct.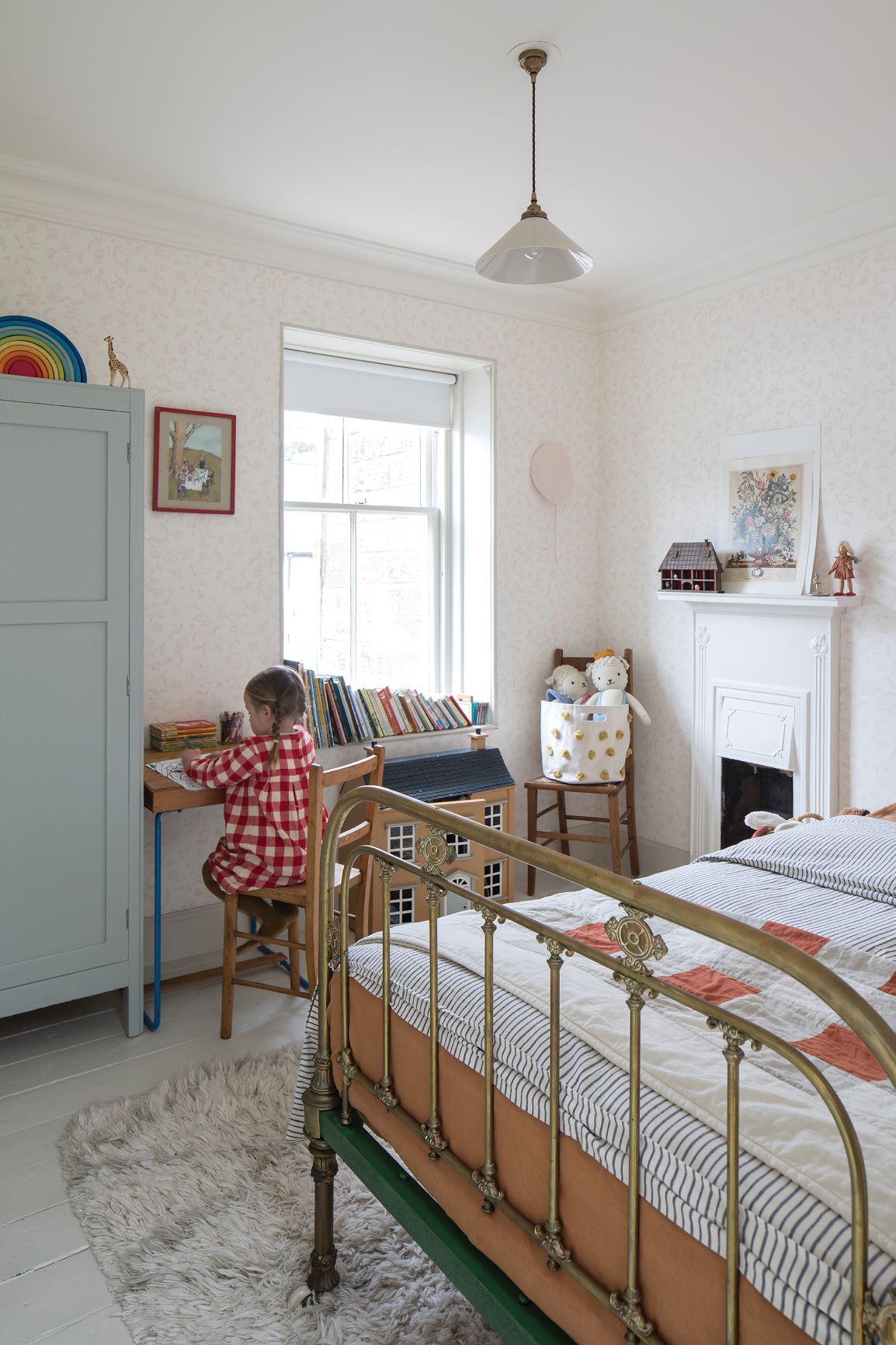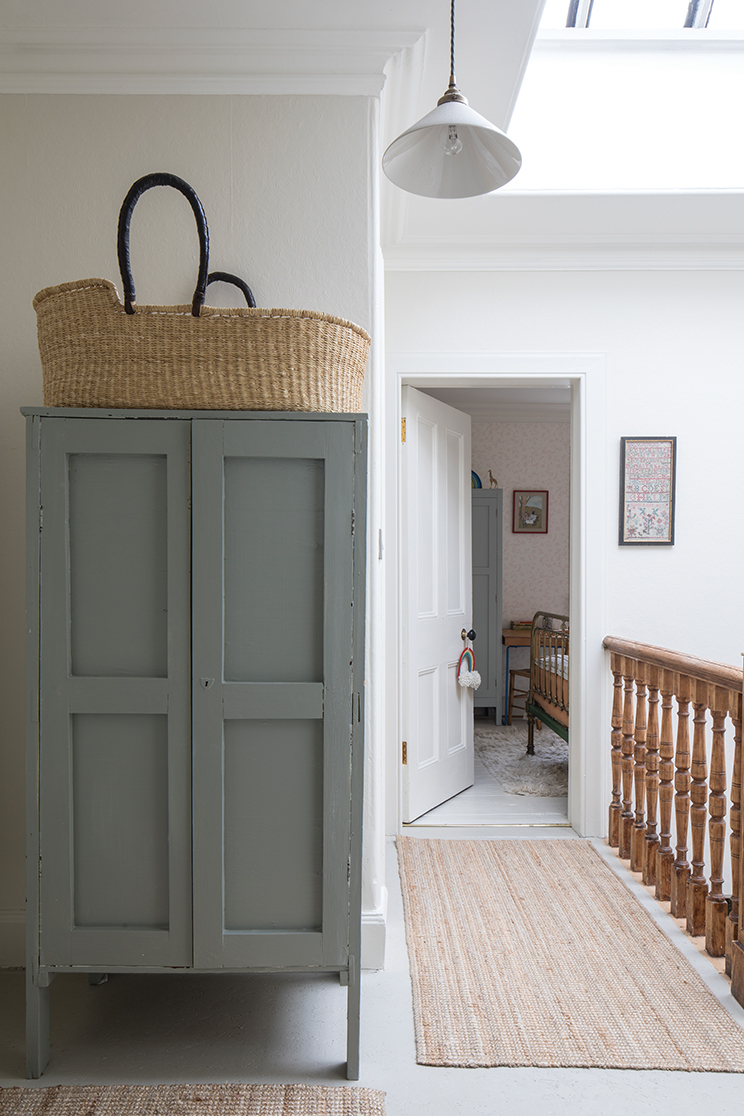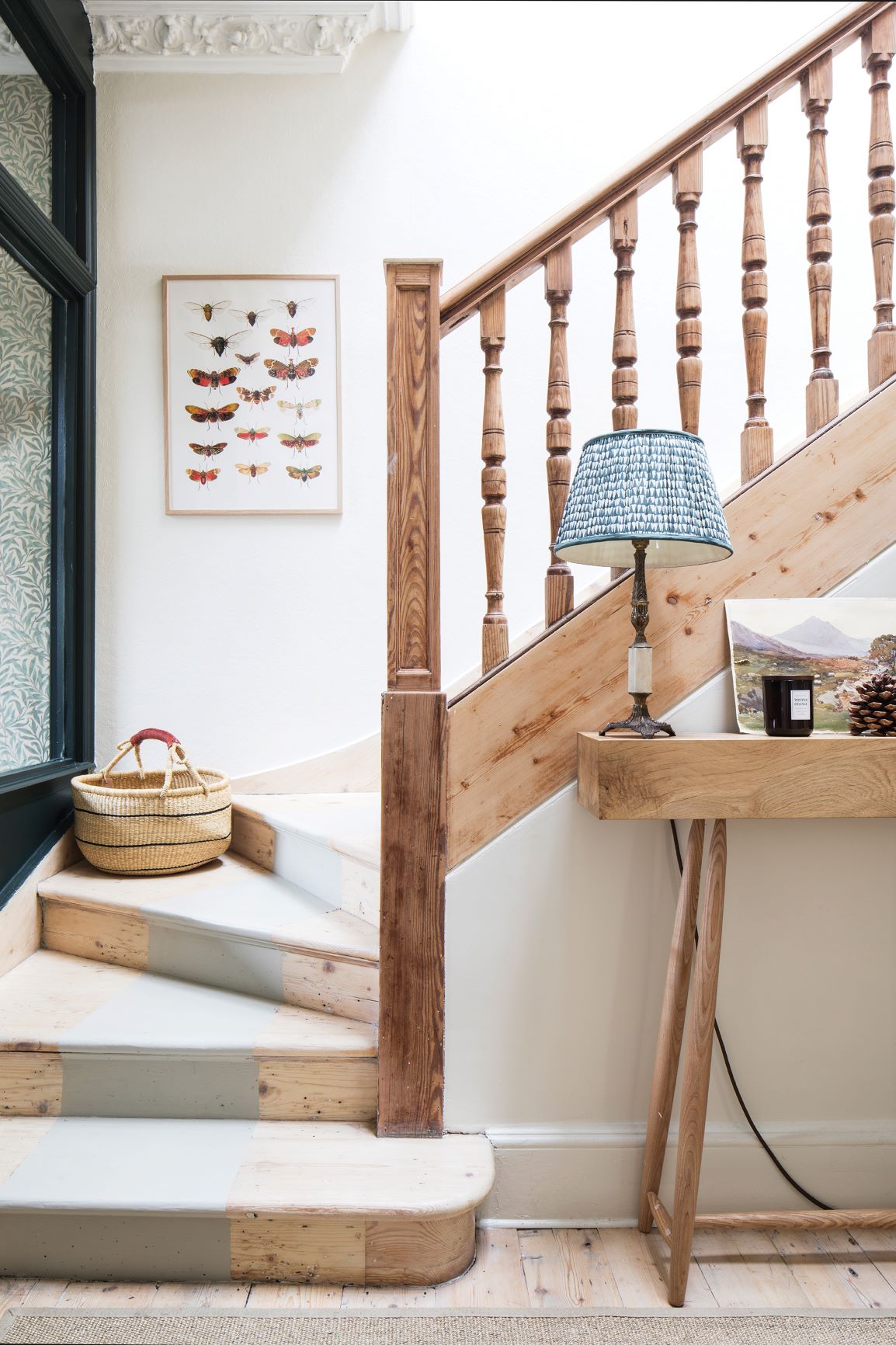 Though the home is predominantly painted in neutrals, subtle pops of colour have been added in the form of painted vintage furniture, soft furnishings and with the ochre Chesterfield sofa- the statement piece in her living room.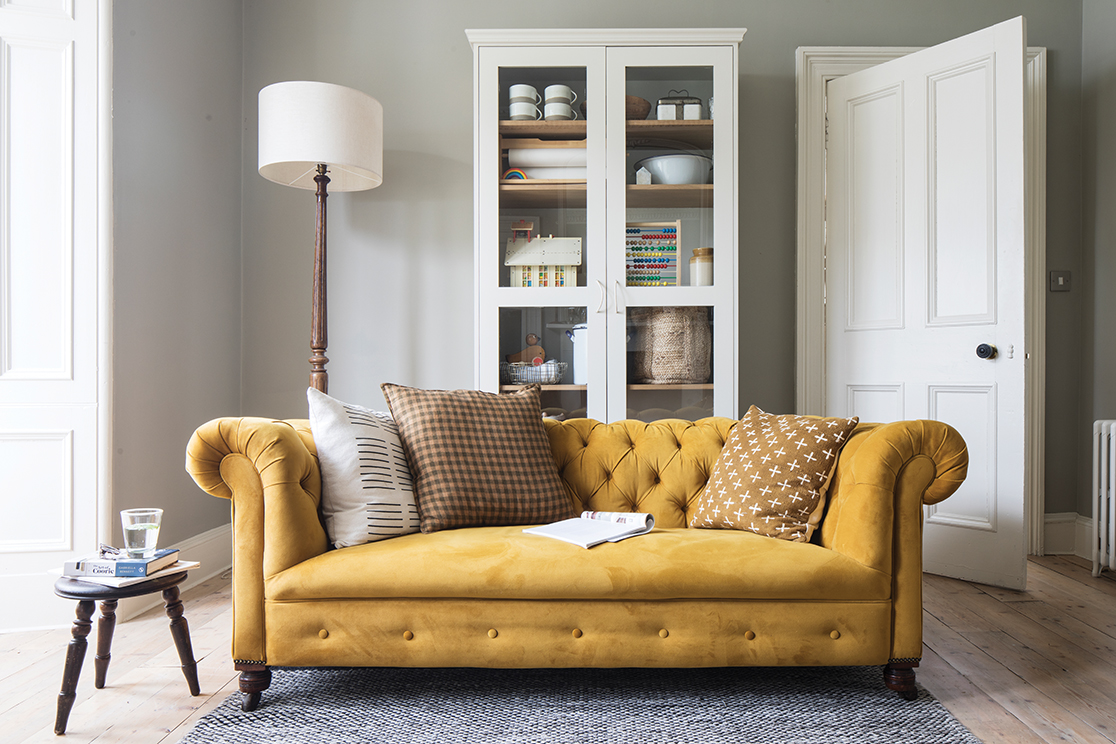 Siobhan sourced the sofa on eBay and had it reupholstered. An ideal solution for those who love the character of vintage pieces, but aren't crazy about the old, stained fabric they often come with!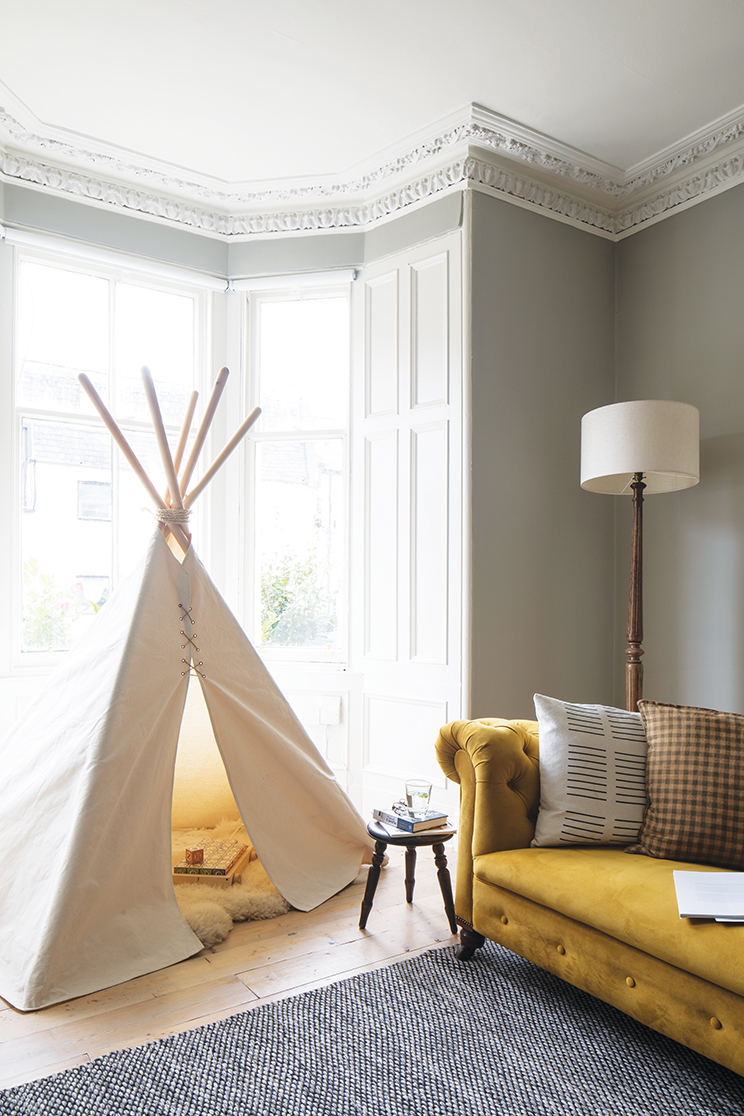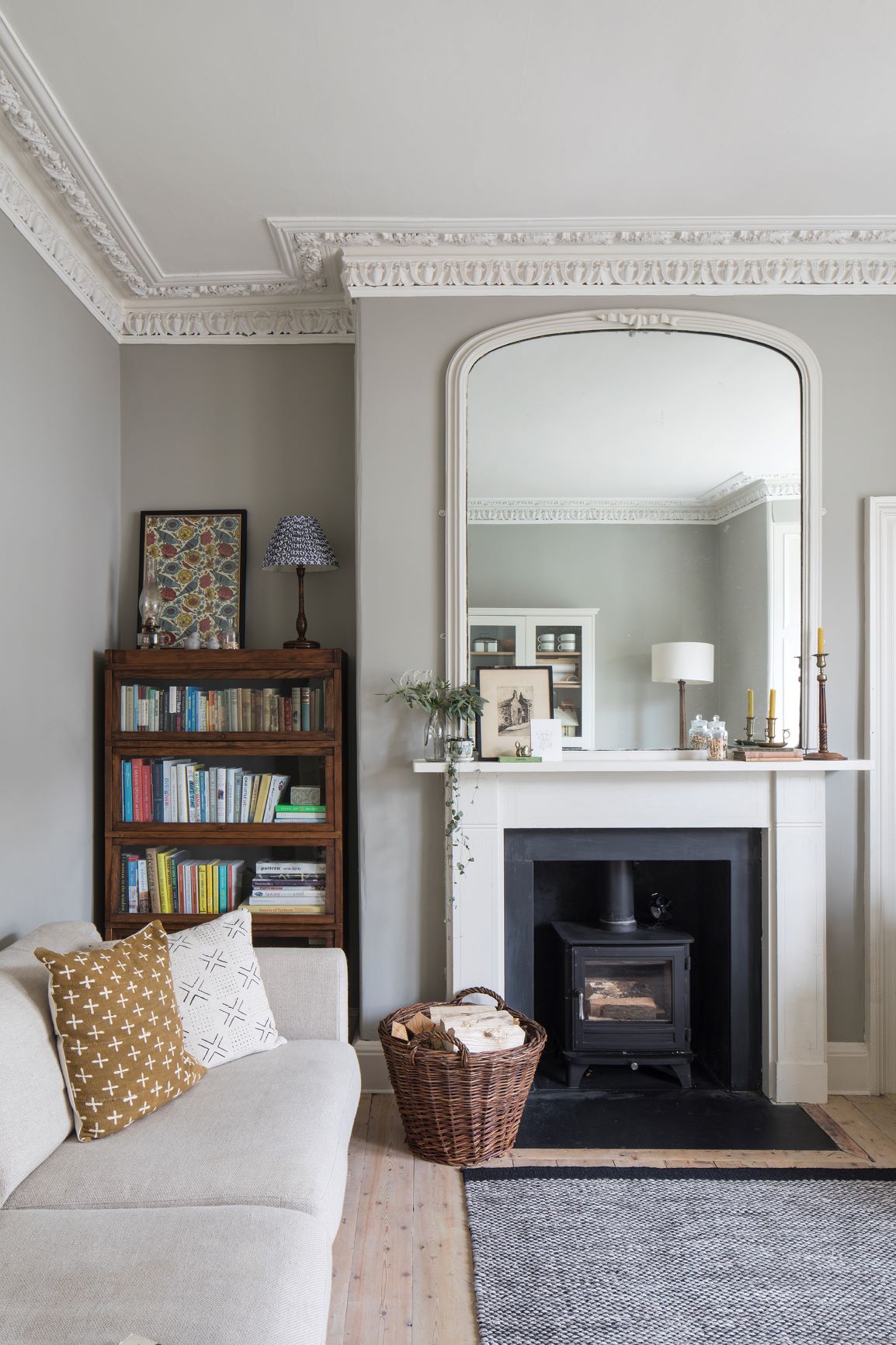 "I am a fan of Scandinavian style and have incorporated that into the house, with simple décor and warm textiles," says Siobhan. Each surface throughout the house is adorned with simple, nostalgic objects like handled candlesticks or old-fashioned ceramic food jars.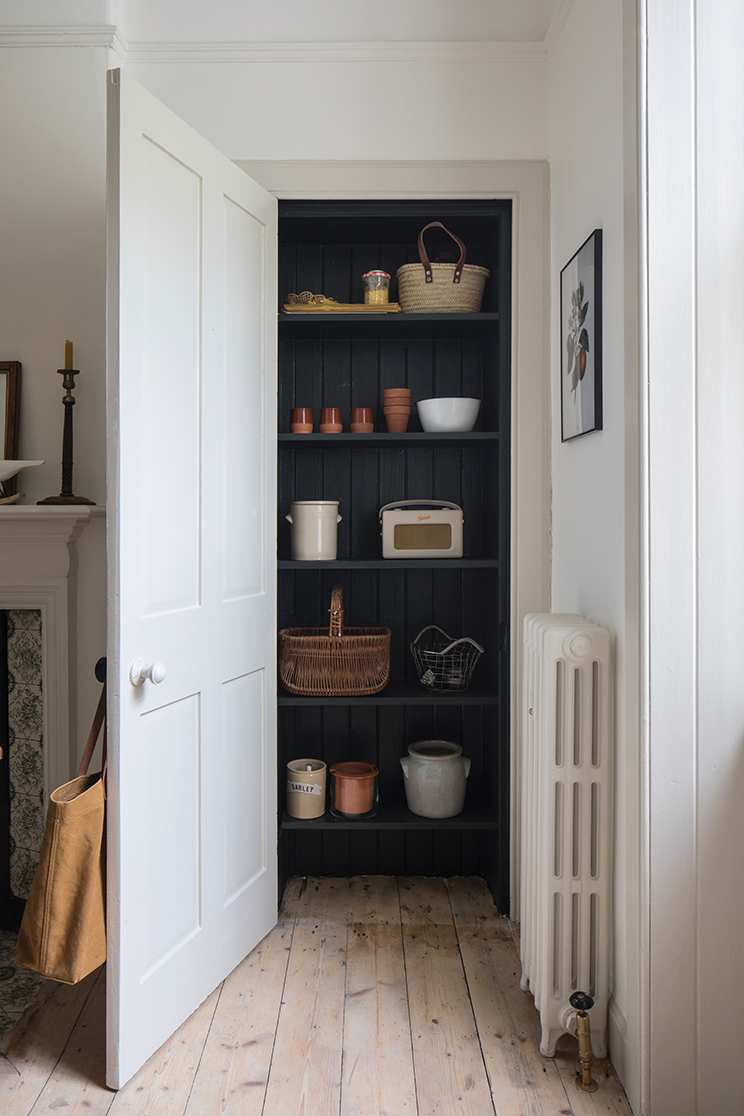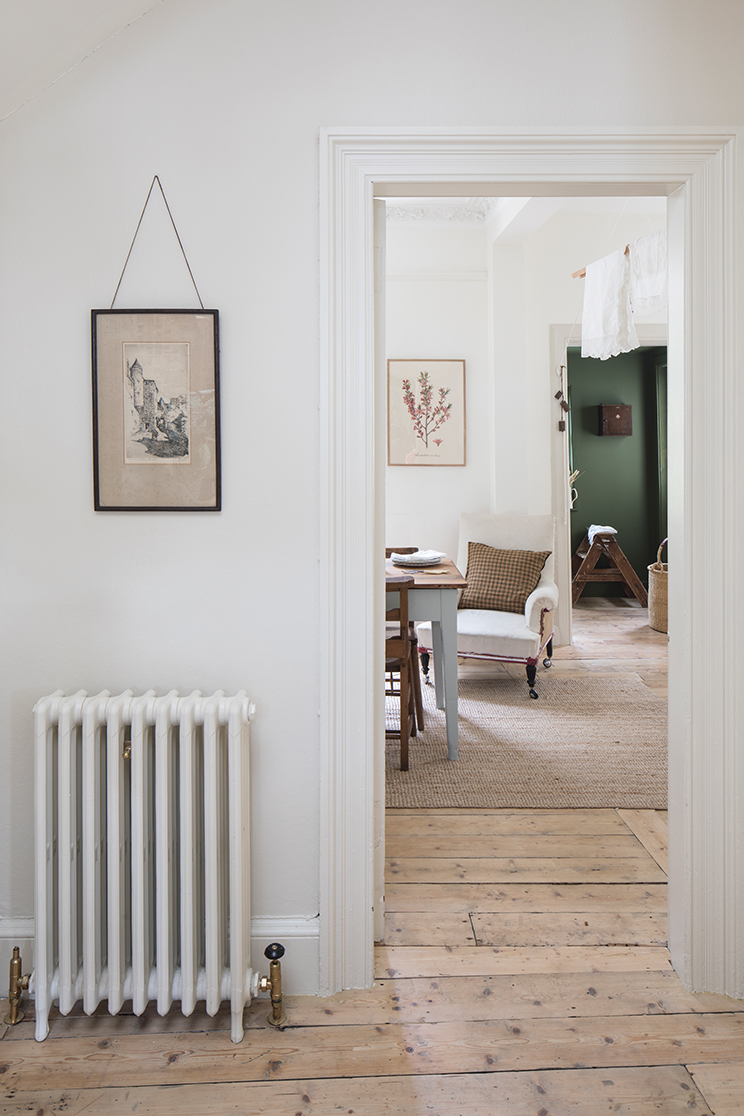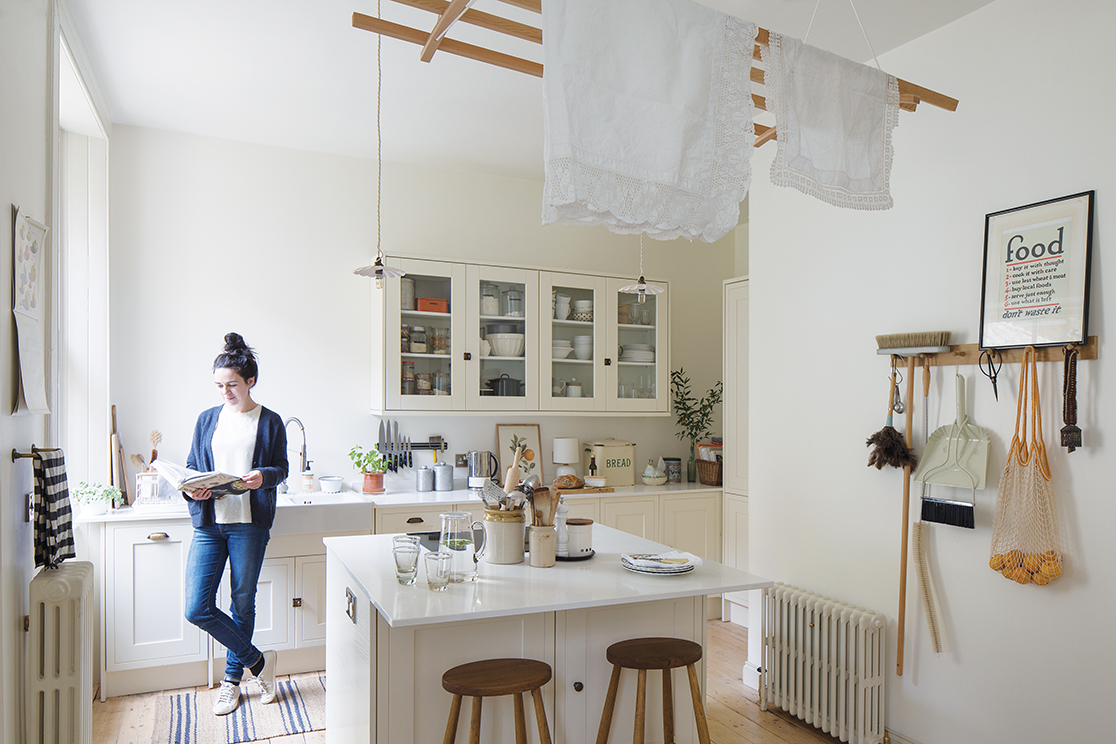 When the family moved in, getting the kitchen right was a first priority. "It had an old tin sink and virtually no cupboard space or appliances," says Siobhan "It was also dark and small, as was the dining room next door, so the obvious thing was to knock them into one." Working with a trade kitchen designer at Howdens, the couple picked simple Shaker style cabinetry to create this bright, calm and cosy family space.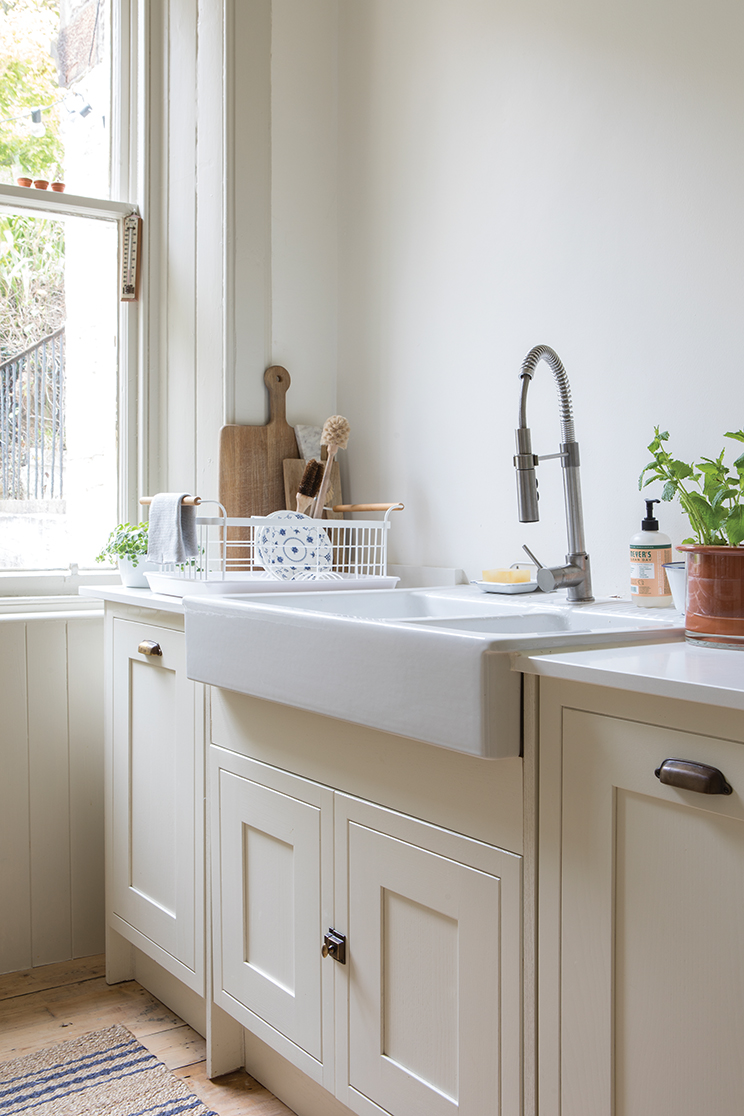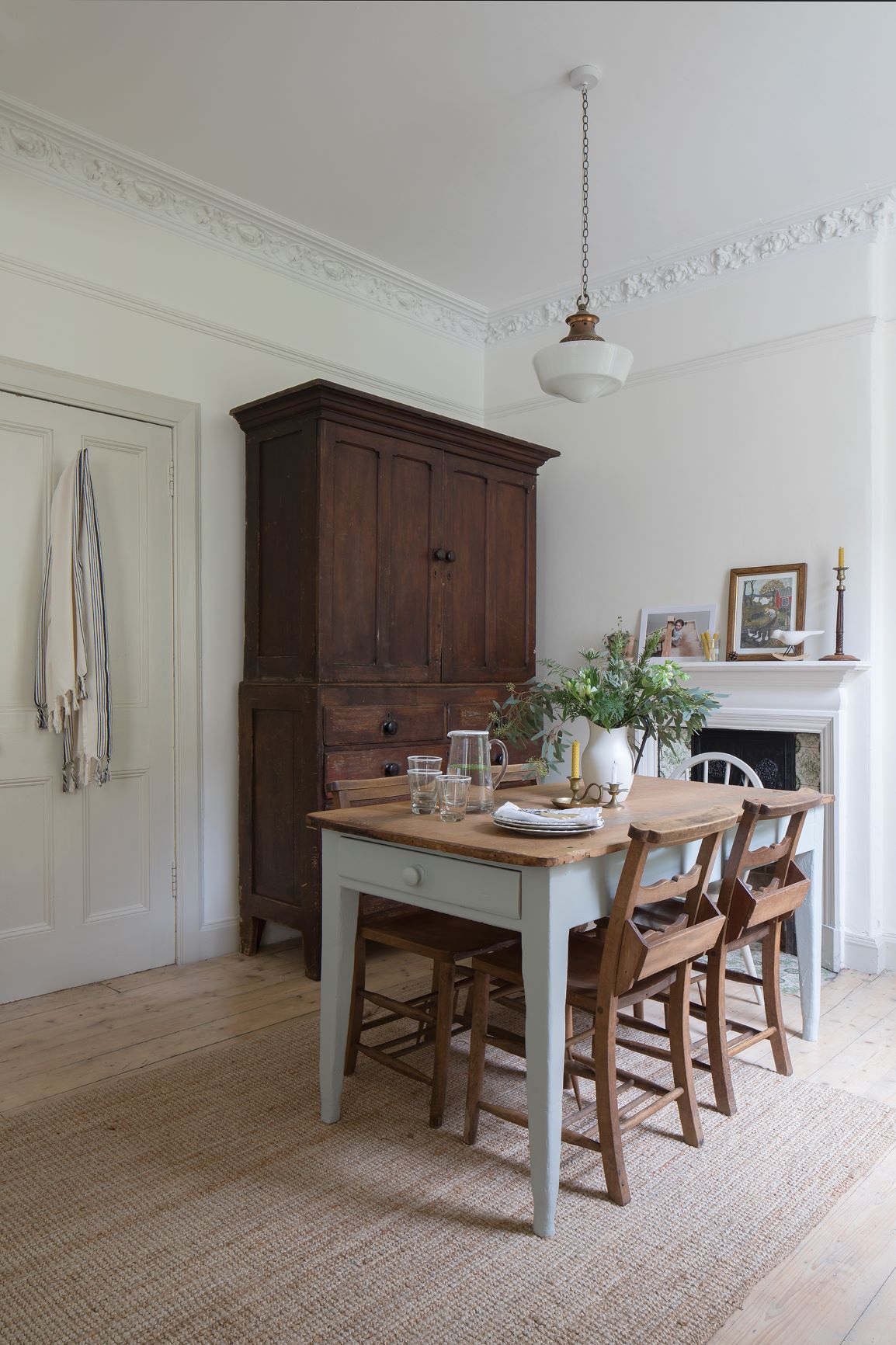 The picture rail and cornicing were intact when the couple first viewed the house, but they
didn't uncover the original fireplace and tiled hearth in the dining room until they started renovating. In keeping with the feel of the space, the dresser and church chairs were sourced from vintage sellers, along with the old cast iron radiators that were salvaged, sandblasted and spray painted. A glimpse of the utility room from the hall to the kitchen draws your eye through the space. The utility is painted in Bancha green while the inside of the cupboard
is Studio Green. The dining table legs have been painted in Light Blue, all by Farrow and Ball.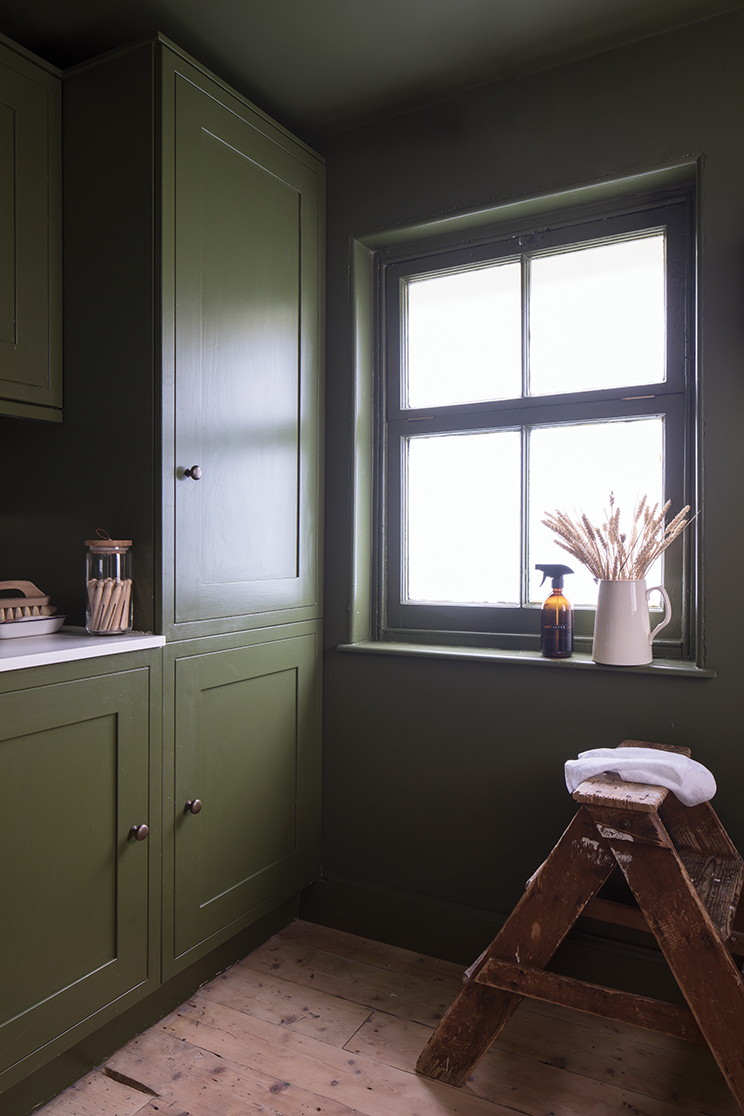 For another beautiful period home from our Jan - Feb issue, check out Art Director Tanya Ross' period home in Tullamore here.
PHOTOGRAPHY: JAMES FRENCH
STYLING: MARISHA TAYLOR