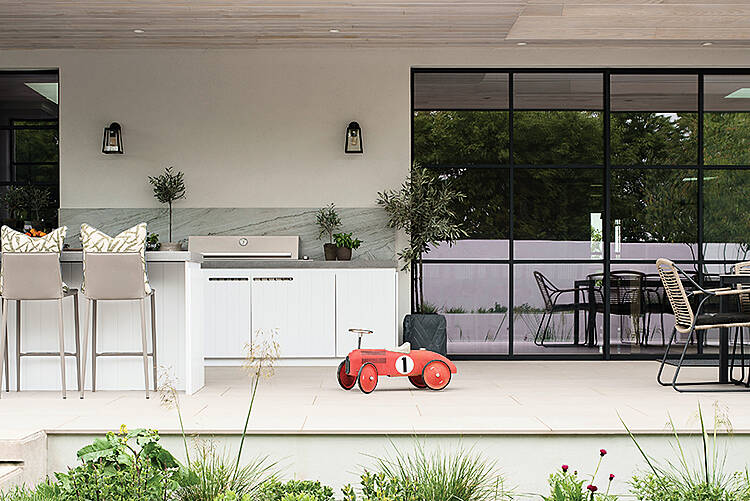 A sheltered outdoor kitchen has transformed this County Meath garden into the perfect place to relax and entertain, whatever the weather
Words: Róisín Carabine | Photography: Donal Murphy
For a busy family of five that love to cook and entertain outdoors, this garden just wasn't working. Although a good size, the layout was disjointed and lacked any real connection to the house. Keen to rectify its shortcomings, they enlisted the help of James McKevitt, director of McKevitt King, the architectural practice that designed their original home, and interior designer Aisling Wilson, creative director of award-winning interior design studio, Ash Wilson Design to come up with a plan.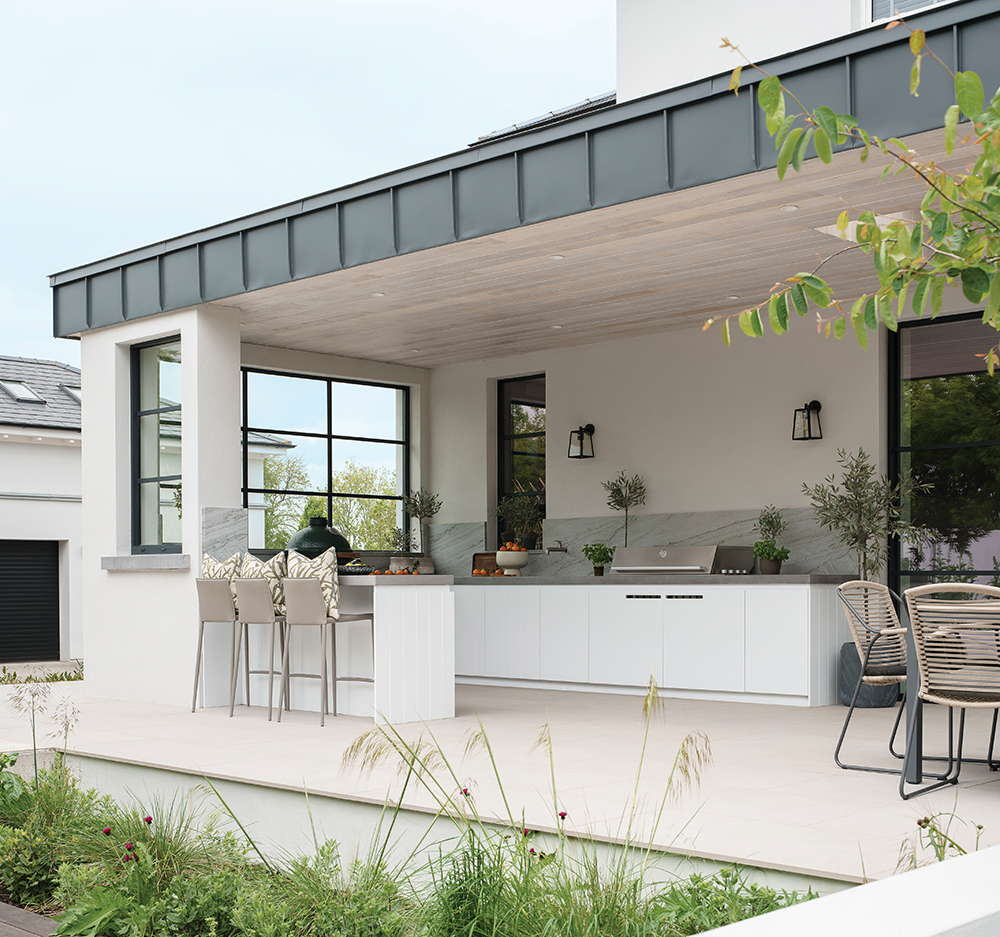 Planned to perfection
"The brief was very clear to us from the onset," says Aisling. "The couple wanted to create extra living space that reflected their alfresco lifestyle and effortlessly connected to the outdoors and the beautiful landscape that surrounds them here."
The solution? Square off the property at the rear with an extension, reconfigure the internal layout to include two kitchen islands and add a sheltered outdoor kitchen.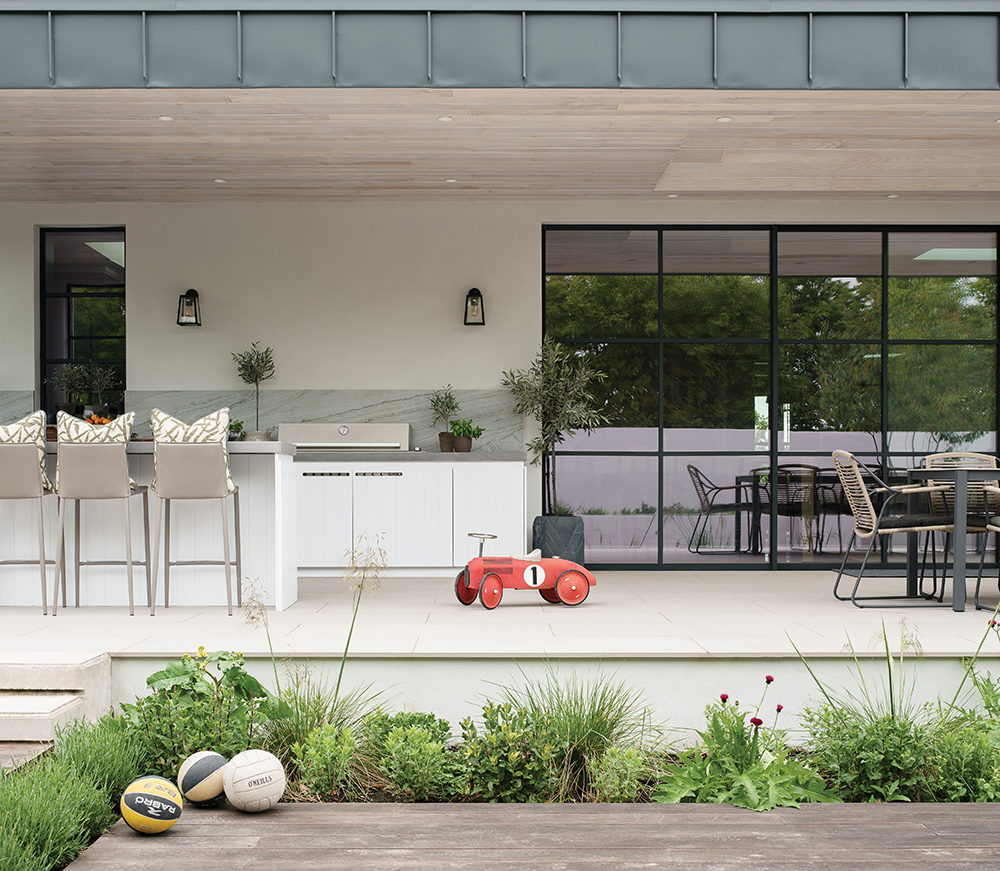 Open-plan extension
"It's an expansive space," says Aisling of the striking new 18-metre-long by three-metre-wide area which runs almost the full length of the property. Designed as a room with one side open to the garden, Aisling has curated the interior to feel like an extension of the house, opting for a simple yet elegant aesthetic that pairs harmoniously with the feature black Crittall-style windows.
"Its inspiration is no-fuss Scandinavian style meets the classic fundamentals of the Hamptons," she says, with every detail thoughtfully and meticulously considered right down to the colour palette of blues and off-whites (which mirror those used inside) and materiality selection.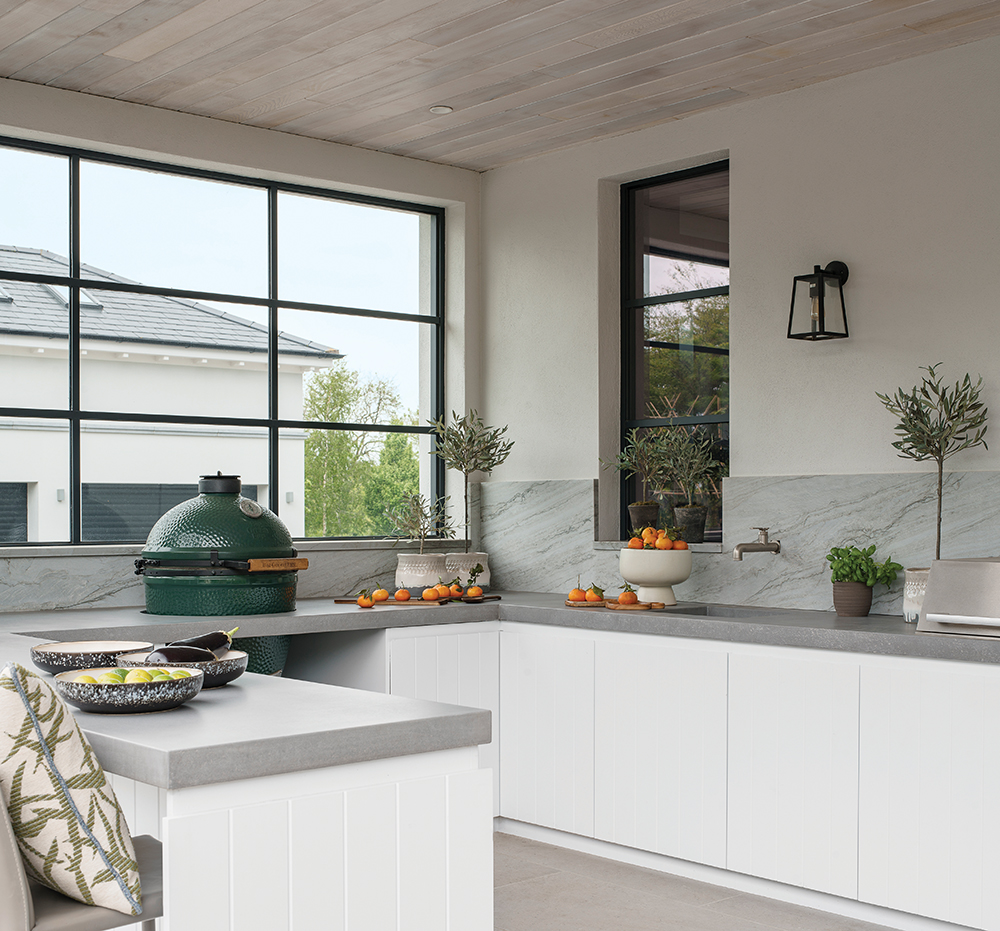 Material matters
"We clad the roof in limed cedar, which adds warmth and enhances the affinity between indoors and out, and strategically inserted a five-metre skylight with splayed reveals to allow light to travel through the space and into the house." says Aisling. "When designing any outdoor roofed area, it's important not to block your light."
The countertop is made from poured concrete by leading polished concrete specialists Concrete Fair, which allowed the designers to incorporate the sink (also concrete), and all-important a Big Green Egg and Beefeater BBQ seamlessly into the design and create a bar area on the exterior side, which adds another dimension to the space. This is complemented by a striking oceanic-like natural quartzite splashback from Cosentino's Sensa stone range, specifically chosen for its stain- and scratch-resistant qualities.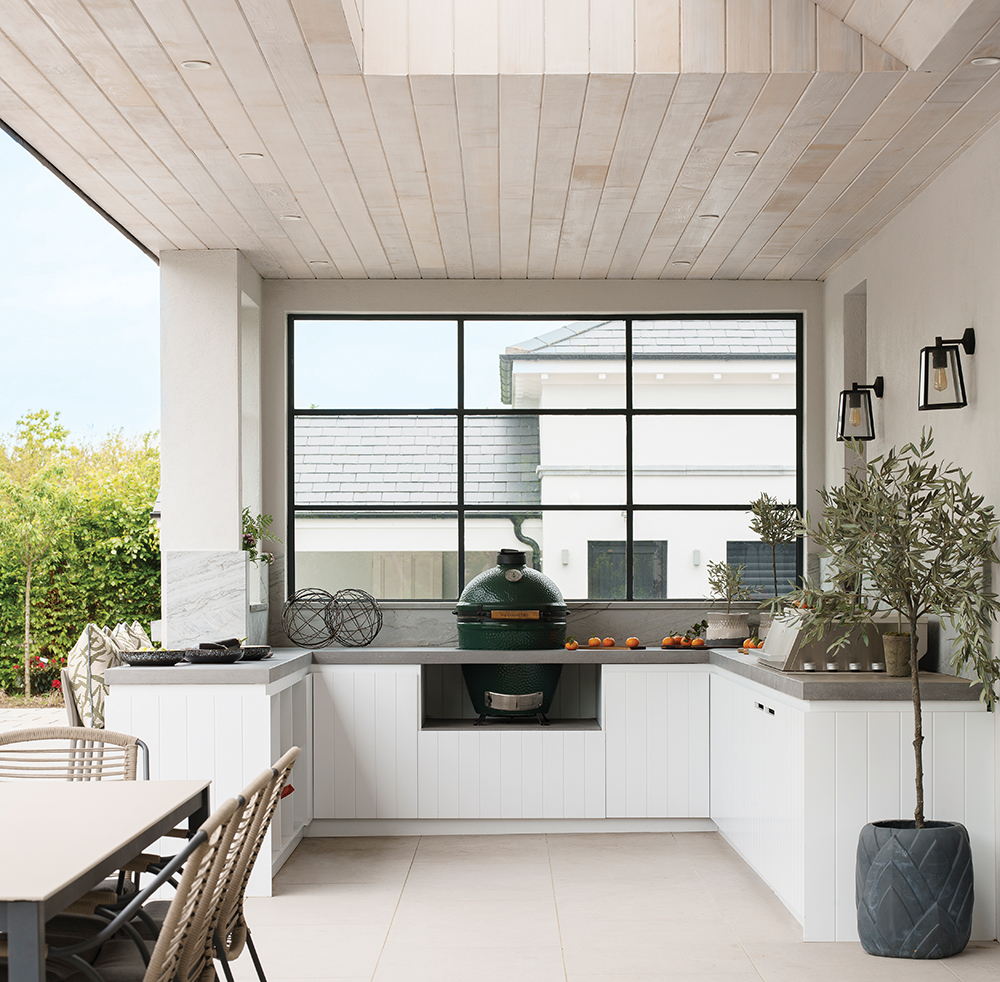 Store and more
"Like any well-designed kitchen, storage is key," says Aisling. "In keeping with the minimalist feel of the space we opted for a U-shaped bank of handless undercounter cabinetry with a vertical shiplap design from Shalford Interiors painted in Shallows by Little Greene Paints. Large format grey porcelain floor tiles help anchor the scheme."
A redesigned garden with split levels and seasonal foliage by Andrew Christopher Garden Design enhances the views from inside out.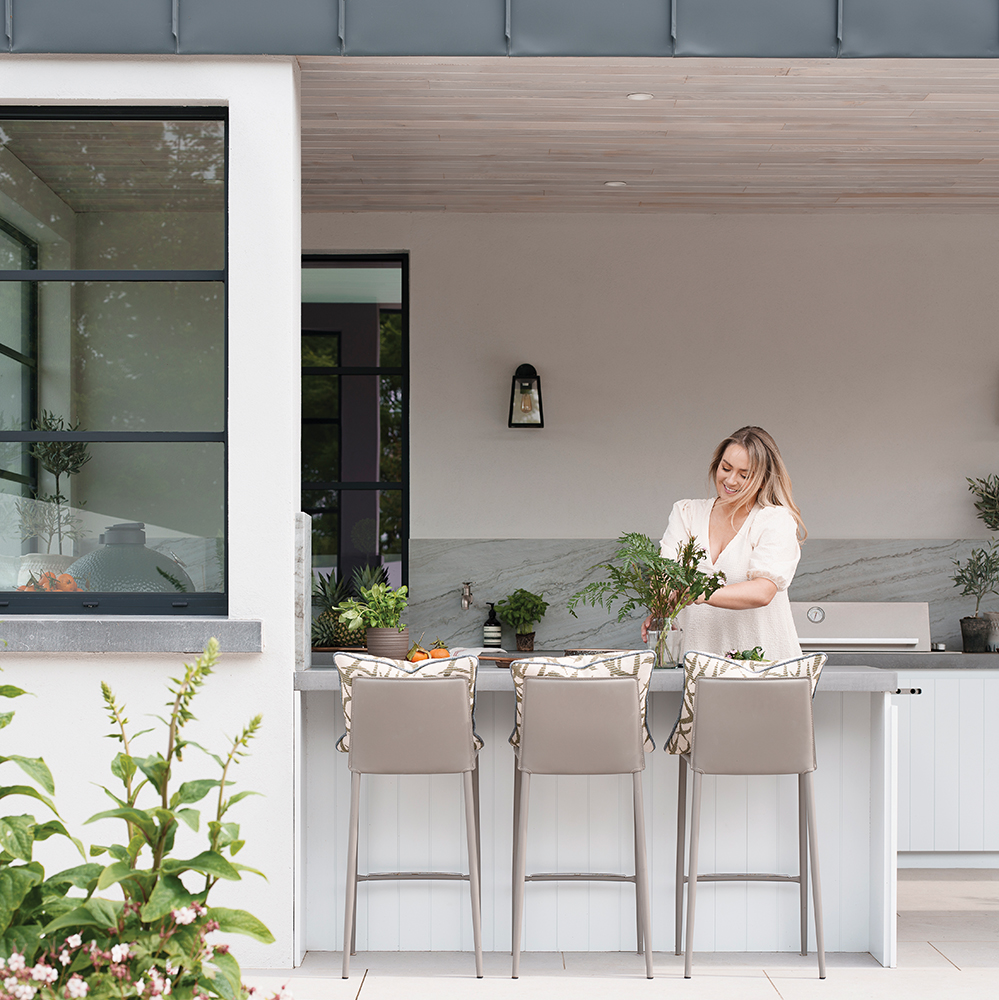 How to plan the perfect outdoor kitchen
Make dining al fresco effortless with a fully loaded kitchen in your garden replete with sink, countertops and cabinets. Interior designer Aisling Wilson (above) of Ash Wilson Design advises…
Location and orientation are key to your outdoor kitchen's success. It should be easily accessible and ideally close to the house for best convenience.
Choose the right materials for outdoors; surfaces should be weatherproof (so that they are able to withstand rain, frost and direct sunlight) and ideally low maintenance. Poured concrete, natural quartzite and porcelain are all popular and good options.
When creating any outdoor roofed area consider the impact it will have on your interior. Try adding skylights within the structure or opt for a pergola-style cover that won't block the light.
A complete outdoor kitchen will need both running water and electricity; make sure to factor these facilities into the early design stages of your plans as retrofitting can be messy and costly.
As well as all the kit to keep your kitchen functioning – oven, sink, fridge – don't forget to include practical essentials such as bins, a mix of closed and open storage as well as additional plug sockets and lighting fixtures.
A layered lighting plan will make the transition to evening entertaining effortless. Consider spotlights within the roof structure combined with feature wall lights – as well as portable floor lights and table lights for atmosphere.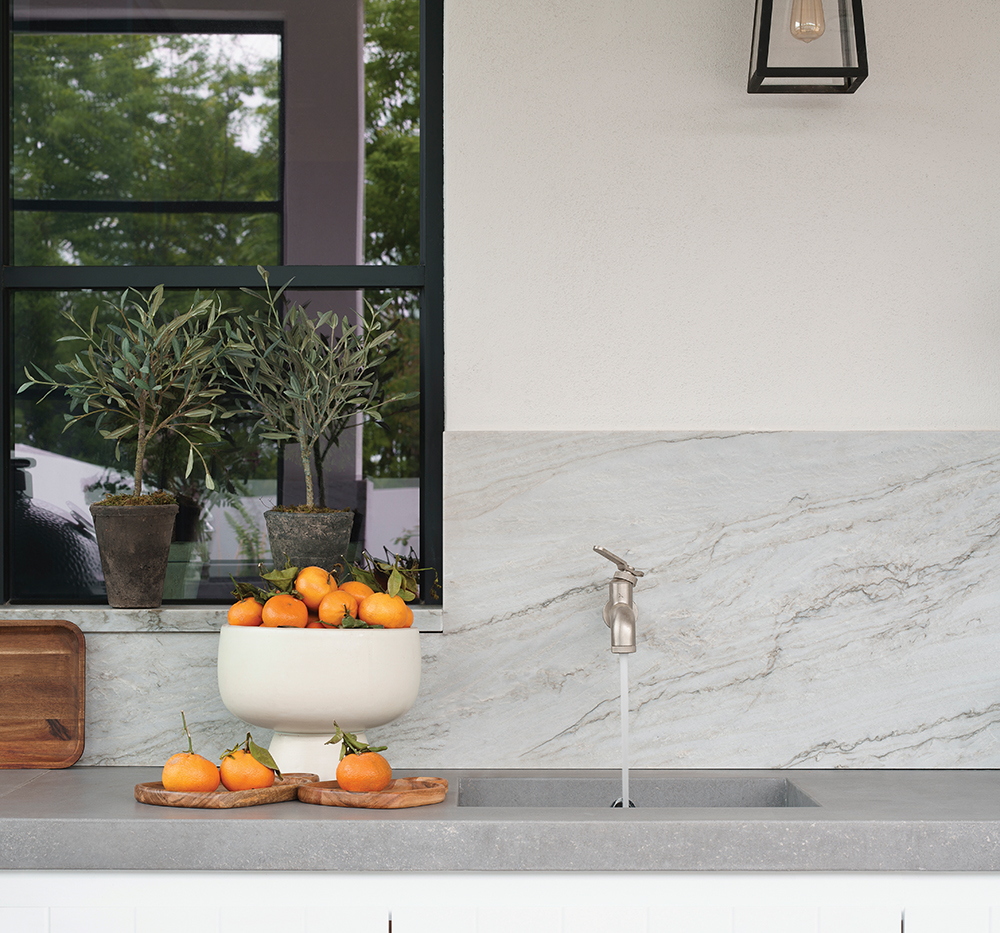 If this has inspired you to take another look at your outdoor space, don't do anything without first checking out our 15 mistakes to avoid when planning your dream garden!
Share This Article