Expect the elegantly unexpected in interior designer Julianne Kelly's Dublin home. On a quiet suburban street near a golf course – "the odd shout of 'fore' can disrupt a sleepy Sunday afternoon" – her 1950s four-bed house is also home to husband Joe and daughters Ruby (8), Freya (6) and Rebecca (1).
"My parents set up Kevin Kelly Interiors in 1976 and I took over in 2011," Julianne says of her design pedigree. Recently rebranded, the company is now known Julianne Kelly Interiors and as a soapbox for her talent, her own home is the showpiece.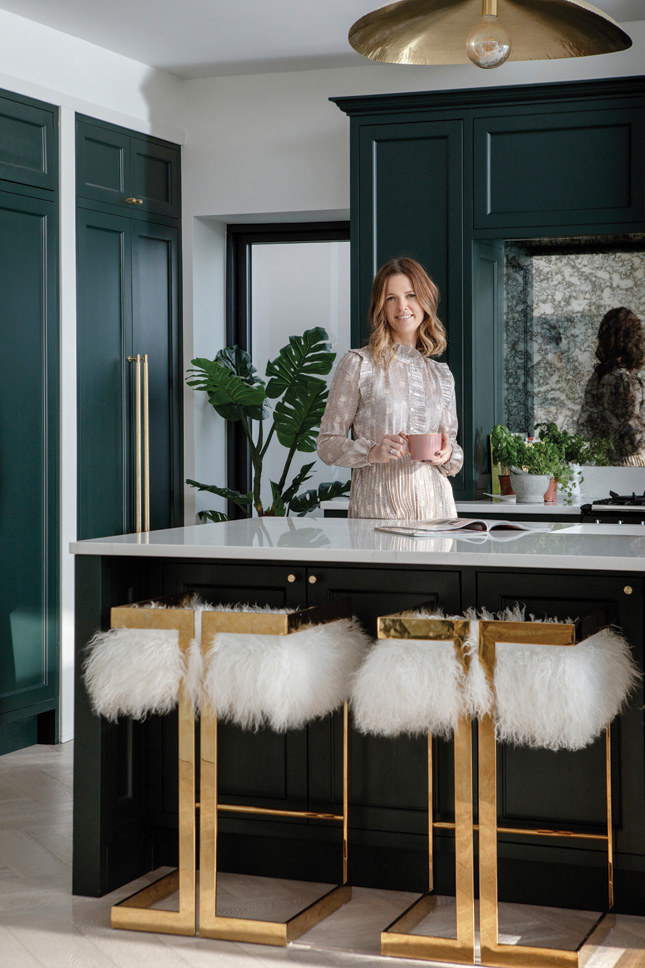 Walking down the hall from the front door, you enter the hub of this house, an especially large kitchen, dining and living area with huge windows to the garden – and the showstopper: a truly dramatic sunken seating area, affectionately named 'the pit'.
"I have to admit we agonised over this for a week or so," Julianne recalls. "In the end, we love it. It was exactly the right choice and is a real feature in the house. With such a large area we knew we needed something special: we had the space for a large counter in the kitchen, and with so much light coming in we knew we didn't want to put up a wall to split the room in two."
This isn't the only carefully considered design decision here. "Designing my own home was a labour of love," Julianne says. At the time, she was pregnant with Rebecca, and the clock was ticking to get everything done before she gave birth – which she achieved with a comfortable fortnight to spare.
"Sometimes it felt as if there were too many options, I knew all the design houses and their collections so well. Eventually it was a question of trusting my own style and eye, avoiding trends and focusing on what I knew I wanted."
The result is a home that is clear about its sensibilities. A mélange of tones and textures abound throughout the rooms, but all are complementary – green, pink and peach marry with warm metallics and cool woods – so while Julianne has used her take on design styles, she has created a scheme that is completely harmonious throughout the whole house. "I definitely wanted a really calm space with lots of light and colour," she says.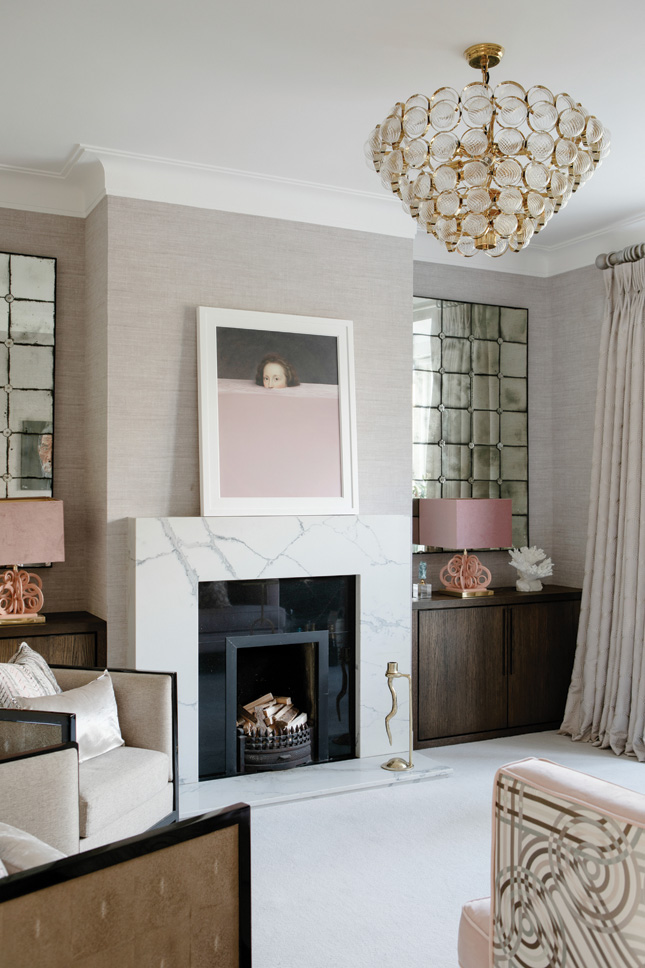 The interior is the icing on the cake of an extensive seven-month renovation project. Julianne and Joe bought the house in 2016. "It was more or less untouched since construction, except for a small box room added to the rear, and the house still had a functioning outdoor toilet," she recalls. Knowing how these things go, they decided to live in it for a year before they did the renovation.
"After 14 months we were ready to do the big job. I always think if you can, it's great to live in a house first and see how the light falls in the rooms and how you use the space. My plans were clear with a third baby on the way; the vision was to create a family home for three children and two adults," she says.
Those plans included a large kitchen, flexibility for an au pair while the kids are young, a utility room for washing and drying – "I spend a lot of time in here!" – and an en suite and walk-in wardrobe for the master bedroom. "I love not having clothes strewn all over my bedroom," Julianne says.
That master suite is the piece de resistance upstairs. "I believe you need to be comfortable where you sleep and bathe. The master bedroom and en suite are like a little apartment for us," she says. "They're relatively separate from the rest of the first floor and are big enough to be comfortable without being too overbearing."
Every space in this house has features and finishes to charm the eye. Surely there can't be much left to do?
"Well," she muses, "My husband wanted a hidden door to one of the upstairs rooms as a result of watching too much Batman in the '70s and '80s. It's on his wishlist, and we may move the master bedroom to the top floor once the kids are old enough," she adds.
"Don't get the wrong idea though," Julianne laughs, "I'll probably never stop working on this house. As a designer myself, there's always the fact that my style is evolving – and when I see the new collections it's hard to resist."
PHOTOGRAPHY: Ruth Maria Murphy
Share This Article