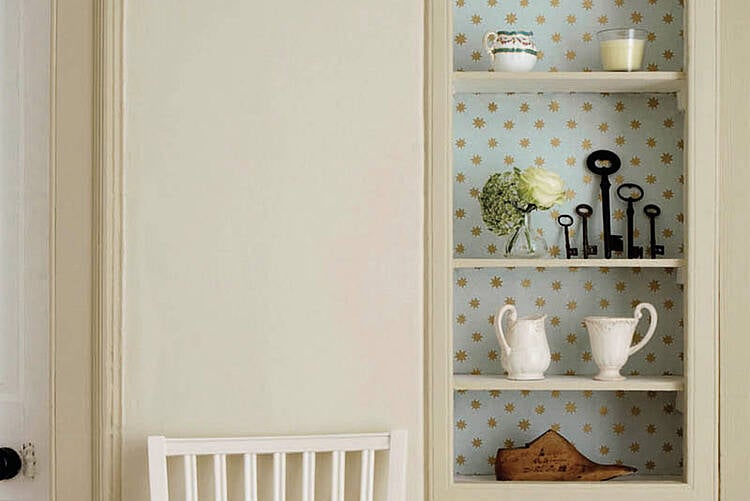 Diane from Sligo tells us that she's in the middle of a reno of her granny's 1930s cottage. Sounds fun, but what's the problem? "There are a couple of dated, grubby alcove cupboards in a dark wood that doesn't go with our colour scheme (off-white walls and oak flooring). I'd like to keep these cupboards to conserve the character of the house but wonder how best to make a feature of them? The cottage is very small, so storage and a sense of space are really important."
Aha, we getya Diane. Well done on resisting the urge to pull out the old and replace with the new. We suggest you transform the cupboards into alcove shelving by removing the doors and inserting shelving into the space – even for the DIY-phobic, this is an easy job. You can add interest and really make them a feature by lining the back wall of the cupboard in a favourite wallpaper, preferably something quite bold that will stand out.
This is a perfect use for odd rolls of designer wallpaper which you can find on sale in most interiors shops. In fact, Pickit is a brilliant source of quirky and cool papers, so have a browse there too.
Finally, sand the cupboards down, apply a primer and finish in a matt paint in a light earthy tone (such as Clay by Little Green paints, pictured, or Pale Slate by Dulux easycare satinwood) both of which are just bright enough to retain a sense of light and space, but yet homely and warm enough for the country cottage feel.
Have you re-invented old wood? How did you go about it?