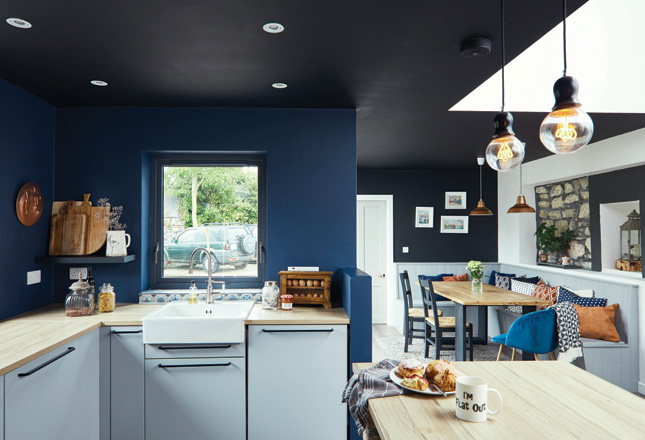 It can be hard to know what's possible and what kind of budget you need for your project while looking for inspiration.
While a real home tour might give you great ideas, how do you know what's realistic when you look at your bank balance? With that in mind, we're starting a new budget breakdown series where we ask real homeowners to give us an idea of what their renovations cost.
First up, it's Deirdre, whose gorgeous Galway cottage we featured last year. Her and her husband were redoing the whole cottage, and by the time they got to the kitchen, there wasn't a huge amount left in the kitty, so we asked her how she made it work.
BUDGET: €4,000
How did you come to be renovating your kitchen?
We bought our first home in 2012, which was a lovely old cottage. There was a flat roof kitchen on the back of the cottage which was probably added during the 80s and it was a good size but very cold and not built very well compared to modern standards. When we moved in we knew we had work planned for the house and part of that was getting rid of the old flat roof kitchen to make way for a replacement extension, which would include the new kitchen.
What was your budget? Did you stick to it?
The kitchen got an allocation as part of the build total and as there was so much to do from a renovation and extension point of view, with a limited budget, the kitchen got about a €4000 allocation. We were told it would be tight, however, we knew from the start we weren't going for a high end custom built kitchen and that we would try make the allocation work with whatever materials we could. We had it already decided we would do a pantry set up in the corner and not have any high units. This really cut some of the cost out and definitely worked as the space doesn't feel clustered with top units and the layout lends to everything being within reach, plus the pantry works a treat in the middle of it all.
What did you spend the most on?
We decided to do a one stop shop in Ikea for the units as well as all the appliances. This worked out at about €3,500 and felt like good value for money for what we got. It included some counter top and a unit for the utility also. I liked the idea of the units being separate colours on either side, so the tall units like the fridge and oven on the left wall got matt white, while the remaining lower units wrapping around the kitchen got a matte grey, all finished with full width handles in black.
Was there anywhere you saved?
While we were happy with what we were able to buy for the original allocated budget, it meant there was nothing left over for fitting. My husband Evan decided to put the kitchen together, while we got a carpenter to hang the counter top for it all to slot into. After a lot of adjusting lines and questionable language, it finally took shape. After this we needed to sort an island unit and with the size and shape of the kitchen, we needed to have the island to tie it altogether and really make it functional. Some reclaimed red bricks costing about €100 from the local salvage yard did the trick to make an island with lovely character.
What surprised you most?
I think we overlooked the cost of fitting but with the flat pack setup that we went for, we were able to overcome that and certainly saved. A lot of suppliers will include this I know, but for the tighter budget, the flat pack option worked for us. Its amazing how quick all the elements start to add up but having an outline of what you want where and more importantly why, will mean you don't start adding units for the sake of it.
Is there anything you would change if you had a limitless budget?
I don't think so. I love how it turned out and it really is a functional kitchen. The only thing I would potentially do different is a nice chunky real solid timber counter top rather than the imitation timber we went with, but maybe someday...