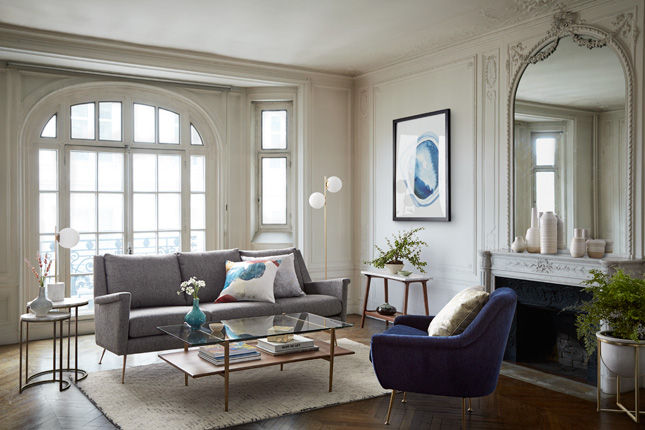 West Elm officially launched in Ireland last week, opening a 1,100 sq ft showroom on the second floor of Arnotts, its biggest wholesale space in the world. Divided into seven different 'rooms', it showcases the most room sets in any wholesale space, and as a result, a wide range of their products and styles.
Ireland is the second country in Europe that West Elm has opened in, having opened in John Lewis in London for the first time in 2015. It has since opened a standalone store on London's Tottenham Court Road, and through its English stores, West Elm saw the demand for an Irish wing, too.
"It turns out a lot of our customers that were shopping in London, ended up being from Ireland, so we did have a draw from Ireland, and when it came to figuring out who best to partner with in Ireland, it was, no question, Arnotts. They have the trust of the people here, they have a strong breath of furniture and they offered us a beautiful space," says Alex Olsen, West Elm's head of global wholesale when we meet to walk through the West Elm space in Arnotts.
Through the seven room sets, there is a wide variety of furniture and accessories for every room, all with a mid-century modern aesthetic, tying them together. However, it is a small selection of what's available in their native Brooklyn stores. How then, did they choose what products would fit in an Irish home?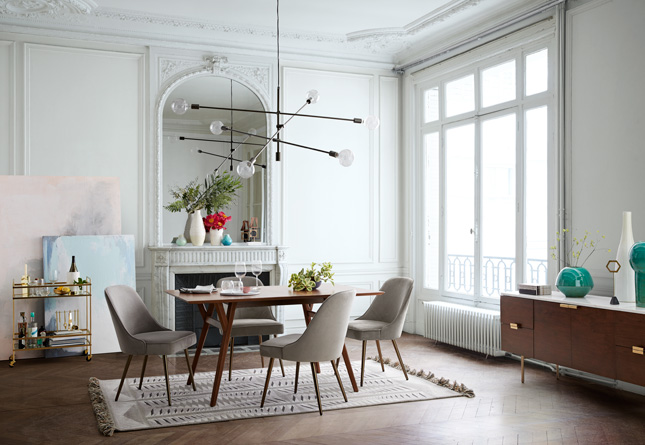 "We definitely put in our tried and true best customer rated pieces, because we're entering into this market, but we also wanted to put some new fun elements of design in there, that made the space feel inspired and unlike anything Irish customers could find elsewhere. Of course what's within the assortment are our bestsellers in London but we're really opening it up to the Irish customer and really want to hear what they love and make it tailored to them, and what works in their spaces," says Alex.
She doesn't feel that Irish shoppers and American shoppers are all that different, though, especially given West Elm's market, and commitment to sustainability and consciousness in business. "People are hungry for responsible retail, and it feeds into feeling like they're empowering communities and their purchases aren't guilty things. I think [across both regions] West Elm brings that, not just because of the responsible retail practices we engage in but also from the lightness of the collection. You can feel the happiness and the energy from the design set forth so I think in that way, that's similar throughout," she says.
On a more basic level, she says a desire for modern design is also obvious in both Ireland and the United States. "Modern design is definitely having a moment across all markets and you can definitely find it in the furniture stores here in Ireland. I poked around and there's some beautiful modern design out there."
West Elm is unusual in that around 90% of their design is done in-house. "Within our offices, we have looms, potting wheels, we have it all. Our design team is giant in Brooklyn," says Alex.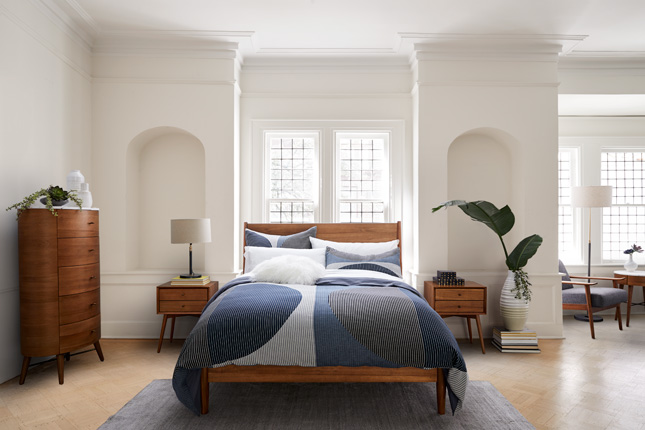 However, their designers work in partnership with many local handcrafters and makers across the world. "We travel the world, and we really look through. I said that's an Italian mid century room set," she says, referring to the Acorn bed set set up in the Arnotts space. "That was actually concepted by a trip to Milan. We really like that Danish mid-century modern design rings through everything. Our creative director is from Finland, so we definitely have that modern, clean aesthetic but we also like to have a global feel and ethos to us, so it's an inclusive brand."
Despite a design process that involves travelling the world, the brand is fast paced and fast changing, in order to keep up with the latest interiors trends. However the trends aren't the be all and end all for them. "We are definitely a trend based brand but we like to express unique style and to emphasise that with the right modern finishes, things can be timeless," she says.
Some of the big trends from this year will be sticking around into next year, she says, along with some new updates. "I think next year we are still loving velvet as a big trend. From an accessories stand point, we're loving mercury, we're seeing a lot of that in the market. We're still loving modern, clean lines, and soft accents, but coming through in rich jewel tones, so velvets and jewel tones are really important to us, but continuing to emphasise mixing materials. We still think that's a really big trend."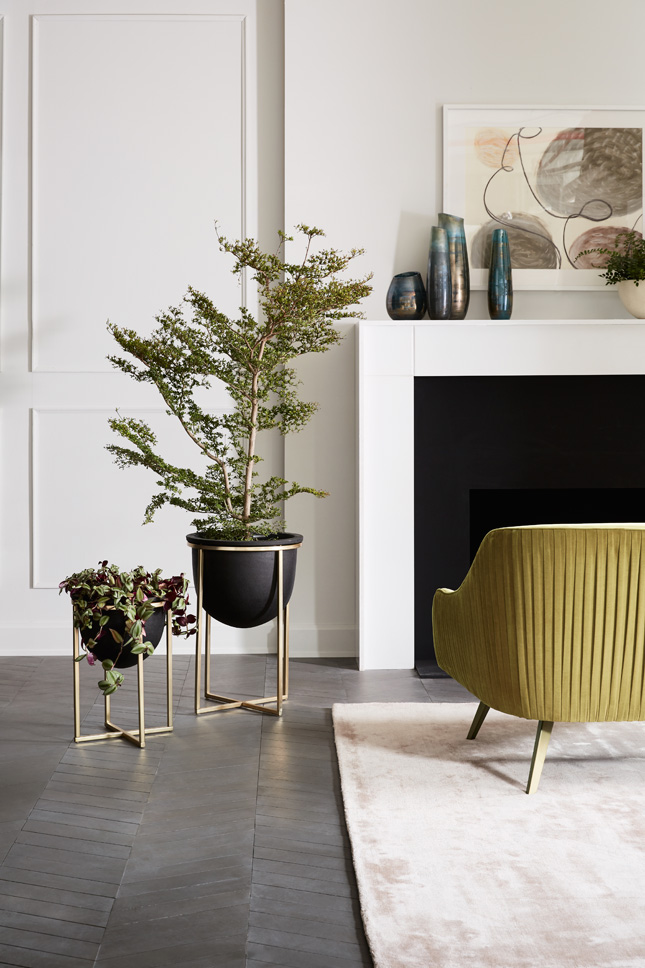 For now, the Arnotts x West Elm space is less than a week old, but that won't stop them expanding to somewhere standalone if things go as well as they did in London. "We just entered so we're waiting and seeing how everything goes but we're open to all areas and avenues of growth. We love Ireland and we're seeing great opportunity within Europe," says Alex.
Alex Olsen's Five Favourite Things at West Elm in Arnotts
Mid century nightstand, €349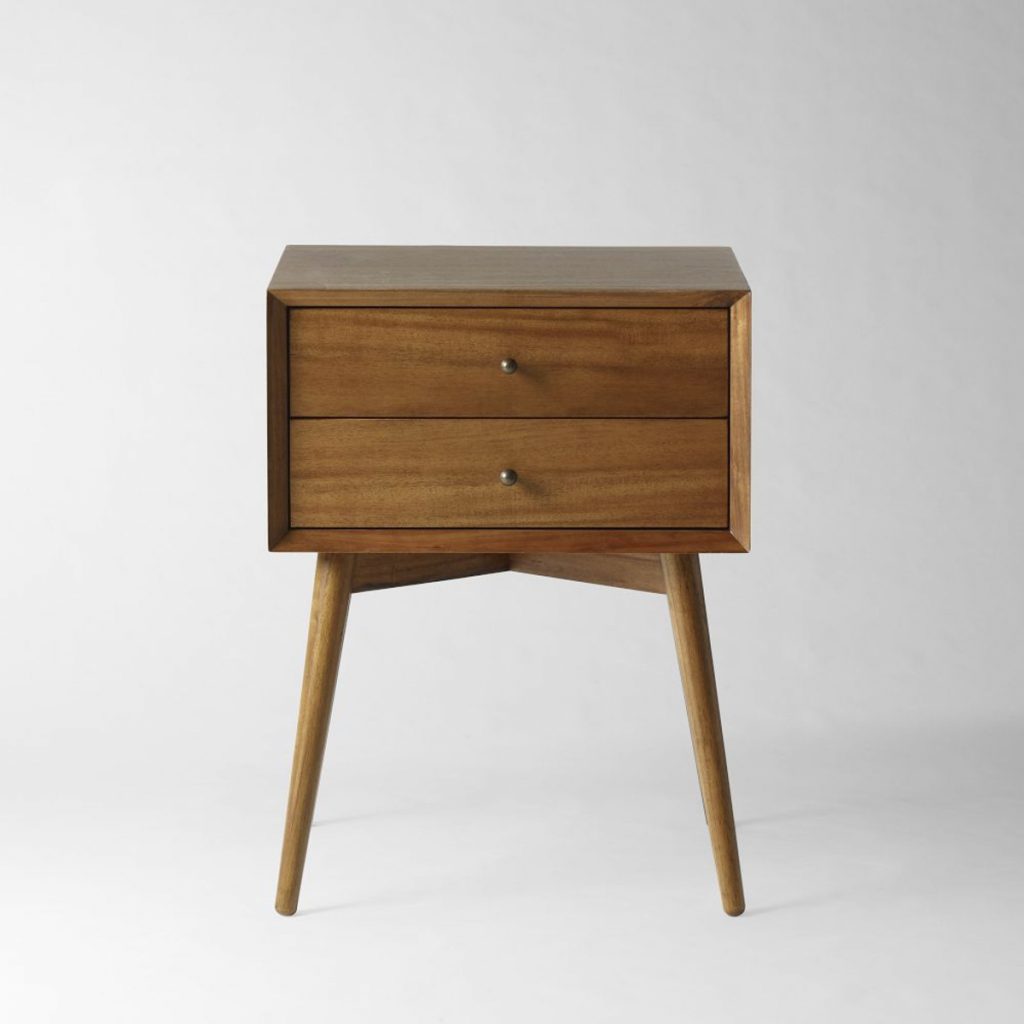 "It's responsible, it's affordable, it's so smart looking, I think and it's the perfect amount of storage for a nightstand without me cluttering my drawers."
The silhouette dining table, €2,199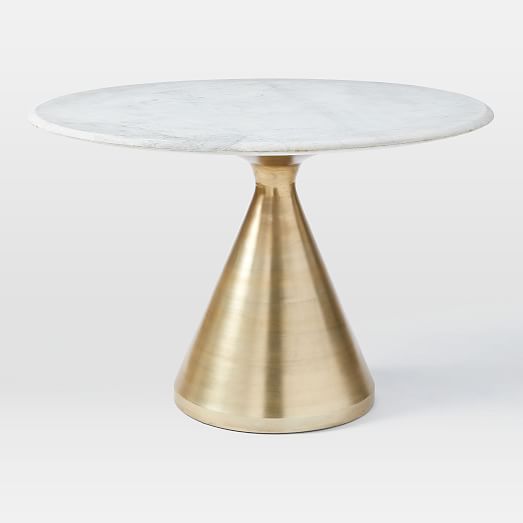 "This is just a showstopper and a beautiful mixing of materials and in a really elevated way from a design perspective, that doesn't feel too snooty to engage with."
The Andes sofa, €2,699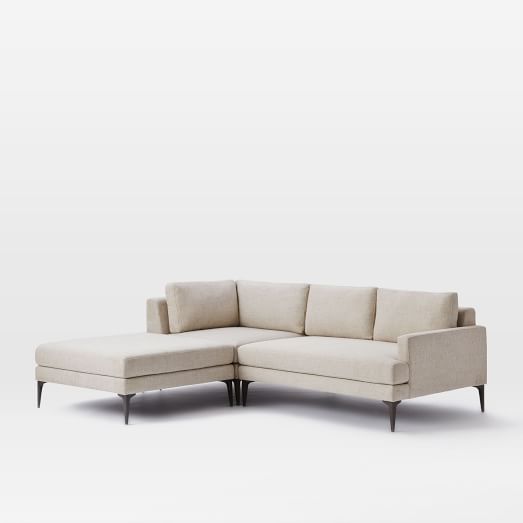 "It's just so light and airy and I've been begging my husband to buy me this sofa for about two years now. I love it, I think it's the essence of modern design."
Everything Audrey - House and Home's favourite of the Audrey collection is the sideboard, €1,199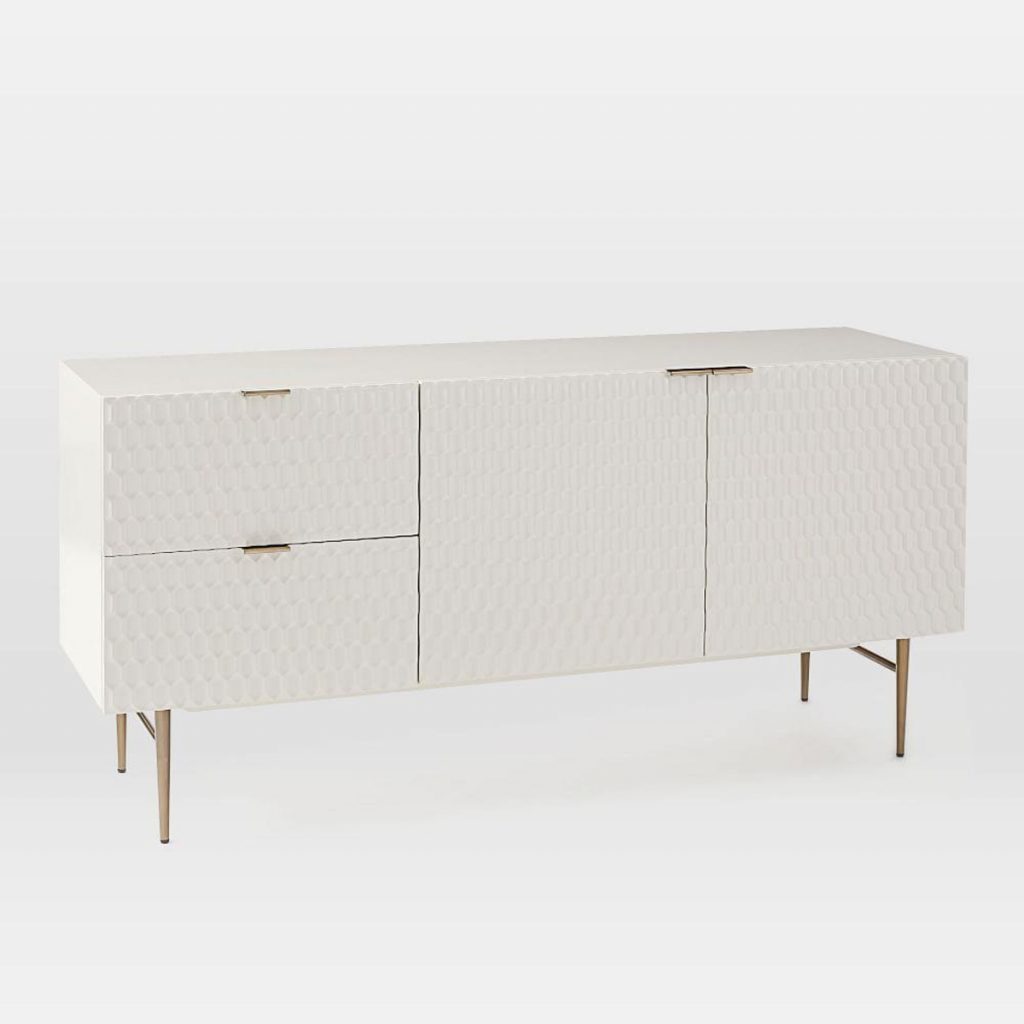 "I'm going to cheat, but everything Audrey. She's posh!"
Mid century bookshelves, €609-749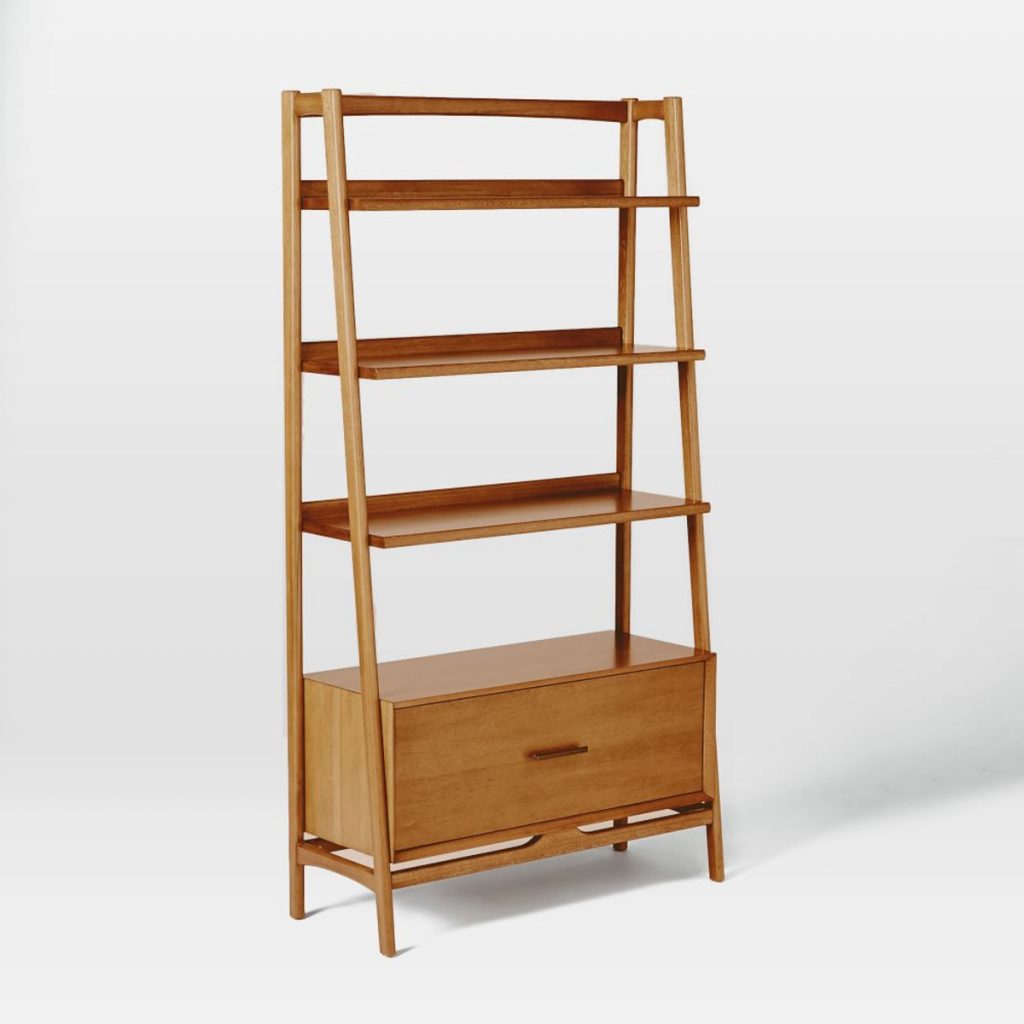 "These live in my house and I get compliments on them non-stop."